We Buy Your Junk RVs in Colorado
Get instant cash for your damaged RV or junk camper, whether you live in Denver, Aurora, La Junta, Boulder, or Lamar!
Selling a junk RV in Colorado is hard, especially if it has been damaged or deteriorated in a storm. And given that in the "Colored Red" state, the hail season normally lasts from late spring to late summer (with a few storms in early fall), with May, June, July, and August having the highest frequency of hailstorms, it's no surprise that most people want to get rid of their tree-smashed, hail-damaged, and flooded trailers as soon as possible. 
Unfortunately, most of Colorado's salvage, junk, and vehicle disposal businesses will give you peanuts in exchange for your junk RV. However, your wreck of a trailer is worth more than you realize!
We buy your junk motorhome for good cash on the spot!
If you want to sell your junk trailer in Colorado to a salvage yard in Henderson, Colorado Springs, or Commerce City, you'll soon learn that salvage yards, RV dealers, or auto wreckers won't pay much or at all for your pile of damaged metal. 
On the other hand, we guarantee QUICK, SAFE, and PROFITABLE deals so you get top dollar on the spot via Venmo, cash, or check for any junk RV anywhere in the Centennial State!
Make an Appointment
Send us an email with your data
and we will contact you as soon as possible.
Our Business
We'll pay you at the time of pickup for a fast and secure transaction.
We'll have an offer for you in a matter of minutes.
Call Now!
Call or write us to organize
the details of the sale of your RV.
Junk Trailer Buyer Anywhere in Colorado
Get better prices and faster disposal than any other RV Junkyard in Colorado
Should You Junk or Sell Your Junk RV in Colorado?
The state parks in Colorado have something to offer everyone. With more than 3,900 campsites, Colorado is a corner of Heaven for adventurer RVers and all those living in motorhomes throughout the state. So finding junkyards prepared to buy your high-mileage, old, rusted, or broken RV for a good price would make sense, right?
Well, the state has a couple of auto wreckers and salvage yards. However, a short web search for "who buys junk RVs in Colorado" will quickly show that RV auction markets, private dealers, and salvage yards don't offer much, if anything, in exchange for your flooded motorhome or non-drivable trailer. Additionally, they can ask you to foot the bill for towing the junk RV!
Stop Waiting for Private Buyers & Sell Your Junk RV for Fast Cash Now!
Selling a dilapidated, severely dented, or delaminated RV to a private buyer in Colorado can feel like trying to resurrect extinct mammoths and mastodons. It's a real ice age challenge that won't go well for you.
To protect their trailers from the weather, practically all RV owners keep them in one of the several RV storage facilities across the state. However, you know that Colorado's weather can harm all the storage facilities together with the housed RVs and trailers if you recall the hail, strong winds, and torrential rain of 2014 near Red Feather Lakes or the catastrophic hail damage of 2016 in Castle Rock (Douglas County).
Remember that while you wait forever for someone to buy and remove your garbage pile from your property, you still have to keep paying for the storage of your ruined motorhome.
Stop waiting for fair prices for your damaged RV from random buyers or junkyards! We pay good cash for junk RVs in Colorado on the spot!
Instead of fixing your junk RV for up to $25,000 for serious hail damage, you can sell it to us. We will buy it from you no matter its condition: heavily dented, water-damaged, old, broken, totaled in an accident, or salvaged.
Do you need a new RV to travel to the Goldfield RV Park in Colorado Springs, the Pikes Peak RV Park in Manitou Springs, the Flying Saucer RV Park in Sheridan, or the Applewood RV Resort by Rjourney in Wheat Ridge, CO?
We've got your back!
We Offer Free Junk RV Removal Throughout Colorado, and Pay Quick Cash for Your Old RV No Matter Your Junk Motorhome's Condition!
Your Damaged Motorhome Has More Value Than Whatever Colorado RV Junkyards Are Willing to Pay!
In a state that allows RV camping almost everywhere, with adventurers and fishermen gathering in droves in the Grand Mesa area every year, you'd think you would have many Colorado junkyards, salvage yards, or auto dismantlers ready to buy your junk RV for decent cash. And yet, as rich as it is in Rocky Mountain bighorn sheep and Ponderosa Pines, Colorado has a limited offer of auto body shops that deal with junk RVs. 
Suppose your RV has been damaged by hail, water, falling trees, wear and tear, mileage, or a traffic collision. In that scenario, even if you tow your trash RV to the nearest junkyard, you won't get good money from vehicle wreckers, recyclers, or secondhand part dealers in Denver, Arvada, or Evergreen. 
Sell your beat-down, crashed, dented, or irreparable RV to us for a quick and profitable cash transaction! Instead of feeling the loneliness and despair of Stephen King's characters in the novel "The Stand" while you wait for a customer to show up, sell your junk RV in Boulder or Timnath to a professional junk RV buyer. There's no need to wait endlessly for someone or pay money out of pocket to remove your trash pile from your backyard! 
We will buy your broken motorhome in Colorado FAST once we settle on the price and pick-up schedule. With us, selling an RV in the Centennial State – totaled, salvaged, rusted out, or undrivable – has never been simpler!
What Paperwork Do You Need to Sell Your Junk RV in Colorado?
Colorado defines any vehicle as " junk," whether valuable or worthless, destroyed, discarded, partially dismantled, dilapidated, or in a state where it would typically be unusable in its current state for the purpose for which it was manufactured.
Colorado meets junk or used RV sellers with conditions and restrictions like other states – namely Florida, California, or Washington. Let's see some information! 
The seller must deliver the Colorado Certificate of Title to the buyer, containing the buyer's full name, address, purchase date, and price. 

An emissions inspection certificate is mandatory for buyers who live in a

Colorado Emission Zone

. 

The seller must complete an odometer disclosure and indicator info on the Certificate of Title or disclose this information in the DR2173 Motor Vehicle Bill of Sale form. 

You must complete the "Rebuilt from Salvage Disclosure" form if your junk RV's title contains the "Rebuilt from Salvage" branding. If the reason for salvage is unclear, a vehicle record search must be done to determine why the motorhome was deemed salvageable.

You have five days to declare the ownership change online or in writing with your

county motor vehicle office

.
As buyers are concerned, RVs and motorhomes must be registered and titled like other motor vehicles in Colorado. The fees and taxes paid will be the only thing that differs. However, you should prepare to spend more because a vehicle's empty weight determines the license charge.
As you can see, selling a junk, damaged, worthless, flooded, or otherwise damaged RV in Colorado is difficult, time-consuming, and expensive.
Therefore, let us assist you rather than deal with the burden of finding private buyers or junk vehicle dealers that only want to haggle with you!
We Offer FREE Junk RV Removal Anywhere in Colorado!
The search term "Colorado free junk RV removal near me" yields many results. Several junkyards offer free camper disposal and demolition services for your broken or undrivable travel trailer, which may be disassembled and removed.
However, employing these services won't bring you any money. When your motorhome crashes, it's one thing to pay an auto wrecker to remove it; it's quite another to have it bought for top cash and then towed FOR FREE.
Whether you reside in Fort Collins, Pueblo, Dakota Ridge, or Thornton, Colorado, we will buy your unwanted RV for cash and take care of its free disposal!
Call us now for free RV removal from your property or storage facility and a great price on your damaged camper!
Free towing in Colorado is no problem for us! Whether you need us to come from Utah, Arizona, New Mexico, or Wyoming across the snow-covered Rocky Mountains or the Colorado Eastern Plains, we'll arrange pick-up and payment for a time that works best for you.
Additionally, we guarantee there won't be any catches or ambiguous language relating to commissions, labor fees, or other costs! Our free trash motorhome towing services are actually free anywhere in Colorado, from the "Mile-High City" to the remote Hinsdale County.
We Buy Junk RVs in ANY Condition in COLORADO!
Your RV won't sell for the price you want from a typical customer if it has accident damage, is over 20 years old,
needs expensive repairs
, or is not functional. Motorhomes with blown engines that are wrecked, salvaged, or damaged are rarely bought by RV enthusiasts, auto auctions, or used RV marketplaces for top prices.
Your best option is to sell us your inoperable trailer if it is beyond fixing. In Colorado, we give cash for trash RVs, whether they are old, hail-damaged trailers, burned or flooded campers, rebuilt motorhomes, etc. Additionally, we pay for your junk RV using Venmo, cash, or check.
Most RV recycling facilities or salvage yards in Lakewood or Lochbuie won't pay much for a non-running RV. But if you approach us for a quote on your old trailer now, you can have money in your pocket before you finish saying, "Mesa Verde National Park"!
Furthermore, the junk RV removal service is free!
Is My Old Motorhome Worth Anything in COLORADO?
In Colorado, there are numerous ways for a vehicle to sustain damage. While some result from collisions, others might still occur while you do not control the vehicle. Some damages seem to occur more frequently than others – we are talking about hail, wind, other natural phenomena, fender benders, negligence, crashes, and rocks. If you're from Colorado, you know that rocks are among the most common causes of vehicular damage. It's difficult to find a car or recreational vehicle in Colorado that hasn't had its exterior, glass, or paint scratched by a falling rock or a rock in the road.  
In other words, besides traffic accidents, old age, and other engine problems, Colorado's RVs also have to survive Mother Nature's whims. Unfortunately, not many do. 
The least desired alternative for any RV owner is to throw away a broken motorhome into a scrap yard, whether the damage was caused by water, fire, collision, or storms and hail. Although they won't pay much, the junkyards will take it off your hands. The trailer's age, mileage, manufacture, model, weather impact, etc., will cause the price to fall quicker than the pronghorn antelope can run across the Colorado plains, though, when damages are calculated.
However, despite what a junk or salvage yard would offer you for it, your damaged motorhome is still worth more than that!
It is not worth waiting for a prospective private buyer to inspect your RV's damaged electrical system, blown engine, or delaminated walls. Given all the necessary documentation you have to deal with before a transaction, a buyer's final offer, should it occur, will be worthless of your time, effort, and investment in online or print advertisements.
Sell your dilapidated, very old, high-mileage, or hail-damaged trailer for cash right away! Then, with the money we pay for your junk RV, consider purchasing a new one if you want to travel to the Mountaindale Cabins & RV Resort to spot the deers, the Pikes Peak RV Park, or the Grand Mesa RV Park!
First Step
Find out how much money you can make for your crashed/unusable motorhome by filling out the form on this page.
Second Step
Once we shake on the deal, you receive your quick cash by bank transfer.
Third Step
We send our people to your place to remove the old camper for free.
We come with our own towing equipment and technicians and take care of all the paperwork!
Sell Your Junk Travel Trailer in Any Condition in Colorado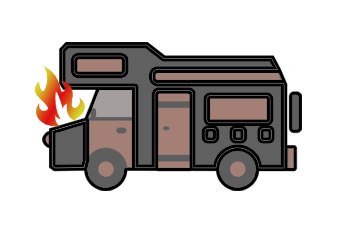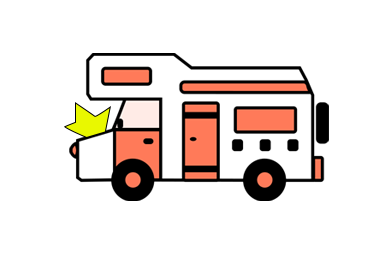 How Do You Sell a Salvage or Rebuilt Title RV in Colorado?
In Colorado, the definition of a salvage vehicle is the following: a vehicle that has been damaged by a collision, fire, flood, accident, trespass, or another occurrence, excluding hail damage, to the extent that the cost of repairing the vehicle to a roadworthy condition and for legal operation on public roads exceeds the vehicle's retail fair market value immediately before such damage, according to C.R.S. 42-6-102(17)(a)(I).
Before selling or transferring a salvaged motor vehicle, the owner must apply for a salvage certificate of title. All future buyers or transferees of a salvage vehicle must get a salvage certificate of title in the owner's name within 60 days of the date of purchase or transfer.
Before transferring ownership of your salvage RV that has been classified as "salvage" under Colorado Revised Statute 42-6-102(17)(a), an insurance company must apply for a salvage certificate of title per Colorado Revised Statute 42-6-136(2). The owner must file for a salvage certificate of title in their name if they decide to keep the motorhome after an insurance claim is settled and the RV has been classified as "salvage" under Colorado Revised Statute 42-6-102(17)(a).
Remember that the DMV must receive the titles for these vehicles to mark them in the record as salvage. 
Are you confused yet? Here is more!
The salvage certificate of title must include a full disclosure of the kind of damage (apart from hail damage) that can be salvaged.

If you want to rebuild your damaged trailer, you need to apply for a "rebuilt from salvage" title. It means that your salvage motorhome is now roadworthy as described in section 42-6-102(15) of the Colorado Revised Statute.
While a person can buy a salvaged or totaled RV in Colorado, they must apply for their own salvage title to drive the vehicle legally. Logically, they will also have to invest in repairs, and private buyers won't do it. 
Salvaging or rebuilding a damaged travel trailer in Colorado is difficult, especially when you must adhere to strict requirements, put in a lot of time filling out paperwork, and pay taxes. You know the odds are not in your favor if you also have to deal with the Colorado Department of Revenue (the DMV).
If you want to avoid all these difficulties and get rid of your junk RV junk for a good price, contact us immediately for a free junk RV quote on your salvage title trailer. Enjoy speedy cash transactions and free junk motorhome removal now!
We Buy All Junk RVs for the Maximum Price
Don't waste time listing your junk RV with dealers, brokers, ad sites, or auctions. Selling a used RV through traditional methods can take months, while your vehicle rusts and loses value. As a reputable RV buyer, we guarantee the best price for:
Junk/wrecked/damaged RVs you want to get rid of fast
Old and unwanted RVs (running or not) you want to sell for cas
Total loss RVs, crashed camper, totaled fifth wheel, etc.
Any other used travel trailer, used pop up camper or used toy hauler you have for sale
Give us all the details regarding your unwanted or damaged vehicle so we can return to you with a valid offer.
Why Choose Us to Buy
Your Junk RV?
When it comes to RVs for sale, we are a market leader with a solid reputation in offering the highest prices for scrap, unwanted, old, unusable, wrecked, or totaled RVs. Here is why you should work with us if you want to get rid of your vehicle fast!
Real-Market Appraisals
Even if your RV is totaled, unusable, old, or simply unwanted, you can still get good money for it. Fill out the form or contact us for details, and we will give you an unmatchable price for your vehicle.
Fast Transactions
Don't worry about paperwork, clean or salvage titles, and other issues. We will take care of everything at no extra fee.
Free Collection
We will schedule a convenient time for you to have our staff to pick up your junk RV anywhere in California and neighboring states.
Good, Quick Cash
We know how important it is to sell your junk RV fast, easy, safe, and with no hidden taxes. With us, you will have your money as fast as possible.
Frequently Asked Questions from People Looking to Sell their Junk RV's in Colorado
Do you still have questions regarding selling your junk RV to us for good, fast cash? Check out the answers below! If you still don't find the information you're looking for, don't hesitate to contact us!
Who buys junk RVs in Colorado?
Finding gold in Cherry Creek (present-day Denver) is easier than getting junkyards willing to buy your junk RV for good cash.  Some reputable businesses include the Denver Auto Recyclers & Cash for Junk Cars, the APB Motors Cars, Trailers, RVs Sales, or the Colorado Junk Cars in Commerce City, but don't put your hopes up: they deal mostly with junk cars, not junk RVs.
So to answer your question… we buy junk RVs in Colorado, whether you live in Grand Junction or the remote town of Trinidad. Although most junkyards may request that you bring your pile of rust to them, they are unlikely to make you any good offers. No matter how you look at things, you are stuck with your inoperable RV.
So give us a call now to make your life easier! We pay fast cash for any RV, in any condition, and remove your pile of trash metal for free!
Does insurance cover hail damage in Colorado?
Hail damage protection is part of comprehensive vehicle insurance, which covers physical harm to your RV that doesn't result from a collision. Comprehensive coverage is very expensive, however, and many RV owners don't get it, even if Colorado witnessed in the last years at least one storm that broke records in damaged houses and vehicles for more than $2.3 billion.
You can sell a hail-damaged RV to a private buyer, although the Colorado AAA warns people to check such vehicles thoroughly before paying for them. Since the buyer will most likely not be able to get comprehensive coverage for a previously hail-damaged motorhome, you will not get a good price for it, even if the damage is only cosmetic. 
In other words, selling an old RV with or without visible hail damage, flooding problems, or rock dents will be exceptionally hard. So instead of wasting time endlessly waiting for someone to haggle with you to get the cheapest offer, sell your deteriorated RV to us, make good money, and move on with your life!
Can I keep a junk RV on my property in Colorado?
Not really, no. If you are from Colorado Springs, you are prohibited from storing or keeping any junk on a property, including public spaces, inside the City. Moreover, according to the Colorado Springs Code of Ordinances, parking or storing any unregistered or non-operational vehicle outside an enclosed building, whether on private property or a public right-of-way, is illegal. It is just an example, but you get the gist: if you keep a wrecked, flooded, rust-ridden, or inoperable RV in your yard, you will most likely have legal problems with your neighbors and local authorities. 
Since nobody will buy the pile of trash for a decent amount, your best bet is with us: we buy your junk motorhome in Colorado for good cash and remove it from your yard for free!
Sell My RV Fast, Easy, and Safe!
We buy all types of RVs at the best prices, regardless of their quality and condition. Everything can happen very quickly and without wasted time on your part.