We Buy Your Junk RVs in Delaware
The First State will have the first and best deal for its junk RVs! HeyRV will pay solid CASH for your old motorhome anywhere in Delaware! You can be anywhere between Wilmington and Millsboro. We'll reach you in no time!  Contact us right now if you want to convert a bunch of scrap metal into instant CASH!
In corporate-heaven Delaware, HeyRV attempts to prove a business mindset that thrives on person-to-person interaction and agreements formed on trust. For example, you'll get your money on your old RV no matter what. 
To ensure that neither we nor you feel like they are losing in the partnership, we are coming to the table with the offer of a FREE RV EVALUATION. It will grasp the full specter of damages that your old motorhome has suffered, and then it will establish a FAIR PRICE – but, regardless of the extent of the damages, you'll come out of the deal with CASH IN YOUR HANDS!
You better not act like the Blue Hen and nest on the decision for too long! With rusty things, it's always better to act now than later –or you risk being left with a rust powder in the cup of your hands. You'd better take the deal and sell the old RV before it succumbs to the worst and its value comes close to the negatives. So, CALL HEYRV RIGHT NOW and have your motorhome off your shoulders!
Make an Appointment
Send us an email with your data
and we will contact you as soon as possible.
Our Business
We'll pay you at the time of pickup for a fast and secure transaction.
We'll have an offer for you in a matter of minutes.
Call Now!
Call or write us to organize
the details of the sale of your RV.
Junk RV buyer anywhere in
Delaware
Get better prices and faster disposal than any other RV Junkyard in
Delaware
Should You Junk or Sell Your Junk RV in Delaware?
At HeyRV, we recognize that deciding between junking or selling your old RV can be challenging – maybe as difficult as it had been for Thomas Jefferson to pick Delaware out of all the 13th colonies to be named the "jewel of the East Coast"! 
But, in all honesty, this decision involves multiple factors, such as the RV's condition, your financial status, and the plans you have in the near future. While junking may be the quicker route, it usually suggests that the RV has significantly depreciated due to age or damage, making the cost of repairs unfeasible. On the other hand, selling your RV can be a more financially rewarding option, especially if the RV is still in reasonably good condition. 
If stuck between a rock and a hard place, know that one certainty you have is that HeyRV can be the solution! If you're looking for an effortless way to get the most value out of your old RV, we are an excellent choice. Not only do we offer FREE TOWING, but we also provide a comprehensive CASH OFFER following a thorough evaluation of your vehicle. Our TOP-NOTCH SERVICE ensures a hassle-free experience, taking the 'heavy lifting' off your shoulders, both literally and figuratively. So, if you're leaning towards selling, let HeyRV help you make the most of this opportunity.
Stop Waiting for Private Buyers & Sell Your Damaged RV in Delaware Now!
If you are an inexperienced seller, especially of old RVs-kind, you might find yourself crossing the whole three counties of Delaware (Kent, New Castle, Sussex) three times and still have no one reach you with an offer.
It is not you (and it might not be your old, badly looking RV, either), but it's the entire RV MARKET! HeyRV was born out of a want to try to create an easy-to-navigate medium for junk motorhome owners! They sell us their rust-ridden RVs, and we pay them with SOLID CASH – enough to help them invest in another RV, a newer, and better model.
Why navigate the complexities and uncertainties of negotiating with strangers when selling your old RV, especially when significant money is involved? Don't throw yourself into tiresome waits for calls from uncommitted buyers. Instead, take advantage of our offer and be prepared to make the only other decision left to you: your preferred payment method—Venmo, direct cash, or checks. 
With HeyRV, you're not just making a transaction; you're making the smartest decision for peace of mind and financial gain. Reach out to us today and elevate your selling experience.
Your Junk Motorhome Has More Value Than What Delaware RV Junkyards Usually Pay!
Don't underestimate the worth of your junk motorhome by settling for the lowball offers often made by junkyards in areas like Wilmington, New Castle, Dover, Milford, Seaford, Bridgeville, Bacons, and George Town. 
With HeyRV, your old RV isn't just a scrap item but a valuable asset deserving a fair evaluation. 
We go beyond traditional scrapyards by offering FREE evaluations and COMPLIMENTARY TOWING, ensuring you receive an offer that truly reflects your vehicle's worth. Our experienced team specializes in transforming even the most rundown RVs into mutually beneficial opportunities.
So why settle for the scant payouts commonly given by Delaware junkyards when you can maximize your old motorhome's value with HeyRV? Experience the professional difference with us today!
Give us a call or fill out the form on this page to get our competitive offer right now! If we agree on the price, we'll arrange your old camper's FREE REMOVAL at your convenience, anywhere in Delaware.
What are you waiting for? Contact us right now!
What Paperwork Do You Need to Sell Your Junk RV in Delaware?
If you're planning to sell your junk RV on your own, you'll need to navigate a fairly detailed set of steps to ensure the transaction is legal and smooth for both parties. Usually, HeyRV takes care of all the paperwork for their clients. However, if you want to go through the process on your own, here are some of the requirements specified by the Delaware DMV:
First and foremost, you need to complete the Assignment of Certificate of Title section on the back of your Delaware title. This will require you to provide the buyer's name and address, the date of the sale, the purchase price, and an Odometer Disclosure. Both the buyer and the seller must sign this section, but the number of seller signatures needed will depend on how ownership is indicated on the front of the title. If it reads "AND," all sellers must sign; if it reads "AND/OR," only one owner's signature is necessary.
The Seller's Report of Sale
The next step is to complete the back of the registration card or the Seller's Report of Sale and forward it to the Delaware Division of Motor Vehicles (DMV). This document should include similar information as the title—like the buyer's name and address—as well as the date and hour of the sale and the seller's signature. Meanwhile, the buyer will have to complete the Purchaser's Application on the back of the title, providing their driver's license number and date of birth among, other details. If the vehicle is financed, additional information will be needed in the Lien Section.
Proof of liability Insurance
Even though Delaware titles don't require notarization, the state does mandate the buyer to provide proof of Liability Insurance along with a Delaware Driver's License or two accepted proofs of residency when applying for a new title. It's recommended that all parties appear at the DMV to complete the transfer. Note that the vehicle can't be used until the new title is issued, and failing to transfer the title within 30 days results in a $35 late fee.
As for fees, expect to pay $35 for a title without a lien or $55 with a lien, along with a 4.25% document fee based on the sale price or the RV's current NADA average trade-in value, whichever is higher. Additionally, if no Bill of Sale or title indicates the purchase price, then the document fee is based on NADA guides or an appraisal from a licensed Delaware dealer.
Overall, selling a junk RV in Delaware involves a thorough understanding of various steps and meticulous attention to paperwork. However, if you are not one to have a keen eye for detail or energy for such work of grueling filling papers and forms, take up HeyRV's offer! Not only will we offer you good cash for your junk RV, but we'll make sure that you won't have to sweat while running between the DMV's offices back and forth! HeyRV will do the paperwork for you!
We Offer FREE Junk RV Removal Anywhere in Delaware!
With our free RV disposal service, you might think that we are restricted to just Wilmington or Dover. However, HeyRV encompasses the entirety of Delaware in such a way that we can reach your junk RV ANYWHERE IN DELAWARE!
So, if you are ready to unload that junk RV of yours but you are worried about the hassle of towing, give us a call! 
HeyRV offers FREE junk RV removal that spans the length and breadth of the state. And by anywhere, we're not just talking big cities like Wilmington, Delaware City, Harrington, Lewes, Middletown, Milford, New Castle or Dover. Whether tucked away in a smaller town (like Bethel, Clayton, Delmar, Magnolia, Viola, Frederica, Laurel, or Kneton), our teams have got you covered—literally from New Castle to Millsboro. 
Contact us, and we'll offer you a COMPLIMENTARY RV EVALUATION that could turn your wheeled wreck into wads of cash. With HeyRV, it's not just a transaction; it's a ticket to a smarter, clutter-free future. Convert that junk RV into cash today!
Sell Your Junk Trailer in ANY Condition in Delaware!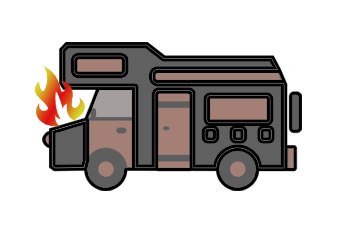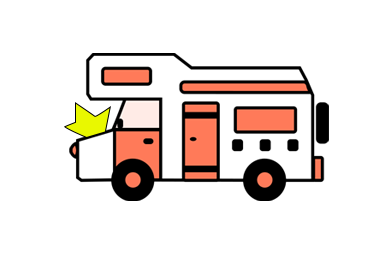 Don't let your wander down the Small–Wonder State be hurdled! It's not on you; the unfortunate consequences of time and gritty weather conditions that might have marked your old RV! Recognize the problem and seek the solution! If your junk RV is barely rolling anymore, it's time for a long-time, much-awaited change!
Relearn what it means to love your RV drives through the Fort Delaware State Park, Bellevue State Park, Prime Hook National Wildlife Refuge, all the way to Bethany Beach
With us, the condition of your trailer doesn't limit your selling prospects. Whether your RV rattles more than it rolls, or shows signs of age and rust, we're committed to making a competitive cash offer. After all, why be burdened by a dilapidated motorhome? 
Don't let time and corrosion further devalue your vehicle. Act now and turn your aging trailer into cash that you can reinvest in, elevating your road-tripping experience to the level it truly deserves.
Is My Old Motorhome Worth Anything in Delaware?
Of course, it does! You only have to find the proper buyers who will TRULY SEE THE REAL VALUE and potential behind the loosely hanging doors and rusty metal window frames! HeyRV certainly does see the worth!
We'll find worth in your old motorhome no matter what! Even if your rusty junk RV looks so bad that it seems like it traveled to Milton for the 2007 Burning Man Festival relic after actually attending the festival in Nevada!
Contrary to the belief that your aging RV isn't worth much—especially considering the low offers from traditional scrapyards in Delaware—HeyRV exists to prove otherwise. We specialize in identifying untapped value, turning what may seem like a depreciating asset into a source of liquid capital. 
Unlike traditional scrapyards (especially those located around Wilmington, New Castle, and Dover), HeyRV offers competitive pricing that genuinely reflects the true worth of your old motorhome. 
With HeyRV, you're not just getting rid of an old vehicle; you're gaining peace of mind and freeing up resources for better opportunities.
First Step
Find out how much money you can make for your crashed/unusable motorhome by filling out the form on this page.
Second Step
Once we shake on the deal, you receive your quick cash by bank transfer.
Third Step
We send our people to your place to remove the old camper for free.
We come with our own towing equipment and technicians and handle all the paperwork!
How Do You Sell a Salvage or Rebuilt Title RV in Delaware?
In the Diamond State, selling an RV with a salvage or rebuilt title involves a specific process. If your RV has a salvage title, you'll first need to clear it by meeting the state's requirements. 
One of the first steps you must take is to present your salvage certificate, then, the State Police "Application for Title" (MV214), proof of valid insurance, and a Vehicle Inspection Report at any Division of Motor Vehicles facility. 
There are also fees that you must be prepared for. You'll have to pay a titling fee of $35.00. For an RV with a rebuilt title, you'll first need to restore the vehicle and then undergo a certified inspection. The process requires you to apply for a Certificate of Title at your county DMV office, complete three different forms, sign a Salvage Title statement and pay a $50 inspection fee for the vehicle to be inspected and certified. 
Once you have a rebuilt title, you can then sell the RV. While restoring a totaled RV is not an easy or inexpensive task, obtaining a rebuilt title for it allows you to legally sell it, provided you have met Delaware's requirements for retitling and registration.
We Buy All Junk RVs for the Maximum Price
Don't waste time listing your junk RV with dealers, brokers, ad sites, or auctions. Selling a used RV through traditional methods can take months, while your vehicle rusts and loses value. As a reputable RV buyer, we guarantee the best price for:
Junk/wrecked/damaged RVs you want to get rid of fast
Old and unwanted RVs (running or not) you want to sell for cas
Total loss RVs, crashed camper, totaled fifth wheel, etc.
Any other used travel trailer, used pop up camper or used toy hauler you have for sale
Give us all the details regarding your unwanted or damaged vehicle so we can return to you with a valid offer.
Why Choose Us to Buy
Your Junk RV?
When it comes to RVs for sale, we are a market leader with a solid reputation in offering the highest prices for scrap, unwanted, old, unusable, wrecked, or totaled RVs. Here is why you should work with us if you want to get rid of your vehicle fast!
Real-Market Appraisals
Even if your RV is totaled, unusable, old, or simply unwanted, you can still get good money for it. Fill out the form or contact us for details, and we will give you an unmatchable price for your vehicle.
Fast Transactions
Don't worry about paperwork, clean or salvage titles, and other issues. We will take care of everything at no extra fee.
Free Collection
We will schedule a convenient time for you to have our staff to pick up your junk RV anywhere in California and neighboring states.
Good, Quick Cash
We know how important it is to sell your junk RV fast, easy, safe, and with no hidden taxes. With us, you will have your money as fast as possible.
Frequently Asked Questions from People Looking to Sell Their Junk RVs in Delaware
We've addressed the most frequently asked questions to help guide you through the marsh of selling your junk RV. But, if you don't find the answers you're seeking, don't hesitate to contact us. At HeyRV, we're committed to providing you the assistance you need.
How Long Does an RV Last in Delaware?
The longevity of an RV in Delaware can vary depending on various factors, but on average, motorhomes are expected to last around 200,000 miles. With good maintenance and under optimal driving conditions, this lifespan can extend up to 300,000 miles. 
However, it's crucial to consider Delaware's weather conditions when discussing the life expectancy of an RV. The state experiences a range of severe weather events, including thunderstorms with strong winds and hail, as well as the occasional tornado. Though tornadoes are rare, averaging only one per year, they can cause significant damage to property when they occur. 
Delaware is also susceptible to seasonally severe weather like winter nor'easters and autumn tropical systems, which can bring heavy snow, high winds, and coastal flooding. Exposure to such severe weather conditions can potentially diminish the lifespan of an RV, as it could lead to wear and tear beyond the typical aging process. Therefore, if your RV is frequently exposed to Delaware's harsh weather conditions, its longevity might be compromised.
Do I Need a Bill of Sale to Sell My RV in Delaware?
In Delaware, a Bill of Sale is not strictly required for selling an RV, but it is highly recommended for several reasons. A Bill of Sale serves as:
a legal document that establishes proof of ownership,

confirms the transaction details between the seller and buyer, 

and provides an additional layer of protection to both parties involved.
You can obtain a Bill of Sale form from the Delaware Division of Motor Vehicles website or use templates available on the internet. After filling it out correctly and getting it signed by both the buyer and seller, it serves as legal proof and a sale receipt. Once the sale is complete, the buyer and seller should keep copies of all documents for their records.
Sell My RV Fast, Easy, and Safe!
We buy all types of RVs at the best prices, regardless of their quality and condition. Everything can happen very quickly and without wasted time on your part.