We Buy Your Junk RVs in Florida
Make instant cash for your junk motorhome or salvage RV whether you are in Miami, Tampa, Jacksonville, Fort Lauderdale, or Sarasota!
Selling a used RV in Florida can be difficult, particularly if it is flooded (and, after Hurricane Ian, most of them are now), broken, old, or deteriorated. Most of Florida's salvage yards, scrap yards, and vehicle disposal facilities will offer petty cash for your beaten-down motorhome. However, your junk trailer may be more valuable than you think!
Let us help you with THAT!
HeyRV pays more than any scrap yard or auto salvage in Valrico, Clearwater, or Orlando, FL. We guarantee a quick and safe transaction, so get instant cash, check, or Venmo for your junk motorhome or travel trailer!
Here's how Selling your Junk RV in Florida works:
Make sure You have a Title
Year of make 1995 or newer!
Tell us some details about your Mobile Home/Camper/Travel Trailer
Send us a Form & We'll be sure to
Call back!
Call us Anytime!
Call or Complete the Form above! 
Let us hear more about your RV's Make, Model, Year and we're all set! 
We're ready for Pick-up at any time! 
Remember – that's on us!
Get your Cash!
Enjoy your newly earned Cash!
No Fees, No fine print, No hidden or extra costs on your end
When selling your Junk RV to HeyRV all that money goes directly into your pocket and nowhere else!
Junk RV buyer anywhere in Florida
Get better prices and faster disposal than any other RV Junkyard in Florida
Should you Junk or Sell
Your old RV in Florida
It seems simple to locate an auto junkyard in Florida at first, doesn't it?
All you have to do is look for a scrapyard nearby. However, you will quickly discover that salvage yards and private dealers pay little to no money for your delaminated motorhome, fully-flooded trailer, or old, used, or undrivable RV. They might also want you to pay for the towing of the junk RV!
Stop Waiting for Private Buyers & Sell Your Clunker Now!
What do you do with an unusable, deteriorated recreational vehicle in Florida? Do you put it at auction, hoping private buyers will make you an (unacceptable) offer? Do you pay for Florida Weekly, Tampa Bay Times, or the Sun Sentinel ads? And, on top of everything else, do you also keep paying for storage for your broken motorhome, waiting endlessly for someone to take it off your hands?
No! Your best bet is to sell your RV clunker for good cash right now!
Whether you need a solid sum to buy a new RV or make the best out of your water-damaged, old, wrecked, totaled, or salvaged trailer in Florida, we're here to take care of that: 
Fast Cash and Free Junk RV removal in Florida with no hassle!
Your Junk Trailer Has More Value Than What Florida RV Junkyards Usually Pay!
Your damaged rig isn't worth much for salvage yards, auto wreckers, recyclers, consignment stores, or secondhand dealers in Tampa, Edgewater, or Orlando, especially if it was flooded, burnt, or totaled in an accident. So skip the time, costs, and effort of composing ads, waiting for private buyers, or paying for towing to the scrap yard!
For fast, profitable cash, sell your outdated, severely damaged, flooded, or irreparable RV to us!
Our appraisers will provide you with a fair, cost-free estimate after we agree on the terms, and we'll complete the transaction quickly and securely.
Selling a totaled, salvaged, rusted-out, non-operational RV in the Sunshine State for a profit has never been easier!
Give us a call or fill out the form on this page to get our competitive offer right now! If we agree on the price, we'll arrange your old camper's FREE REMOVAL at your convenience, anywhere in Florida. 
What are you waiting for? Contact us right now!
What Paperwork Do You Need to Sell Your Junk RV in Florida?
According to Florida law, all motor vehicle sellers must perform a series of steps and consider some paperwork. Here is what you need to know:
In Florida,

an active lien on a vehicle prevents it from being sold in a private transaction. The lien must be paid off before the vehicle may be sold lawfully. The title may be transferred if the lienholder notifies FLHSMV that the lien has been satisfied. So first, take care of the lien!



The buyer's name, address, odometer information, selling price, and date of sale must all be included in the

Transfer of Title by Seller

section

on the front of the title certificate.



You and the buyer must complete the title transfer in a

Florida motor vehicle service center

;



According to Florida law, motor vehicle sellers

must submit form HSMV 82050 (known as the Notice of Sale)

. This document must be submitted to a motor vehicle service facility to have the seller's registration taken off the vehicle.
Typically, the RV's pre-sale paperwork also contains the following details:
The RV's make, model, mileage, and year of production.

A brief explanation of any unique features or improvements.

A summary of any RV adjustments (if applicable).
Selling an RV in Florida is also a big deal if your trailer was water-damaged, so here is what you need to know:
If your motorhome was flooded – the

greatest hazard for all Florida vehicles

, according to the FLHSMV – you must report the damage to your insurance company.
They will assign a descriptive label to your vehicle, which will be

displayed on your RV's title

. This brand describes the vehicle's current or previous state, such as flood, salvage, or junk. According to Florida Statutes Section 319.14(1)(b), FLHSMV must

clearly show on the title that your trailer has flood damage

.
The FLHSMV warns all private buyers against the purchase of any flooded vehicle. 
On top of everything, if you want to get good money for your RV when you sell it, provide buyers with the following extra details:
Clear photos of your RV's exterior and interior.

Guarantee/warranty/insurance documents.

Your current contact details.
As you can see, selling a junk, wrecked, unusable, flooded, or otherwise deteriorated trailer in Florida is difficult, time-consuming, and costly.
So instead of going through the hassle of dealing with private buyers or junk auto dealers, let us help you!
We Offer FREE Junk RV Removal Anywhere in FLORIDA!
Search results for "Florida free junk motorhome removal near me" are many. Plenty of junkyards will be happy to dismantle and haul away your broken or undrivable trailer for you, offering everything from demolition services to free camper removal and disposal.
However, using such services won't bring in any cash. Having your flooded motorhome removed is one thing; having it purchased for top dollar and then removed for free is quite another.
Whether you reside in Miami, Boca Raton, Arcadia, or Fort Myers, Florida, HeyRV will give you a good price for your clunker and then arrange for free disposal!
Call us now for a free estimate on your damaged RV and a speedy, free junk RV removal from your property or storage facility! Free towing in Florida is no problem for us! And when it comes to commissions, labor fees, and other costs, we promise there will be no catches or fine print to worry about! Our free junk motorhome hauling services are truly free anywhere in the Sunshine State!
Sell Your Junk Travel Trailer in Any Condition in Florida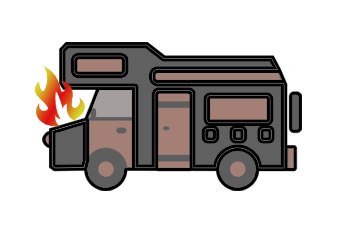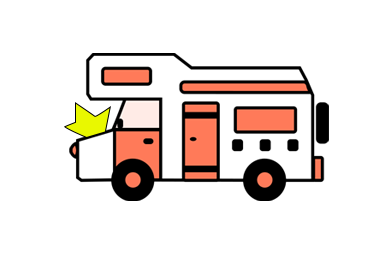 The price you can get for your broken RV from typical buyers won't be any good if your vehicle has been flooded or has a rebuilt title. Motorhomes with blown engines, totaled in accidents, or considered salvage don't fetch high prices from RV enthusiasts, auctions, and markets. In fact, Florida's HSMV discourages all buyers from purchasing salvaged/totaled, junk, or water-damaged vehicles. 
More than in other states, your options for selling a junk RV for a good price are severely limited in Florida.
Moreover, Florida is a hot spot for the RV parks' ten-year rule, together with Arizona, so even if you can still drive your ancient trailer, there might be no camping places available for you. In other words, you must get rid of your old clunker either way. 
Your best option is to sell your damaged motorhome to us if it is broken beyond repair. In Florida, we buy any type of junk RV, including old, beaten-down trailers, burned motorhomes, storm- and water-damaged travel trailers, salvaged and rebuilt RVs, etc. We will accept it as is! We also pay quickly by Check, Cash, or Venmo.
Tampa, Fort Pierce, Fort Myers, and Valrico are well-known for their junkyards and used auto parts stores. However, you won't get much money for your non-working RV from most vehicle wreckers, scrap/salvage merchants, and recyclers.
Ask for a fair offer on your old trailer from us now and get the cash in your pocket faster than you can say, "Alligator State!" Also, We throw in free removal into the deal too!
Is my Old Motorhome Worth Anything in Florida?
Unfortunately, extreme weather phenomena, storms, and especially hurricanes are the bane of Florida's residents and property. Hurricane Ian alone – one of the most destructive tropical cyclones ever recorded –  caused over $12 billion in insured losses in its wake. It's safe to say that Florida's climate can be your RV's most powerful nemesis. 
The least desirable course of action for any RV owner is to junk a hurricane-damaged motorhome, old or new. Junkyards or salvage facilities will buy it from you, but they won't pay much – if anything. The scrap/secondhand RV market subtracts zeroes from the price faster than the Florida Man makes the news when calculating damages, the trailer's age, mileage, make, model, storm impact, etc.
Even while your broken trailer isn't worth the fortune you paid for it initially, it is still worth more than what a junk or salvage yard will pay you for it.
And waiting for a private buyer to inspect the vehicle's delaminated walls, damaged electrical system, or blown engine is not an option. Given all the legal disclosure you need to make before a sale, a buyer's final offer – if it ever comes – will be worthless of your time, effort, and investment in online or paper ads.
If you plan a trip to the Breezy Oaks RV Park, the Big Cypress RV Resort & Campground, or the Grandma's Grove RV Resort, sell your musty, rusty, and broken trailer to us for good cash and enjoy your adventure in a new RV!
First Step
Find out how much money you can make for your crashed/unusable motorhome by filling out the form on this page.
Second Step
Once we shake on the deal, you receive your quick cash by bank transfer.
Third Step
We send our people to your place to remove the old camper for free.
We come with our own towing equipment and technicians and handle all the paperwork!
How Do You Sell a Salvage or Rebuilt Title RV in Florida?
While Florida is a champion state regarding annual domestic migration, it is not an easy place to live regarding vehicle ownership and trading. The state treats salvage vehicles differently than non-salvage, so this is what you need to know:
In Florida, a vehicle is considered salvaged if the insurance company has paid the owner to make up for theft or damage or

if an uninsured vehicle has been damaged so badly that fixing it would cost 80% more than it is currently worth.


If the vehicle is uninsured, the owner (if the RV is certified as salvaged) or the insurance provider must submit the title to the Florida DHSMV for processing within 72 hours of the vehicle being declared salvaged (wrecked).



After receiving the Salvage Certificate of Title,

the insurance company takes custody of the wrecked trailer

and takes it to an auction location. They make your vehicle available to customers who want to buy its parts or take it whole to fix it.

 
Uninsured vehicle owners can acquire a Salvage Certificate of Title/Certificate of Destruction

using the DHSMV customer service or online applications. 
Rebuilt vehicles also need to go through a complicated process. If your motorhome is repairable and you did all the necessary restorations, it must pass a DHSMV inspection. If the authorities deem it safe for road use, you must re-register the RV as "rebuilt."
If you have a junk RV on your hands – a vehicle that, according to Florida's definition, is best to get rid of entirely or sell for parts – you can sell it to a junkyard, a private buyer, or a professional junk motorhome buyer. Florida's DMV warns sellers that junkyards offer small prices for junked vehicles, so it is best if you "shopped around."
As you can see, salvaging or junking a travel trailer in Florida is no easy feat, especially when you have to waste countless hours with paperwork and fees. You know the odds are not in your favor if you also have to deal with your tax collector's office or the local DHSMV branch.
If you want to skip all these obstacles and still get rid of your wrecked motorhome for a reasonable price, contact us now for a free estimate, fast cash transactions, and free junk removal!
We Buy All Junk RVs for the Maximum Price
Don't waste time listing your junk RV with dealers, brokers, ad sites, or auctions. Selling a used RV through traditional methods can take months, while your vehicle rusts and loses value. As a reputable RV buyer, we guarantee the best price for:
Junk/wrecked/damaged RVs you want to get rid of fast
Old and unwanted RVs (running or not) you want to sell for cas
Total loss RVs, crashed camper, totaled fifth wheel, etc.
Any other used travel trailer, used pop up camper or used toy hauler you have for sale
Give us all the details regarding your unwanted or damaged vehicle so we can return to you with a valid offer.
Why Choose Us to Buy
Your Junk RV?
When it comes to RVs for sale, we are a market leader with a solid reputation in offering the highest prices for scrap, unwanted, old, unusable, wrecked, or totaled RVs. Here is why you should work with us if you want to get rid of your vehicle fast!
Real-Market Appraisals
Even if your RV is totaled, unusable, old, or simply unwanted, you can still get good money for it. Fill out the form or contact us for details, and we will give you an unmatchable price for your vehicle.
Fast Transactions
Don't worry about paperwork, clean or salvage titles, and other issues. We will take care of everything at no extra fee.
Free Collection
We will schedule a convenient time for you to have our staff to pick up your junk RV anywhere in California and neighboring states.
Good, Quick Cash
We know how important it is to sell your junk RV fast, easy, safe, and with no hidden taxes. With us, you will have your money as fast as possible.
 Frequently Asked Questions from People Looking to Sell their RV   in Florida
Do you still have questions regarding selling your junk RV to us for good, fast cash? Check out the answers below! If you still don't find the information you're looking for, don't hesitate to contact us!
Who buys Junk RV's in Florida?
If you want to sell a junk trailer or motorhome in Florida, you should "shop around" – as Florida's DMV advises – for the best offers. Some reputable dealers include Cash for Junk Cars Salvage Yard in St. Petersburg, the Used Car Buyer auto wrecker in Delray Beach, and Cash For RV Junkyard in Tampa. Nevertheless, they will not likely offer you a lot of cash for your clunker and might request you to bring your pile of rust to them. However you look at such deals, you are in a pickle.
So make your own life easier and call us now! We'll take the junk off your hands for free while paying you a good deal of money in a secure and fast transaction!
What is the difference between salvage and rebuilt titles for RVs in Florida?
Total loss in Florida means that a vehicle is considered totaled if the cost of repairs equals 80% or more of the vehicle's ACV. The primary distinction between rebuilt title vehicles and salvage title vehicles is that rebuilt titles are road-legal. Despite having a salvage title previously, rebuilt title cars or motorhomes must have been thoroughly repaired before being deemed safe to drive by a state inspection facility.
Is water damage covered by Florida's RV insurance policies?
Suppose you are an RV owner living in Florida, knowing that flooding can occur anytime, anywhere. In that case, the sensible thing to do is get comprehensive coverage for RV damages beyond your control. This includes flash floods, oceanic storms, or overflowing bodies of water. In this case, if water damages your motorhome or travel trailer, your RV insurance policy might cover the cost of repair or replacement, less your deductible. If you don't have comprehensive coverage and you have a flooded, burnt, hurricane-smashed travel trailer on your hands, you need to make the best out of a bad situation and sell it to someone who will take it off your hands for a good price.
Sell My RV Fast, Easy, and Safe!
We buy all types of RVs at the best prices, regardless of their quality and condition. Everything can happen very quickly and without wasted time on your part.