We Buy Your Junk RVs in GEORGIA
Looking to sell your junk RV in Georgia? At Hey RV, we buy salvaged motorhomes and travel trailers in any condition.
Get a top-dollar offer that beats junkyards and private buyers. Whether you're in Atlanta, Savannah, Augusta, or Columbus, enjoy free pick-up services across Georgia! Contact us now for a hassle-free selling experience!
Looking to sell your RV in Georgia can sometimes feel like exploring the hidden gems of the Peach State. While many local buyers may be focused on regular vehicles, leaving RV owners with limited options, fret not! At HeyRV, we bring the sparkle of Savannah's historic district to your RV-selling journey.
Forget about dealing with scrap yards or junkyards; we offer a shiny deal that will make you smile as bright as the lights of Atlanta at night. Whether you're in bustling Augusta, lively Columbus, or anywhere else in the state, we've got you covered. We'll give you more cash for your beloved old RV than you ever thought possible!
At HeyRV, selling your RV in Georgia is as smooth as a ride through the beautiful countryside. From start to finish, our process is faster than a horse race at the Atlanta Motor Speedway. No delays or hassles – we value your time and ensure quick payment, whether it's cash, check, or Venmo. If your RV has seen better days, don't worry – we'll pay top dollar for your weathered, flood-damaged, or non-roadworthy trailer anywhere in Georgia. Don't miss this golden opportunity – sell your RV with HeyRV and get the riches you deserve!
Make an Appointment
Send us an email with your data
and we will contact you as soon as possible.
Our Business
We'll pay you at the time of pickup for a fast and secure transaction.
We'll have an offer for you in a matter of minutes.
Call Now!
Call or write us to organize
the details of the sale of your RV.
Junk RV buyer anywhere in Georgia
Get better prices and faster disposal than any other RV Junkyard in Georgia
Should You Junk or Sell Your Junk RV in GEORGIA?
Selling an RV in Georgia can feel like searching for buried treasure in Tybee Island. Many places might focus on cars and trucks, but HeyRV is the real gem you're looking for! We specialize in buying RVs, and we offer the best cash deals from Athens to Columbus and everywhere in between. Whether your RV has seen better days or needs some TLC, we're ready to buy it!
Stop Waiting for Private Buyers & Sell Your Damaged RV in Georgia Now!
Forget about dealing with private buyers or salvage yards that'll lowball you like a second-rate auctioneer. Choose HeyRV, and we'll give your RV the royal treatment it deserves. Your old pal will fetch a much better price, and you'll have cash in hand faster than a peach pie vanishing at a family reunion!
No! Your best bet is to sell your RV clunker for good cash right now!
Sell your outdated, severely damaged, flooded, or irreparable RV to us for fast and profitable cash!
Your Junk Motorhome Has More Value Than What Georgia RV Junkyards Usually Pay!
Don't sit around in Atlanta or Savannah, hoping for a fair deal on your weathered camper. Those local salvage yards and flea markets might not see the true value of your beloved RV. But fear not! It's time to unleash your inner Georgia peach and turn that old, damaged, or waterlogged RV into a cash jackpot! With our expert appraisers, we'll make an offer that'll make you feel like you just won the game-winning touchdown at the Georgia Dome! Get ready to put the pedal to the metal and race towards a sweet deal with us!
Give us a call or fill out the form on this page to get our competitive offer right now! If we agree on the price, we'll arrange your old camper's FREE REMOVAL at your convenience, anywhere in Georgia. 
What are you waiting for? Contact us right now!
What Paperwork Do You Need to Sell Your Junk RV in Georgia?
Ready to part ways with your trusty RV and score some cash? Don't you worry, we've got the peachiest deal for you! Selling your RV in the peach state has never been easier. Here's the scoop:
First things first, grab that sweet Georgia RV title – it's your ticket to a successful sale. If it's playing hide-and-seek, no sweat! The Georgia Department of Revenue will hook you up with a duplicate. Next, add some Southern charm with a Bill of Sale, sealing the deal like a firm handshake.
Now, y'all ready for some stress-free selling? Reach out to HeyRV, and we'll take care of all the paperwork and towing. Sit back, enjoy that Georgia sunshine, and let us handle the rest. Get cash in hand faster than a lightning storm over the Blue Ridge Mountains. So why wait? Call us today, and let's make this sale as sweet as Georgia peaches!
But why waste time with all that? You can get good cash for your junk RV today, without the extra hassle!
We Offer FREE Junk RV Removal Anywhere in Georgia!
Tired of scouring every corner of Georgia for "free junk RV removal near me," only to be disappointed with empty promises and no cash in hand? Well, worry no more! HeyRV is your local hero, here to rescue you from the clutches of unreliable junkyards. We're not your average run-of-the-mill scrap dealers – we value your time and understand that you deserve fair compensation for your worn-out, non-roadworthy trailer.
Unlike others, we won't just haul away your RV without giving you a dime. Oh no, we're changing the game! At HeyRV, we believe in offering top-notch services and putting money back in your pocket. Our expert team will not only provide you with free RV removal but also offer a handsome price for your beloved clunker. Whether you're in Atlanta, Savannah, Augusta, or any corner of Georgia, we're here to take care of you!
Give us a holler, and our friendly folks will give you a no-obligation estimate for your damaged RV. Once we've agreed on a fair deal, we'll whisk it away from your property or storage facility without charging you a single penny for towing. You heard that right – no hidden costs, no towing fees! With HeyRV, selling your junk RV in Georgia is as smooth as a sweet peach cobbler on a sunny day. Say goodbye to empty promises and hello to fast cash for your RV!
Sell Your Junk Motorhome in ANY Condition in Georgia!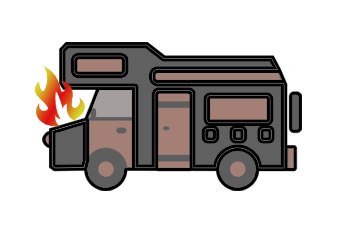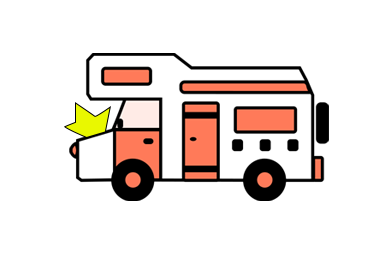 Living in a state prone to wild weather like Georgia can be a wild ride for your RV. Thunderstorms, hurricanes, and hail can leave your vehicle looking like a peach after a storm. But worry not, because we're here to help you weather the storm of selling your junk RV!
HeyRV specializes in buying RVs in any condition, even if it's weathered a Georgia tempest. Whether it's cosmetic or structural damage, or it needs more love than a slow-cooked BBQ, we're interested in buying it!
Don't let the challenges of finding buyers or salvage yards that'll treat your RV like yesterday's leftovers hold you back. We'll make the process as smooth as sweet tea on a summer's day, offering you instant cash for your junk RV based on its condition and its Georgia charm!
Is My Old Motorhome Worth Anything in Georgia?
Got an old motorhome gathering dust like Spanish moss? Don't let it be forgotten like the lyrics to a forgotten Southern ballad! While others might not see its value, we sure do. At HeyRV, we'll make sure your pockets jingle like a banjo at a bluegrass festival!
Picture all the adventures you'll have with that extra cash. Hit the open roads and explore the Blue Ridge Mountains or head down to Jekyll Island for a seaside escape. Your old motorhome can fund new memories and incredible experiences all over Georgia!
Don't wait – turn your old motorhome into an adventure mobile with HeyRV. Call us today, and let's put some pep in your step with fast cash for your junk RV anywhere in Georgia!
First Step
Find out how much money you can make for your crashed/unusable motorhome by filling out the form on this page.
Second Step
Once we shake on the deal, you receive your quick cash by bank transfer.
Third Step
We send our people to your place to remove the old camper for free.
We come with our own towing equipment and technicians and handle all the paperwork!
How Do You Sell a Salvage or Rebuilt Title RV in Georgia?
Selling a salvage or rebuilt title RV in Georgia might seem like navigating a tricky peach maze, but fear not! HeyRV is here to make the process as smooth as sipping on sweet tea on a hot summer day. If you choose to go it alone, there's a laundry list of tasks to tackle – gathering paperwork, showcasing your RV's charm, negotiating deals – it's enough to make your head spin like a Tilt-A-Whirl at the Georgia State Fair.
But why get tangled up in all that when you can take the easy route with HeyRV? We'll handle all the heavy lifting for you! No need to advertise your junk RV or haggle with private buyers. Our expert team knows the ins and outs of selling a salvage or rebuilt title RV in Georgia. We'll offer you a fair deal and ensure a lightning-fast transaction that'll have you dancing like a true Georgian.
Wherever you are in the Peach State – Atlanta, Savannah, Macon, or beyond – we'll come to your rescue. We'll tow away your outdated motorhome or travel trailer for free, and you'll walk away with cash in your hand on the spot. Selling your junk RV in Georgia has never been this peachy! So, say goodbye to the headaches and hello to a hassle-free, top-dollar deal with HeyRV!
We Buy All Junk RVs for the Maximum Price
Don't waste time listing your junk RV with dealers, brokers, ad sites, or auctions. Selling a used RV through traditional methods can take months, while your vehicle rusts and loses value. As a reputable RV buyer, we guarantee the best price for:
Junk/wrecked/damaged RVs you want to get rid of fast
Old and unwanted RVs (running or not) you want to sell for cas
Total loss RVs, crashed camper, totaled fifth wheel, etc.
Any other used travel trailer, used pop up camper or used toy hauler you have for sale
Give us all the details regarding your unwanted or damaged vehicle so we can return to you with a valid offer.
Why Choose Us to Buy
Your Junk RV?
When it comes to RVs for sale, we are a market leader with a solid reputation in offering the highest prices for scrap, unwanted, old, unusable, wrecked, or totaled RVs. Here is why you should work with us if you want to get rid of your vehicle fast!
Real-Market Appraisals
Even if your RV is totaled, unusable, old, or simply unwanted, you can still get good money for it. Fill out the form or contact us for details, and we will give you an unmatchable price for your vehicle.
Fast Transactions
Don't worry about paperwork, clean or salvage titles, and other issues. We will take care of everything at no extra fee.
Free Collection
We will schedule a convenient time for you to have our staff to pick up your junk RV anywhere in California and neighboring states.
Good, Quick Cash
We know how important it is to sell your junk RV fast, easy, safe, and with no hidden taxes. With us, you will have your money as fast as possible.
Frequently Asked Questions from People Looking to Sell Their Junk RVs in Georgia
Curious about selling your junk RV in Georgia and scoring a fair deal without any peachy headaches? Check out the answers below to find the juicy details you need. And hey, if you still have questions, don't be shy! Reach out to us, and we'll sweeten the deal with our assistance!
Who buys junk RVs in Georgia?
While some places in Atlanta or Savannah may dabble in junk RVs, their main gig often revolves around cars. Salvaging a few parts might tickle their taste buds, but their offers might leave you feeling less than satisfied, like a peach without its sweetness. But worry not, for we're the real deal! HeyRV is your best bet for a smooth and rewarding selling experience. Forget the limited offers – we're here to give you instant and substantial cash for your weathered, flooded, totaled, or even slightly peachy RV!
How do you junk an RV in Georgia, with or without a title?
Junking your RV in Georgia is as easy as biting into a ripe peach! Just follow the dance steps outlined in the Georgia Code, Title 40, Chapter 11, Article 3. First, reach out to an authorized removal agency – they're like the pitmasters of junk vehicles! They'll handle everything from removal to salvaging and transportation. They'll even send written notices to the owner and lien holders, just to keep things peachy keen. If they don't reclaim the RV within the set time, the agency takes charge – no more peach fuzz, it's their baby now!
Finally, the agency will apply for a salvage title or certificate from the Georgia Department of Revenue, making it all official and proper. Skip the pits and hassle! Give us a holler, and we'll turn your junk RV into a pocketful of cash, no matter where you are in Georgia!
Sell My RV Fast, Easy, and Safe!
We buy all types of RVs at the best prices, regardless of their quality and condition. Everything can happen very quickly and without wasted time on your part.