We Buy Your Junk RVs in Louisiana
When it comes to old RVs, HeyRV does free estimations and offers handsome cash for the resulting evaluation. HeyRV will not tax you to get the old clunker off your property because HeyRV takes care of the towing costs. This offer is available anywhere in the Pelican State: from New Orleans, Baton Rouge, and Lafayette to Monroe, Houma, and Ruston.
HeyRV has dealt with as many junk RVs as there are alligators between Louisiana's borders; needless to say, it is an impressive count. We have the experience and the expertise to back up our professionalism. We have done countless evaluations and had plenty of satisfied RV owners – all relieved to have their old motorhome off their hands (and at no cost to them)!
HeyRV has seen it all! From old RVs that fell out of fad but still were pretty well kept to rigs from which rust was coming off in orange snowflakes and looked so ancient that it might as well have seen the birth of jazz music.
It is to say: don't be ashamed if your junk RV looks like it's a heap of rusty scrap metal rolling down wobbling wheels! It is true that it would have been better if you'd replaced the old RV earlier, but we'll take whatever you are ready to give!
Many RV owners get sentimentally attached to their motorhomes. However, you should try to be rational about your investments. It's not worth keeping your RV until it degrades to a barely functional clunker! Contact HeyRV, and we'll make you a FREE OF CHARGE ESTIMATION on how much your clunker is still worth!
Make an Appointment
Send us an email with your data
and we will contact you as soon as possible.
Our Business
We'll pay you at the time of pickup for a fast and secure transaction.
We'll have an offer for you in a matter of minutes.
Call Now!
Call or write us to organize
the details of the sale of your RV.
Junk RV buyer anywhere in
Louisiana
Get better prices and faster disposal than any other RV Junkyard in
Louisiana
Should You Junk or Sell Your Old RV in Louisiana?
When it's time to say goodbye to their aged RVs are caught between these two options: selling or junking? Which is to say, should they sell it to a private buyer or just junk it to a scrapyard around Lafayette, Caddo, East Baton Rouge, or Orleans, which would tear it down to parts?
The broad answer is usually: it depends on the state of the RV at that moment. If it's still functional (and here, there are gradients of that would be considered functional or not for a motorhome), but if it's still functional, you can choose to sell it to a private buyer. However, many owners who have been with their motorhomes for a long time feel bothered by the idea of their old home on wheels being inhabited by other people. So, they choose to sell it to HeyRV, for example. 
Other old RV owners might feel like even after all the additional reparations made to the five–wheeler it still may not be as safe to be driven. They don't want to have the life of other people on their consciousness – god forbid, Louisiana is haunted by the ghosts as it is, they don't want to add to the list of furious specters hoovering around the bayous.
It is why choosing to sell your junk RV to HeyRV might be the best option that you have. It's not a statement we are making out of sheer arrogance – we have the years in this industry to know what we are talking about. We've seen how many old RV owners have struggled over the years to find someone to pay them GOOD CASH for their JUNK MOTORHOME, and we are doing just that! So, contact us, and we'll serve you to the best of our capabilities as we've done through all these years before.
Stop Waiting for Private Buyers & Sell Your Damaged RV in Louisiana Now!
You'd have higher chances to get a better deal than HeyRV offers if you go through all the haunted bars in New Orleans and ask for a paranormal intervention to get rid of your junk RV and still get plenty of cash for it! Because HeyRV knows what's doing. We know the market, the people, and the value of old RVs: we cover all fronts!
No matter the damage your old motorhome has suffered, we are willing to offer you a FREE ESTIMATION on how much it is still worth and then DELIVER you THE MONEY –on Venmo, cash, or checks.
Contact us and cash in the worth of your junk RV. Don't wait too much, though! With each passing day, the value of your old motorhome takes a deep dive toward the marshes, and it's not coming up anymore.
Your Junk Motorhome Has More Value Than What Louisiana RV Junkyards Usually Pay!
Like in any business sector, there are some commodities over which everyone is fighting! In the case of junkyards, those are the cars and the trucks. Those are the vehicles that get them the most revenue. After all, those are the vehicles that pass through their gates more often than RVs. As a result, scrapyards around Baton Rouge, Shreveport, Lake Charles, Kenner, Bossier City, Monroe, and Alexandria probably won't be a match for the offer that HeyRV brings to the table: FREE VALUE EVALUATION + FREE TOWING + GOOD CASH!
Most of these junkyards wild try to haggle with you into lowering your expectations to the cash you are owed to. Probably, based on the damage your old RV has sustained, some would not even pay you for it if it's in a condition deemed "too bad" for purchase. Plus, you'll have to bear the brunt of taking care of the towing logistics. When you draw a final line, there are only costs upon costs and few benefits.
That's where HeyRV comes into play! We know all these facts from previous clients who have come to us and told us that they are so relieved to deal with a team who is so ready to deliver qualitative service. They were thrilled to hear that by agreeing to sell us their junk RVs we were also willing to do their paperwork of selling a junk RV.
Contact us and join the web of satisfied clientele!
Give us a call or fill out the form on this page to get our competitive offer right now! If we agree on the price, we'll arrange your old camper's FREE REMOVAL at your convenience, anywhere in Louisiana.
What are you waiting for? Contact us right now!
What Paperwork Do You Need to Sell Your Junk RV in Louisiana?
Selling your junk RV on your own? Brace yourself for paperwork that can sometimes feel tedious and repetitive. Or, you could skip all that hassle by partnering with HeyRV! With us, you won't have to worry about the tedious process because we'll take care of everything for you. Choose HeyRV, and let us handle the paperwork, so you can focus on enjoying the cash from your old RV. Contact us today!
BUT suppose you are still willing to march on with the challenge. In that case, we'll present you with some of the required paperwork:
If you are looking to sell your junk RV in Louisiana, the paperwork involves notifying the Louisiana Office of Motor Vehicles (OMV) about the sale, donation, or trade of the vehicle. This notification can be made through the Notice of Vehicle Transfer online service. 
To do this, you must have the following information ready: 
the license plate number, 

the expiration date as shown on the vehicle's registration, 

the Vehicle Identification Number (VIN), 

your driver's license number or company EIN as shown on the vehicle's registration,

the name and address of the buyer, 

the date the vehicle was sold, donated, or traded, 

and the selling price of the vehicle, if applicable. 
The LOMV record will be flagged immediately, indicating the disposition of the vehicle, but the legal transfer of ownership will not occur until the new owner applies for the title.
Tired of battling the paperwork to sell your junk RV? Let HeyRV take the wheel (even if it's rusty and barely holding)! We can turn your frustrations into relaxation by handling all that tedious paperwork. Choose HeyRV – where selling your RV can become as smooth as a Sunday drive. Contact us today!
We Offer FREE Junk RV Removal Anywhere in Louisiana!
No matter where you are in the Bayou State, know that HeyRV's service can reach you and your old RV in time! From Ouachita, Rapides, Terrebonne, and Calcasieu to Orleans, we can go from one parish to another and FREE TOW your old camper! In exchange for a handsome sum of cash, you'll have your hands clean off the rusty scrap metal that your junk RV is slowly turning into (at some point, not even a revival from the ghost of the Voodoo Queen Marie Laveau would be able to help).
So, if you are tired of struggling with your massive motorhome, contact HeyRV right now – your lifeline for all things RV! Born from a desire to simplify life for motorhome owners, we know that maintaining an RV is no walk down the streets of New Orleans at Mardi Gras (it applies only if you are not into buzzed crowds shouting and singing in colorful attires). 
That's why we're here and ready to help you dispose of your old RVs who has suffered extensive damages– especially when unpredictable hazards like weather come into play.  Plus, we'll tow it out of your driveway for FREE! 
Connect with HeyRV today, and let us make your RV troubles a thing of the past!
Sell Your Junk Trailer in ANY Condition in Louisiana!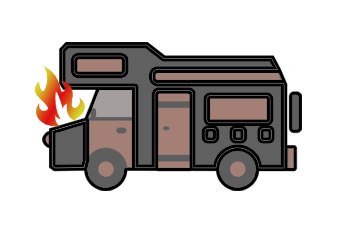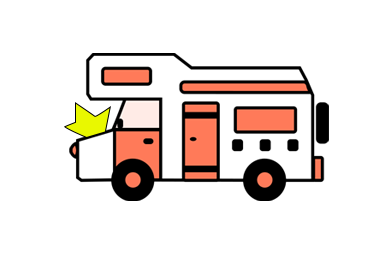 A road trip in your RV from Fontainebleau State Park to Fair-view Riverside State Park or the Forest River Retreat should not feel like you are driving an RV that's been jinxed. It will make you feel like someone is stabbing needles in your Vodoo doll and making black magic in the back of the bayou to stop you from enjoying a nice retreat in your motorhome. 
HeyRV has seen many cases of junk RVs in bad condition, where the owners stubbornly refuse to let that old dreg rest in peace – it has lived its long life on the road already!–, and change it to a model. Especially if you are selling to someone like HeyRV, where you can receive good money for your old motorhome, from which you can invest in buying a better camper.
So, is your RV worn out and weathered by Louisiana's unpredictable climate? At HeyRV, we understand that it's not always your fault, and we're ready to turn that damage into dollars! From the slightly weathered to the most surprisingly damaged RVs, we're prepared to take them off your hands. Convert the scars of nature into profit, and let us give your junk RV new life. Sell it to HeyRV and let those damages pave the way to cash! Contact us now!
Is My Old Motorhome Worth Anything in Louisiana?
For sure, it's worth something for HeyRV! 
If the scrapyards around Louisana cannot recognize your old camper's value, then be assured that we know how to appreciate it.
Is your old camper looking like a cluster of dregs on wheels? Got an RV that looks like it has been through Hurricane Katrina twice? Don't fret! Even if you've reached beyond the point of hoping that anyone could be remotely interested in your junk RV anymore, know that HeyRV is and will pay you fairly for it!
At HeyRV, we take any camper, no matter its condition, and lift it right off your shoulders and onto our towing trucks. Forget the battle of convincing private buyers; we're in your corner and ready to make the sale a knockout success! Not only can we get that old rugged camper out of your way, but we'll give you good money for it while also providing FREE towing services!
First Step
Find out how much money you can make for your crashed/unusable motorhome by filling out the form on this page.
Second Step
Once we shake on the deal, you receive your quick cash by bank transfer.
Third Step
We send our people to your place to remove the old camper for free.
We come with our own towing equipment and technicians and handle all the paperwork!
How Do You Sell a Salvage or Rebuilt Title RV in Louisiana?
Selling a salvage or rebuilt title RV in Louisiana involves a process regulated by the Louisiana Office of Motor Vehicles (OMV). In that respect, there are several factors you need to consider.
If your RV is damaged to the extent that restoring it would cost 75% or more of its fair market value, it's considered a "total loss" or salvage. 

If you decide to keep the RV, you have 30 days from the insurance claim settlement to apply for a salvaged title. Your options include accepting a full or partial settlement from your insurance company. If you opt for a partial settlement, you may choose to junk the RV or apply for a salvage title. 
To apply for a salvage title, you must submit a completed Vehicle Application (Form DPSMV 1799) with "Salvage Title" written on it, the vehicle's assigned title or manufacturer's statement with "Salvage Title" written on it, proof of loss from your insurance, and appropriate fees, including $68.50 for the salvage title (with possible additional costs). 
After obtaining the salvage title, you can repair the RV and apply for a rebuilt title if you wish to sell it. You can submit the required documents and fees either in person at your local OMV office or by mail to the specified address. 
Navigating the legal steps to sell your RV can be a maze of paperwork and regulations. But why get lost when HeyRV is here to guide you? Choose to sell your RV to us, and we'll handle all those legalities for you. Turn confusion into convenience with HeyRV, where we make selling your RV as easy as a phone call away. Want to simplify your life? Call HeyRV today, and let's make it happen!
We Buy All Junk RVs for the Maximum Price
Don't waste time listing your junk RV with dealers, brokers, ad sites, or auctions. Selling a used RV through traditional methods can take months, while your vehicle rusts and loses value. As a reputable RV buyer, we guarantee the best price for:
Junk/wrecked/damaged RVs you want to get rid of fast
Old and unwanted RVs (running or not) you want to sell for cas
Total loss RVs, crashed camper, totaled fifth wheel, etc.
Any other used travel trailer, used pop up camper or used toy hauler you have for sale
Give us all the details regarding your unwanted or damaged vehicle so we can return to you with a valid offer.
Why Choose Us to Buy
Your Junk RV?
When it comes to RVs for sale, we are a market leader with a solid reputation in offering the highest prices for scrap, unwanted, old, unusable, wrecked, or totaled RVs. Here is why you should work with us if you want to get rid of your vehicle fast!
Real-Market Appraisals
Even if your RV is totaled, unusable, old, or simply unwanted, you can still get good money for it. Fill out the form or contact us for details, and we will give you an unmatchable price for your vehicle.
Fast Transactions
Don't worry about paperwork, clean or salvage titles, and other issues. We will take care of everything at no extra fee.
Free Collection
We will schedule a convenient time for you to have our staff to pick up your junk RV anywhere in California and neighboring states.
Good, Quick Cash
We know how important it is to sell your junk RV fast, easy, safe, and with no hidden taxes. With us, you will have your money as fast as possible.
Frequently Asked Questions from People Looking to Sell Their Junk RVs in Louisiana
Looking to trade in your junk RV for cash in Louisiana? Find all the answers you need below! And if you can't find what you're looking for, we're just a call or click away. Contact us today, and let's turn that old RV into cash!
How Long Does the Title Transfer Process Usually Take in Louisiana?
The time it takes to transfer a vehicle title in Louisiana can vary based on several factors, such as the submitted paperwork's accuracy and completeness and the Louisiana Office of Motor Vehicles (LOMV) workload.
Generally speaking, title transfer processes can take anywhere from a few days to several weeks. It's advisable to check directly with the LOMV office or their official website for the most accurate and up-to-date information on the expected time frame for a title transfer in Louisiana. Some offices may also offer expedited services for an additional fee if you need the title transfer to be processed more quickly.
What Fees Are Associated With Title Transfer in Louisiana?
Generally, title transfer fees can vary based on factors like the vehicle's age, type, weight, sale price, and any local or parish-specific taxes and fees.
Typical fees may include the title transfer fee, sales tax (based on the sale price), registration fees if registering simultaneously, handling or processing fees charged by some LOMV offices, and late fees if the transfer is not completed in the required time frame. 
It's recommended to consult the Louisiana Office of Motor Vehicles' website or a local LOMV office for a detailed breakdown of all applicable fees for your particular situation. Or, if you sell your old motorhome to HeyRV, we can go through all the required paperwork without you having to lift a finger!
Sell My RV Fast, Easy, and Safe!
We buy all types of RVs at the best prices, regardless of their quality and condition. Everything can happen very quickly and without wasted time on your part.