We Buy Your Junk RVs in Massachusetts
Do you have a junk RV that's taking up space on your property? Tired of paying storage fees for a trailer or camper that's no longer fit for use? Got a broken RV that isn't worth repairing? Let us take it off of your hands for you anywhere in Massachusetts!
At HeyRV, we will pay you for your trashed recreational vehicle, no matter what condition it's in. When you reach out to us, we guarantee that there will be no hidden fees or commissions. Our free junk RV removal services are truly free, from the Berkshire Mountains to Cape Cod.
Call us today to get started! We'll come to your property or storage facility and assess your RV. We'll then make you an offer on the spot. If you accept, we'll tow your RV away for free. We'll give you cash, and you won't have to worry about it again!
Get instant cash for your damaged RV or junk camper, whether you live in Boston, Worcester, Springfield, Cambridge, or Lowell in Massachusetts!
At our company, we recognize the true worth of your junk motorhome and are ready to pay good cash on the spot. Say goodbye to the disappointment that comes with dealing with salvage yards and dealers who undervalue your damaged metal. Instead, choose us for a hassle-free experience, providing you with quick, safe, and profitable deals. 
When you contact us to give you cash for your recreational vehicle, you can rest assured, you'll receive top dollar for your junk RV, and we offer various payment options, including Venmo, cash, or check, ensuring convenience for our valued customers throughout Massachusetts.
Make an Appointment
Send us an email with your data
and we will contact you as soon as possible.
Our Business
We'll pay you at the time of pickup for a fast and secure transaction.
We'll have an offer for you in a matter of minutes.
Call Now!
Call or write us to organize
the details of the sale of your RV.
Junk Trailer Buyer Anywhere in Massachusetts
Get better prices and faster disposal than any other RV Junkyard in Massachusetts
Should You Junk or Sell Your Junk RV in Massachusetts?
The decision to unload your trashed RV for cash may have been an easy one for you to make, or you may be struggling with it. Our seamless process can make the choice of whether to sell your junk RV here in the Bay State easier.
Here are some reasons you might be thinking about getting rid of your junk RV in Massachusetts: 
Your RV needs repairs that will cost more than it is worth.

You are tired of paying to park your camper in Boston Commons Garage when you aren't using it. And let's face it, you are never using it. 

Your spouse has given you a choice: it's me or the RV.

Your recreational vehicle rusted from Hurricane Ida damage.

The city is threatening to fine you if you don't get your trashed RV off the property.

Your days of taking the ferry to Nantucket are behind you now that the sharks have arrived.

You thought you'd renovate your old trailer, but years have passed and it still looks the same.

You don't want to go through the hassle involved in registering your RV with the Massachusetts Environmental Police – or the hassle of applying for an exemption.
Stop Waiting for Private Buyers & Sell Your Junk RV for Fast Cash Now!
We buy junk RVs in Massachusetts for cash, and we'll even tow it away for free. We're not interested in your RV's condition. We'll take anything, even if it's just a pile of scrap metal.
We're a professional junk RV buyer, and we have a team of experienced professionals who will handle your free RV removal with care. We'll also dispose of your RV properly, so you don't have to worry about it polluting the environment.
Here are some of the other benefits of selling your junk RV to us:
We'll give you a fair price for your RV, even if it's in poor condition.

We'll tow your RV away for free.

We'll dispose of your RV properly.

The entire process is easy and hassle-free
So if you're looking to sell your junk RV in Massachusetts, give us a call today. We'll give you a fair price for your RV, and we'll make the entire process as easy as possible for you.
Your Damaged Motorhome Has More Value Than Whatever Massachusetts RV Junkyards Are Willing to Pay!
Deciding whether to junk or sell your junk RV in Massachusetts depends on various factors, and one of those is how much you're going to get for it. You may assume that you won't get enough for your RV because it's been damaged by fire or water, because of its age, or for other reasons. These are the factors that will determine how much your old RV is worth:
Condition of the RV: Assess the overall condition of your junk RV. If it is severely damaged, non-functional, or requires extensive repairs that exceed its value, junking it may be the more practical option.
Market Value: Determine the potential market value of your junk RV. Research prices of similar RVs in your area to gauge its selling potential. If the value is relatively low or there is limited demand, selling it may not yield a satisfactory return.
Cost of Repairs: Evaluate the cost of necessary repairs to make the RV marketable. If the repair expenses are significant and exceed the potential selling price, it might be more cost-effective to junk the RV.
Time and Effort: Selling a junk RV can be time-consuming and require effort, such as advertising, meeting with potential buyers, and negotiating. If you are looking for a quicker and hassle-free option, junking the RV may be preferable.
Environmental Impact: Consider the environmental impact of junking your RV. If you opt for junking, ensure that you choose a reputable recycling facility that adheres to proper disposal and recycling practices.
Personal Preferences: Consider your personal preferences and circumstances. If you have the time, resources, and inclination to invest in selling the RV, it may be worth exploring that option. However, if you prioritize convenience and need to dispose of the RV quickly, junking it could be the more suitable choice.
We Offer FREE Junk RV Removal Anywhere in Massachusetts!
Are you looking for a way to get rid of your unwanted RV for free in Massachusetts? We can help! We buy unwanted RVs for cash and take care of their free disposal.
We service all areas of Massachusetts, including Boston, Springfield, Worcester, and Lowell. We also offer free towing from anywhere in the state, so you don't have to worry about paying for transportation.
Here are some of the benefits of using our service to get cash for your unwanted RV in Massachusetts:
You'll get paid cash for your unwanted RV.

We'll tow your RV away for free.

We'll dispose of your RV properly.

There are no hidden fees or commissions.

Our service is available statewide.

We are familiar with the

Massachusetts Department of Environmental Protection

's regulations for the disposal of junk RVs.

We are licensed and insured to operate in Massachusetts.

We have a team of experienced professionals who will handle your RV removal with care.

We are confident that we can provide you with the best possible service for your free junk RV removal in Massachusetts. 
We're here to help you get rid of your unwanted RV quickly and easily. Call us today to learn more about our free junk RV removal services in Massachusetts.
Is My Old Motorhome Worth Anything in MASSACHUSETTS?
Opting to dispose of a broken motorhome at a Massachusetts scrap yard is often undesirable due to the reduced payout. Factors like age, mileage, manufacturer, model, and weather damage further decrease its value.
Nevertheless, it's important not to underestimate the worth of your damaged motorhome, regardless of offers from local junk or salvage yards.
Waiting for a potential private buyer to inspect your RV's issues, such as electrical problems, blown engine, or delaminated walls, can be a time-consuming endeavor with uncertain outcomes.
Instead, seize the opportunity to sell your worn-out, high-mileage, or hail-damaged trailer for cash promptly! Use the funds to consider purchasing a new one and explore exceptional destinations like Wompatuck State Park and Martha's Vineyard.
First Step
Find out how much money you can make for your crashed/unusable motorhome by filling out the form on this page.
Second Step
Once we shake on the deal, you receive your quick cash by bank transfer.
Third Step
We send our people to your place to remove the old camper for free.
We come with our own towing equipment and technicians and take care of all the paperwork!
Sell Your Junk Travel Trailer in Any Condition in Massachusetts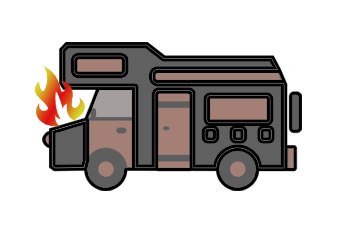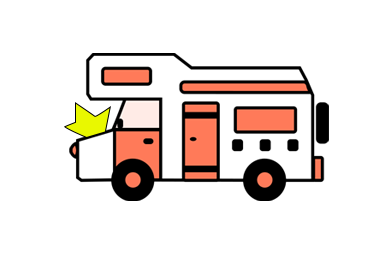 How Do You Sell a Salvage or Rebuilt Title RV in Massachusetts?
Selling a salvage or rebuilt title RV in Massachusetts requires following a few essential steps:
Prepare the necessary documentation: Gather all relevant paperwork related to the RV, including the salvage or rebuilt title, any repair records, and maintenance history. Having a comprehensive record helps potential buyers make informed decisions.
Assess the RV's condition: Evaluate the current condition of the RV and determine its fair market value. Consider any remaining issues or repairs needed and factor them into the pricing.
Disclose the salvage or rebuilt title: Be transparent about the RV's title status when advertising or communicating with potential buyers. Provide accurate information about the vehicle's history and any repairs or modifications made.
Advertise the RV: Utilize online platforms, local classifieds, or RV-specific marketplaces to reach potential buyers. Include detailed descriptions, clear photos, and specifications to attract interested parties.
Price the RV competitively: Research similar RVs in the market to determine a reasonable selling price. Take into account the salvage or rebuilt title status and the condition of the RV.
Show the RV to potential buyers: Arrange viewings or inspections for interested buyers. Highlight the positive aspects of the RV and address any concerns they may have about its salvage or rebuilt title status.
Negotiate and finalize the sale: Once you find a buyer, negotiate the price and terms of the sale. Be prepared to answer questions and provide additional information as needed. Ensure that all necessary paperwork, including the bill of sale and transfer of title, is completed accurately.
It's important to note that salvage or rebuilt title vehicles may have limited market appeal, so be patient throughout the selling process. If you encounter challenges or have specific questions related to selling a salvage or rebuilt title RV in Massachusetts, consulting with a local DMV office or seeking professional advice can provide further guidance.
We Buy All Junk RVs for the Maximum Price
Don't waste time listing your junk RV with dealers, brokers, ad sites, or auctions. Selling a used RV through traditional methods can take months, while your vehicle rusts and loses value. As a reputable RV buyer, we guarantee the best price for:
Junk/wrecked/damaged RVs you want to get rid of fast
Old and unwanted RVs (running or not) you want to sell for cas
Total loss RVs, crashed camper, totaled fifth wheel, etc.
Any other used travel trailer, used pop up camper or used toy hauler you have for sale
Give us all the details regarding your unwanted or damaged vehicle so we can return to you with a valid offer.
Why Choose Us to Buy
Your Junk RV?
When it comes to RVs for sale, we are a market leader with a solid reputation in offering the highest prices for scrap, unwanted, old, unusable, wrecked, or totaled RVs. Here is why you should work with us if you want to get rid of your vehicle fast!
Real-Market Appraisals
Even if your RV is totaled, unusable, old, or simply unwanted, you can still get good money for it. Fill out the form or contact us for details, and we will give you an unmatchable price for your vehicle.
Fast Transactions
Don't worry about paperwork, clean or salvage titles, and other issues. We will take care of everything at no extra fee.
Free Collection
We will schedule a convenient time for you to have our staff to pick up your junk RV anywhere in California and neighboring states.
Good, Quick Cash
We know how important it is to sell your junk RV fast, easy, safe, and with no hidden taxes. With us, you will have your money as fast as possible.
Frequently Asked Questions from People Looking to Sell their Junk RV's in Massachusetts
Do you still have questions regarding selling your junk RV to us for good, fast cash? Check out the answers below!
Who buys junk RVs in Massachusetts?
Don't waste time searching for gold in Salem; finding junk yards that buy junk RVs for good cash in Massachusetts can be just as challenging. While the Clunker Junker, Cash Auto Salvage, Junk Car Medics, or Chuckran Auto are reputable, they primarily deal with junk cars, not RVs.
But fear not! We specialize in buying junk RVs in Massachusetts, whether you're in bustling Boston or the small town of Concord. Forget about hauling your rusty old RV to uninterested junkyards. We've got you covered.
Make your life easier today! Give us a call, and we'll offer fast cash for your RV in any condition. Best of all, we'll even provide free removal of your scrap metal.
Does insurance cover flood damage to an RV in Massachusetts?
Insurance coverage for flood damage to an RV in Massachusetts can vary depending on the specific policy and insurance provider. It is important to review your RV insurance policy and consult with your insurance agent or company directly to understand the extent of coverage for flood damage. 
Some insurance policies may offer optional coverage for flood damage, while others may exclude it altogether. Understanding the terms, conditions, and coverage limits of your policy is crucial to determining the level of protection you have in the event of flood-related damage to your RV.
If you have comprehensive coverage, your RV's flood damage may be covered. However, if you don't, you still have options. You may not be able to get your RV replaced by insurance, but you can still call us to haul it away and make a payout to you.
Can I keep a junk RV on my property in Massachusetts?
The regulations regarding keeping a junk RV on your property in Massachusetts may vary depending on local ordinances and homeowners' association rules. In some cases, there may be restrictions on storing or keeping non-operational vehicles, including junk RVs, on residential properties.
It is advisable to check with your local municipality or homeowners' association to understand the specific regulations and any permits or approvals required for keeping a junk RV on your property. They will be able to provide you with accurate information regarding the rules and guidelines that apply in your area.
By complying with the local regulations, you can ensure that you are aware of any restrictions or requirements related to keeping a junk RV on your property in Massachusetts.
Sell My RV Fast, Easy, and Safe!
We buy all types of RVs at the best prices, regardless of their quality and condition. Everything can happen very quickly and without wasted time on your part.