We Buy Your Junk RVs in Missouri
Get ready to earn top dollar for your old motorhome or trailer in Missouri, whether sitting in Kansas City, St. Louis, Springfield, or Columbia! Our efficient 3-step system ensures that selling your junk camper or impaired fifth wheel is as easy as a stroll through Forest Park.
When dealing with Missourians, we must prove that Hey RV is the best buyer for your broken, unusable trailer. In the "Show Me State," nothing is taken for granted. And we are up to the challenge! So, if you want to sell your trash motorhome in "The Ozark State," you've arrived at the right buyer of old campers.
You can be from Branson, Joplin, Rolla, to St. Charles and St. Peters, and we'll find a way to tow your old RV for free! Like the US Westward Expansion that took off here, no matter the distance in the great State of Missouri, there is no location far enough we cannot reach!
We have tailored our process to be both speedy and reliable, guaranteeing you'll receive your payment via cash, check, or Venmo on the spot! We're all set to offer cash for your dilapidated, waterlogged, damaged, or non-functional trailer, no matter where you are in Missouri. Don't hesitate any longer – call us right now!
Make an Appointment
Send us an email with your data
and we will contact you as soon as possible.
Our Business
We'll pay you at the time of pickup for a fast and secure transaction.
We'll have an offer for you in a matter of minutes.
Call Now!
Call or write us to organize
the details of the sale of your RV.
Junk RV buyer anywhere in Missouri
Get better prices and faster disposal than any other RV Junkyard in Missouri
Should You Junk or Sell Your Junk RV in Missouri?
The few salvage yards you'd come across in Moberly, Springfield, Sikeston, or Webb City are more used with car and truck parts than RVs', which can be bad news. If you want to cash in seizable money for your junk camper, you might have one or two things going against you there. You'd have higher chances of success moving Missouri's watercourse than making these cars and trucks junkyards see the real value in your old motorhome.
As an RV owner, this may leave you in a quandary, limited to narrow and insufficient options for your selling needs. Moreover, after you've exhausted yourself scouring the internet to find the best option – possibly going back to the "Missouri Gazette" archives – these scrapyards might not even pay you for the old camper you bring in.
It is exactly why you should reach out to us! We buy junk trailers against a free, fair evaluation! Our super-fast and secure process ensures that your payment – cash, check, or Venmo – will arrive in no time!
Stop Waiting for Private Buyers & Sell Your Damaged RV in Missouri Now!
There are better options than offloading an ancient RV to a private buyer in Missouri. Junkyards, auctions, or secondhand marketplaces in Sedalia, Rolla, Jefferson City, Branson, Joplin, and cities like St. Louis and Kansas City often favor car and truck sales.
The low demand for junk RVs by random strangers may be why private buyers don't offer the good cash you'd receive at HeyRV, for example. And as the Missourian president once said, Nothing in the world can take the place of persistence (Harry S. Truman).  For this reason, you should get the best deal for yourself no matter what. You must do your due diligence until you find junk RV buyers like us, who accurately appraise your old RV and offer a fair price! 
We buy junk RVs in Missouri, no matter their condition. We'll make it worthwhile no matter how many miles your motorhome has under the hood. Not only that, but we are willing to have our services come to where you are! We can get to you anywhere in Missouri – from St. Charles, Buchanan, Jackson, Boone, and Greene to Independent City.
So why wait? Sell your RV clunker for good cash right now!
Sell your outdated, severely damaged, flooded, or irreparable RV to us for fast and profitable cash!
Your Junk Motorhome Has More Value Than What Missouri RV Junkyards Usually Pay!
Any space filled by a rusty motorhome can be used more efficiently. Even though you might be emotionally attached to it, it's better to rip the bandage quickly and swiftly – it's not worth the prolonged effects of having to endure a junk RV in your life for too long. With the money you had to pour into costly repairs, storage, or even fines, you could buy yourself a newer model – more resilient, less rusty, and hasn't been flooded to an inch of its life.
It's worth considering investing in a newer RV model that isn't delaminated, doesn't have electrical issues, and doesn't leak like the Meramec River.  And even if your old RV is fairing better, it's still wise to consider that if it's in bad condition, you should sell it for good cash instead of still investing in its excessively costly repairs. 
The more you wait, the more your old motorhome will depreciate – to the point that it would be near impossible to sell it to a private buyer anymore, and your salvage yards would be the only option. The best time to sell your junk RV is now, before it becomes a money pit!
Concerning salvage yards, things can take a bad turn. Even though there are a handful of junkyards around St. Louis and Kansas City, they would probably not consider your accident-crashed trailer too valuable.
Reach out to us, and our knowledgeable appraisers will provide an offer on par with the value of your RV. All this convenience right here in Missouri!
Give us a call or fill out the form on this page to get our competitive offer right now! If we agree on the price, we'll arrange your old camper's FREE REMOVAL at your convenience, anywhere in Missouri! 
What are you waiting for? Contact us right now!
What Paperwork Do You Need to Sell Your Junk RV in Missouri?
Are you considering selling your broken-down, rust-ridden, unusable RV in Missouri? Should you manage it all by yourself, be ready for a potentially taxing journey with numerous office visits. Quick access to cash is a privilege enjoyed by those who collaborate with HeyRV—we manage the towing and all the paperwork on their behalf. However, those who choose the solo route should brace themselves for considerable paperwork.
The RV Title
Because you must abide by the state's legislation, you must have the RV's original title when selling. Also, in the case of Missouri, there is the possibility of the "rebuilt title," which is a certificate you receive after an inspection that confirms that your old RV has undergone the necessary reparations and is once more usable.
The Bill of Sale
According to Missouri legislation, when an individual wants to sell their RVs, they must provide a Notice of Sale (form 5049) or a Bill of Sale (DOR-1957) within 30 days following the sale date. It also has to be notarized. 
Be aware that Missouri is quite stringent with these stipulations. The state takes these matters seriously, emphasizing precise and valid paperwork. However, why go through this when you can receive significant cash for your old motorhome today without all the hassle? Partnering with HeyRV means you can avoid filling out tedious forms and contracts – we'll handle it all for you!
We Offer FREE Junk RV Removal Anywhere in Missouri!
HeyRV has a twofold deal: you'll get good cash and free towing for your junk RV. We'll remove the old RV from your property and deliver the money straight into your pockets. As the State's motto says, "Let the welfare of the people be the supreme law," we also care about justice and fairness. That is why we'll ensure your broken, salvaged, or totaled motorhome is properly evaluated, and you get good money.
You'll enjoy free towing services for your old RV and a fair deal for your beaten-up vehicle with us. Our team can reach you at your location – Greene, Boone, St. Charles, or Jackson – without hidden costs or towing fees. 
Call us, and we will gladly provide a free evaluation for your worn-out RV. Once we settle on a price, we'll remove it from your premises or storage site at no charge. Call us now because we know how to cater to the needs of an old RV owner.
Sell Your Junk Motorhome in ANY Condition in Missouri!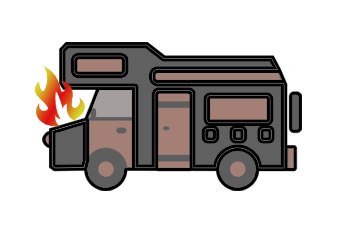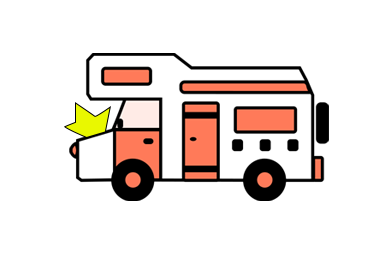 Residing in Missouri comes with the unfortunate reality that your RV is susceptible to extreme weather conditions like tornados and flooding. As you can't control the weather, its effect on your camper is also out of your hands. At HeyRV, we recognize this situation and specialize in buying damaged RVs regardless of their condition, including those impacted by severe weather. 
Whether your RV has structural problems or needs significant repairs, we're ready to give you a fair price and a stress-free selling experience. Don't settle for undervalued offers; instead, contact HeyRV right now. We strive to make the selling process seamless, giving you cash based on your RV's condition and market value.
Is My Old Motorhome Worth Anything in Missouri?
If you're still undecided and wondering whether your junk RV has any value, rest assured that it's valuable to HeyRV! And we'll make sure it is worth it for you as well. We aim to provide a deal that puts extra cash in your pocket and demonstrates we deserve our high ranking by surpassing what any other scrapyard, junkyard, or random buyer can offer!
Don't let your old motorhome sit and depreciate with each passing day. Make a wise financial choice and capitalize on the remaining value of your old investment. Free yourself from the burden of an old wreck by giving it a new purpose. Whether it's totaled, too old to drive, suffered water damage, or has electrical issues, we're prepared to make you a fair offer.
First Step
Find out how much money you can make for your crashed/unusable motorhome by filling out the form on this page.
Second Step
Once we shake on the deal, you receive your quick cash by bank transfer.
Third Step
We send our people to your place to remove the old camper for free.
We come with our own towing equipment and technicians and handle all the paperwork!
How Do You Sell a Salvage or Rebuilt Title RV in Missouri?
Selling a salvage or rebuilt title RV in Missouri can be challenging, especially if you tackle it alone. In such cases, there are several crucial steps to consider, including gathering the necessary documentation, presenting the RV attractively, effectively advertising it, negotiating with potential buyers, determining a fair price, and properly transferring ownership.
However, if you seek a hassle-free solution for selling your junk RV and getting a TOT DOLLAR, your search ends with HeyRV! No matter where you are in Missouri, we'll come to tow your outdated motorhome or travel trailer for free and offer you cash on the spot for your junk RV!
We Buy All Junk RVs for the Maximum Price
Don't waste time listing your junk RV with dealers, brokers, ad sites, or auctions. Selling a used RV through traditional methods can take months, while your vehicle rusts and loses value. As a reputable RV buyer, we guarantee the best price for:
Junk/wrecked/damaged RVs you want to get rid of fast
Old and unwanted RVs (running or not) you want to sell for cas
Total loss RVs, crashed camper, totaled fifth wheel, etc.
Any other used travel trailer, used pop up camper or used toy hauler you have for sale
Give us all the details regarding your unwanted or damaged vehicle so we can return to you with a valid offer.
Why Choose Us to Buy
Your Junk RV?
When it comes to RVs for sale, we are a market leader with a solid reputation in offering the highest prices for scrap, unwanted, old, unusable, wrecked, or totaled RVs. Here is why you should work with us if you want to get rid of your vehicle fast!
Real-Market Appraisals
Even if your RV is totaled, unusable, old, or simply unwanted, you can still get good money for it. Fill out the form or contact us for details, and we will give you an unmatchable price for your vehicle.
Fast Transactions
Don't worry about paperwork, clean or salvage titles, and other issues. We will take care of everything at no extra fee.
Free Collection
We will schedule a convenient time for you to have our staff to pick up your junk RV anywhere in California and neighboring states.
Good, Quick Cash
We know how important it is to sell your junk RV fast, easy, safe, and with no hidden taxes. With us, you will have your money as fast as possible.
Frequently Asked Questions from People Looking to Sell Their Junk RVs in Missouri
Are you curious about how to sell your old RV in Missouri? Check out the responses below to get the necessary details. Don't hesitate to contact us if anything catches your attention or prompts a question!
How Do You Get Rid of a Pop up Trailer in Missouri?
You can get rid of an old camper in three main ways.
The first one involves money. You should find someone (and pay them!) to remove it.

The second one implies even more work. You have to find a junkyard (anywhere in Jackson, Boone, Greene, Buchanan) and see if they are willing to take the junk trailer off your hands (or you could get HeyRV on the line and let us remove the old RV free of charge while also getting paying you for the clunker).

Thirdly is to break it down into parts and try to have them sold in different places (this option seems the most exhausting out of all of them).
What is a Rebuilt Title in Missouri?
A rebuilt title certifies that a once-totaled RV has gone through the necessary reparation and is now safe to be driven on the streets. It is useful for insurance companies in Missouri –they would not insure your wrecked old camper if it hasn't been inspected and issued such a title.
Why get so much trouble out of an old RV? Don't let a pile of rusty remnants inconvenience you. Contact us, and we'll provide an evaluation for your old RV, no matter where you are in Missouri! Our straightforward approach will ensure you get cash swiftly!
Sell My RV Fast, Easy, and Safe!
We buy all types of RVs at the best prices, regardless of their quality and condition. Everything can happen very quickly and without wasted time on your part.