We Buy Your Junk RVs in Montana
Get instant cash for your junk trailer or salvage motorhome in Montana! Our simple 3-step process makes it easy to sell your damaged camper or RV, whether you're in Billings, Missoula, Bozeman, or anywhere else in the state. Turn that old rig into quick money today!
Junkyards, auto recyclers, surplus and salvage yards, or independent buyers in Kalispell or Great Falls will not pay you as well or fast as we will! Reach out to us today to swiftly receive payment for your unusable RV and take advantage of our free towing services anywhere in Montana!
Selling a damaged, rust-ridden, broken motorhome in Montana might feel like a formidable undertaking, especially if your beloved trailer displays signs of wear and tear, has sustained damage, or no longer aligns with road requirements. The conventional routes, such as scrap yards, might not properly recognize the genuine value of your junk RV. However, set aside your concerns because we're here to extend a helping hand! Why settle for anything subpar when you can rely on us to manage your dilapidated fifth-wheel sale professionally?
Call us today to effortlessly secure FAST and GOOD cash for your junk RV without hassle!
Make an Appointment
Send us an email with your data
and we will contact you as soon as possible.
Our Business
We'll pay you at the time of pickup for a fast and secure transaction.
We'll have an offer for you in a matter of minutes.
Call Now!
Call or write us to organize
the details of the sale of your RV.
Junk RV buyer anywhere in Montana
Get better prices and faster disposal than any other RV Junkyard in Montana
Should You Junk or Sell Your Old RV in Montana?
If you've got an old RV, camper, or trailer you want to get rid of, you could search "who buys junk RVs in Montana near me" and start there. You'll find some scrap yards and consignment firms. But do you want to deal with lowball offers from uncertain buyers?
By reaching out to HeyRV, you can avoid wasting time, money, and sanity negotiating with RV buyers, salvage yards, private dealers, or online marketplaces. Working with us is the fastest, most profitable way to sell your broken camper in Montana.
We pay instant cash for vehicles and guarantee no-fuss transactions and paperwork. Wherever you live in Montana, we provide free junk camper removal when it's convenient for you.
Whether you're a resident of Billings or you live on the outskirts of Glacier National Park, don't worry about a thing. We'll give you a good, fast, smooth deal for your junk trailer!
Stop Waiting for Private Buyers & Sell Your Damaged RV in Montana Now!
At first glance, it's easy to find an auto junkyard that will take a trashed trailer or camper off of your hands in Montana, right? Just search for one nearby. But you'll learn most used auto parts and salvage yards focus more on cars than flooded, broken, or old RVs and trailers. They may also request you cover the towing costs!
What should you do? Keep the RV wasting away in your yard, hoping to eventually auction it? Do you pay for ads in the Billings Gazette or the Montana Standard, wishing someone buys your broken trailer? 
No! Instead of junking your old trailer for little money, you can reach out to us and get fast cash for your water-damaged, burned, or broken camper.
The best RV parks in Montana are waiting. You won't get there anytime soon in your junk RV.
Give us a call or fill out the form on this page to get our competitive offer right now! If we agree on the price, we'll arrange your old camper's FREE REMOVAL at your convenience, anywhere in Montana. 
What are you waiting for? Contact us right now!
Your Junk Motorhome Has More Value Than What Montana RV Junkyards Usually Pay!
Here are the top six reasons why you should get rid of your junk RV in Montana by selling it to us instead of random junkyards:
Save Money

– Keeping an old, non-working RV can be surprisingly costly between storage fees, registration, insurance, and ongoing maintenance. Selling it removes these expenses.

Free Up Space

– A junk RV takes up a lot of room on your property or in storage. Removing it frees up space for other uses.

Avoid Hassles

– A junk RV can be an eyesore, invite pests, or lead to HOA/code violations. Getting rid of it avoids these headaches.

Safety Concerns

– Old RVs can have faulty wiring, mold, or other safety issues. Removing this liability provides peace of mind.

Fund a New RV

– The cash from selling your junk RV can help fund the purchase of a newer pre-owned or new model.

Focus on Better Memories

– Rather than looking at an old, dilapidated RV, be reminded of the good times and start making new camping memories.
Leaving a neglected RV sitting unused helps no one. Contact us to conveniently sell your Montana junk RV today! We make it easy to turn your junk into cold hard cash fast, from Kalispell to Miles City. Don't leave money behind. Get a competitive cash offer for your Montana damaged motorhome now!
Give us a call or fill out the form on this page to get our competitive offer right now! If we agree on the price, we'll arrange your old camper's FREE REMOVAL at your convenience, anywhere in Montana. 
What are you waiting for? Contact us right now!
What Paperwork Do You Need to Sell Your Junk RV in Montana?
Let us help you understand better what it means selling a junk RV, trailer, camper, or damaged fifth wheel in Montana.
Before selling a vehicle with a Montana title, ensure it's titled and registered in your name. Once you're the purchaser of the title, you must title and register it before reselling.

Give the buyer the untouched title signed by ALL listed owners before a notary. A bill of sale doesn't replace a Montana title.

Complete Form MV7

for a Replacement Certificate of Title for lost or destroyed titles. You have two options to complete this form: either fill it out and print it using your computer or print it and fill it out by hand. Once the form is completed, mail it with a fee to the

Montana Motor Vehicle Division

. Please note that receiving the replacement title may take up to four weeks.

If your title indicates a lien, give the buyer a lien release from your bank.

Complete the title by adding the buyer's details. Open titles aren't legal in Montana and can lead to untracked reselling issues.

For safety, sellers should get a

Notarized Bill of Sale

signed by the buyer. Private sales are unreported until the buyer titles and register the vehicle, leaving you liable for fees.

Remove your plates! While you might offer your plates temporarily, removing them is crucial. Buyers can prove ownership to law enforcement with a bill of sale or closed title.
Clearly, selling a deteriorated, wrecked, non-functional, water-damaged, or otherwise unusable motorhome in Montana proves to be a difficult, lengthy, and costly endeavor.
Rather than enduring the hassle of managing individual buyers or scrap car dealers, let us provide assistance! If you need help with the documentation when selling your damaged RV to us in Montana, we're more than willing to help you once the transaction is confirmed!
We Offer FREE Montana RV Disposal Anywhere in Montana
A "Montana free junk camper removal near me" search will yield lots of results. From demolition services to disposal companies willing to haul away your broken or old trailer for free.
However, using these services won't make you any money. It's one thing to have your flooded motorhome removed, and another to have it purchased for good cash and hauled away.
At our company, we offer fair pricing for your unusable trailer, then schedule free disposal. Whether you live in Billings or Missoula, we'll arrive promptly to see your junk RV and make an offer.
Free towing in Montana is no problem for us, so call now for a free estimate on your camper and quick, free removal from your property or storage place! We guarantee no surprises with fees or commissions.
Our wrecked RV removal service is truly free anywhere in Big Sky Country!
Sell Your Junk Travel Trailer in Any Condition in Montana!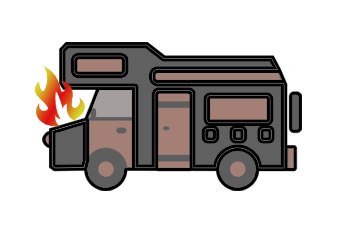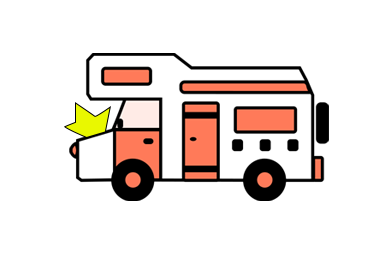 If your RV is flooded or has a rebuilt title, you won't get top dollar from traditional buyers. RV enthusiasts or auction sites don't pay much for malfunctioning, non-working, or deemed salvage motorhomes. If your camper is wrecked beyond repair, we're your best option to sell to.
We buy any type of junk RV in Montana – old, dilapidated trailers, fire-damaged motorhomes, storm-wrecked campers and travel trailers, salvage and remodeled RVs, etc. We'll take it as-is! And we pay promptly via check, cash or digital transfer.
There are many junkyards in cities like Billings and Missoula. However, most auto wreckers, scrap/salvage dealers, and recyclers won't give great money for your unusable RV.
Contact us now for a fair quote on your old trailer and instant cash in hand! Convenient removal is free of charge!
Is My Old Camper Worth Anything in Montana?
Montana is no stranger to natural disasters like earthquakes, the 2022 snow storm.  RV owners can be impacted, as storms can wreck a trailer beyond repair. Especially if your old camper was already getting up there in years and wasn't in the best shape to begin with.
If you have a fire-damaged motorhome, junking it is the least favorable option. Scrap yards will haul it away but pay pennies on the dollar. Once they calculate damages, age, mileage, fire damage, etc. the price gets slashed fast.
Your broken camper may not be worth what you originally paid, but it's likely worth more than a junk or salvage yard will offer! Contact us for a fair deal, and you can take the cash we give you to apply to a new RV. Soon you could be planning your next vacation at one of Montana's great RV resorts, like Moose Creek and Outback Montana.
Your damaged trailer still has value. Don't let scrap yards rip you off – we pay based on real market price, not just scrap metal weight. Get a competitive cash offer and free removal anywhere in Montana. 
First Step
Find out how much money you can make for your crashed/unusable motorhome by filling out the form on this page.
Second Step
Once we shake on the deal, you receive your quick cash by bank transfer.
Third Step
We send our people to your place to remove the old camper for free.
We come with our own towing equipment and technicians and handle all the paperwork!
How Do You Sell a Salvage or Rebuilt Title RV in Montana?
In Montana, selling a salvage vehicle to a new owner is legal. To prove to potential buyers that your RV suffered serious damage, you need to get the appropriate salvage or rebuilt salvage title. Before being resold, a reconstructed car, truck, or travel trailer must undergo numerous state-mandated regulatory requirements, safety checks, anti-theft checks, etc.
As in other states, you must apply for a salvage title before obtaining a rebuilt title – against a few small fees. Then, you must repair your motorhome, which needs to be inspected. In Montana, applying for a salvage title is the same process as applying for a non-repairable title if you have a non-repairable vehicle.
However, totaled campers and trailers are almost impossible to fix back to "road-worthy." For this reason, most total-loss motorhomes end up in junkyards.
Getting a salvage/rebuilt title for your camper in Montana is no picnic. You must deal with insurance companies, the Vehicle Titles and Registration Division under the Montana DMV, the Montana Department of Public Safety, your county tax assessor, etc. While the fees aren't big, the waiting times and processes can give you headaches.  
Instead, contact us for a fair appraisal for your salvage RV, instant cash, and free removal services anywhere in the state! 
We know how important it is to sell your junk RV fast, easy, safe, and with no hidden taxes. With us, you will have your money as fast as possible.
We Buy All Junk RVs for the Maximum Price
Don't waste time listing your junk RV with dealers, brokers, ad sites, or auctions. Selling a used RV through traditional methods can take months, while your vehicle rusts and loses value. As a reputable RV buyer, we guarantee the best price for:
Junk/wrecked/damaged RVs you want to get rid of fast
Old and unwanted RVs (running or not) you want to sell for cas
Total loss RVs, crashed camper, totaled fifth wheel, etc.
Any other used travel trailer, used pop up camper or used toy hauler you have for sale
Give us all the details regarding your unwanted or damaged vehicle so we can return to you with a valid offer.
Why Choose Us to Buy
Your Junk RV?
When it comes to RVs for sale, we are a market leader with a solid reputation in offering the highest prices for scrap, unwanted, old, unusable, wrecked, or totaled RVs. Here is why you should work with us if you want to get rid of your vehicle fast!
Real-Market Appraisals
Even if your RV is totaled, unusable, old, or simply unwanted, you can still get good money for it. Fill out the form or contact us for details, and we will give you an unmatchable price for your vehicle.
Fast Transactions
Don't worry about paperwork, clean or salvage titles, and other issues. We will take care of everything at no extra fee.
Free Collection
We will schedule a convenient time for you to have our staff to pick up your junk RV anywhere in California and neighboring states.
Good, Quick Cash
We know how important it is to sell your junk RV fast, easy, safe, and with no hidden taxes. With us, you will have your money as fast as possible.
Frequently Asked Questions from People Who Want to Sell their RV in Montana
Do you still have questions regarding selling your junk RV for fast cash in Montana? Check out the answers below! If you still don't find the information you're looking for, don't hesitate to contact us!
How do I sell a broken RV in Montana?
The best way to sell a broken or non-working RV in Montana is to contact a professional buyer that specializes in purchasing old, damaged, and salvaged recreational vehicles. Avoid wasting time negotiating with traditional dealers, private buyers, or salvage yards that will lowball you. Look for a buyer that will make a fair cash offer based on real market value, not just scrap prices. 
They should provide fast service, free junk removal, and quick payment so you can turn your unusable RV into cash conveniently. Selling to the right buyer eliminates headaches and ensures you get the most money possible when selling a broken down RV in Montana.
How do I get rid of my fifth wheel?
You can consider selling it privately, listing it on online marketplaces, or contacting dealerships that specialize in buying used recreational vehicles. Additionally, you may want to explore consignment services or attend RV trade shows to connect with potential buyers. But how much will this cost? Probably more than your fifth wheel is worth!
We pay instant cash for your broken motorhome at a higher price offered by private buyers or auction websites. Call us today to learn more!
Do you really come to Montana to remove my junk RV for free?
Yes, we provide free junk RV removal anywhere in Montana! Here are some key points:
We are a professional RV buyer with extensive experience purchasing old, damaged and salvaged RVs across Montana.

When you sell your junk RV to us, we provide fast, free removal as part of the service.

You don't have to pay any towing or transportation fees. We handle all of that.

We'll send our team to your location, be it your home, a storage facility, even an RV park. Wherever your junk RV is located in Montana, we'll come remove it for free.

Free removal is a perk we offer to make selling your junk RV as convenient and hassle-free as possible for you.

You simply agree to a fair purchase price, we'll take care of the rest!
So yes, free junk RV removal in Montana is our standard service. Contact us today to learn more or get a cash offer for your junk RV!
Sell My RV Fast, Easy, and Safe!
We buy all types of RVs at the best prices, regardless of their quality and condition. Everything can happen very quickly and without wasted time on your part.