We Buy Your Junk RVs in Nebraska
Score some serious cash for your salvage motorhome or junk trailer in Nebraska, whether sitting in Gretna, Omaha, Lincoln, or Grand Island! Our simple 3-step process makes selling your high-mileage camper or damaged fifth wheel a breeze!
Selling an RV in Nebraska can be as challenging as avoiding the corn, especially if your rig has seen better days or is no longer road-worthy. Most local salvage yards and used vehicle dealers focus mainly on cars and trucks, leaving you with limited options for selling your dilapidated RV.
When it comes to paying top dollar for your junk RV in Nebraska, HeyRV tips the competition just like the Cornhuskers tip their cows on a lazy Sunday. We give you more cash than any salvage yard or junkyard in McLean or Homer for your worn-out RV. Our process is designed to be fast and secure, ensuring you'll have your cash, check, or Venmo payment in hand before you know it!
We pay cash for your rust-ridden, flooded, broken, or unusable trailer anywhere in Nebraska.
Make an Appointment
Send us an email with your data
and we will contact you as soon as possible.
Our Business
We'll pay you at the time of pickup for a fast and secure transaction.
We'll have an offer for you in a matter of minutes.
Call Now!
Call or write us to organize
the details of the sale of your RV.
Junk RV buyer anywhere in Nebraska
Get better prices and faster disposal than any other RV Junkyard in Nebraska
Should you Junk or Sell
Your Junk RV in Nebraska?
When it comes to junking or selling your old RV in Nebraska, the process may not be as easy as kicking back with a Kool-Aid.
While finding an auto junkyard in your local area might be the initial thought, you'll quickly realize that many auto wreckers and salvage yards primarily deal with cars rather than flooded, damaged, or aged motorhomes and trailers. Moreover, some may even expect you to handle the towing costs for your junk RV, which means less money in your pocket instead of more.
Stop Waiting for Private Buyers & Sell Your Damaged RV in Nebraska Now!
Will you let your RV hog up space in your Nebraska backyard or fork out money for its storage, hoping it will magically sell at auction someday? Or pay pricey ads in the Omaha World-Herald or the Lincoln Journal Star, desperately hoping someone will take that broken trailer off your hands?
Well, hold your cows! Instead of settling for peanuts by junking your old trailer, why not sell it and nick some sweet, instant cash?
Picture this: the majestic Chimney Rock, the breathtaking beauty of Smith Falls State Park, or the cringe charm of Carhenge awaits you. But let's face it; you won't visit these Nebraska gems anytime soon if you're stuck in your old, barely-holding-it-together RV!
So instead of waiting for a random stranger to give you a couple of bucks for your clunker, remember that we buy your junk motorhome for TOP DOLLAR. Get your cash and plan your next pilgrimage to the Nebraska Star Party outside Valentine, the Buffalo Bill Ranch State Historical Park in North Platte, or the Lied Jungle at Omaha Zoo. 
We'll buy your broken trailer and remove it for free while you sit back, relax, and enjoy your Reuben and Moscow Mule!
Your Junk Motorhome Has More Value Than What Nebraska RV Junkyards Usually Pay!
Don't waste your time in Lincoln or Omaha hoping for a good deal for your beat-down camper. Those salvage yards and secondhand marketplaces won't give you what you deserve. It's time to channel your inner Warren Buffet and sell your old, damaged, or flooded RV for some serious cash! Our appraisers will offer a deal to make your heart race faster than a Husker football game!
Say bye-bye to your rusted-out relic and howdy to a profitable transaction. Nebraska may be big, but our offers are even bigger!
Give us a call or fill out the form on this page to get our competitive offer right now! If we agree on the price, we'll arrange your old camper's FREE REMOVAL at your convenience, anywhere in Nebraska. 
What are you waiting for? Contact us right now!
What Paperwork Do You Need to Sell Your Junk RV in Nebraska?
To transfer motor vehicle ownership in Nebraska, you must meet certain requirements. Firstly, all names listed on the Certificate of Title must sign off in the Seller's section of the title.
You are also responsible for completing the Odometer Certification section of the title. Additionally, you must give the buyer a Bill of Sale or a Nebraska Department of Revenue Form 6 (Nebraska's Sales/Use Tax and Tire Fee Statement for Motor Vehicle and Trailer Sales). You can get Form 6 by contacting the Nebraska Department of Revenue or County Treasurer.
It's important to note that an "Open Title," where you have signed off but the buyer's information is incomplete, is considered a law violation that can lead to the confiscation of the title by the County Official, DMV, or law enforcement.
Also, in Nebraska, any incorrect placement of signatures or alterations will render the title mutilated. In such case, you must obtain a Duplicate Certificate of Title before proceeding with the sale.
So listen up, fellow Nebraskans! Is this how you want to spend your days? Selling that old, beaten-up, waterlogged RV this way can be as tricky as finding a haystack in a cornfield.
Do you want to get fossilized like Archie the Mammoth waiting in line at the DMV? We've got your back and all the paperwork covered. Save yourself from the pain of dealing with private buyers or sketchy junk auto dealers. We'll make the process a breeze and pay you top dollar for your junk RV.
Don't waste another minute – let's turn that clunker into cash today!
We Offer FREE Junk RV Removal Anywhere in NEBRASKA!
Are you tired of searching for "Nebraska free junk RV removal near me" only to find empty promises and zero cash in return? Don't fret! While other junkyards might offer to haul away your worn-out, non-roadworthy trailer, they won't put any money in your pocket.
Here at HeyRV, we're all about giving you a fair price for your clunker and providing free disposal services. Whether you're in Omaha, Lincoln, Kearney, or Scottsbluff, we've got you covered! We are like Runza: all over Nebraska!
Call us now for a free estimate on your damaged RV, and we'll swiftly remove it from your property or storage facility without towing fees.
And here's the best part: we won't hit you with hidden commissions, labor fees, or sneaky costs. Our free junk RV hauling services are free, with no catches or fine print to worry about. So, let us handle the paperwork and give you a hassle-free experience.
Get in touch with HeyRV today and bid farewell to that old junker while pocketing BIG cash!
Sell Your Junk Motorhome in ANY Condition in NEBRASKA!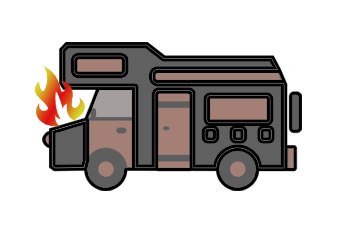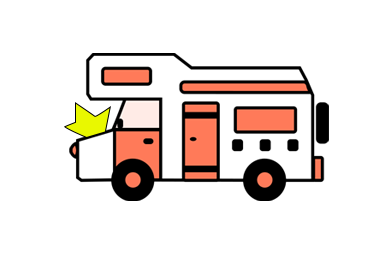 Are you tired of dealing with the aftermath of severe weather on your RV in Nebraska? Being a part of the Tornado Valley and seeking shelter for you and your vehicles every spring is not an easy life. Whether it's snow, flooding, delamination, or cosmetic issues caused by hail storms, we understand your challenges when selling your broken RV to a private buyer.
We buy junk RVs in any condition, including those affected by the storms of 2022 that wreaked havoc across Nebraska. We know how shocking property damage can be, with major storms costing Nebraskans billions of dollars. Even the Pine Grove RV Park & Campground in Greenwood wasn't spared, experiencing downed trees and flipped RVs during the severe thunderstorms.
While traditional buyers may not offer the price you deserve for your totaled RV, we are different. We pay cash for your junk RV, whether an old, hail-damaged trailer, a burned or flooded camper, or a motorhome needing extensive, costly repairs. Our goal is to provide fair prices and a hassle-free selling experience.
Think about it – instead of facing the disappointment of finding minimal offers from RV enthusiasts or salvage yards in places like Wahoo or Ogallala, you can call us.
Let us handle the process while you explore the great outdoors, from the scenic wonders of the Nebraska National Forest to the charming landmarks across the state. And don't worry about the removal – we provide a free junk RV removal service, taking care of the logistics for you!
Is My Old Motorhome Worth Anything in NEBRASKA?
Nebraska knows something about unpredictable weather, from scorching heatwaves to wild storms and maybe even the occasional twister. RV enthusiasts in the Cornhusker State understand these weather conditions' impact on their beloved mobile homes, leaving them damaged and needing repair.
When dealing with a tornado-tattered motorhome, simply junking it is far from ideal. Some places will take it off your hands but offer you a pittance. It's as if they're trying to make the price disappear faster than a tumbleweed in a prairie windstorm.
While your broken trailer may not be worth a king's ransom, it's worth more than what those scrap yards and salvage dealers want to dish out. Get a fair deal that will have you dreaming of vacations at the Cowboy Trail or the River View Park Resort & Marina in Blair.
Let us take that ravaged RV off your hands, offering you a price to make you smile. Don't settle for pennies when you can turn your old trailer into cash that could fund a journey to iconic Nebraskan landmarks like the Indian Cave State Park or the Agate Fossil Beds National Monument.
First Step
Find out how much money you can make for your crashed/unusable motorhome by filling out the form on this page.
Second Step
Once we shake on the deal, you receive your quick cash by bank transfer.
Third Step
We send our people to your place to remove the old camper for free.
We come with our own towing equipment and technicians and handle all the paperwork!
How Do You Sell a Salvage or Rebuilt Title RV in NEBRASKA?
In Nebraska, a salvage title is issued for a vehicle that has been damaged to the extent that the estimated total cost of repairs exceeds 75% of its retail value at the time of damage. It applies to late-model vehicles that are seven years old or less (according to the manufacturer's model year designation) or have a retail value over $12,000 (increasing to $12,500 from January 1, 2025).
To obtain a salvage title in Nebraska, you must submit the vehicle's Certificate of Title and an Application for a Certificate of Title to any County Treasurer. Once the salvage title is issued, you must submit your RV to a Vehicle Inspection before operating the vehicle on public roads. A title branded as "Previously Salvaged" will be issued, and this brand should be carried forward on subsequent titles and registrations for the vehicle.
It's important to note that if the insurance company acquires the salvage vehicle through a total loss settlement, they are responsible for obtaining the Salvage Certificate of Title. If you choose to retain ownership after the settlement, the insurance company must notify the Department of Motor Vehicles electronically.
As for what it means to sell your salvaged title RV to a new owner, it is allowed to sell one with a salvage title in Nebraska. However, as the vehicle's owner, you must ensure the trailer is appropriately prepared for sale and buyers are informed about its damages. Then, you go through all the motions: fill in paperwork with the buyer, wait in line at the DMV, ensure you have a correct Bill of Sale, notify all the authorities regarding ownership transfer, and so on.
If you want to avoid these challenges and dispose of your Nebraska-based junk RV at a fair price, contact us immediately!
We Buy All Junk RVs for the Maximum Price
Don't waste time listing your junk RV with dealers, brokers, ad sites, or auctions. Selling a used RV through traditional methods can take months, while your vehicle rusts and loses value. As a reputable RV buyer, we guarantee the best price for:
Junk/wrecked/damaged RVs you want to get rid of fast
Old and unwanted RVs (running or not) you want to sell for cas
Total loss RVs, crashed camper, totaled fifth wheel, etc.
Any other used travel trailer, used pop up camper or used toy hauler you have for sale
Give us all the details regarding your unwanted or damaged vehicle so we can return to you with a valid offer.
Why Choose Us to Buy
Your Junk RV?
When it comes to RVs for sale, we are a market leader with a solid reputation in offering the highest prices for scrap, unwanted, old, unusable, wrecked, or totaled RVs. Here is why you should work with us if you want to get rid of your vehicle fast!
Real-Market Appraisals
Even if your RV is totaled, unusable, old, or simply unwanted, you can still get good money for it. Fill out the form or contact us for details, and we will give you an unmatchable price for your vehicle.
Fast Transactions
Don't worry about paperwork, clean or salvage titles, and other issues. We will take care of everything at no extra fee.
Free Collection
We will schedule a convenient time for you to have our staff to pick up your junk RV anywhere in California and neighboring states.
Good, Quick Cash
We know how important it is to sell your junk RV fast, easy, safe, and with no hidden taxes. With us, you will have your money as fast as possible.
Frequently Asked Questions from People Looking to Sell Their Junk RVs in NEBRASKA
Do you still have questions about selling your junk RV in Nebraska to us for good, fast cash? Check out the answers below! If you still don't find the information you want, don't hesitate to contact us!
Who buys junk RVs in Nebraska?
Some of the junkyards in Omaha and Lincoln will buy your junk RV – even though they specialize in cars – especially if it still has some working parts.
However, once the junkyard has gathered all the necessary information about you and your old/broken motorhome, they will present you with a quote. It's up to you to accept or reject the offer. 
if you accept the quote, you also agree to the payment conditions set by the junkyard (labor and towing fees and so on). If not, you continue your search.
So how about this? We buy junk RVs in Nebraska! In the Cornhusker State, your worn-out rig won't fetch much at the local salvage yards or consignment stores. Don't get stuck in a tornado of disappointment! Instead, sell your weather-beaten, flooded, totaled, delaminated, or wrecked RV to us for instant and substantial cash!
We'll give you an offer worth more than a touchdown at Memorial Stadium!
How do you junk an RV in Nebraska, with or without a title?
To junk an RV in Nebraska, with or without a title, you must consider the following:
Title Surrender

: If you have the Certificate of Title for the RV, all owners listed on the title must surrender it to either a County Treasurer's office or the Department of Motor Vehicles (DMV). If you lost the title, you must get a Duplicate Certificate of Title (

form RV-707a

) before proceeding with the junking process.

JUNK Title Assignment

: Once the title has been properly assigned as "JUNK," it should be surrendered to the County Treasurer's office. The County Treasurer will forward the surrendered titles to the Nebraska Department of Motor Vehicles, where the junked status will be officially recorded in the state's computer system, and the title itself will be destroyed.

Surrendering Registration and Plates

: The registration certificate, license plates, and any renewal tabs associated with the RV must also be surrendered to the County Treasurer's office.
Once a title has been surrendered as "JUNK," it cannot be reactivated or returned to an active title status. The RV can only be used for parts.
Following these steps and adhering to the regulations outlined, you can properly junk an RV in Nebraska. Or, simpler, you can skip all this drama and sell your old/broken/totaled motorhome directly to us for good cash and free removal!
Sell My RV Fast, Easy, and Safe!
We buy all types of RVs at the best prices, regardless of their quality and condition. Everything can happen very quickly and without wasted time on your part.