We Buy Your Junk RVs in New Jersey
Rev up your RV-selling journey in the Garden State! HeyRV is your go-to destination for selling your used motorhome or camper in New Jersey, no matter its condition.
Whether you're in the heart of Newark's bustling city life or savoring the coastal breeze at the Jersey Shore, sell your junk RV for cash and enjoy our free towing services. Say farewell to the traditional ways and embrace our hassle-free process available all across New Jersey!
Exploring New Jersey can be as exhilarating as selling your junk RV in the Garden State. But don't let the maze of scrapyards and dealers leave you stranded! HeyRV is here to light up New Jersey like the dazzling Atlantic City skyline! We offer top dollar for your junk RV, spanning from the scenic landscapes of Bergen County to the shores of Cape May. Whether it's rusted, water-damaged, or no longer roadworthy, your junk RV is a gem to us, no matter where you are in New Jersey.
Get lightning-fast and secure payments for your caravan right here in New Jersey! Whether you prefer CASH, CHECK, or VENMO, we guarantee a swift transaction. We pay cash for your junk RV, whether rusted, water-damaged, or non-roadworthy. Best part? We'll remove your junk RV for free, no matter where you are in the Garden State.
Make an Appointment
Send us an email with your data
and we will contact you as soon as possible.
Our Business
We'll pay you at the time of pickup for a fast and secure transaction.
We'll have an offer for you in a matter of minutes.
Call Now!
Call or write us to organize
the details of the sale of your RV.
Junk RV buyer anywhere in New Jersey
Get better prices and faster disposal than any other RV Junkyard in New Jersey
Should You Junk or Sell Your Junk RV in New Jersey?
Navigating the best way to sell your RV in New Jersey can feel like a thrilling ride through the Pine Barrens. Local scrapyards and dealers may not fully recognize the hidden charm of your beloved but aging rolling home. But fear not, the Garden State has found its RV savior – HeyRV! We breathe new life into RVs across New Jersey, from bustling cities to charming towns. Sell your junk motorhome for top-dollar with us! Give us a call and we'll provide a free estimate in no time.
Stop Waiting for Private Buyers & Sell Your Damaged RV in New Jersey Now!
Put an end to low-ball offers from scrapyards, wreckers, and used car dealers in New Jersey. At HeyRV, we see the true value in your prized RV, even if it's endured rough waters or major collisions. Skip the search for private buyers who miss the allure beneath the damage. HeyRV recognizes the potential in every RV, motorhome, and trailer, offering you a fair price without any complications or repair costs.
So, why wait? Let's turn your junk RV into a cash treasure in New Jersey!
Sell your outdated, severely damaged, flooded, or irreparable RV to us for fast and profitable cash!
Your Junk Motorhome Has More Value Than What New Jersey RV Junkyards Usually Pay!
Who needs scavenger hunts when you have HeyRV? Transform your outdated, severely damaged, flooded, or irreparable RV into fast and profitable cash with us! Your old motorhome can fuel new adventures all across the Garden State. And guess what? We've got payment options to suit your taste – CASH, CHECK, or VENMO – it's your call! When it comes to selling your old RV, we're as fast as a New Jersey Turnpike ride!
Give us a call or fill out the form on this page to get our competitive offer right now! If we agree on the price, we'll arrange your old camper's FREE REMOVAL at your convenience, anywhere in New Jersey.
What are you waiting for? Contact us right now!
What Paperwork Do You Need to Sell Your Junk RV in New Jersey?
Navigating the paperwork to sell your junk RV in New Jersey might feel like cruising through the Garden State Parkway. Ensure you have acceptable proof of ownership documents, such as the Manufacturer Certificate/Statement of Origin or New Jersey Certificate of Title. When buying or selling a vehicle, complete the title application correctly at a notary public, tag service, or motor vehicle dealer. If the RV is financed, the title goes to the lienholder, but if it's not, it's sent to you. And remember, ensure the seller's signature is notarized or verified on the title. For used vehicles with out-of-state titles, check with the lienholder regarding title transfer.
Nevertheless, when you choose HeyRV, you have a team of professionals ready to guide you every step of the way!
We Offer FREE Junk RV Removal Anywhere in New Jersey!
Tired of searching for "New Jersey free junk RV removal near me" and coming up empty-handed? HeyRV has the perfect solution for you! We don't just haul away your worn-out camper; we compensate you for it too! Get a fair price for your old clunker, and bid farewell to disappointment. No matter where you are in the Garden State, from Atlantic City to Princeton, we've got your back. Give us a call, and our friendly team will provide you with a free estimate for your junk RV.
Once we agree on a price, it's time for the grand finale! We'll swoop in and remove your RV from your property or storage facility. And here's the best part: no towing fees, no sneaky hidden costs!
Sell Your Junk Motorhome in ANY Condition in New Jersey!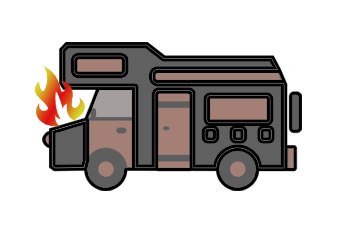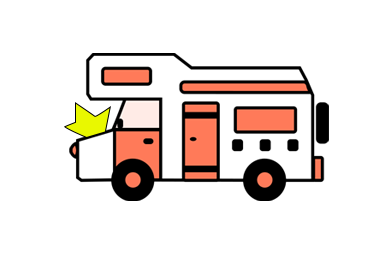 In New Jersey, severe weather events are frequent occurrences that can happen unexpectedly. The region's weather profile encompasses strong winds, tornadoes, thunderstorms, hailstorms, and extreme temperatures.
HeyRV is your solution to overcome these hurdles! Don't allow severe weather aftermath to hinder your progress. Take the initial stride towards a brighter future by reaching out to us now. We're delighted to offer you a FREE ESTIMATE for your unwanted RV, empowering you to move ahead with certainty. Selling your junk RV for cash in New Jersey has never been as effortless!
Is My Old Motorhome Worth Anything in New Jersey?
Wondering if your old motorhome holds any value in New Jersey? Don't dismiss it just yet – it might be worth more than you think! Depending on the make, model, and overall condition, you might be surprised by the offer we'll make you! Imagine all the incredible adventures you can embark on with that money! Explore the stunning landscapes of the Delaware Water Gap or enjoy a leisurely trip along the Jersey Shore. Your old motorhome can finance new memories and amazing experiences all across New Jersey.
And did you know that an abandoned vehicle in New Jersey is defined as a vehicle that has been left unattended in the same public location for at least 3 consecutive days? Abandoned vehicle laws in New Jersey vary depending on the location of the abandoned vehicle. On private property, the owner can sell it at a public auction or apply for a title. On public property, the vehicle must be auctioned or junked. Auto body repair facilities can remove and sell abandoned vehicles or request a junk title. Specific instructions apply to abandoned mobile homes. The New Jersey Motor Vehicle Commission oversees the process, requiring completion of forms and payment of fees.
Don't let your motorhome gather dust when it can be your gateway to excitement. Get in touch with us today for a swift and stress-free evaluation. Whether it's too old to drive, has endured water damage, or is facing electrical issues, we pay cash for your junk RV in 3 easy steps!
First Step
Find out how much money you can make for your crashed/unusable motorhome by filling out the form on this page.
Second Step
Once we shake on the deal, you receive your quick cash by bank transfer.
Third Step
We send our people to your place to remove the old camper for free.
We come with our own towing equipment and technicians and handle all the paperwork!
How Do You Sell a Salvage or Rebuilt Title RV in New Jersey?
Selling an RV with a salvage title on your own can be a daunting task, involving numerous complexities and potential challenges. From gathering the required documents, such as the New Jersey title assigned to an insurance company with the company's New Jersey sales tax-satisfied stamp, the insurance listing sheet with details about the vehicle's actual cash value, type of loss, damage estimate, and year, make, and serial number, to dealing with potential rejections due to incomplete assignments or improper fees, the process can be time-consuming and frustrating. Additionally, restoring a salvage title requires making the required repairs and scheduling an inspection, which adds further complications.
However, when you choose to sell your junk RV to us, we take care of all the necessary steps, making the entire experience effortless and stress-free for you. Our expert team handles the paperwork, negotiations, and transfer of ownership, ensuring a smooth and hassle-free transaction. With us, you can skip the headaches and uncertainties of selling a salvage title RV on your own and enjoy a seamless process with top-notch service. Let us turn your junk RV into cash without the hassle!
We Buy All Junk RVs for the Maximum Price
Don't waste time listing your junk RV with dealers, brokers, ad sites, or auctions. Selling a used RV through traditional methods can take months, while your vehicle rusts and loses value. As a reputable RV buyer, we guarantee the best price for:
Junk/wrecked/damaged RVs you want to get rid of fast
Old and unwanted RVs (running or not) you want to sell for cas
Total loss RVs, crashed camper, totaled fifth wheel, etc.
Any other used travel trailer, used pop up camper or used toy hauler you have for sale
Give us all the details regarding your unwanted or damaged vehicle so we can return to you with a valid offer.
Why Choose Us to Buy
Your Junk RV?
When it comes to RVs for sale, we are a market leader with a solid reputation in offering the highest prices for scrap, unwanted, old, unusable, wrecked, or totaled RVs. Here is why you should work with us if you want to get rid of your vehicle fast!
Real-Market Appraisals
Even if your RV is totaled, unusable, old, or simply unwanted, you can still get good money for it. Fill out the form or contact us for details, and we will give you an unmatchable price for your vehicle.
Fast Transactions
Don't worry about paperwork, clean or salvage titles, and other issues. We will take care of everything at no extra fee.
Free Collection
We will schedule a convenient time for you to have our staff to pick up your junk RV anywhere in California and neighboring states.
Good, Quick Cash
We know how important it is to sell your junk RV fast, easy, safe, and with no hidden taxes. With us, you will have your money as fast as possible.
Frequently Asked Questions from People Looking to Sell Their Junk RVs in New Jersey
Looking to sell your junk RV in New Jersey and get the best deal hassle-free? Your search ends right here! Below, you'll find all the information you need. And if you have any questions, don't hesitate to reach out to us for assistance! We're here to help!
Who buys junk RVs in New Jersey?
While some places in New Jersey might handle junk RVs, their primary focus often revolves around other vehicles. Instead of dealing with the trouble of selling your junk RV on your own, choose HeyRV for a seamless and rewarding selling experience. We're here to provide you with instant and substantial cash for your weathered, delaminated, flooded, totaled, or even slightly quirky RV!
How do you junk an RV in New Jersey, with or without a title?
In New Jersey, you can junk your RV with or without a title. If you have the title, the process involves finding a reputable junkyard or RV buyer, obtaining quotes, arranging towing, and transferring the title to the buyer upon pickup. However, if you don't have the title, it may be more challenging. Some buyers may accept RVs without titles if you can provide other ownership documents, and they may require additional paperwork to comply with state regulations. Additionally, it's essential to be aware that selling without a title might yield a lower price than if you had the title available.
Sell your old RV, motorhome, or trailer to us and guarantee it gets the value it deserves. Whether you're in any corner of New Jersey, you can make instant cash for your junk RV with our professional services!
Sell My RV Fast, Easy, and Safe!
We buy all types of RVs at the best prices, regardless of their quality and condition. Everything can happen very quickly and without wasted time on your part.