We Buy Your Junk RVs in New York
Looking for an effortless and lucrative way to sell your junk RV for cash in New York? HeyRV is your go-to destination for selling your used RV, motorhome, or trailer in the Empire State.
No matter if you're in the heart of the Big Apple, exploring the stunning beauty of the Finger Lakes, or relaxing in the scenic Catskills, we'll buy your junk RV in any condition and come pick up your clunker for free! So, why wait? Sell your junk car today and count on us to offer a deal that leaves other scrapyards and buyers in the dust!
New Yorkers love to keep things moving, and HeyRV is here to keep that RV rolling right off your hands. Forget about dealing with scrapyards or individual buyers; we'll get you paid faster than you can hail a cab on Broadway! Selling your junk RV has never been more fun in the Empire State. Whether your RV has braved the wild Catskill Mountains or endured the hustle of the Big Apple, or simply chilling (and taking valuable space) in your driveway, we're ready to make you an offer that's as sweet as a New York cheesecake. And the best part? We provide FREE REMOVAL anywhere you are in New York State!
Make an Appointment
Send us an email with your data
and we will contact you as soon as possible.
Our Business
We'll pay you at the time of pickup for a fast and secure transaction.
We'll have an offer for you in a matter of minutes.
Call Now!
Call or write us to organize
the details of the sale of your RV.
Junk RV buyer anywhere in New York
Get better prices and faster disposal than any other RV Junkyard in New York
Should You Junk or Sell Your Junk RV in New York?
Finding the best way to sell your RV in New York can sometimes feel like navigating the busy streets of Manhattan. Local scrapyards and dealers may focus on other vehicles, leaving RV owners feeling like they're stuck in the city's infamous traffic jams. But fret not, HeyRV to the rescue! As true RV specialists, we bring the shine back to RVs from Niagara Falls to the Hamptons. Don't let your beloved motorhome gather dust; let us turn it into a profitable deal that's as exciting as a New Year's Eve celebration in Times Square!
Stop Waiting for Private Buyers & Sell Your Damaged RV in New York Now!
Who needs a rollercoaster ride when you can get a thrilling cash offer for your old, flood-damaged, or vintage RV? Stop waiting for private buyers who might offer you a pretzel for your RV, and let HeyRV make it rain cash in your pockets! We see the potential in every RV, motorhome, or trailer, no matter how far you are from the bustling streets of the city. From the Hudson River Valley to the Finger Lakes, we'll show you why we're the top choice for selling your junk RV for cash in New York.
So, why wait? Let's turn your junk RV into a cash treasure in New York!
Sell your outdated, severely damaged, flooded, or irreparable RV to us for fast and profitable cash!
Your Junk Motorhome Has More Value Than What New York RV Junkyards Usually Pay!
Listen up and discover the hidden gems in your trusty RV! Your motorhome holds a trove of value, and we're here to unlock the riches! No need to wander salvage yards or bargain with dealers from the bright lights of Times Square to the serene shores of the Hamptons. Bid farewell to the hassle, and let us pave the way for a smooth sale. With our lightning-fast transaction, you'll have cash in hand for your damaged, delaminated, too-old-to-drive, or non-operational rig. We offer cash, check, or Venmo payments to ensure that you get money in your pocket in no time!
Give us a call or fill out the form on this page to get our competitive offer right now! If we agree on the price, we'll arrange your old camper's FREE REMOVAL at your convenience, anywhere in New York.
What are you waiting for? Contact us right now!
What Paperwork Do You Need to Sell Your Junk RV in New York State?
Selling your old RV in the Empire State can feel like a never-ending maze of paperwork. From DMV acrobatics to untangling liens, it's a wild ride! But if you want to skip all that, we've got the perfect shortcut for you. When you sell your junk motorhome to us, it's like hopping on a fast-track rollercoaster – no more twists and turns.
We'll take the wheel on all that pesky paperwork, so you can enjoy a smooth and stress-free journey. Our team knows New York State like the back of our hand, so you won't have to lift a finger. Say ta-ta to DMV confusion and hello to selling simplicity!
The cherry on top? You'll pocket the best cash offer for your weather-beaten, flooded, totaled, delaminated, or wrecked RV. It's time to turn that old clunker into a treasure trove. So gear up, and let's make this selling adventure a truly epic one in New York State.
We Offer FREE Junk RV Removal Anywhere in New York!
We've got some Big Apple magic for you! At HeyRV, we don't just buy your junk RV in New York; we also offer a FREE pickup service that'll leave you feeling like you've won the jackpot in Times Square!
Picture this: You're in the heart of New York City, surrounded by the vibrant energy of Manhattan or the artistic charm of Brooklyn. Now, imagine that your old, weathered RV is taking up precious space in your driveway, but you don't know what to do with it. Fear not! We've got your back.
When you sell your junk RV to us, you get more than just a pocketful of cash. We'll come to you, whether you're in the bustling streets of Manhattan, the serene beauty of the Adirondacks, or anywhere else in the Empire State. Our friendly team will provide you with a free estimate for your junk RV without any obligation.
Once we agree on a fair price, it's showtime! We'll sweep in like a Broadway star and whisk away your RV from your property, all with a smile and a wave. But hold on, it gets even better! No towing fees, no hidden costs – it's all on us, just like a perfect New York slice!
So, whether you're strolling through Central Park, exploring Niagara Falls, or basking in the breathtaking views of the Finger Lakes, you can count on us to make selling your junk RV a breeze in New York.
Sell Your Junk Motorhome in ANY Condition in New York!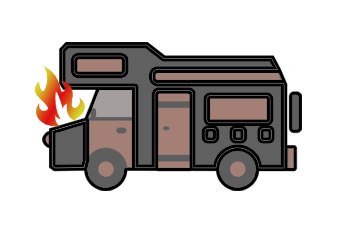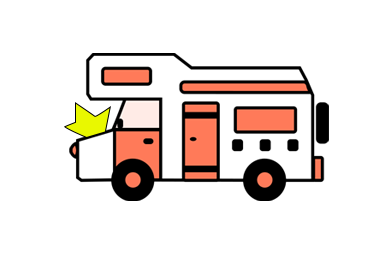 Did you know that In New York State, drivers can file a claim to be reimbursed for pothole damage? Nevertheless, some damages to your junk RV are simply irreparable, or too costly to even consider. New York State's weather can be unpredictable, causing damages like potholes from rough roads, challenging blizzards, and even hurricanes. Vandalism and break-ins can be an issue too, leaving your RV in a sorry state.
But don't let these setbacks dampen your spirits. Take the first step towards a brighter future by reaching out to us today. We'll provide you with a free estimate for your junk RV, giving you the confidence to make the best decision. HeyRV makes selling your RV for cash in New York State effortless! Our team understands the local market inside out and is ready to handle all the paperwork and logistics for you. Whether you're navigating the bustling city life or enjoying the scenic beauty of upstate New York, we're here to give you instant cash for your junk RV!
Is My Old Motorhome Worth Anything in New York State?
Is your old motorhome hiding somewhere in the Empire State? Don't dismiss its hidden worth just yet! Despite its age or condition, your junk RV could be your ticket to a New York state of mind. Depending on the make, model, and overall condition, we'll make you an offer that'll make you feel like a Wall Street mogul! So, before you say "forget about it," imagine the fantastic experiences you can have with that extra cash! From exploring the Finger Lakes Wine Country to catching a Yankees game, your deteriorated RV can finance countless memories in New York.
In New York State, abandoned vehicles left on someone else's property without permission for over 96 hours may be seized by local authorities. If not taken into custody, you can have it transferred to a registered vehicle dismantler or removed by an authorized towing company. Unclaimed vehicles held by vehicle-related companies can be released to customers after payment for repairs, towing, and storage. To dispose of an unclaimed vehicle, you must follow the procedures for filing a Garageman's Lien, as described in the "Instructions and Requirements for Filing New York State Garageman's Liens" (MV-901C) form.
So, don't let your deteriorated motorhome go to waste or become a public nuisance! Sell your junk car to us and get instant cash regardless of its year, make, model, and condition. Call us today to schedule a free pick-up!
First Step
Find out how much money you can make for your crashed/unusable motorhome by filling out the form on this page.
Second Step
Once we shake on the deal, you receive your quick cash by bank transfer.
Third Step
We send our people to your place to remove the old camper for free.
We come with our own towing equipment and technicians and handle all the paperwork!
How Do You Sell a Salvage or Rebuilt Title RV in New York?
Ready for a thrilling RV adventure in the Empire State? Selling a salvage or rebuilt title RV in New York might seem like a quest through the wilds of paperwork and legal hurdles. But fear not, intrepid traveler! We'll guide you through the enchanted realm of DMV rules.
To sell a salvage or rebuilt title RV in New York, you need to follow the Salvage Vehicle Examination Program procedures. A salvage vehicle is one with significant damage, transferred to an insurance company with a Salvage Certificate (MV-907A), or declared a 'wreck' on the title. If the vehicle is rebuilt for road use, the DMV must examine it before issuing a new title certificate or registration. The examination is part of the NY State Auto Theft Prevention Program to protect consumers and prevent theft. Only vehicles passing the test receive a new title. For vehicles with out-of-state titles labeled 'parts only,' 'non-repairable,' etc., the DMV won't issue a title. Moreover, a person or dealer who sells a rebuilt salvage vehicle must provide the new owner with a disclosure statement regardless of the vehicle's age.
When you sell your junk RV for cash to us, you don't need to worry about compliance; we've got it all covered from bustling NYC to the scenic upstate and every neighborhood in between. From the Bronx to Brooklyn, Queens to Staten Island, we'll come to pick up your deteriorated RV and give you cash on the spot!
We Buy All Junk RVs for the Maximum Price
Don't waste time listing your junk RV with dealers, brokers, ad sites, or auctions. Selling a used RV through traditional methods can take months, while your vehicle rusts and loses value. As a reputable RV buyer, we guarantee the best price for:
Junk/wrecked/damaged RVs you want to get rid of fast
Old and unwanted RVs (running or not) you want to sell for cas
Total loss RVs, crashed camper, totaled fifth wheel, etc.
Any other used travel trailer, used pop up camper or used toy hauler you have for sale
Give us all the details regarding your unwanted or damaged vehicle so we can return to you with a valid offer.
Why Choose Us to Buy
Your Junk RV?
When it comes to RVs for sale, we are a market leader with a solid reputation in offering the highest prices for scrap, unwanted, old, unusable, wrecked, or totaled RVs. Here is why you should work with us if you want to get rid of your vehicle fast!
Real-Market Appraisals
Even if your RV is totaled, unusable, old, or simply unwanted, you can still get good money for it. Fill out the form or contact us for details, and we will give you an unmatchable price for your vehicle.
Fast Transactions
Don't worry about paperwork, clean or salvage titles, and other issues. We will take care of everything at no extra fee.
Free Collection
We will schedule a convenient time for you to have our staff to pick up your junk RV anywhere in California and neighboring states.
Good, Quick Cash
We know how important it is to sell your junk RV fast, easy, safe, and with no hidden taxes. With us, you will have your money as fast as possible.
Frequently Asked Questions from People Looking to Sell Their Junk RVs in New York
Ready to embark on an exciting journey of selling your junk RV in the Empire State, New York? We've got you covered with all the information you need. But hey, if you're curious and have any questions, don't hesitate to reach out! We're here to assist you every step of the way!
Who buys junk RVs in New York State?
In New York, various buyers, including salvage yards, scrap metal buyers, private buyers, RV dealers, and online platforms, are interested in purchasing junk RVs. But selling it to us is the best choice! Why? Because when you sell your old motorhome to us, we put instant cash in your pocket, provide free towing anywhere in New York State and take care of all paperwork and trips at the DMV! If you are looking to sell your junk RV today, give us a call and get ready for a smooth experience.
How do you junk an RV in New York, with or without a title?
Wondering how to junk an RV? In a wild New York RV adventure, whether you've got the title or not, first, check for pesky liens and then seek out the raddest licensed junkyard in town! Dial them up, stash your treasures, and prepare epic documents like a title transfer or alternative proof of ownership. If your RV is still rolling like a boss, cruise it over yourself; if not, call in the towing cavalry!
But wait, why go through all that hassle when you can take the ultimate shortcut to a stress-free victory? Sell your junk RV to us for instant cash, and unlock a world of ease and convenience! We handle the towing, sort out the paperwork, and reward you with cold, hard cash on the spot. All you have to do is give us a call, get a free evaluation, and put cash in your pocket.
Sell My RV Fast, Easy, and Safe!
We buy all types of RVs at the best prices, regardless of their quality and condition. Everything can happen very quickly and without wasted time on your part.