We Buy Your Junk RVs in North Carolina
We'll exchange cash for your junk RV anytime and anywhere in North Carolina. Whether you're in Charlotte, Raleigh, Bethesda, Greensboro, Durham, Winston-Salem, Fayetteville, or Cary, no matter the distance, be assured that we can get to you! Sell your junk RV to us, and we'll pay you good bucks for it.
HeyRV is available anywhere in North Carolina. We can reach you wherever you are –Asheville, Wilmington, Carolina Beach, and more!
No matter the state of your salvaged motorhome or travel trailer, we are committed to buying it.
Skeptical? Why not arrange a call with us?
Let's get in touch! If we fall to an agreement, we promise swift, comprehensive service, helping with all necessary paperwork and managing the towing process. And remember, our pick-up services are entirely free and available across the entire state!
Make an Appointment
Send us an email with your data
and we will contact you as soon as possible.
Our Business
We'll pay you at the time of pickup for a fast and secure transaction.
We'll have an offer for you in a matter of minutes.
Call Now!
Call or write us to organize
the details of the sale of your RV.
Junk RV buyer anywhere in North Carolina
Get better prices and faster disposal than any other RV Junkyard in North Carolina
Should You Junk or Sell Your Junk RV in North Carolina?
You may encounter surprising challenges when doing away with your junk RV in North Carolina! Unlike the relatively straightforward process of selling cars and trucks, selling old RVs to junkyards in North Carolina can be quite limited and competitive. Salvage yards and vehicle dealers in various areas, such as Wake, Durham, New Hanover, and Guilfor, may often prioritize other vehicles, making it difficult for RV owners like you to find a viable solution for disposing of their motorhomes.
However, despite the apparent wasteland, with dunes that would almost rival those from the Jockey's Ridge State Park, not all hope is lost! It's why HeyRV is here: to deliver qualitative services with an excellent package deal (good cash and free towing!). HeyRV specializes in purchasing RVs and offers attractive cash deals across the state, including areas like Iredell, Cabarrus, Orange, and Onslow. Regardless of your junk trailer's age, condition, or how long it has been on the road, HeyRV is committed to assessing the value of the motorhome and providing a worthwhile cash offer.
Stop Waiting for Private Buyers & Sell Your Damaged RV in North Carolina Now!
Don't let your damaged RV sit idle any longer. Make the smart choice and sell it to us. We will value your motorhome for what it's truly worth and put good cash in your pocket on the spot. By doing so, you free up space and gain the opportunity to invest in a newer, more reliable RV that will take you on countless adventures for years to come.
At HeyRV, we understand the challenges of selling an old, damaged camper. Our team of experts specializes in evaluating RVs of all conditions, ensuring you receive a fair and competitive price for your vehicle. You could finally bid farewell to your worn-out RV and make room for a more reliable and updated motorhome.
Make the call today and stop waiting for private buyers. Sell your damaged RV in North Carolina now and embark on a new chapter of RVing with HeyRV!
So why wait? Sell your RV clunker for good cash right now!
Sell your outdated, severely damaged, flooded, burnt, crashed, or inoperable RV to us for fast and profitable cash!
Your Junk Motorhome Has More Value Than What North Carolina RV Junkyards Usually Pay!
Scrapyards are commonly found around areas like Forsyth or Mecklenburg. But even though they are accustomed to dealing with scraps, they rarely handle RVs' scraps. They may not even be interested in your fifth-wheeler, so they might not pay you the sum rightfully deserved for your old camper. It's a frustrating experience that no RV owner should go through. That's where HeyRV comes to the rescue! We specialize in junk RV purchases and offer excellent cash deals for them because we see the value left in your clunker.
Our experienced appraisers will conduct a fair evaluation of your RV, ensuring you receive the money it deserves. The best part? The evaluation is free of charge, allowing you to make an informed decision without any financial obligations.
Our lightning-fast and secure process guarantees you'll have your payment in no time. Whether you prefer cash, check, or Venmo, we've got you covered. With HeyRV, there's no need to deal with unnecessary complications or spend endless hours on tiresome research to find a fantastic deal for your worn-out camper.
HeyRV will pay top dollar for your old, broken, delaminated, salvaged, or rust-ridden motorhome right here in North Carolina. So, if you want to unlock the hidden value in your junk motorhome, only settle for what it deserves. We are your best bet for getting the most cash for your RV in North Carolina. Don't let your unusable fifth wheel go underappreciated; let us give it the value it truly holds!
Give us a call or fill out the form on this page to get our competitive offer right now! If we agree on the price, we'll arrange your old camper's FREE REMOVAL at your convenience, anywhere in North Carolina! 
What are you waiting for? Contact us right now!
What Paperwork Do You Need to Sell Your Junk RV in North Carolina?
If you're embarking on a solo journey of selling your junk RV in North Carolina, be prepared to feel like you're coasting down the Atlantic's shore with an upcoming storm on the horizon. There's a lot to do. Taking care of the paperwork and visiting different offices, all time-consuming and tedious, are just a part. However, there's an easier option available for those who work with HeyRV. We handle the entire process, including the towing and paperwork, so our clients can get the cash as quickly as possible.
The Original Title
You must know if you want to sell it to a private buyer or a scrapyard (or HeyRV), any vehicle that was made after 1975 needs the "Certificate Title" to prove ownership (that you haven't stolen the RV). If you've lost yours, you have to contact NC DMV to see how to obtain one.
The Bill of Sale
The second document vital in selling is the "Bill of Sale." It shows that you sold the RV to another person and which are the exact details over which you made the transaction. Regarding this document, another important step is to have it notarized – for its validity to be confirmed.
Other Documents
There are many other documents that you need to have. Among others, the disclosure forms, a valid insurance policy,  an ID, and fees must be covered through all these steps.
North Carolina takes its vehicle selling requirements seriously, and they are strict regarding the accuracy and integrity of the paperwork. As a result, it's crucial to ensure all the necessary documents are to avoid any potential legal or administrative complications.
However, selling your junk motorhome through HeyRV can save you from all the trouble and paperwork. We offer a quick and convenient process, taking care of all the forms and contracts, so you can get good cash for your junk RV today without the hassle of dealing with paperwork. Let us handle the details while you enjoy a seamless and efficient selling experience with HeyRV!
We Offer FREE Junk RV Removal Anywhere in North Carolina!
When getting rid of your junk motorhome for fast, good cash, HeyRV has you covered! 
The best part of our services? We offer FREE towing for your damaged camper!
No matter where you are located in North Carolina, whether in bustling cities like Charlotte, Raleigh or smaller ones like Mooresville, our dedicated team can reach you anywhere. 
We'll not only give you a fair deal for your clunker, but we'll offer complimentary towing services.
Worried about hidden fees? Rest assured that with HeyRV, transparency is our priority. When you give us a call, we'll gladly provide a free estimate for your damaged RV. Once we agree on a price, we'll handle the removal process without charging you a dime. Say goodbye to any towing fees or hidden costs – at HeyRV, we believe in straightforward and fair dealings.
So why wait any longer? Turn your junk RV into cash, and let us handle the heavy lifting. With HeyRV, you can reclaim your space and bid farewell to that old camper without worries. 
Contact us today for a smooth and hassle-free experience, and let's make the process of selling your damaged RV as easy as possible!
Sell Your Junk Motorhome in ANY Condition in North Carolina!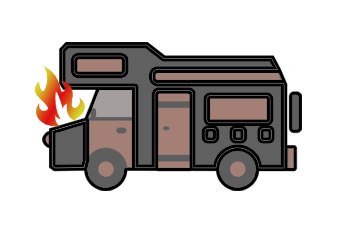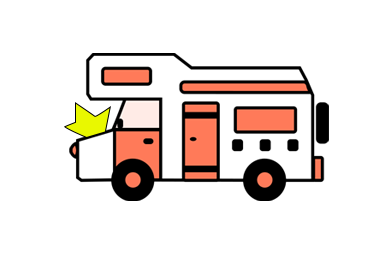 In a region no stranger to harsh weather conditions, it's not uncommon to have an RV that has faced the wrath of severe floods, blistering hurricanes, or unpredictable snowmelt patterns. But worry not. Here at HeyRV, we firmly believe every motorhome has value, no matter its condition!
We know the havoc that North Carolina's weather hazards can wreak on your beloved camper. Even with the most meticulous maintenance, it is an uphill task to shield your old camper from the elements. And that's where we step in – ready and willing to buy your RV, regardless of the hits it has taken from floods, fires, adverse weather, or traffic mishaps.
It doesn't matter if your RV is grappling with structural issues, external damage, or needs extensive repairs. Our commitment is to offer you a fair deal that considers your RV's current condition and mirrors its value. Our cash offers are designed to simplify the process, offering you a swift and hassle-free way to sell your worn-out Motorhome.
Is My Old Motorhome Worth Anything in North Carolina?
Absolutely! And HeyRV is ready to demonstrate that with a tangible cash offer. No matter how battered, broken, or weather-worn your motorhome is, we offer you a generous cash proposal.
We are ready to offer a home to your old RV if you are ready to discard your dilapidated, weather-struck, old motorhome!
Selling or donating it to traditional junkyards can result in disappointing compensation. Factors like the age, mileage, make, model of your motorhome, and degree of weather-inflicted damage can drastically depreciate its value, leaving you with a paltry offer.
Making prudent financial choices may not always be straightforward, but they are crucial. Even if your old camper holds a special place in your heart, it's important to remember that some things should not be held onto until they're virtually falling apart.
So, before you dismiss your old motorhome as worthless, remember that at HeyRV, we see potential in every junk RV. We are here to ensure you receive a fair offer for your vehicle. Rest assured, your old motorhome is worth something in North Carolina, and we're here to prove it!
First Step
Find out how much money you can make for your crashed/unusable motorhome by filling out the form on this page.
Second Step
Once we shake on the deal, you receive your quick cash by bank transfer.
Third Step
We send our people to your place to remove the old camper for free.
We come with our own towing equipment and technicians and handle all the paperwork!
How Do You Sell a Salvage or Rebuilt Title RV in North Carolina?
Selling an RV with a salvage or rebuilt title in North Carolina might seem like an uphill task. There are crucial steps involved, like gathering all the necessary documents from the NC DMV and properly completing them following state regulations.
But what if you could bypass all these hoops and still get a good deal for your salvage RV? That's where HeyRV comes into play! If you choose to sell us your old RV, we'll give you a hand in dealing with all the stuffy paperwork! 
Regardless of where you are in North Carolina, we will arrange to remove your unusable motorhome or travel trailer at no cost. You'll have cash in your pocket as soon as we take your junk RV off your hands. This is the effortless solution to selling your salvage or rebuilt title RV in North Carolina that you've been searching for!
With HeyRV, you won't have to worry about the complexities of selling a salvaged or rebuilt RV. Contact us and let us handle the hard work while you sit back, relax, and wait for your payout!
We Buy All Junk RVs for the Maximum Price
Don't waste time listing your junk RV with dealers, brokers, ad sites, or auctions. Selling a used RV through traditional methods can take months, while your vehicle rusts and loses value. As a reputable RV buyer, we guarantee the best price for:
Junk/wrecked/damaged RVs you want to get rid of fast
Old and unwanted RVs (running or not) you want to sell for cas
Total loss RVs, crashed camper, totaled fifth wheel, etc.
Any other used travel trailer, used pop up camper or used toy hauler you have for sale
Give us all the details regarding your unwanted or damaged vehicle so we can return to you with a valid offer.
Why Choose Us to Buy
Your Junk RV?
When it comes to RVs for sale, we are a market leader with a solid reputation in offering the highest prices for scrap, unwanted, old, unusable, wrecked, or totaled RVs. Here is why you should work with us if you want to get rid of your vehicle fast!
Real-Market Appraisals
Even if your RV is totaled, unusable, old, or simply unwanted, you can still get good money for it. Fill out the form or contact us for details, and we will give you an unmatchable price for your vehicle.
Fast Transactions
Don't worry about paperwork, clean or salvage titles, and other issues. We will take care of everything at no extra fee.
Free Collection
We will schedule a convenient time for you to have our staff to pick up your junk RV anywhere in California and neighboring states.
Good, Quick Cash
We know how important it is to sell your junk RV fast, easy, safe, and with no hidden taxes. With us, you will have your money as fast as possible.
Frequently Asked Questions from People Looking to Sell Their Junk RVs in North Carolina
Should you have any queries regarding the process of selling your junk RV in North Carolina, please consult the FAQ section below. Your question might already be answered there! However, if you can't find what you're looking for, please contact us directly. We're here to assist you!
What is Considered an RV in North Carolina?
In North Carolina, the term "recreational vehicle" or "RV" encompasses a wide range of mobile accommodation types as per G.S. 20-4.01(32b). This includes motorhomes, travel trailers, fifth-wheels, camping trailers, and truck campers.
Can You Sell an RV without a Title in North Carolina?
According to the motor vehicle regulations in North Carolina, all vehicles, including RVs, must be titled for sale, especially if you're selling it to a private buyer.
But your dilapidated RV can serve you better by being converted into solid cash rather than sitting idle and rusting away. That's why we urge you to reach out to us without delay. We offer a quick, effortless solution that results in a fair cash offer for your junk trailer, no matter where you're in North Carolina.
Sell My RV Fast, Easy, and Safe!
We buy all types of RVs at the best prices, regardless of their quality and condition. Everything can happen very quickly and without wasted time on your part.