We Buy Your Junk RVs in Oregon
Get instant top dollar for any total-loss, old, broken, flooded, or junk RV you have for sale in Oregon. We offer some of the highest RV scrap/salvage prices on the market and pay you via transfer, cash, or Venmo. Don't waste time with independent RV buyers, auctions, online marketplaces, or Oregon junkyards.
We buy any junk RV make, model, and type IN ANY CONDITION!
Sell your crashed travel trailer, camper, or motorhome for good money, whether damaged in an accident, flooding, or storm. Instead of searching "near me" salvage yards in Portland, Eugene, Reedsport, or Woodburn, why don't you call us?
We COME TO YOU to remove your junk RV FOR FREE, no matter where your unwanted, outdated, or broken trailer is stored in Salem, Baker City, Ashland, or Burns.
Contact us immediately if you want to sell your trash camper for quick big cash and get free disposal anywhere in Oregon. Hey.RV offers excellent prices, instant payment, and no red tape!
Make an Appointment
Send us an email with your data
and we will contact you as soon as possible.
Our Business
We'll pay you at the time of pickup for a fast and secure transaction.
We'll have an offer for you in a matter of minutes.
Call Now!
Call or write us to organize
the details of the sale of your RV.
Junk Motorhome Buyer Anywhere in Oregon
Get better prices than any other RV Junkyard in Central Point or Portland could offer!
Don't Junk Your RV Just Yet!
Old RVs are space and financial waste, so don't dump them in the neighborhood junkyard! Selling your damaged travel trailer to a Portland salvage yard, a Hillsboro auto wrecker, or an undecided buyer from Cedar Hills is a bad financial move.
The inconvenience of waiting, filling out paperwork, or using a towing agency is not worth a few dollars.
Sell your damaged RV hassle-free and for good money instead!
Our qualified appraisers will value your camper and provide a better price and a safer, quicker, and smoother transaction!
A total loss, flood-damaged or irreparable trailer can be difficult to sell and dispose of in Oregon, but we are here to help!
Fill out the form, receive a quote (superior to anything a salvage yard or consignment shop could provide), receive your money quickly, and then wait for us to COME OVER and remove the wreck for FREE from your property or storage space.
It's THAT simple!
What Is The Fastest Way to Sell an Old RV in Oregon?
It usually takes months to receive a (bad) offer if you tried to sell your storm-damaged motorhome online or through an auction/marketplace. You can place online and print ads in The Oregonian, the Bulletin, or the Bend Bulletin, but what results do you expect?
Why not choose the simple route?
In Oregon, we buy junk RVs extremely quickly. There are no middlemen, extra fees, or long wait times.
Those who want to eliminate an old, unusable, money-eating camper from their lives usually sell them and get a new pop-up. Are you planning a trip to one of the many spectacular RV parks and campgrounds in Central Oregon or a long adventure along the Oregon coastline? If you mapped out your route to include the Sea & Sand RV Park in Depoe Bay or the Pleasant Valley RV Park in Tillamook, you need money fast!  
We guarantee swift and secure bank transfers while providing immediate cash for your used RV. Additionally, we take care of the paperwork and offer free towing wherever you are in Oregon.
With Hey.RV, you can be sure you receive a fair price for your accident-damaged, flooded, or burned-out trailer.
Allow us to handle the paperwork, free pickup, and instant payment!
We Help You Get Rid of Your Junk RV in Oregon for Free
No matter where you reside — Portland, Florence, Burns — you can count on us to remove your old RV from your storage space or yard when the sale is finalized. We'll quickly get there by taking the US-95 or I-5 North. We have no problem coming to Oregon to tow your wreck trailer for free.
Your profits are thrown into the wind because most junkyards and independent RV buyers will probably want you to pay for towing out of your own money.
If you sell your junk trailer or camper to us, we'll buy it from you quickly, fairly, and without charging you anything.
Leave RV marketplaces, auctions, and classifieds out of your business. You will ultimately be required to pay towing, labor, or disposal costs. No, not here!
At Hey.RV, you have no strings attached, no catches, no questions asked, and free RV removal in Oregon!
Sell Your RV in Any Condition
Selling your camper to the highest bidder is rarely an option if it has been flooded or has a rebuilt title. Independent RV purchasers or conventional auctions/marketplaces don't pay much for totaled, inoperable, or considered salvage RVs.
On the other hand, selling it to us is your best option if your Class B, Class C, or travel trailer was involved in an accident or is damaged beyond repair.
Whatever the damage, we buy any kind of trash RV in Oregon. Its blown engine, corrosion, hail-damaged body, ruptured pipes, missing wheels, etc., are of no consequence to us.
We promise higher pricing than you'd receive from Garibaldi junkyards, La Grande auto salvage & recyclers, or Astoria auto wrecking and recycling yards. Contact us today for an estimate on your old RV.
We back up what we say by offering free removal anywhere in Oregon, quick cash, and fair appraisal.
See How Much We Paid For Other RV Wrecks in Oregon
Do you wish to know the Oregon value of your junk RV? Request a fair and cost-free quote from us right away!
We all know that the value of a motorhome declines rapidly over time based on factors like the type, make, model, year, present condition (running or not), degree of damage, age, usage, and legal considerations. RV values fluctuate seasonally, and local Oregon trailer owners rarely make any money selling their secondhand campers to the nearest scrap yard.
You should first find out how much money you can get if you want a fair deal.
First Step
Fill out the form and let our appraisers offer you the best deal on the Oregon junk market.
Second Step
Get your fast cash
via bank transfer
Third Step
Wait for us to come to your place to remove the old RV for free.
Sell Your Junk Travel Trailer in Any Condition in Oregon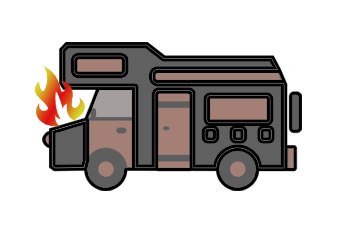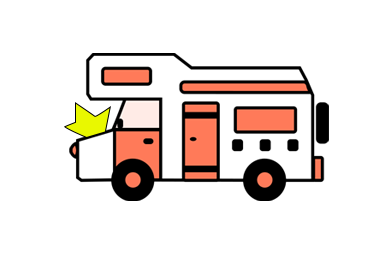 Got a Salvage Title or Rebuilt Title RV in Oregon?
In Oregon, any person that declares a vehicle totaled must provide the salvage title to the buyer. The seller must provide the purchaser with a bill of sale that states the following if the title was turned in to the Oregon DMV and no salvage title was issued:
The vehicle is a total loss;

The title has been turned in to the DMV;

The plates and registration are no longer valid;

The vehicle must be retitled as reconstructed, replica vehicle, or assembled vehicle.
Anybody who buys a totaled vehicle with a title that hasn't been turned in must surrender it to the DMV. All individuals or businesses included in the title must also include releases. A salvage title must be requested if the vehicle is going to be refurbished or sold. Failing to surrender the title of a totaled vehicle to the DMV is considered a Class A misdemeanor, entailing jail time and hefty fines.
Does this sound overly complicated? It is!
Don't worry about forms, procedures, taxes, or getting around the local laws. Contact us now for a fair quote on your total loss or salvage title trailer, and let us do the work!
Whether from Gresham, Oregon City, or Unity, we offer the best value for your totaled or salvage camper, quick cash in your pocket, and free removal services anywhere in Oregon! 
We Buy All Junk RVs for the Maximum Price
Don't waste time listing your junk RV with dealers, brokers, ad sites, or auctions. Selling a used RV through traditional methods can take months, while your vehicle rusts and loses value. As a reputable RV buyer, we guarantee the best price for:
Junk/wrecked/damaged RVs you want to get rid of fast
Old and unwanted RVs (running or not) you want to sell for cas
Total loss RVs, crashed camper, totaled fifth wheel, etc.
Any other used travel trailer, used pop up camper or used toy hauler you have for sale
Give us all the details regarding your unwanted or damaged vehicle so we can return to you with a valid offer.
Why Choose Us to Buy
Your Junk RV?
When it comes to RVs for sale, we are a market leader with a solid reputation in offering the highest prices for scrap, unwanted, old, unusable, wrecked, or totaled RVs. Here is why you should work with us if you want to get rid of your vehicle fast!
Real-Market Appraisals
Even if your RV is totaled, unusable, old, or simply unwanted, you can still get good money for it. Fill out the form or contact us for details, and we will give you an unmatchable price for your vehicle.
Fast Transactions
Don't worry about paperwork, clean or salvage titles, and other issues. We will take care of everything at no extra fee.
Free Collection
We will schedule a convenient time for you to have our staff to pick up your junk RV anywhere in California and neighboring states.
Good, Quick Cash
We know how important it is to sell your junk RV fast, easy, safe, and with no hidden taxes. With us, you will have your money as fast as possible.
Frequently Asked Questions from People Looking to Sell their Junk Trailers in Oregon
Do you still have questions regarding selling your junk RV to us for good, fast cash? Check out the answers below! If you still don't find the information you're looking for, don't hesitate to contact us!
How do I get rid of a crashed RV I no longer want?
Suppose you want to know how to remove an old, unusable RV from your property or storage space. In that case, you can either pay to have it hauled away, look for a trailer salvage or junkyard, disassemble it into its components, or give it away to a good cause. Generally, these are the main options motorhome owners have when they want to part away from their pile of junk. 
On the other hand, you could contact us so we can BUY your wreck trailer at a good price, with no frustrating paperwork and free removal from anywhere in Oregon.
Where are the best places in Oregon to sell my Junk RV?
Most businesses and independent RV buyers are looking for functional pre-owned campers. Usually, the vehicles should be in good condition and have a certain age to make it to the secondhand market. 
Owners who must deal with broken, accident-damaged, flooded, old, or unusable motorhomes focus on trailer and RV junk yards in Oregon, hoping to get a few bucks for some usable parts. You will find auto wreckers, recyclers, and metal scrappers in Garibaldi, Central Point, Springfield, Cave Junction, or Baker City – not to mention Portland – but most of them deal with junk cars and car parts.  
Alternatively, dealerships, internet-based markets, or private buyer auctions are simple to collaborate with, but the profit for doing so is minimal. Most will demand payment (for taxes, commissions, labor, transportation costs, etc.), which could leave you with nothing to show for. 
No matter where you are in Oregon, let us come to you! Use the form or the phone number to talk to our technicians and get a fair valuation for your junk trailer. Seal the deal and wait for us to remove your inoperable camper for free at a convenient time. Then, you can just sit back, count your money, and prepare to get a new RV for your next adventure in Oregon!
Sell My RV Fast, Easy, and Safe!
We buy all types of RVs at the best prices, regardless of their quality and condition. Everything can happen very quickly and without wasted time on your part.