We Buy Your Junk RVs in Pennsylvania
Discover the simple and profitable way to sell your junk RV in Pennsylvania! HeyRV is the only place you need to go if you want to sell your used motorhome or camper in Keystone State. We guarantee a lucrative price that exceeds what you would get from scrapyards or individual buyers, regardless of its condition.
Whether you're in Philadelphia, Pittsburgh, Harrisburg, or Allentown, you can rely on us to buy your junk RV hassle-free. When you sell your junk RV to us, you can enjoy our free pick-up services available throughout the state of Pennsylvania!
Exploring the scenic Pocono Mountains may feel as exciting as the journey to sell your junk RV in Pennsylvania. However, navigating local scrapyards and dealers largely focused on autos can frequently leave RV owners with little options for selling their beloved, albeit ancient, rolling homes.
But don't worry, HeyRV shines up Pennsylvania like a brilliant sunrise! We give more cash for your junk RV than any other buyers from Erie to Philadelphia. Our lightning-fast and safe approach ensures that you'll receive your payment, whether CASH, CHECK, or VENMO, faster than you can say 'cheesesteak sandwich'! We pay top dollar for your rusted, water-damaged, or non-roadworthy caravan, regardless of where you are in Pennsylvania.
Make an Appointment
Send us an email with your data
and we will contact you as soon as possible.
Our Business
We'll pay you at the time of pickup for a fast and secure transaction.
We'll have an offer for you in a matter of minutes.
Call Now!
Call or write us to organize
the details of the sale of your RV.
Junk RV buyer anywhere in Pennsylvania
Get better prices and faster disposal than any other RV Junkyard in Pennsylvania
Should You Junk or Sell Your Junk RV in Pennsylvania?
Finding the best way to sell your RV in Pennsylvania can feel like navigating a maze filled with cars and trucks. Local scrapyards and dealers frequently focus on other vehicle types, leaving RV owners with few selling options and a sense of discouragement. But don't worry, there's still hope in the Keystone State! HeyRV is the one-and-only solution you've been looking for. As RV specialists, we bring new life to RVs from Philadelphia to Pittsburgh and all over Pennsylvania. We buy your junk motorhome for top dollar, whether old, flood damaged, or simply too old to drive.
Stop Waiting for Private Buyers & Sell Your Damaged RV in Pennsylvania Now!
Forget about low-ball offers from scrapyards, wreckers, and used car dealers in Philadelphia, Pittsburgh, and Harrisburg. They may fail to recognize the true value of your prized RV, especially if it has been damaged by flooding, fire, or a major collision. Why waste your valuable time and energy looking for a private buyer who won't see the hidden charm beneath the damage? HeyRV comes to your aid! We see the potential in every RV, motorhome, and trailer, and will offer you a fair price without any complications or repair costs.
So, why wait? Let's turn your junk RV into a cash treasure in Pennsylvania!
Sell your outdated, severely damaged, flooded, or irreparable RV to us for fast and profitable cash!
Your Junk Motorhome Has More Value Than What Pennsylvania RV Junkyards Usually Pay!
No need to search for salvage yards or secondhand dealers in Philadelphia, Pittsburgh, Harrisburg, or Allentown to sell your damaged rig. We offer substantial cash, especially if your RV has endured floods, storms, or accidents. Sell your salvage or rebuilt title RV to us and skip the hassle of ads and waiting for private buyers or towing to scrapyards. We pay cash on the spot for your damaged, delaminated, or non-operational trailer. Next time you attend events like the Three Rivers Arts Festival, the Kutztown Folk Festival, or the Bloomsburg Fair, do it in a brand-new RV with ease and style!
Give us a call or fill out the form on this page to get our competitive offer right now! If we agree on the price, we'll arrange your old camper's FREE REMOVAL at your convenience, anywhere in Pennsylvania.
What are you waiting for? Contact us right now!
What Paperwork Do You Need to Sell Your Junk RV in Pennsylvania?
To sell your junk RV in Pennsylvania, make sure you have acceptable proof of ownership documents, such as the Manufacturer Certificate/Statement of Origin, Pennsylvania Certificate of Title, or Certificate of Salvage. When buying or selling a vehicle, meet at a notary public, tag service, or motor vehicle dealer to complete the title application correctly. If the vehicle is financed, the title will be sent to the lienholder; if not, it will be sent to you. Ensure the seller's signature is notarized or verified on the title. If buying a used vehicle with an out-of-state title, check with the lienholder regarding title transfer.
Looks like a lot? Well, it is! But don't waste your time dealing with individual buyers or junk auto dealers, and sell your junk RV for cash right now! Give us a call today and let us take care of everything hassle-free. For a smooth experience, contact us, and we'll buy your junk RV in 3 easy steps, taking care of all that tedious paperwork. Plus, you'll be entitled to our free towing services whether you're located in Central Lowlands, Appalachian Plateaus, Ridge and Valley, New England, Piedmont, Atlantic Coastal Plain, or anywhere else in Pennsylvania!
We Offer FREE Junk RV Removal Anywhere in Pennsylvania!
Tired of searching for "Pennsylvania free junk RV removal near me" only to be left disappointed and empty-handed? HeyRV has the perfect solution for you! Unlike those other scrapyards, we won't just haul away your worn-out camper without compensating you. Oh no, we're changing the game!
We value your time, which is why we offer free RV removal services for your beloved junk RV. But wait, there's more! We go above and beyond towing; we'll also offer you a fair price for your old clunker! It's like hitting the jackpot in the heart of Philadelphia!
No matter where you are in Pennsylvania, whether in the City of Brotherly Love, Pittsburgh, Lancaster, or Allentown count on us for top-notch service. Simply give us a call, and our friendly team will provide you with a free estimate for your well-loved but worn-out RV.
Once we agree on a price, it's time for the grand finale! We'll swoop in and remove your RV from your property or storage facility, and here's the best part: no towing fees, no sneaky hidden costs! It's like getting a pizza with all your favorite toppings at no extra charge.
So why wait? Say goodbye to disappointment and let HeyRV transform your junk RV into cash in your hand quicker than a rush-hour train! Call us today for a stress-free, profit-packed deal in Pennsylvania!
Sell Your Junk Motorhome in ANY Condition in Pennsylvania!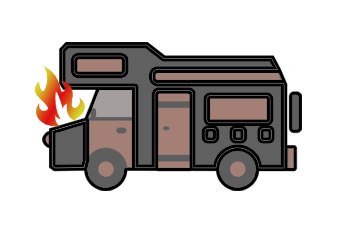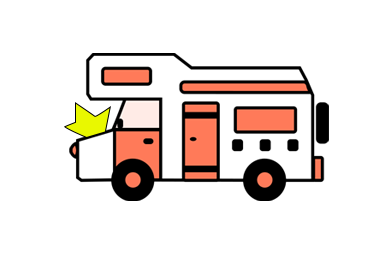 Living in Pennsylvania, a state frequently experiencing its fair share of weather challenges, can be daunting for RV owners. With an average of sixteen tornadoes per year, Pennsylvania ranks in the top 25 states for tornado occurrence in the United States. From wind damage to hailstorms and other meteorological issues, we understand the obstacles you may face when trying to sell a damaged RV in Pennsylvania.
As a result of these weather challenges, RVs in Pennsylvania may depreciate at a faster rate compared to regions with milder weather conditions. The constant exposure to harsh elements can cause the RV's value to decrease, making it more challenging for owners to sell their weather-damaged RVs at a desirable price, especially when it's 10 years or older. However, at HeyRV, we recognize the unique challenges faced by RV owners in Pennsylvania and specialize in purchasing RVs in any condition. Whether the RV has endured weather-related damage or other issues, HeyRV offers a fair price and a straightforward selling experience, providing an excellent solution for those looking to sell their weather-worn RVs with confidence.
Do not let the aftermath of severe weather hold you back! Take the first step towards a brighter future by contacting us today. We will gladly provide you with a FREE ESTIMATE for your junk RV, empowering you to move forward with confidence. With HeyRV, selling your RV in Pennsylvania has never been more easy!
Is My Old Motorhome Worth Anything in Pennsylvania?
Uncovering an old motorhome in Pennsylvania? Don't overlook its hidden worth! Despite their age or condition, old motorhomes can still hold value. Depending on the make, model, and overall condition, you might be surprised by the offer we'll make you! So, before dismissing it as junk, consider exploring your options.
Imagine all the incredible adventures you can embark on with that money! Explore the awe-inspiring landscapes of Ricketts Glen State Park or set off on a memorable road trip along the historic Lincoln Highway. Your old motorhome can finance new memories and amazing experiences all across Pennsylvania.
Moreover, leaving a junk RV on the streets in Pennsylvania can lead to legal complications. According to the Vehicle Code, a vehicle may be considered abandoned if left unattended on public property for more than 48 hours and does not meet specific requirements like a valid registration plate, current certificate of inspection, and an ascertainable vehicle identification number. If left on private property without the owner's consent for over 24 hours, it may also be deemed abandoned.
Don't let your motorhome gather dust when it can be your gateway to excitement. Get in touch with us today for a swift and stress-free evaluation. Whether it's too old to drive, has endured water damage, or is facing electrical issues, we pay good cash for your junk RV in 3 easy steps!
First Step
Find out how much money you can make for your crashed/unusable motorhome by filling out the form on this page.
Second Step
Once we shake on the deal, you receive your quick cash by bank transfer.
Third Step
We send our people to your place to remove the old camper for free.
We come with our own towing equipment and technicians and handle all the paperwork!
How Do You Sell a Salvage or Rebuilt Title RV in Pennsylvania?
Navigating the sale of a salvage or rebuilt title RV in Pennsylvania might feel like embarking on an intriguing journey across the state. With legal obstacles and paperwork to handle, it can be overwhelming. 
To sell a salvage or rebuilt title RV in Pennsylvania, you'll need to go through an enhanced inspection process. This specific inspection ensures the vehicle meets roadworthy requirements and qualifies for a new title. If your RV has a salvage certificate due to an accident or other damage, an enhanced inspection is necessary to obtain a new title for road use. The inspection covers safety items like brakes, tires, lights, and frame condition, similar to a standard state inspection. Cosmetic damage doesn't need repair, but the entire vehicle must meet the inspection requirements. After the inspection, a branded title is issued, indicating past damage or alterations. Once you receive the new title, the enhanced inspection process is complete, and your RV is ready for the road.
Leave the stress of finding private buyers behind, and let us take care of everything! We'll give you cash for your junk RV and facilitate a lightning-fast transaction. No need to worry about compliance; we've got you covered throughout Pennsylvania, from Philadelphia to Pittsburgh, and every corner in between!
We Buy All Junk RVs for the Maximum Price
Don't waste time listing your junk RV with dealers, brokers, ad sites, or auctions. Selling a used RV through traditional methods can take months, while your vehicle rusts and loses value. As a reputable RV buyer, we guarantee the best price for:
Junk/wrecked/damaged RVs you want to get rid of fast
Old and unwanted RVs (running or not) you want to sell for cas
Total loss RVs, crashed camper, totaled fifth wheel, etc.
Any other used travel trailer, used pop up camper or used toy hauler you have for sale
Give us all the details regarding your unwanted or damaged vehicle so we can return to you with a valid offer.
Why Choose Us to Buy
Your Junk RV?
When it comes to RVs for sale, we are a market leader with a solid reputation in offering the highest prices for scrap, unwanted, old, unusable, wrecked, or totaled RVs. Here is why you should work with us if you want to get rid of your vehicle fast!
Real-Market Appraisals
Even if your RV is totaled, unusable, old, or simply unwanted, you can still get good money for it. Fill out the form or contact us for details, and we will give you an unmatchable price for your vehicle.
Fast Transactions
Don't worry about paperwork, clean or salvage titles, and other issues. We will take care of everything at no extra fee.
Free Collection
We will schedule a convenient time for you to have our staff to pick up your junk RV anywhere in California and neighboring states.
Good, Quick Cash
We know how important it is to sell your junk RV fast, easy, safe, and with no hidden taxes. With us, you will have your money as fast as possible.
Frequently Asked Questions from People Looking to Sell Their Junk RVs in Pennsylvania
Are you intrigued by the idea of selling your junk RV in Pennsylvania and securing the best deal without any hassles? Well, your search ends here! Below, you'll find all the information you need. And hey, if you still have questions, feel free to get in touch with us for assistance!
Who buys junk RVs in Pennsylvania?
While some places in Pennsylvania, like Philadelphia or Pittsburgh, might handle junk RVs, their primary focus often revolves around other vehicles. Salvaging usable parts from your RV might be on their radar, but their offers could leave you less than satisfied.
Instead of going through the trouble of selling your junk RV on your own, choose HeyRV for a seamless and rewarding selling experience. We're here to provide you with instant and substantial cash for your weathered, flooded, totaled, or even slightly quirky RV!
How do you junk an RV in Pennsylvania, with or without a title?
To junk an RV in Pennsylvania with a title, you have three options:
Sell it to a junkyard: Contact a local junkyard and get a quote for your RV. They'll pick it up for free and pay you on the spot.

Use an online junk car service: Several online services specialize in buying junk RVs. They work with towing companies to pick up your RV and pay you instantly.

Sell it to the state of Pennsylvania: You can opt for this route if you prefer to deal directly with the state.
However, if you don't have a title for your RV, it becomes more challenging. Some junkyards might still buy it, but you might get a lower offer. You can try to apply for a duplicate title from PennDOT or provide other proof of ownership.
If you want to ensure that your old RV, motorhome, or trailer receives the money it deserves, sell your junk RV to us and make instant cash anywhere you are in Pennsylvania!
Sell My RV Fast, Easy, and Safe!
We buy all types of RVs at the best prices, regardless of their quality and condition. Everything can happen very quickly and without wasted time on your part.