We Buy Your Junk RVs in Rhode Island
If you are in Rhode Island and want to sell your junk RV, call us and we'll make you a fast cash offer. We cover everything else: paperwork, free towing for all the RVs we buy in Rhode Island, and quick payments in cash, check, and Venmo!
We buy junk RVs in any condition whether you're in Providence, Cranston, Warwick, Pawtucket, or anywhere else in the Ocean State. Sell your junk RV the easy way!
If your junk RV is barely clinging on, it doesn't mean you can't earn some cash for it. At HeyRV, we'll make you a better offer than any salvage yard, scrap facility, or disposal center. Whether your old RV has seen a few too many tropical storms or is too old to drive, give us a call for a free estimate and we'll make you a fast offer. We buy junk RVs in any condition – burnt, damaged, flooded, or a victim of too many repairs.
Selling a junk RV in Rhode Island privately may leave you discouraged. Advertising the vehicle and finding a buyer willing to buy it despite the RV's history or title issues is not an easy deal. Same both time and money with HeyRV! We pay top dollar for your junk RV, provide free junk motorhome removal, and handle the paperwork for you. Give us a call, tell us some details about your vehicle, and you're all set!
Make an Appointment
Send us an email with your data
and we will contact you as soon as possible.
Our Business
We'll pay you at the time of pickup for a fast and secure transaction.
We'll have an offer for you in a matter of minutes.
Call Now!
Call or write us to organize
the details of the sale of your RV.
Junk RV buyer anywhere in
Rhode Island
Get better prices and faster disposal than any other RV Junkyard in
Rhode Island
Should You Junk or Sell Your Junk RV in Rhode Island?
Rhode Island is not a stranger to wrecked RVs, and scrapyards are surely not the best way to go. Your old motorhome is far more valuable than you think. Selling your junk RV for scrap won't grant you anything close to what your old home on wheels is really worth. We're here to make you an offer in cash that will exceed your expectations and help you sell that clunker profitably!
If you are looking for the easiest way to get cash for your junk RV in Rhode Island, we're one call away. Sell your junk motorhome to us in 3 easy steps!
Stop Waiting for Private Buyers & Sell Your Clunker Now!
The more damage or repairs your RV has experienced, the more improbable it is that a private buyer will make you a good offer. Moreover, navigating the selling process on your own can be tedious and time-consuming. You will also be expected to manage any transportation costs and additional fees. Selling a junk RV without a title is also very challenging in Rhode Island. To ensure a smooth transfer process, our team is here to help you!
We'll take care of the entire process, from towing to navigating the state's requirements. Give us a call and sell your junk RV for cash in Coventry, Smithfield, Newport, Cumberland, or anywhere else in Rhode Island!
Your Junk Trailer Has More Value Than What Rhode Island RV Junkyards Usually Pay!
Are you thinking about whether selling your RV is worth it? Well, when you sell it to us, all you can get is the best deal. Our cash offers exceed what junkyards will be willing to pay for your RV, camper, or motorhome in Rhode Island.
If you are not sure if your RV is worth much, call HeyRV for a free estimate and find out! We also cover towing and are ready to make a quick transfer in cash, check, or Venmo. No matter where your RV is camping, we'll reach any state park, campground, and street in Ocean State. Whether it's the extra cash to cover living expenses or you're torn on investing in a brand new RV, we're here to ensure a fast process, with no effort on your part. Get cash for your junk RV the easy and profitable way in Rhode Island!
Give us a call or fill out the form on this page to get our competitive offer right now! If we agree on the price, we'll arrange your old camper's FREE REMOVAL at your convenience, anywhere in Rhode Island. 
What are you waiting for? Contact us right now!
What Paperwork Do You Need to Sell Your Junk Trailer in Rhode Island?
The title situation and model year of your RV are the most important factors in selling a junk RV in Rhode Island. 
Trailer with Title (Model Year 2001 and Newer)
If your RV has a title and falls within the model year 2001 or newer, the next step is transferring the title to the new owner. Sign over the title to the buyer, indicating the sale price (if necessary), and ensuring that all required sections on the title document are properly filled out. The buyer will then follow the appropriate process to transfer the title into their own name through the Rhode Island Division of Motor Vehicles.
Trailer without Title (Model Year 2000 and Older)
Models year 2000 and older are not titled in Rhode Island. In such cases, you can obtain documentation in lieu of a title, and you will be required to have the following documents:
Bill of Sale

: must encompass details like the names of the buyer and seller, the date of sale, an accurate description of the trailer, and the agreed-upon sale price.

Identification

: both the buyer and seller must present valid forms of identification.

Application for Registration and/or Driver's License Information

:

This form

might be necessary to establish ownership of the trailer.

Fee

: a fee of $12.50 could apply.
Regarding Out of State titles, you will be required to undergo a VIN check from the police department.
If you're unsure about your junk RV's situation, call us for an evaluation. We will provide you with a same-day cash offer and ensure a seamless process.
We Offer FREE Junk RV Removal Anywhere in RHODE ISLAND!
This is how it works: you call us for a free estimate of your RV, we make you a top-dollar offer, and we come to remove your trailer for free, regardless of where your clunker is parked in Rhode Island – 
We strive to make this experience easy for our clients, providing fast transfers and guidance through the legal process.
Don't let removal services in Rhode Island cut more into your wallet. Choose us and sell your junk RV for cash with no additional costs or hidden fees!
Sell Your Junk Travel Trailer in Any Condition in Rhode Island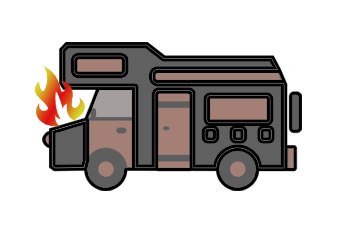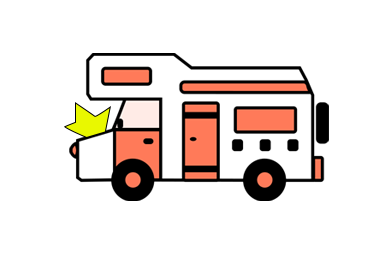 Saltwater exposure, harsh winters, and tropical storms are a few Rhode Island specifics that can hurry an RV's depreciation. The humid continental climate can be harsh on vehicles, and Rhode Island isn't easy on vehicle inspection and safety. In fact, in 2014, it was one of eight states to release a collaborative Action Plan to put 3.3 million zero-emission vehicles on its roads by 2025. Any newly registered vehicle must pass a Safety and Emissions Inspection. The only exception to the rule is new vehicles.
We understand that some RVs are in need of costly repairs. A totaled, water-damaged, delaminated, burnt, or too-old-to-drive RV may not be welcomed with excitement by potential buyers. At HeyRV, we see the real value in every vehicle we purchase. 
So, if you feel that your old motorhome isn't what it used to be, selling it to us for cash can be both a financially and environmentally great choice! We pay cash for junk RVs and cover every Rhode Island county. So whether you're camping out in Newport or taking a stroll down Providence, we'll come pick up your clunker and give it a new purpose!
Is My Old Motorhome Worth Anything in Rhode Island?
Can your RV handle the trip to Rhode Island's Newport Cliff Walk or the quaint charm of Block Island? If it struggles on the road, it's time to consider selling your old RV.
In Rhode Island, known for its captivating beauty, from Narragansett Bay to Roger Williams Park, historic Touro Synagogue, scenic Blackstone River Bikeway, and mesmerizing RISD Museum, RV enthusiasts find paradise. The allure of these local gems calls to those seeking exploration and relaxation.
So, why hold onto a damaged RV? With our cash offer, you could fund your next adventure. We offer incredible value for your junk RV, even if repairs seem challenging! Give us a call to share your RV's specifics and we'll make you a same-day offer!
First Step
Find out how much money you can make for your crashed/unusable motorhome by filling out the form on this page.
Second Step
Once we shake on the deal, you receive your quick cash by bank transfer.
Third Step
We send our people to your place to remove the old camper for free.
We come with our own towing equipment and technicians and handle all the paperwork!
How Do You Sell a Salvage or Rebuilt Title RV in Rhode Island?
For a salvage title, the owner must submit documents like a completed salvage application, the existing Rhode Island title, an insurance company letter confirming total loss status, a damage estimate, and a $52.50 fee. Repairs to a salvage vehicle must be done by a licensed salvage rebuilder, and a salvage inspection is needed after restoration.
For rebuilt titles, providing documentation for all parts used in vehicle construction is required. The Enforcement Section of the Division of Motor Vehicles verifies these documents. Rhode Island doesn't title vehicles from model year 2000 and older; instead, documentation is obtained through a Bill of Sale, identification, Application for Registration and/or Drivers License Information, and a $12.50 fee.
For a duplicate title, one must complete the Application for Title (TR-2/TR-9) form at the DMV Headquarters in Cranston.
We'll buy your salvage RV anywhere you are in the Ocean State! Give us a call for an evaluation and see how much your RV is worth.
We Buy All Junk RVs for the Maximum Price
Don't waste time listing your junk RV with dealers, brokers, ad sites, or auctions. Selling a used RV through traditional methods can take months, while your vehicle rusts and loses value. As a reputable RV buyer, we guarantee the best price for:
Junk/wrecked/damaged RVs you want to get rid of fast
Old and unwanted RVs (running or not) you want to sell for cas
Total loss RVs, crashed camper, totaled fifth wheel, etc.
Any other used travel trailer, used pop up camper or used toy hauler you have for sale
Give us all the details regarding your unwanted or damaged vehicle so we can return to you with a valid offer.
Why Choose Us to Buy
Your Junk RV?
When it comes to RVs for sale, we are a market leader with a solid reputation in offering the highest prices for scrap, unwanted, old, unusable, wrecked, or totaled RVs. Here is why you should work with us if you want to get rid of your vehicle fast!
Real-Market Appraisals
Even if your RV is totaled, unusable, old, or simply unwanted, you can still get good money for it. Fill out the form or contact us for details, and we will give you an unmatchable price for your vehicle.
Fast Transactions
Don't worry about paperwork, clean or salvage titles, and other issues. We will take care of everything at no extra fee.
Free Collection
We will schedule a convenient time for you to have our staff to pick up your junk RV anywhere in California and neighboring states.
Good, Quick Cash
We know how important it is to sell your junk RV fast, easy, safe, and with no hidden taxes. With us, you will have your money as fast as possible.
Frequently Asked Questions from People Looking to Sell Their Junk RVs in Rhode Island
Have more questions about how to get cash for your junk RV in Rhode Island? Read some more answers below! If you're still in doubt, we're always here to assist you.
What do I need to apply for a salvage title in Rhode Island?
To apply for a salvage title in Rhode Island, complete the Salvage Inspection Application form available on the DMV website. Gather copies of receipts for parts and labor used in the vehicle's repair, ensuring VINs are listed on the parts receipts. Prepare a certified check or money order for the $57.50 salvage inspection fee payable to "DMV," and include a copy of the Salvage Title, along with a Certificate of Salvage Repair indicating the vehicle's roadworthiness after repair. The vehicle must have been repaired by a licensed Rhode Island salvage rebuilder.
Is it legal to camp on the beach in Rhode Island?
Camping directly on the beach is typically prohibited in Rhode Island. Nevertheless, there are nearby campgrounds and parks that provide the opportunity to camp while still granting easy access to the beach for daytime enjoyment.
Can I sell a junk RV without a title in Rhode Island?
In Rhode Island, when selling a vehicle, including a junk RV, a title is generally required. If you're dealing with a junk RV without a title, it's important to navigate the process according to the guidelines set by the Division of Motor Vehicles. You might need to provide specific documentation, like a Bill of Sale, identification, and possibly pay a fee.
If you want to skip all that, leave it to our team of professionals! We'll help you navigate the legal process smoothly and give you the best RV-selling experience in Rhode Island! Give us a call and sell your junk RV for cash today!
Sell My RV Fast, Easy, and Safe!
We buy all types of RVs at the best prices, regardless of their quality and condition. Everything can happen very quickly and without wasted time on your part.