We Buy Your Junk RVs in Tennessee
Turn your junk motorhome into instant cash! No matter where you are in the state of the cotton candy, we can get to you! Even if you're in Nashville, Memphis, Knoxville, Chattanooga, Clarksville, or surrounding towns, it's not too far for us! There's no need to let your worn-out RV sit idle when it could get you instant cash in Tennessee. Act now and call us!
Turn your worn RV into a cash bonanza! We are eager to offer an awesome deal for the State that birthed country music! 
HeyRV can outbid any offer from scrap yards around Tennessee. You can be in Davidson, Shelby, Know, Hamilton, Montgomery, or Rutherford, but with us, you're guaranteed a smooth, trustworthy transaction that leaves you with instant cash. You'll spin and twirl with more enthusiasm than Elvis Presley!
We are at your service and ready to deliver you the MONEY YOUR RV DESERVES, whether you fancy cold hard cash, a handy check, or a swift Venmo transaction! 
Your old RV is worth more than you think – contact us, and let's turn that dust collector into dollars!
Make an Appointment
Send us an email with your data
and we will contact you as soon as possible.
Our Business
We'll pay you at the time of pickup for a fast and secure transaction.
We'll have an offer for you in a matter of minutes.
Call Now!
Call or write us to organize
the details of the sale of your RV.
Junk RV buyer anywhere in Tennessee
Get better prices and faster disposal than any other RV Junkyard in Tennessee
Should You Junk or Sell Your Old RV in Tennessee?
Selling your junk RV in the Volunteer State can be tough. You might think that unloading your RV at an auto junkyard is as straightforward as a walk through the Great Smoky Mountains National Park. However, the reality is that most salvage yards and private dealers in Tennessee may offer you merely a pittance for the RV that has brought you so many experiences. But, HeyRV believes that any junk, old, unusable RV deserves fair treatment no matter how damaged the motorhome is, weather-beaten the trailer is, or non-operational the camper is. Moreover, even in the state of the towing truck, they might even expect you to foot the bill for towing!
But fret not Tennesseans, we're here to turn the tables! We understand that beneath the flaky paint, squeaky floors, blown engines, and damaged bodies of your RV; there's value to be uncovered. 
Choose to sell it to us instead. You get the best possible deal for your junk fifth wheel minus any stress or fuss. We see the treasure beneath the wear and tear, and we're ready to offer you a fair deal that reflects its true value!
Stop Waiting for Private Buyers & Sell Your Damaged RV in Tennessee Now!
Time to end the waiting game, Tennessee! You're better than wasting time dealing with unpredictable buyers or unreliable junkyards for days on end! You don't have to feel like you're forever stuck in a line at the entrance of Graceland: The Home of Elvis Presley. HeyRV is here to give you immediate cash for your broken RV!
It's time to convert your flood-damaged, old, crashed, totaled, or salvaged RV into money. It's time to take action! And HeyRV is here to encourage you to embrace its offer of prompt cash and free removal of your junk trailer in Tennessee! 
Free yourself of the burden of a junk RV and embrace the possibility of a newer, better model. Then, you can enjoy a fresh drive to The Lost Sea in nearby Sweetwater or Reelfoot Lake.
Contact us today, and let us swap your RV woes for cash-filled joys, setting you on your journey towards the Ruby Falls and beyond!
Your Junk Motorhome Has More Value Than What Tennessee RV Junkyards Usually Pay!
Your well-worn rig may have little appeal for salvage yards (they usually receive cars and trucks, not junk RVs). It's why HeyRV has made its purpose out of fulfilling a niche need. Let us buy your tornado-wrenched and wind-bent RV junk.
The few scrapyards you may stumble upon in Davidson, Knox, Shelby, and other counties will not offer you (so readily, at least) cash after a fair evaluation of your old motorhome. But HeyRV can do it and can be there for you!
Choose to sell your old, heavily damaged, waterlogged, or irreparable trailer to us for substantial cash! We pride ourselves on offering TOP DOLLAR for any junk RV in Tennessee, paying you instantly on the spot! Your junk motorhome holds more value than you think, and we're here to prove it!
Give us a call or fill out the form on this page to get our competitive offer right now! If we agree on the price, we'll arrange your old camper's FREE REMOVAL at your convenience, anywhere in Tennessee.
What are you waiting for? Contact us right now!
What Paperwork Do You Need to Sell Your Junk RV in Tennessee ?
Completing the paperwork for selling your junk RV in Tennessee has its challenges. If you want to sell your old RV by yourself, you'll have to go through a string of documents that must be filled up with utmost diligence. However, if you sell it to HeyRV, we'll handle the tedious paperwork for you.
Transfer the RV Title 
To transfer your vehicle title in Tennessee, you'll need a title certificate properly assigned by the seller, an Odometer Disclosure Statement (Form RV-F1317001), a copy of your current registration if transferring license plates to a new car, a completed Affidavit of Non-Dealer Transfers of Motor Vehicles and Boats (Form RV-F1301201) for tax-exempted transfers, proof of a passed emissions test if applicable, valid proofs of residency and identity, and payment for the varying title transfer fees. 
Salvage Certificate
The original title and registration become void if an insurance company declares your vehicle a total loss. In Tennessee, owners of vehicles under ten years old can apply for a "Salvage Certificate." For non-repairable vehicles, owners can apply for a Non-repairable Certificate, barring title or registration in the state.
Bill of Sale
While Tennessee does not require one, having it as a safety measure is good. This document attests to the monetary transactions and specifics when selling your RV.
HeyRV is here to help you! If you sell your junk RV to us, we'll help you through all this annoying paperwork that takes away from your private time and energy.
We Offer FREE Junk RV Removal Anywhere in Tennessee!
Are you in need of junk RV removal in Tennessee? Are you typing "Tennessee free junk RV removal near me" and waiting for results that keep falling short? None seem to match the sweet combo of FREE TOWING and FAIR CASH. Look no further than HeyRV, then!
HeyRV offers top money for your crashed or damaged RV, and it's absolutely free disposal. Whether you're in Davidson, Shelby, Knox, Hamilton, Montgomery, Rutherford, or Williamson, we're ready to assist with swift, no-cost junk motorhome removal from your property or storage facility. 
You can trust that there won't be any hidden fees or unexpected charges for commissions, labor, or other expenses. 
Contact us today for a free estimate, and we'll be there for you. Our free junk fifth wheel hauling services are free, no matter where you are in the Volunteer State!
Sell Your Junk Travel Trailer in Any Condition in Tennessee!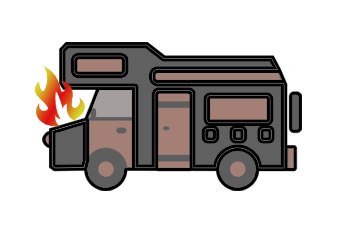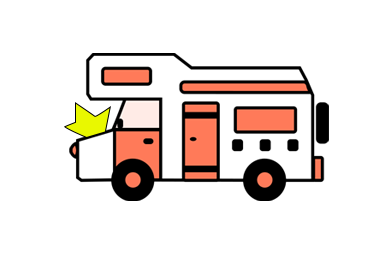 If your RV looks like a relic kept from the aftermath of the 1998 F5 tornado, selling it to regular RV buyers might not be the easiest thing you will ever do. Traditional camper buyers will not buy a heap of scrap metal that barely resembles a moving vehicle.
However, we can see value in your junk trailer, no matter its condition or history. Whether it's an old-timer full of stories, a waterlogged wreck, or a road-weary veteran of Interstate 55, we'll pay cash for your junk RV in Tennessee. 
We accept campers, fifth wheels, toy haulers, or travel trailers in any condition, from those flattened to the ground to those that seem to fair relatively well – at least if you look at them from a distance and not for long.
Plus, we make the payment process easy and fast, offering options like Venmo, Cash, or Check. Get cash quicker than you can finish humming Elvis Presey's "Jailhouse Rock" by contacting us for a fair offer. Turn your Tennessee RV misadventures into money today!
Is My Old Motorhome Worth Anything in Tennessee?
If the first tornado season in Tennessee caught you off guard, it must have also left its mark on the RV. Hazardous weather is common, including tornadoes, hail, and severe winds. It is particularly true when the March-May timeline unleashes the tornado outbreak.
If your RV has been affected by such weather events, you might think it's worthless. Dented metal does not look pretty; neither do broken windows and a flooded engine. Moreover, when you are trying to push it to a seller, they might not look with kind eyes over those significant damages. Traditional options like junking it or selling it to a salvage yard can result in disappointing payouts due to factors like age, mileage, make, model, and weather-related damage. 
However, HeyRV is not frightened by the challenge of a worn-out or weather-damaged motorhome. It still has value, possibly more than typical junk or salvage yards might offer. 
Instead of waiting for private buyers like an unfulfilled historical mystery, consider selling your old, totaled, or broken trailer for cash today. Your RV's current condition doesn't have to hold you back; it still has worth in Tennessee!
First Step
Find out how much money you can make for your crashed/unusable motorhome by filling out the form on this page.
Second Step
Once we shake on the deal, you receive your quick cash by bank transfer.
Third Step
We send our people to your place to remove the old camper for free.
We come with our own towing equipment and technicians and handle all the paperwork!
How Do You Sell a Salvage or Rebuilt Title RV in Tennessee?
Selling a salvaged or rebuilt title RV in Tennessee can be a complex process that must be handled carefully. The gist is that it depends on who retains vehicle ownership after a total loss claim. 
If the insurance company takes ownership after a full settlement, they will pay you the damages and assume responsibility for the vehicle. However, suppose you keep ownership through a partial settlement. In that case, you have two main options:
For a Non-Repairable Vehicle
If the RV is beyond repair, you can apply for a non-repairable certificate and sell it for parts, but it must be dismantled. This designation is permanent, and the vehicle can no longer be titled or registered in any state. 
For a Repairable Vehicle
If the RV can be repaired, you can apply for a salvage title, then a rebuilt title after meeting the necessary requirements and repairing the vehicle. After a successful inspection, you'll receive the documents that attest to the inspection. Those will allow you to apply for a rebuilt salvage title through your county treasurer's motor vehicle office. 
In both scenarios, it's essential to follow the specific procedures and requirements outlined by the Tennessee Department of Revenue. 
But if you opt to sell your junk RV to HEYRV, we can handle the paperwork for you. HeyRV will ensure a smooth transaction, whether it's a salvage or rebuilt title.
We Buy All Junk RVs for the Maximum Price
Don't waste time listing your junk RV with dealers, brokers, ad sites, or auctions. Selling a used RV through traditional methods can take months, while your vehicle rusts and loses value. As a reputable RV buyer, we guarantee the best price for:
Junk/wrecked/damaged RVs you want to get rid of fast
Old and unwanted RVs (running or not) you want to sell for cas
Total loss RVs, crashed camper, totaled fifth wheel, etc.
Any other used travel trailer, used pop up camper or used toy hauler you have for sale
Give us all the details regarding your unwanted or damaged vehicle so we can return to you with a valid offer.
Why Choose Us to Buy
Your Junk RV?
When it comes to RVs for sale, we are a market leader with a solid reputation in offering the highest prices for scrap, unwanted, old, unusable, wrecked, or totaled RVs. Here is why you should work with us if you want to get rid of your vehicle fast!
Real-Market Appraisals
Even if your RV is totaled, unusable, old, or simply unwanted, you can still get good money for it. Fill out the form or contact us for details, and we will give you an unmatchable price for your vehicle.
Fast Transactions
Don't worry about paperwork, clean or salvage titles, and other issues. We will take care of everything at no extra fee.
Free Collection
We will schedule a convenient time for you to have our staff to pick up your junk RV anywhere in California and neighboring states.
Good, Quick Cash
We know how important it is to sell your junk RV fast, easy, safe, and with no hidden taxes. With us, you will have your money as fast as possible.
Frequently Asked Questions from People Looking to Sell Their Junk RVs in Tennessee
Have any questions about selling your junk RV to us in Tennessee for quick, fair cash? Look through the answers below! If you don't find what you're looking for, please contact us!
How to Convert a Salvage Certificate of Title to a Rebuilt Title in Tennessee?
Here's a concise version of the instructions for converting a Salvage Certificate of Title to a Rebuilt Title:
Convert Salvage to Rebuilt Title
You'll have to send a mail to the Department of Revenue, Special Investigations, Anti-theft Unit, 500 Deaderick Street, Nashville, Tennessee 37242, in which you'll have to have the following documents: the Salvage Certificate Title, the application for motor vehicle identification certification, the colored photographs of the wrecked vehicles (all four sides), the receipts for replaced parts and to pay the fee.
Rebuilt vehicles must pass a comprehensive inspection to prevent fraud and protect all involved.
Finalizing the Title and Registration
Upon inspection, the salvage certificate is stamped as certified and returned (except for photographs) to the owner. Then, the owner must take all documents to the local county clerk to finalize the title and registration.
What Type of RV Depreciates the Most in Tennessee?
The depreciation of an RV depends largely on its type. Class A motorhomes, Class C motorhomes, and fifth wheels typically experience the highest depreciation rates. 
The larger the rig, the more quickly it tends to lose value. Specifically, Class A rigs can lose 30% of their value after just three years, Class C RVs may depreciate by about 38% after five years, and fifth wheels can lose 45% of their value after five years of ownership. 
As a result, smaller RVs like travel trailers generally depreciate slower and may be a more financially sound investment in the long run.
Sell My RV Fast, Easy, and Safe!
We buy all types of RVs at the best prices, regardless of their quality and condition. Everything can happen very quickly and without wasted time on your part.