We Buy Your Junk RVs in Vermont
Turn your unwanted, damaged, or junk RV into instant cash in Vermont. At Hey.RV, we specialize in buying damaged, destroyed, and total-loss junk RVs, and you can count on us to offer you a fair price that may be more than you expected. 
If you need fast cash for your old RV, you'll appreciate our flexible payment options, which will ensure a convenient and hassle-free transaction. 
Say goodbye to dealing with junkyards, online markets, and private buyers in Vermont. No matter the make, model, or condition, we buy your junk RV. Whether you have a motorhome that has been totaled in a wreck, flood-damaged beyond repair, or even damaged in a fire, we are here to help. 
Forget the hassle of transporting your junk RV to us. We'll come to your location to provide free removal services no matter where you are in Vermont. If your broken or outdated RV is in Burlington, Montpelier, Stowe, Rutland, or any other city in the state, we can haul it away for you.
You'll experience a seamless selling experience when you reach out to us to turn your junk RV into valuable cash today.
Make an Appointment
Send us an email with your data
and we will contact you as soon as possible.
Our Business
We'll pay you at the time of pickup for a fast and secure transaction.
We'll have an offer for you in a matter of minutes.
Call Now!
Call or write us to organize
the details of the sale of your RV.
Junk Motorhome Buyer Anywhere in Vermont
Get better prices than any other RV Junkyard in Burlington, Rutland, or any other Vermont city could offer!
We Buy Junk Motorhomes Anywhere in Vermont
Holding on to an old RV not only takes up valuable space but also puts a strain on your finances. You already know you need to get rid of it, but how?
Don't rush to junk your RV just yet without calling us first! We give better prices for your old RV in Brattleboro or Bennington than any other private buyer or junk RV dealer in the state could offer.
Dumping it in a local junkyard in the hopes of making a few bucks is not the best solution. Selling your wrecked travel trailer on your own will only bring more inconvenience and minimal – if any – returns. And that's only if you don't have to pay them to take it off your hands.
Don't let the challenges of selling a trailer or recreational vehicle that is a total loss discourage you. Our team of experienced appraisers can provide a fair and competitive valuation for your damaged camper or RV.
We Make Selling Your Junk RV Easy!
Simply fill out our form to get a quote that surpasses anything you'd get from a local junk or salvage yard. Once you accept our offer, you'll receive your payment promptly. Then, all you have to do is sit back while we come to your property or any other location where your old trailer is stored, free of charge, to remove your junk RV.
It's as simple as that! Don't settle for less when you can sell your RV for a better price in Burlington, Montpelier, Stowe, or any other city in Vermont. Contact us today and let us make the selling process hassle-free and financially rewarding for you.
We don't care if your junk RV has been in a fire or if it's rusting away on your Lake Champlain property. Let our qualified appraisers value your camper or trailer and make you an offer, no matter what condition it is in! 
The process really is THAT easy!
How Can I Sell an Old RV Fast in Vermont?
Selling your broken RV online or by relying on auctions or marketplaces in Vermont often results in months of waiting for lackluster offers. Placing ads in local newspapers like the Burlington Free Press or the Rutland Herald may not yield the desired results, either.
Why not take the simpler route?
In Vermont, we offer a swift and hassle-free process for buying junk RVs. That means no intermediaries, no long wait times, and no additional fees.
If you're looking to unload your outdated, money-draining RV and replace it with a newer model, we can help. Whether you want to visit picturesque Central Vermont or the shores of Lake Champlain, you need quick cash!
Rest assured that we will make a fair offer for your-damaged trailer. Let us provide you with immediate cash for your used RV, along with free towing and paperwork assistance.
Give us a call or fill out the form on this page to get our competitive offer right now! If we agree on the price, we'll arrange your old camper's FREE REMOVAL at your convenience, anywhere in Vermont. 
What are you waiting for? Contact us right now!
Get Rid of Your Junk RV in Vermont for FREE
Regardless of your location in Vermont, whether it's Woodstock, Middlebury, or Barre, we will haul your old RV away and give you cash. 
Don't let your profits go to waste by dealing with junkyards or buyers who might expect you to cover towing expenses.
When you sell your junk RV to us, we guarantee a quick and fair transaction without any additional charges.
Say goodbye to the headaches that come from selling your old RV on your own, which often comes with extra costs like towing and disposal fees. When you contact us, you can enjoy a straightforward process with no hidden fees or complications. Best of all, we provide RV removal services for free throughout Vermont!
What We Have Paid For Other Junk RVs in Vermont
Are you curious about the value of your old, damaged, or totaled RV in Vermont? Contact us today for a free and honest quote!
The value of any RV begins depreciating as soon as you drive it off the lot, and this depreciation can happen faster than you think. It is influenced by various factors such as the vehicle's current condition (operational or not), it's make and model, and the year it was manufactured.
To ensure you receive a fair deal, it's essential to first determine the potential monetary value of your RV. Get in touch with us now to obtain a complimentary quote and discover how much you could earn from your junk RV in Vermont.
Sell Your Junk Trailer in ANY Condition in Vermont!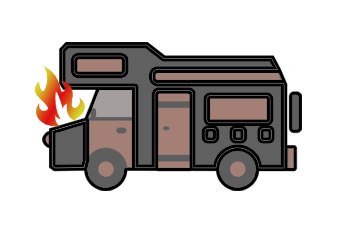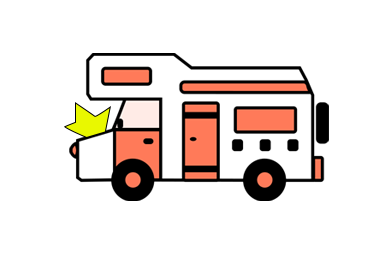 When we say we accept junk RVs no matter what condition they are in, we really mean it! No matter what condition your old camper is in, we will make a cash offer on the spot. 
Finding a buyer who will pay a decent price for your flooded or rebuilt title camper in Vermont can be a challenge. Independent buyers and traditional auctions or marketplaces rarely offer much for RVs that are considered salvage, totaled, or inoperable.
However, selling your camper, trailer, or RV to the team at HeyRV.com is the ideal choice if your it has been in a wreck or is beyond repair.
We buy all types of RVs in any condition throughout Vermont. Whether it has been damaged by a freak hail storm or it was ruined in a flood, we are ready to make an offer.
First Step
Find out how much money you can make for your crashed/unusable motorhome by filling out the form on this page.
Second Step
Once we shake on the deal, you receive your quick cash by bank transfer.
Third Step
We send our people to your place to remove the old camper for free.
We come with our own towing equipment and technicians and handle all the paperwork!
Your Junk RV in Vermont Could Cost You Money
In 2015, the State of Vermont implemented the Salvage Yard Rule, which requires individuals with four or more RVs or other vehicles that aren't registered and have not been inspected to obtain a Salvage Yard Permit.
This means if you have four or more campers or RVs, you will either need to have some of them removed from your property, or you will have to get a costly permit to keep them. 
In Vermont, if a recreational vehicle is less than 15 years old, you will need a title to transfer it to a salvage yard. If your RV is 15 years old or older, you will not need to have a title. We can help you with this process. 
If this seems overly complicated, that's because it is. And there's no reason you need to deal with it when we are just a click or call away.
Whether you're located in Burlington, Montpelier, or Rutland, we provide the highest value for your totaled or salvage camper in Vermont. With our services, you can expect quick cash in your pocket and free removal of your camper from any location in the state.
Let Us Buy Your Junk RV for the Maximum Price
Save yourself the time and effort of listing your junk RV through traditional means like dealers, brokers, ad sites, or auctions. Selling your used RV through these channels can be a lengthy process, causing your vehicle to deteriorate further and lose value. 
You can trust in our reputable RV buying service to provide you with the best price possible. Say goodbye to the hassle and uncertainty, and let us make the selling process smooth and profitable for you.
Junk/wrecked/damaged RVs you want to get rid of fast
Old and unwanted RVs (running or not) you want to sell for cas
Total loss RVs, crashed camper, totaled fifth wheel, etc.
Any other used travel trailer, used pop up camper or used toy hauler you have for sale
Give us all the details regarding your unwanted or damaged vehicle so we can return to you with a valid offer.
Why Choose Us to Buy
Your Junk RV?
When it comes to RVs for sale, we are a market leader with a solid reputation in offering the highest prices for scrap, unwanted, old, unusable, wrecked, or totaled RVs. Here is why you should work with us if you want to get rid of your vehicle fast!
Real-Market Appraisals
Even if your RV is totaled, unusable, old, or simply unwanted, you can still get good money for it. Fill out the form or contact us for details, and we will give you an unmatchable price for your vehicle.
Fast Transactions
Don't worry about paperwork, clean or salvage titles, and other issues. We will take care of everything at no extra fee.
Free Collection
We will schedule a convenient time for you to have our staff to pick up your junk RV anywhere in California and neighboring states.
Good, Quick Cash
We know how important it is to sell your junk RV fast, easy, safe, and with no hidden taxes. With us, you will have your money as fast as possible.
Frequently Asked Questions About Selling Junk RVs in Vermont
Are you seeking more information about selling your junk RV to us and receiving quick cash? Look no further! We have compiled a list of frequently asked questions below so you can get answers fast. Don't see what you're looking for? Don't hesitate to contact us!
How do I get a wrecked RV removed from my property for free?
If you're looking for ways to unload an RV that was damaged or totaled in a wreck, you have several options to consider. You can choose to pay for professional hauling services, search for an auto salvage or junkyard where you can sell its components, dismantle it yourself, or donate it to a charitable cause.
However, there is another convenient and hassle-free option available. Instead of going through the trouble of finding the right solution, you can simply reach out to us. We are ready to buy your wrecked RV at a fair price, without any frustrating paperwork.
Where is the best place in Vermont to sell a Junk RV?
When it comes to selling a junk RV in Vermont, finding the best place can be a challenging task because there are simply so many options. However, the most convenient and hassle-free solution is HeyRV.com.
Convenience is a key factor that sets us apart. Instead of dealing with the complexities of listing your junk RV on various online platforms or contacting multiple local buyers, we offer a streamlined process. Just give us the necessary details about your RV, and you'll receive an instant cash offer. It really is that simple!
Unlike other options that might involve lengthy negotiations or delayed payments, we understand the value of your time. We are committed to providing swift transactions that will make it easy for you to quickly get rid of your old RV and access the cash you need.
Sell My RV Fast, Easy, and Safe!
We buy all types of RVs at the best prices, regardless of their quality and condition. Everything can happen very quickly and without wasted time on your part.