We Buy Your Junk RVs in Virginia
Get ready to rake in cash for your salvage motorhome or junk trailer in Virginia, whether parked in Virginia Beach, Richmond, Norfolk, or Alexandria! Our streamlined 3-step process makes selling your high-mileage camper or damaged fifth wheel a walk in the park.
Selling a junk trailer in Virginia can be as challenging as navigating the winding roads of the Blue Ridge Mountains, especially if your rig has seen better days or is no longer fit for the open road. Many local salvage yards and used vehicle dealers primarily focus on cars and trucks, leaving you with limited options for selling your worn-out trailer.
But fear not, because when offering TOP DOLLAR for your junk RV in Virginia, HeyRV takes the lead like a race champion at Richmond International Raceway. We'll give you more cash than any other salvage yard or junkyard in Chesapeake, Williamsburg, or Roanoke. Our process is designed to be swift and secure, ensuring you'll have your payment in cash, check, or Venmo in no time!
We're ready to pay cash for your rusted, flooded, broken, or unusable trailer anywhere in Virginia. So why wait? Contact us now!
Make an Appointment
Send us an email with your data
and we will contact you as soon as possible.
Our Business
We'll pay you at the time of pickup for a fast and secure transaction.
We'll have an offer for you in a matter of minutes.
Call Now!
Call or write us to organize
the details of the sale of your RV.
Junk RV buyer anywhere in Virginia
Get better prices and faster disposal than any other RV Junkyard in Virginia
Should You Junk or Sell Your Junk RV in Virginia?
Hold on to your Thanksgiving turkey because the journey might not be as smooth as a hike on the Virginia Capital Trail.
Sure, your first instinct might be to search for an auto junkyard near your city, but don't be surprised if you find that most of these places specialize in cars rather than worn-out, delaminated, or vintage motorhomes and trailers. And to add insult to injury, some may even expect you to pay for towing your junk RV, leaving you with less moolah in your wallet instead of a handsome sum.
Stop Waiting for Private Buyers & Sell Your Damaged RV in Virginia Now!
Don't let your RV hog up valuable space in your Virginia backyard or drain your wallet with storage fees. Stop hoping for miracles and forget about pouring money into expensive ads, desperately praying for someone to take that battered trailer off your hands.
Instead of settling for a pocket of prized peanuts by junking your broken trailer, why not sell it and score some sweet, instant cash?
Imagine the majestic beauty of Shenandoah National Park, the awe-inspiring history of Colonial Williamsburg, or the quirky allure of Foamhenge beckoning you. But let's be real; you won't be exploring Jamestown, the Pocahontas State Park, or the Natural Bridge State Park soon if you're stuck in your worn-out, barely holding-it-together fifth wheel.
So why wait for a random stranger to toss a few bucks for your clunker? Remember, we buy your junk motorhome for INSTANT CASH. Get your money and plan your next adventure to the Virginia International Tattoo Hullabaloo in Norfolk, the Mount Vernon Estate in Alexandria, or the Edgar Allan Poe Museum in Richmond.
We'll buy your high-mileage jalopy and provide free removal while you kick back, relax, and savor a mouthwatering Virginia country ham sandwich and a refreshing glass of locally crafted cider!
Your Junk Motorhome Has More Value Than What Virginia RV Junkyards Usually Pay!
Don't waste your time in Portsmouth, Parksley, Culpeper, or Roanoke, hoping for a good deal for your beaten-down camper. Those junkyards won't give you what you deserve. It's time to channel your inner George Washington and declare independence from salvage yards or auto dismantlers. Sell your old, damaged, or flooded RV for some serious cash! Our appraisers will offer a deal faster than the Pentagon handles operations!
Trade your rusty relic for fast cash now. The Old Dominion State may be for lovers, but our offers are for savvy sellers like you! So, don't be square like the dance. Sell your junk RV for TOP DOLLAR, and get your cash rolling like the rides at Busch Gardens Williamsburg!
Give us a call or fill out the form on this page to get our competitive offer right now! If we agree on the price, we'll arrange your old camper's FREE REMOVAL at your convenience, anywhere in Virginia.
What are you waiting for? Contact us right now!
What Paperwork Do You Need to Sell Your Junk RV in Virginia?
First, you must fill in the buyer and seller information on the vehicle title, present relevant documents to the VA DMV, and pay the vehicle title transfer fee and sales tax.
All registered vehicles must pass a safety inspection in Virginia; some counties require a vehicle emissions test (smog check): Alexandria, Fairfax, Loudoun, etc.
When transferring the title of a vehicle in Virginia, you must provide the buyer with a valid vehicle safety inspection sticker, a completed VA vehicle title with the Assignment of Title by Owner section, proof of sales price, and the Transfer of Certificate of Title with Lien form, if applicable.
Completing the necessary forms and obtaining the signatures from the seller and buyer, including a bill of sale with vehicle details and VIN, is important for a successful title transfer. The transfer process must include accurate odometer readings and the correct sales tax. Additional documentation may also be requested, such as proof of insurance and identification.
Does this sound too complicated? That's because it is!
Are you going to spend your precious days dealing with the headache of selling that old, dilapidated, rust-ridden RV the traditional way? We'll handle all the necessary paperwork if you sell your junk motorhome to us. We're here to smooth the process and offer you the best price for your junk RV.
Don't waste another minute! Sell your old, broken clunker today, get the cash, and prepare for this year's Floyd Fest in a new motorhome!
We Offer FREE Junk RV Removal Anywhere in VIRGINIA!
Are you tired of scouring the web for "Virginia free junk RV removal near me" only to be disappointed by empty promises and no cash in your hand? Well, fret no more! While other junkyards may offer to tow away your worn-out, non-roadworthy trailer, they won't put a single penny in your pocket.
At HeyRV, we offer a fair price for your clunker and free disposal services. Whether in Arlington, Norfolk, Charlottesville, Manassas, or Brandermill, we've got you covered! We're like the iconic Virginia forests, reaching every corner of the state!
Call us now for a free estimate on your damaged RV, and we'll swiftly remove it from your property or storage facility without towing fees.
And here's the apple on top of the pie: we won't surprise you with hidden commissions, labor fees, or sneaky costs.
Contact HeyRV today and say goodbye to that old clunker while lining your pockets with some serious cash!
Sell Your Junk Motorhome in ANY Condition in Virginia!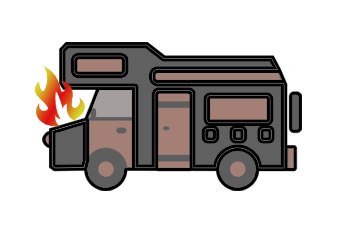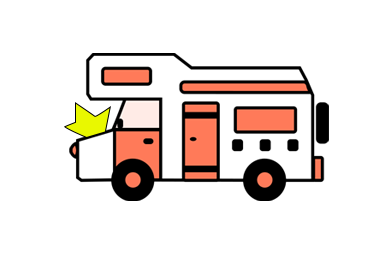 Did you know that an EF-3 tornado recently hit Virginia Beach in 2023? Over 100 homes were damaged, vehicles were overturned, and even boats were sunk and moved. It was quite a wild ride!
And how about another challenge to Virginian motorhomes and trailers – deer collisions? Virginia is often mentioned as one of the worst states for such accidents. We know you drive carefully in the summer and fall to avoid hitting a deer. Still, many critters are active until December, threatening your safety and fun whenever you head to Shenandoah Valley Campground, Fort Chiswell RV Park, or Harbor View RV & Camping Resort.
Moreover, over 60% of the Old Dominion State is covered in trees. It's a stunning sight! But when you add a mix of fog, rain, and wet leaves into the equation during fall, the roads can become slick and treacherous. The weather is a serious concern, with snow and rain causing most fatal crashes on Virginia roads.
So, suppose you're tired of facing disappointment when selling your tornado-totaled, weather-beaten, crashed, or flooded motorhome to traditional buyers. In that case, it's time to turn to us, the RV experts in Virginia!
We specialize in buying junk trailers, campers, or fifth wheels in any condition, even those affected by severe road accidents or storms. Whether your RV has endured hail damage, fire, flooding, or extensive repairs, we're here to offer fair prices and a hassle-free selling experience!
So, why wait any longer? Call us today, and let us turn your RV troubles into a smooth and rewarding journey in Virginia!
Is My Old Motorhome Worth Anything in Virginia?
Virginia knows something about unpredictable weather. RV enthusiasts in the Old Dominion understand the toll these weather conditions can take on their beloved homes on wheels, leaving them needing costly repairs and restoration.
When faced with a motorhome that bears the marks of old age, a powerful storm, an accident, wear and tear, high mileage, electrical issues, or a blown engine, simply junking it is not the best option. Some places may offer to take it off your hands, but their offers resemble a gust of wind whisking away your hopes of a fair price.
However, your broken trailer holds more value than what those scrap yards and salvage dealers would have you believe.
Imagine hiking along the scenic trails of the Blue Ridge Mountains, traversing a section of the iconic Appalachian Trail, or conquering the renowned McAfee Knob hike near Roanoke, where panoramic vistas await. Can you do that in a junk motorhome? We guess not. Can you sell your dilapidated rig for good money to a private buyer or a salvage yard? Of course not.
Let us relieve you of your storm-battered RV and offer a price to make you smile. Don't settle for meager pennies when you can turn your old trailer into cash to fuel your journey to the Natural Bridge State Park or the historic sites along the Colonial Parkway.
So, say goodbye to the stormy days and hello to new adventures by letting us turn your old trailer into FAST, GOOD CASH!
First Step
Find out how much money you can make for your crashed/unusable motorhome by filling out the form on this page.
Second Step
Once we shake on the deal, you receive your quick cash by bank transfer.
Third Step
We send our people to your place to remove the old camper for free.
We come with our own towing equipment and technicians and handle all the paperwork!
How Do You Sell a Salvage or Rebuilt Title RV in Virginia?
To declare a vehicle as salvage in Virginia, you must apply to the Department of Motor Vehicles (DMV) for a salvage certificate (VSA 56) and provide the vehicle's title with a description of the damage and repair cost estimate. You must pay the titling fee and sales/use tax if applicable.
Late-model vehicles that are uninsured or self-insured and sustain damage with estimated repair costs exceeding 75% of the actual cash value must also apply for a salvage certificate. The certificate will be noted as "BRANDED IF REBUILT." You then must pay the titling fee and obtain an estimate of the repair costs, including a detailed list of parts, labor, and signatures from the company representative who prepared the appraisal.
Remember that a vehicle declared salvage cannot be operated or registered without an active salvage certificate. However, a salvage certificate may be reassigned to a licensed rebuilder if you want to rebuild the RV.
For vehicles that have been rebuilt, DMV issues a nonnegotiable "junk" title upon submission of a Nonnegotiable Junk Title Application (VSA 140), Certificate of Title and registration application (VSA 17A), proof of registration, and documentation indicating completion of repairs.
Salvage vehicles repaired for use on public highways or late model vehicles with repair costs over 75 percent of their actual cash value receive a "REBUILT" branded title certificate, which is permanent and carries forward to subsequent titles. Also, when you sell a rebuilt vehicle, you must provide the title certificate signed over to the purchaser and a Rebuilt Vehicle Disclosure Statement.
If you want to overcome these obstacles and sell your salvage RV in Virginia for a fair price, call us now!
We Buy All Junk RVs for the Maximum Price
Don't waste time listing your junk RV with dealers, brokers, ad sites, or auctions. Selling a used RV through traditional methods can take months, while your vehicle rusts and loses value. As a reputable RV buyer, we guarantee the best price for:
Junk/wrecked/damaged RVs you want to get rid of fast
Old and unwanted RVs (running or not) you want to sell for cas
Total loss RVs, crashed camper, totaled fifth wheel, etc.
Any other used travel trailer, used pop up camper or used toy hauler you have for sale
Give us all the details regarding your unwanted or damaged vehicle so we can return to you with a valid offer.
Why Choose Us to Buy
Your Junk RV?
When it comes to RVs for sale, we are a market leader with a solid reputation in offering the highest prices for scrap, unwanted, old, unusable, wrecked, or totaled RVs. Here is why you should work with us if you want to get rid of your vehicle fast!
Real-Market Appraisals
Even if your RV is totaled, unusable, old, or simply unwanted, you can still get good money for it. Fill out the form or contact us for details, and we will give you an unmatchable price for your vehicle.
Fast Transactions
Don't worry about paperwork, clean or salvage titles, and other issues. We will take care of everything at no extra fee.
Free Collection
We will schedule a convenient time for you to have our staff to pick up your junk RV anywhere in California and neighboring states.
Good, Quick Cash
We know how important it is to sell your junk RV fast, easy, safe, and with no hidden taxes. With us, you will have your money as fast as possible.
Frequently Asked Questions from People Looking to Sell Their Junk RVs in Virginia
Do you still have questions about selling your junk RV in Virginia to us and receiving quick, competitive prices? Take a look at the responses below! If you haven't found the information you're seeking, feel free to contact us directly!
Does Virginia require a smog check for its vehicles?
In Virginia, all vehicles must undergo a safety inspection; in eligible counties, gas and diesel vehicles must also pass a vehicle emissions test.
Gasoline-powered vehicles that weigh less than twenty-five years old and weigh less than 10,000 pounds (GVWR) and diesel-powered vehicles from 1997 or newer weighing less than 8,500 pounds must adhere to the smog inspection requirement.
If you want to skip the troubles with your old, high-mileage, broken, or damaged RV, remember that we buy junk motorhomes in Virginia for QUICK and GOOD CASH! Just give us a call now!
Can you sell a salvage RV without a title in Virginia?
No, selling a salvaged motorhome in Virginia without the title is impossible. Without a title, you cannot transfer ownership or sell the vehicle to another individual.
What sets apart a Virginia salvage title from a Virginia junk title?
Salvage and junk titles might look similar, but they have distinct differences.
Salvage titles

allow the vehicle to be driven again if it is rebuilt and obtains a rebuilt title.
Junk titles indicate that the vehicle cannot be rebuilt and is not legally allowed to operate on Virginia's roads and highways.
Is it possible to insure a salvage title RV in Virginia?
While you cannot insure a salvage title RV in Virginia, there is an option available for insuring a salvage rebuilt motorhome. To obtain a salvage title RV insurance, you must meet Virginia's standards by rebuilding the vehicle and passing a vehicle examination.
If you want to get rid of your junk trailer without bothering with insurance, taxes, and bureaucratic stuff, sell your damaged RV to us and plan your next trip to Luray Caverns with GOOD MONEY in your pocket!
Sell My RV Fast, Easy, and Safe!
We buy all types of RVs at the best prices, regardless of their quality and condition. Everything can happen very quickly and without wasted time on your part.