We Buy Your Junk RVs in Connecticut
We'll purchase with solid CASH your junk RV anywhere in the Constitution State. You can be in Fairfield, New Haven, or Hartford because distance isn't a problem for us. No matter where you are in Connecticut, we'll be able to reach you and your old motorhome! Contact us right now to have your junk RV disappear and be replaced with a heap of cash!
Like the first Dutchman settlers in Hartford, step into the world of HeyRV, where every RV has value. We're not just a business; we're curators of nostalgia. Whether your RV has witnessed the golden eras or looks like a rusty relic that predates the Mark Twain Memorial House, we regard each one as a treasure chest on wheels –and we are ready to uncover that treasure for you!
Our seasoned experts appraise with precision and pay with generosity, turning even the most dilapidated motorhomes into opportunities for new beginnings. Are you self-conscious about the condition of your vehicle? Don't be. Our commitment isn't just steadfast—it's unwavering. We've paid for the best and salvaged the rest, each time unearthing hidden potential in a way that honors both the RV and its owner. 
So before your cherished rig crosses the Rubicon of functionality (or, better said, crosses the Connecticut River), place your trust in HeyRV's unparalleled expertise to guide you to a decision that's both profitable and practical. Reach out today and realize the value of your RV's untapped potential with HeyRV.
Make an Appointment
Send us an email with your data
and we will contact you as soon as possible.
Our Business
We'll pay you at the time of pickup for a fast and secure transaction.
We'll have an offer for you in a matter of minutes.
Call Now!
Call or write us to organize
the details of the sale of your RV.
Junk RV buyer anywhere in Connecticut
Get better prices and faster disposal than any other RV Junkyard in Connecticut
Should You Junk or Sell Your Junk RV in Connecticut?
You might be living in the land of the Steady Habits, but from time to time, you are put before a dilemma: to junk or not to junk my old RV?
It's important to take into account that when deciding whether to junk or sell your old RV, it's crucial to understand the nuances of each option. 'Junking' your RV typically implies that the vehicle has depreciated significantly, often due to age or extensive damage, rendering its repair costs higher than its actual value. Conversely, selling your RV is a viable option if it's still in reasonably good condition. 
Your decision hinges on various factors, including your geographic location, immediate plans, and financial circumstances.
But one thing is clear! If you're seeking hassle-free assistance, complete with FREE TOWING, a comprehensive CASH OFFER post-evaluation, and TOP–NOTCH SERVICE, then HeyRV is your go-to choice! Let us handle the heavy lifting, literally and figuratively, while ensuring you get the most value from your old motorhome.
Stop Waiting for Private Buyers & Sell Your Damaged RV in Connecticut Now!
Time is money, and waiting for the elusive "perfect buyer" for your aging RV can be like watching Praying Mantises go about their day—a lengthy, uncertain process that might not even yield the results you desire. 
In the time it takes for a private buyer to even consider making an offer, you could have contacted HeyRV and converted your old rig into cold, hard cash. 
Negotiating with strangers can be fraught and frustrating, especially when large sums are at stake. That's why we cut through the hassle, offering you a straightforward, no-nonsense deal for your RV, regardless of its condition. 
With HeyRV, there's no waiting by the phone or wasting time on potential buyers who are merely window-shopping. We promise prompt responses and quick payouts, whether you prefer Venmo, direct cash, or checks. Why gamble your time and energy on the unpredictability of private buyers when you can make a sure bet with HeyRV? Make the smart move and reach out to us today.
Your Junk Motorhome Has More Value Than What Connecticut RV Junkyards Usually Pay!
Navigating through the myriad junkyards in the Nutmeg State can be draining and unprofitable. Often situated around urban areas like Hartford, Marion, Waterbury, Norwich, East Putnam, and Milldale, these scrapyards may seem like an easy option, but the truth is they rarely offer fair value for your RV—especially those with wear and tear. 
That's where HeyRV comes into play! For us, your old motorhome isn't just another piece of scrap but an asset with untapped value. Unlike traditional junkyards that might make you jump through hoops for a paltry sum, HeyRV provides FREE evaluations and COMPLIMENTARY TOWING, ensuring you get an offer that genuinely reflects the worth of your vehicle. 
Our team specializes in turning even the most rundown RVs into opportunities for both parties, making the selling process as smooth as possible. 
Plus, we handle all the paperwork with a level of efficiency that would make even the ghost of Mark Twain stop in its tracks from haunting Hartford. It has garnered us praise from a multitude of satisfied sellers. 
So, don't settle for the chump change typically offered by Connecticut scrapyards. Choose HeyRV and experience the difference that a focused, professional approach can make in maximizing the value of your old motorhome.
Give us a call or fill out the form on this page to get our competitive offer right now! If we agree on the price, we'll arrange your old camper's FREE REMOVAL at your convenience, anywhere in Connecticut.
What are you waiting for? Contact us right now!
What Paperwork Do You Need to Sell Your Junk RV in Connecticut?
When selling a junk RV in Connecticut, there are specific documents you need to ensure a smooth and compliant process. 
The Bill of Sale
First and foremost, you must provide a Bill of Sale, which is always required in Connecticut for transactions related to vehicles. This document serves as a record of the purchase or exchange of ownership and is necessary for processing a new vehicle registration. 
Proof and Emission Test
Alongside the Bill of Sale, if your RV is model year four years or older than the current year, you should be prepared to show proof of an emissions test unless the vehicle is exempt, in which case a VIN verification might be necessary. 
The  Title
For those selling RVs or trailers weighing less than 3,000 pounds, you won't require a title for the transaction, as smaller travel or utility trailers typically fall under this weight range. Nevertheless, if the buyer wishes to register the RV in Connecticut, they'll need to present proof of ownership, identification, and insurance. 
The Application for Registration and Title
They'll also need to complete the Application for Registration and Title (form H-13B), providing all accurate details about the RV. 
Fees, Fees, and Fees!
Applicable fees, which can encompass registration, title, and taxes, must be settled. Lastly, to receive a credit on motor vehicle property taxes when selling your junk RV, it's important to show the tax assessor both a valid bill of sale and a canceled plate receipt.
However,
Don't get bogged down by paperwork – let HeyRV streamline the process for you. When selling your junk RV, choose HeyRV for a hassle-free experience. We've mastered the paperwork so you can enjoy a seamless sale. Trust HeyRV, and leave the details to us!
We Offer FREE Junk RV Removal Anywhere in Connecticut!
And when we say "anywhere", we mean it! Contact us today to have your junk RV off your hands no matter where you are situated in Connecticut! 
HeyRV's services can reach you even if you are not in larger cities like Bridgeport, Stamford, New Heaven, or Hartford. We have people all over the state who can go from West Hartford to Greenwich and more with no problem.
Moreover, we are covering the TOWING! All you have to do is contact us, receive our COMPLIMENTARY RV EVALUATION, get the MONEY, and pay NO TOWING COSTS! 
We know how hard it is to move around a junk motorhome. Trust us, we've seen it all! We have seen old RVs that looked so well preserved that they might as well have been taken off the ramp from some antique vehicles museum to RVs that were so worse to wear that they might as well have been there when Louis Lassen created the first hamburger.
From Hartford to New Haven and everywhere in between, HeyRV is at your service. Our years of expertise can present you with an offer that's bound to impress. And once we strike a deal, all you have to do is decide how you'd like to be paid – whether it's Venmo, cold hard cash, or a check.
Don't let the opportunity pass you by! Convert your junk RV into cash and put it to smarter use today!
Sell Your Junk Trailer in ANY Condition in Connecticut!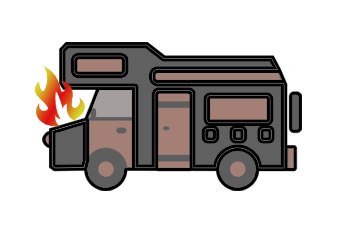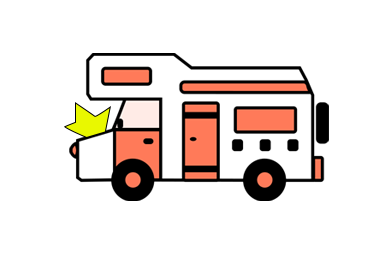 If cruising through the Constitution State's scenic oak tree parks feels more like a bumpy wagon ride from yesteryear than a leisurely journey in a home-on-wheels, it's time for a change. It should not feel like a punishment to go about visiting parks like Gay City State Park, Penwood State Park, Talcott Mountain State Park, or Stanley Quarter Park.
Why endure the discomfort of a dilapidated RV when you could be gliding smoothly in a newer model? 
At HeyRV, we don't discriminate based on the condition of your RV. Even if your trailer rattles more than it rolls, we're ready to make you an offer. With the cash you receive from HeyRV, you could upgrade to an RV that turns every trip into a luxurious adventure. Don't let your old, rust-ridden motorhome rob you of the joy of the open road. 
Act now—before time and corrosion take an even greater toll—and turn that clunker into cash you can invest in your next great adventure. Contact HeyRV and elevate your road-tripping experience to the level you truly deserve.
Is My Old Motorhome Worth Anything in Connecticut?
You might think that because scrapyards in Connecticut offer a pittance for your aging RV, it's not worth much. Think again. 
HeyRV is in the business of recognizing value where others don't. 
We don't just see an old, worn-out vehicle; we see potential. While traditional scrapyards may undervalue your RV, HeyRV offers competitive pricing that genuinely reflects its worth. But the benefits don't stop at a fair cash offer. 
We also provide free towing services, eliminating the logistical headaches and extra costs of moving a cumbersome, outdated motorhome. This isn't just a transaction; it's a hassle-free experience designed to maximize your gains and minimize your stresses. 
So, If you've been holding off on selling your RV because you think it's not worth the effort, it's time to reconsider. With HeyRV, you're not just selling an old vehicle; you're gaining peace of mind and freeing up resources for better things. 
Turn that depreciating asset into liquid capital today, and let us show you how valuable your old RV can truly be.
First Step
Find out how much money you can make for your crashed/unusable motorhome by filling out the form on this page.
Second Step
Once we shake on the deal, you receive your quick cash by bank transfer.
Third Step
We send our people to your place to remove the old camper for free.
We come with our own towing equipment and technicians and handle all the paperwork!
How Do You Sell a Salvage or Rebuilt Title RV in Connecticut?
In Connecticut, selling salvage or rebuilt title RV involves a specific process to ensure roadworthiness and compliance with state regulations. 
If you aim to bring this RV back to a drivable state, the vehicle must be reconstructed using legitimate parts. Once the RV is rebuilt — and it's crucial to remember that only the parts can be rebuilt, not the salvage itself — it must undergo a thorough Salvage Inspection. To prepare for this inspection, you must purchase and complete an inspection form, which costs $88.
Alongside this form, gather all relevant receipts, invoices, or bills of sale for the significant components used in the vehicle's repair. Also, ensure you have an original copy of the insurance appraisal and fill out a Salvage Vehicle Repair Report (Form K-186). Only after passing the Salvage Inspection can the RV be re-titled. 
This new title, known as a "rebuilt title," signifies that while the RV was once considered a total loss, it has been refurbished and inspected to meet safety standards. If you wish, the registration and plates from the salvaged RV can be transferred to another RV. But always remember, the key step before re-titling is ensuring the RV clears the mandatory salvage inspection.
We Buy All Junk RVs for the Maximum Price
Don't waste time listing your junk RV with dealers, brokers, ad sites, or auctions. Selling a used RV through traditional methods can take months, while your vehicle rusts and loses value. As a reputable RV buyer, we guarantee the best price for:
Junk/wrecked/damaged RVs you want to get rid of fast
Old and unwanted RVs (running or not) you want to sell for cas
Total loss RVs, crashed camper, totaled fifth wheel, etc.
Any other used travel trailer, used pop up camper or used toy hauler you have for sale
Give us all the details regarding your unwanted or damaged vehicle so we can return to you with a valid offer.
Why Choose Us to Buy
Your Junk RV?
When it comes to RVs for sale, we are a market leader with a solid reputation in offering the highest prices for scrap, unwanted, old, unusable, wrecked, or totaled RVs. Here is why you should work with us if you want to get rid of your vehicle fast!
Real-Market Appraisals
Even if your RV is totaled, unusable, old, or simply unwanted, you can still get good money for it. Fill out the form or contact us for details, and we will give you an unmatchable price for your vehicle.
Fast Transactions
Don't worry about paperwork, clean or salvage titles, and other issues. We will take care of everything at no extra fee.
Free Collection
We will schedule a convenient time for you to have our staff to pick up your junk RV anywhere in California and neighboring states.
Good, Quick Cash
We know how important it is to sell your junk RV fast, easy, safe, and with no hidden taxes. With us, you will have your money as fast as possible.
Frequently Asked Questions from People Looking to Sell Their Junk RVs in Connecticut
We've tackled the most common queries just for you. Can't find what you're looking for? Reach out, and we'll guide you through. At HeyRV, we're always at your service!
How Long Does an RV Last?
An RV's longevity is influenced by its usage and maintenance. Typically, RV or motorhome owners who frequently use their vehicles can anticipate a lifespan of about 200,000 miles. However, with diligent care and under favorable driving conditions, this lifespan can be extended to an average of up to 300,000 miles. 
It's worth noting that the best time to purchase an RV is usually during the late fall and winter months. The reduced demand during these periods means less competition, granting potential buyers increased negotiating leverage. Additional opportune moments for securing a good deal include periods just before the release of a new RV model, when gas prices are high, and during RV trade shows. So, if you are selling your old RV to HeyRV in the warm season, you'll be just prepared to make a new, better purchase in the fall-winter season.
Does the Age of the RV Matter?
The age of an RV can indeed matter, especially when considering accommodations at certain upscale RV parks. Many of these parks implement the "10-Year Rule," which can restrict RVs that are over a decade old from staying. This rule is based on the presumption that older RVs may appear too weathered or worn, even though this might not always be the case. 
However, for those who own an RV older than ten years and are faced with this rule, there are ways to navigate the situation. If questioned about the age of your RV at a campground, honesty is often the best approach. While some parks might initially cite their age rule, many are willing to make exceptions if you can demonstrate that your RV is well-maintained. Sending pictures of your RV through email or text can quickly provide evidence of its condition and potentially secure a reservation, even if it surpasses the 10-year mark.
Or, if you do not have the necessary energy to invest in all these tactics, sell us your over ten years RV, and we'll give you the cash to buy a brand-new, better model – to make sure that you don't have to skirt rules anymore in the RV park.
Sell My RV Fast, Easy, and Safe!
We buy all types of RVs at the best prices, regardless of their quality and condition. Everything can happen very quickly and without wasted time on your part.