We Buy Your Junk RVs in Iowa
Looking to free up space and earn some extra cash in Iowa? HeyRV is here to simplify the process of selling your junk RV!
We specialize in buying junk RVs throughout Iowa, whether you're in Des Moines, Cedar Rapids, Davenport, or anywhere in between, offering a seamless experience from start to finish. Call us today and get fast cash for your junk RV and enjoy our free towing services!
Selling a used RV in the beautiful state of Iowa can be quite a daunting task, especially if your beloved motorhome is starting to show its age, has experienced some damage, or simply no longer suits your needs. You might find that traditional options like salvage yards don't quite appreciate the true worth of your cherished vehicle. But worry not, because here at Hey. RV, we're here to offer a helping hand!
Our expertise lies in purchasing all types of RVs throughout Iowa, from the lively city of Des Moines to the charming town of Davenport. Our ultimate goal is to ensure that your selling experience is nothing short of exceptional—smooth, transparent, and ultimately rewarding.
So why settle for anything less when you can rely on HeyRV to handle your RV sale with the utmost professionalism and enthusiasm? Get in touch with us today and get cash for your junk RV without any extra effort on your part!
Make an Appointment
Send us an email with your data
and we will contact you as soon as possible.
Our Business
We'll pay you at the time of pickup for a fast and secure transaction.
We'll have an offer for you in a matter of minutes.
Call Now!
Call or write us to organize
the details of the sale of your RV.
Junk RV buyer anywhere in Iowa
Get better prices and faster disposal than any other RV Junkyard in Iowa
Should You Junk or Sell Your Junk RV in Iowa?
With its abundance of scenic beauty and a thriving camping culture, Iowa offers RV enthusiasts countless opportunities for adventure. But when it comes to parting ways with your old or damaged RV, what should you do?
In Iowa, you'll find a range of options, from salvage yards to private buyers. However, a closer look reveals that these avenues may not offer you the value your RV truly deserves. Online searches for "selling junk RVs in Iowa" often lead to disappointing results—low offers for your worn-out trailer, water-damaged motorhome, or non-functional toy hauler. What's worse, some may even expect you to foot the bill for towing!
Stop Waiting for Private Buyers & Sell Your Clunker Now!
When it comes to selling your worn-out RV in Iowa, it can feel like an uphill battle. It's like trying to part ways with a forgotten relic that no one seems interested in. Picture it as displaying a massive tree from the Ginkgo Petrified Forest, where people briefly glance at it before moving on. Plus, you're left shouldering the storage expenses while you patiently wait for a buyer to show up. But worry not! At HeyRV, we're here to change the game. Say goodbye to the hassle and embrace the thrill of Iowa's open roads. Reach out to us today and set off on your next adventure unburdened by your old RV.
Don't waste any more time looking for a buyer who is willing to invest in your damaged RV! Get a fair offer for it on the spot! 
With HeyRV, you can leave the heavy lifting to us. Forget about storage fees and the uncertainty of finding a buyer on your own. Instead, embrace the simplicity and peace of mind that comes from selling your junk RV to a reliable and professional team. We are interested in buying in your deteriorated, totaled, or too-old-to-drive RV anywhere you are in Iowa.
Contact us today and let's get started on turning your old RV into cash!
We Pay Fast Cash and Provide Free Junk RV removal anywhere in Iowa!
Your Beat-Down Trailer Has More Value Than What Iowa RV Junkyards Usually Pay!
Salvage yards, recyclers, and part dealers may not offer fair value for your water-damaged, fire-damaged, or high-mileage motorhome. Even towing it to places like Spanaway, Chehalis, Lakewood, or Enumclaw may not yield satisfying offers.
Don't waste time and money waiting for buyers or arranging transportation. Sell your lifeless, severely damaged, or irreparable RV to us for a quick and profitable cash transaction right here in Iowa! Get a free estimate and instant payment, making selling your totaled, salvaged, or non-operational RV a breeze in the Hawkeye State.
Say goodbye to stress and uncertainty, and hello to a hassle-free selling experience. Contact us today to unlock the true value of your damaged RV and experience a seamless transaction!
Give us a call or fill out the form on this page to get our competitive offer right now! If we agree on the price, we'll arrange your old camper's FREE REMOVAL at your convenience, anywhere in Iowa. 
What are you waiting for? Contact us right now!
What Paperwork Do You Need to Sell Your Junk RV in Iowa?
In Iowa, when selling your junk RV to a dealer, you will need to provide several documents, including a completed title, registration information, an odometer statement (if applicable), a damage disclosure statement (if applicable), and you should remove the license plates from the vehicle before handing it over to the dealer.
If you are selling your vehicle to an individual, the paperwork required includes a completed odometer statement, a certificate of title, registration information, a bill of sale, and a damage disclosure statement (if applicable). Similar to selling to a dealer, it is also necessary to remove the license plates from the vehicle.
If you plan to sell your vehicle for junk, you will need to submit a completed title and obtain a receipt or junking certificate from your county treasurer's office. This certificate will serve as proof that the vehicle has been sold for scrap or dismantling purposes.
Moreover, when selling a vehicle, it is important to file a Notice of Sale form. This notifies the appropriate authorities that you are no longer the owner of the vehicle and transfers the responsibility to the new owner.
Finally, it's essential to provide accurate and complete information in the odometer statement and damage disclosure statement, if applicable. The odometer statement is required for vehicles that are 2011 or newer, and the damage disclosure statement is required for vehicles that are 7 years old or newer.
So instead of going through the stress of dealing with private buyers or junk auto dealers, let us help you!
We Offer FREE Junk RV Removal Anywhere in Iowa!
While there are several options for junk RV removal in Iowa, not all of them offer the benefits we provide. Many companies may disassemble and haul away your broken or undrivable camper, but they won't pay you any money for it. At HeyRV, we offer something different – we'll not only purchase your junk RV for top dollar but also handle the removal process entirely FREE of charge.
No matter where you're located in Iowa, whether it's Des Moines, Cedar Rapids, Davenport, or any other city, we're ready to pay cash for your junk RV and provide hassle-free disposal.
We understand the importance of convenience, so distance is not a problem. Whether you're situated in Waterloo, Iowa City, Sioux City, or any other part of Iowa, we will schedule a pickup and payment that works best for you.
Rest assured, there are no hidden fees or unexpected expenses involved in our services. We believe in complete transparency, ensuring that you receive the full benefits without any surprises. Our commitment to you is straightforward and reliable.
Don't miss out on this opportunity to get rid of your unwanted RV and earn top dollar. Take advantage of our free junk RV removal service in Iowa today!
Sell Your Junk Trailer in ANY Condition in Iowa!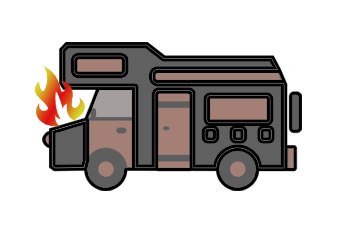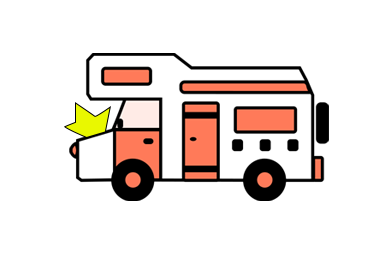 Got a beat-up RV in your yard? Turn it into cash right here in Iowa!
Selling a damaged RV in Iowa can be as challenging as navigating corn mazes. Regular buyers may scoff at your dilapidated motorhome, but we welcome it! We pay top dollar for old-timers and campers that have taken a hit worse than a Hawkeyes' game.
Best part, we offer free removal services, meaning that we'll come to your Iowa property and whisk away that old RV, leaving you with a sigh of relief and newfound space. No more RV-shaped yard ornaments!
Contact us today, and let's turn your rusty relic into cash faster than you can say "Iowa Nice!" Say goodbye to your junk RV and hello to a brighter, RV-free future!
Is My Old Motorhome Worth Anything in Iowa?
We understand that Iowa weather can be as unpredictable as a cow deciding to moonwalk across a cornfield. From thunderstorms that make you wish you had Noah's Ark to blizzards that could freeze a hot dish in seconds, Mother Nature in Iowa keeps everyone on their toes. And unfortunately, your beloved motorhome may have fallen victim to her mischievous tricks.
Sure, you could try selling it to a junkyard, but they'll offer you less than the time it takes to milk a cow. And waiting around for a private buyer who's willing to take on a fixer-upper? Well, you might as well wait for a unicorn to trot down the RAGBRAI route.
When you choose to sell your motorhome, making sure that you're getting the right money for it is the most challenging.
Your deteriorated trailer is still worth more than what a junk or salvage yard will give you for it!
So why not cut to the chase and sell your old, totaled, or broken trailer to us? We'll give you a fair price that'll make you grin wider than a scarecrow in a corn maze. No more dealing with endless paperwork or waiting for potential buyers to haggle over every scratch and dent.
Get in touch with us for a free evaluation of your junk RV and experience a seamless transaction!
First Step
Find out how much money you can make for your crashed/unusable motorhome by filling out the form on this page.
Second Step
Once we shake on the deal, you receive your quick cash by bank transfer.
Third Step
We send our people to your place to remove the old camper for free.
We come with our own towing equipment and technicians and handle all the paperwork!
How Do You Sell a Salvage or Rebuilt Title RV in Iowa State?
Ready to sell your salvage or rebuilt title RV in the great state of Iowa? Here's what you need to do.
Round up all the owners listed on the title and make sure they sign as sellers. If you're selling to a dealer, say goodbye to those license plates and hand over the completed title, last registered county info, odometer statement (if it's a newer ride), and damage disclosure statement (again, if it's a newer one). Selling to an individual? Same deal: ditch the plates, hand over the completed title, county info, bill of sale, odometer statement, and damage disclosure statement. And don't forget to fill out the sections on the back of that title, my friend. If you're selling for junk, either pass on the completed title or snag a junking certificate from your local county treasurer.
Oh, and here's an extra tip: file a Notice of Sale form to officially seal the deal and transfer ownership. And hey, if you're owed a refund, make sure to claim it within six months of selling your RV. Just submit a Claim for Refund form to the State of Iowa via your County Treasurer's office. And get this— if you plan on getting yourself a shiny new replacement within six months, you can apply any remaining registration fee from your old vehicle as a credit toward your new wheels. 
But hold on, there's more. If your RV is from 2011 or newer, don't forget to provide an odometer statement with the correct mileage. And if your rig is less than 7 years old, you better spill the beans if the damage exceeds 50% of its fair market value. And hey, don't be shy to reach out to the Iowa Department of Transportation or your friendly local county treasurer's office for more deets and any other requirements specific to your situation.
If you want to skip all that and get the best value for your junk RV, contact us today!
We Buy All Junk RVs for the Maximum Price
Don't waste time listing your junk RV with dealers, brokers, ad sites, or auctions. Selling a used RV through traditional methods can take months, while your vehicle rusts and loses value. As a reputable RV buyer, we guarantee the best price for:
Junk/wrecked/damaged RVs you want to get rid of fast
Old and unwanted RVs (running or not) you want to sell for cas
Total loss RVs, crashed camper, totaled fifth wheel, etc.
Any other used travel trailer, used pop up camper or used toy hauler you have for sale
Give us all the details regarding your unwanted or damaged vehicle so we can return to you with a valid offer.
Why Choose Us to Buy
Your Junk RV?
When it comes to RVs for sale, we are a market leader with a solid reputation in offering the highest prices for scrap, unwanted, old, unusable, wrecked, or totaled RVs. Here is why you should work with us if you want to get rid of your vehicle fast!
Real-Market Appraisals
Even if your RV is totaled, unusable, old, or simply unwanted, you can still get good money for it. Fill out the form or contact us for details, and we will give you an unmatchable price for your vehicle.
Fast Transactions
Don't worry about paperwork, clean or salvage titles, and other issues. We will take care of everything at no extra fee.
Free Collection
We will schedule a convenient time for you to have our staff to pick up your junk RV anywhere in California and neighboring states.
Good, Quick Cash
We know how important it is to sell your junk RV fast, easy, safe, and with no hidden taxes. With us, you will have your money as fast as possible.
Frequently Asked Questions from People Looking to Sell Their Junk RVs in Iowa
Do you still have questions regarding selling your junk RV in Iowa to us for good, fast cash? Check out the answers below! If you still don't find the information you want, don't hesitate to contact us!
Who buys junk RVs in Iowa?
When it comes to selling your junk RV in Iowa, finding a buyer can feel as elusive as discovering a four-leaf clover. While some options exist, they often prioritize sales over purchases. Most junkyards in Iowa won't offer cash for your aging, rusty rig, leaving you in a predicament.
But fret not! We're here to lend a hand! We specialize in buying junk RVs across Iowa, whether you reside in the buzzing cities or remote rural areas. Bid farewell to your old heap of metal, as we offer a hassle-free solution. We'll swiftly remove your junk RV at no cost and reward you with a handsome payment in a safe and speedy transaction. Don't delay—reach out to us today and simplify your life!
Where is the best place to sell my RV in Iowa?
In the Hawkeye State, where cornfields stretch as far as the eye can see, you can trust HeyRV to be your go-to choice for selling your RV. Regardless of its condition or history—whether it has traveled the winding roads of Iowa, served as a home on wheels, or suffered the wear and tear of time—we're eager to make you a cash offer.
Embracing the spirit of Iowa, our services extend to every corner of the state. So, whether you're in Des Moines, Cedar Rapids, or a small town nestled amidst the scenic countryside, we're ready to assist you. We pride ourselves on offering more cash for your RV than certified dealers or recyclers in the area!
Concerned about the paperwork and title transfer? We've got you covered. When you sell your junk RV to us, we'll handle all the necessary documentation. And here's the cherry on top: we'll provide free towing for your old motorhome, ensuring a seamless and convenient experience. 
Say goodbye to your RV and hello to cash in your pocket. Contact us today, and let's make selling your junk RV in Iowa a breeze!
Sell My RV Fast, Easy, and Safe!
We buy all types of RVs at the best prices, regardless of their quality and condition. Everything can happen very quickly and without wasted time on your part.