We Buy Your Junk RVs in Michigan
Do you want to sell your junk RV in Michigan easily and for a lot of money? Look no further! We transform selling your salvaged motorhome or travel trailer into a "Pure Michigan" breeze, regardless of its condition. We'll make you an offer that shines brighter than the Detroit skyline and exceeds anything you'd get from scrapyards or private buyers.
Whether you're in Detroit, Grand Rapids, Lansing, or Ann Arbor, sell your junk RV to us, and we'll provide GOOD CASH, FAST TRANSFERS, and FREE TOWING across the Wolverine State! Don't wander into "The Great Unknown" – choose Hey RV for a seamless and profitable selling experience in Michigan!
Embarking on a quest to sell your junk trailer in Michigan may feel as exciting as exploring the Great Lakes. However, navigating local salvage yards and dealers often focused on cars and trucks can leave worn-out motorhome owners with limited selling options for their cherished, albeit weathered, fifth wheels.
But have no fear, for HeyRV lights up the Mitten State like a starry night over the Mackinac Bridge! We offer fast cash for your dilapidated camper, surpassing any offer from Detroit to Traverse City. Our lightning-fast and secure process ensures you'll have your payment, be it cash, check, or Venmo, quicker than it takes to say "Faygo pop"! Get top dollar for your rusty, flood-damaged, or non-roadworthy trailer, no matter where you are in Michigan. Do you want to see the Paulding Lights in a new motorhome? Sell your broken one to us now!
Make an Appointment
Send us an email with your data
and we will contact you as soon as possible.
Our Business
We'll pay you at the time of pickup for a fast and secure transaction.
We'll have an offer for you in a matter of minutes.
Call Now!
Call or write us to organize
the details of the sale of your RV.
Junk RV buyer anywhere in Michigan
Get better prices and faster disposal than any other RV Junkyard in Michigan
Should You Junk or Sell Your Junk RV in Michigan?
Selling your RV in Michigan might feel like searching for Bigfoot in the heart of Motor City. Local salvage yards and dealers often have their focus on other vehicle types, leaving junk RV owners with limited selling options and a sense of frustration. We are here to rev up your selling experience! We are junk RV specialists, making your selling journey as smooth as a ride on the scenic M-22. From the freshwater coastline to the Upper Peninsula's charming towns, we offer top dollar for your rust-ridden, flooded, burnt, or too-old-to-drive junk motorhome!
Don't junk your broken trailer but sell it to us because we offer good prices, a hassle-free selling experience, and free pickup services in Michigan. Don't settle for less when you can get quick cash for your junk RV!
Stop Waiting for Private Buyers & Sell Your Damaged RV in Michigan Now!
Bid farewell to the insulting offers from salvage yards, wreckers, and dealers in Warren City, Sterling Heights, Dearborn, Macomb, or Flint. They don't grasp the true worth of your beloved RV, even if it's been through challenges like flooding, fire, or an accident. Don't waste time seeking a private buyer who can't see the hidden beauty beneath your trailer's body damage, delaminated walls, broken engine, or advanced age. We see the potential in every jalopy and offer you a Great Lakes-sized fair price without hassles!
So, why wait? Let's transform your worn-out, inoperable, or trashed RV into a cash treasure!
If you want to explore Mackinac Island, the stunning Pictured Rocks National Lakeshore, or the vibrant landmarks of Traverse City in a new trailer, sell your outdated, severely damaged, flooded, or irreparable RV to us for fast and profitable cash!
Your Junk Motorhome Has More Value Than What Michigan RV Junkyards Usually Pay!
Michigan has plenty of junkyards, salvage yards, and scrapyards scattered throughout Lapeer, Sandusky, Livonia, White Pigeon, Shepherd, and Constantine. However, they mostly deal with RV parts, not whole vehicles. So you will most likely pay for towing your trash camper to them and leave home with a couple of bucks and a feeling of frustration the size of the Detroit Marriott at the Renaissance Center.
Say goodbye to unnecessary complications! Selling your junk motorhome in Michigan doesn't have to be a hassle. When it comes to your beaten trailer, you can find a great deal with us. We will turn your old, damaged RV into substantial cash! We'll make you an offer to make your heart race faster than cars at the Michigan International Speedway. We'll come to you and pay you more money than any salvage yards or secondhand marketplaces around Charlotte, Highland Park, or Hudson!
Give us a call or fill out the form on this page to get our competitive offer right now! If we agree on the price, we'll arrange your old camper's FREE REMOVAL at your convenience, anywhere in Michigan! 
What are you waiting for? Contact us right now!
What Paperwork Do You Need to Sell Your Junk RV in Michigan?
If you're selling your junk motorhome privately in Michigan (except on a Sunday – don't sell any motor vehicle on a Sunday in the Mitten State, or the Blue Laws enforcers will be upon you), here's what you need to do:
Provide the original title to the buyer: If you can't find the original title, you can apply for a duplicate online or at a Michigan Secretary of State office.

Complete your part on the title assignment: Before selling the vehicle, fill out the seller's section on the title, including the vehicle mileage, selling date, selling price, and your signature.

Check for liens on the title: Attach a lien close statement from the financial institution to the title if possible.

Transfer the title: The ownership transfer occurs at a Secretary of State office. It's recommended to accompany the buyer to complete the title transfer. If you can't be there, keep a copy of the title and record of the sale for at least 18 months.

Seller's liability: According to Michigan law, you, as the seller, are not liable for any damages or violations if the title isn't transferred, as long as you have proof of the sale.

Remove your license plate: Unless you're transferring it to an immediate family member, you must remove it from the vehicle during the sale.
Selling your junk RV in Michigan might seem like trying to make the distance between Monroe and Hurley on foot. So why go through all the hassle when you can have a seamless, worry-free experience with HeyRV? Get good money for your RV, and you'll be ready to explore Belle Isle Park with a pocketful of cash! So, say goodbye to paperwork headaches, Michigan DMV hassles, bureaucracy, uncertainty, and frustration! Call us today for a stress-free, cash-in-hand deal!
We Offer FREE Junk RV Removal Anywhere in Michigan!
Are you tired of searching for "Michigan free junk RV removal near me" and coming up empty-handed? Unlike junkyards, scrapyards, or private buyers, we won't whisk away your weary camper without giving you a penny. Oh no, we're raising the stakes!
We value your time, just like savoring a Hummer on a hot summer day; that's why we offer free RV removal for your old, damaged, broken, or unusable trailer. But wait, there's more! We'll pay good money for your clunker!
Whether in Motor City, Lansing, or Grand Rapids, our top-notch service has your back. Call us, and our friendly team will provide a no-obligation estimate for your worn-out motorhome.
Once we agree on a price, it's showtime! We'll swoop in and tow your RV from your property or storage spot, and here's the cherry on top: no extra fees, no hidden costs! It's like enjoying a Detroit Coney Dog without extra charges for the toppings.
So why wait? Bid farewell to disappointment and let HeyRV turn your junk RV into cash faster than Detroit Tiger's CF Derek Hill speed! Call us today for a stress-free, profit-packed deal in the Great Lakes State!
Sell Your Junk Motorhome in ANY Condition in Michigan!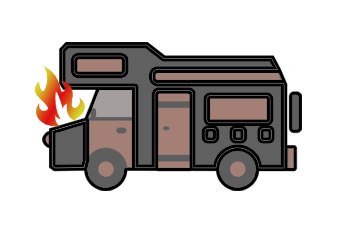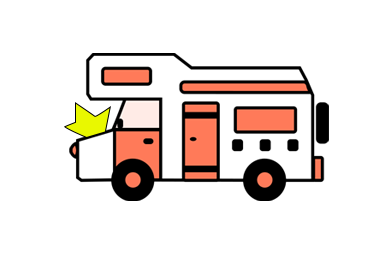 Michigan, a state facing its weather challenges, experiences floods as the most common and costly natural disaster. Flooding can occur outside designated flood zones, posing risks to residents and properties.
In July 2023, storms battered lower Michigan with heavy rain and massive hail, damaging homes and vehicles. In Davison, the worst-hit area, tennis ball, and baseball-sized hail wreaked havoc on roofs, siding, and cars.
Michigan's history also reveals significant hail events, with the largest recorded hail, measuring 4½ inches, falling on Macomb and Livingston counties in July 1978.
As an RV owner in Michigan, it's crucial to be aware of these weather phenomena, which can cause damage to your cherished motorhome. Whether it's wind damage, hailstorms, or other weather-related issues, HeyRV is here to assist. We specialize in buying RVs in any condition (old, overly used, broken, worn, delaminated, etc.), including those affected by severe weather. Offering a fair price and a hassle-free selling experience, we make selling your damaged RV a smooth journey.
Don't let the aftermath of weather challenges, accidents, wear-and-tear, or structural damage hold you back. Take the first step towards a brighter future by contacting us today. We'll provide you with a free estimate for your junk RV so you can confidently move forward. With us, selling your pile of motorhome trash in Michigan has never been easier!
Is My Old Motorhome Worth Anything in Michigan?
Do you have an old motorhome sitting around in Michigan? Well, it's time to discover its hidden worth! While others may offer meager sums for your junk trailer, we recognize its true value. We see beyond costly repairs, broken appliances, delaminated walls, electrical issues, missing parts, flat tires, rust, dust, broken glass, or hail-damaged rooftops and bodies.
Imagine all the incredible adventures you can have with the money we offer! Explore the largest limestone quarry in the world, enjoy Michigan's beaches, or set out on a road trip to the Hideaway RV Park in Grass Lake or the Northpointe Shores RV Resort in Ira Township. Your old, unwanted, forgotten motorhome can finance new memories and unforgettable experiences across the Cereal State.
Don't let your travel trailer gather dust when it can be a ticket to excitement. Contact us today for a quick and hassle-free evaluation. Whether it's parked somewhere forever, has endured water damage, or faces mechanical issues, we'll make you an offer on the spot.
It's time to unlock the potential of your junk and turn your dreams into reality. Call us now and get fast cash and free removal for your junk fifth wheel anywhere in Michigan!
First Step
Find out how much money you can make for your crashed/unusable motorhome by filling out the form on this page.
Second Step
Once we shake on the deal, you receive your quick cash by bank transfer.
Third Step
We send our people to your place to remove the old camper for free.
We come with our own towing equipment and technicians and handle all the paperwork!
How Do You Sell a Salvage or Rebuilt Title RV in Michigan?
First, let's get our definitions in order.
     

Salvage or scrap titles

are given to late-model distressed vehicles when insurance companies acquire them. A distressed vehicle is a late model vehicle with one or more major parts that have been wrecked, destroyed, damaged, stolen, or are missing to the extent that the estimated repair cost, including parts and labor, is 75% or more of the vehicle's pre-damaged cash value.

     

A

salvage title

is required for late-model vehicles if the estimated repair cost is 75% or more but less than 91% of the pre-damaged cash value. Salvage-titled vehicles can be rebuilt for on-road use.

     

A

scrap title

is required for late-model vehicles if the estimated repair cost is 91% or more of the pre-damaged cash value. Scrap-titled vehicles cannot be rebuilt for on-road use. They are only allowed to be used for parts or scrap metal.
Before a salvage-titled vehicle can be registered for on-road use, it must undergo inspection by a certified Michigan Salvage Vehicle Inspector. Once the vehicle passes inspection, you may apply for a rebuilt salvage title. However, the salvage vehicle cannot be driven on public roads until a certified Salvage Vehicle Inspector has inspected it and issued a Rebuilt Salvage title (by the Michigan Secretary of State (MCL 257.217c (13)).
So why deal with all of this?
Forget the stress of finding private buyers in Michigan for your junk RV; let us handle everything! Don't worry about compliance, doing paperwork, or dealing with the government; we've covered you all over Michigan, from Ann Arbor to Calumet Twp.
Say goodbye to headaches and welcome a stress-free, top-dollar deal! Call us, and we'll tow away your old motorhome or travel trailer for free. Get cash in hand without any hassle!
We Buy All Junk RVs for the Maximum Price
Don't waste time listing your junk RV with dealers, brokers, ad sites, or auctions. Selling a used RV through traditional methods can take months, while your vehicle rusts and loses value. As a reputable RV buyer, we guarantee the best price for:
Junk/wrecked/damaged RVs you want to get rid of fast
Old and unwanted RVs (running or not) you want to sell for cas
Total loss RVs, crashed camper, totaled fifth wheel, etc.
Any other used travel trailer, used pop up camper or used toy hauler you have for sale
Give us all the details regarding your unwanted or damaged vehicle so we can return to you with a valid offer.
Why Choose Us to Buy
Your Junk RV?
When it comes to RVs for sale, we are a market leader with a solid reputation in offering the highest prices for scrap, unwanted, old, unusable, wrecked, or totaled RVs. Here is why you should work with us if you want to get rid of your vehicle fast!
Real-Market Appraisals
Even if your RV is totaled, unusable, old, or simply unwanted, you can still get good money for it. Fill out the form or contact us for details, and we will give you an unmatchable price for your vehicle.
Fast Transactions
Don't worry about paperwork, clean or salvage titles, and other issues. We will take care of everything at no extra fee.
Free Collection
We will schedule a convenient time for you to have our staff to pick up your junk RV anywhere in California and neighboring states.
Good, Quick Cash
We know how important it is to sell your junk RV fast, easy, safe, and with no hidden taxes. With us, you will have your money as fast as possible.
Frequently Asked Questions from People Looking to Sell Their Junk RVs in Michigan
Are you interested in selling your junk RV in Michigan and getting the best deal hassle-free? Well, you're in luck! Find all the answers you need below, and if you still have questions, feel free to contact us for help!
What is a flood title vehicle in Michigan, and how do I sell a flooded RV here?
Any flooded vehicle or trailer coach in Michigan will be issued a title with the Flood brand, clearly indicating its flood-damaged history to future buyers. These titles are orange, similar to salvage titles, to warn purchasers. If a flood-damaged vehicle is also marked with a salvage brand, it must be re-certified for road use by a Salvage Vehicle Inspector.
When selling a flood-damaged vehicle to a buyer, you must disclose this. Usually, the paperwork contains fields and boxes marked as "Vehicle Has Been Flood Damaged." You might also need to present the buyer with a full vehicle history and make a title brand disclosure.
If you have a flooded RV on your hands you want to dispose of for good money, call us today! We will buy your water-damaged and delaminated motorhome, travel trailer, or fifth wheel on the spot without you having to deal with mind-boggling paperwork!
Who buys junk RVs in Michigan?
While some places in cities like Farmington Hills, Kalamazoo, or Genoa might handle junk RVs, their primary attention is often on other types of vehicles. While they may salvage usable parts from your RV, their offers won't meet your expectations. However, don't worry! The best place to sell your junk trailer is us!
We are your go-to option for a seamless and profitable selling process. We're here to provide you with quick and good cash for your worn-out, flood-damaged, totaled, or even uniquely quirky motorhome anywhere in Michigan!
Sell My RV Fast, Easy, and Safe!
We buy all types of RVs at the best prices, regardless of their quality and condition. Everything can happen very quickly and without wasted time on your part.