We Buy Your Junk RVs in South Carolina
HeyRV is ready to deliver on the promise of giving your junk RV a new purpose. Not only do we offer a free evaluation anywhere in South Carolina (be it in Columbia, Greenville, North Charleston, Rock Hill, or towns like Abbeville, Barnwell, and Great Falls), but we also pay solid cash for it. Moreover, there are no towing costs, only benefits for you! Contact us if you think it's too good to be true.
Our longevity takes after the Angel Oak tree's sturdiness and resilience: we've made a name for ourselves in the RV market after years of reliable services. Our experience and expertise have taught us how to make any deal profitable for our clients. We know the way junk RVs roll and what it must be done in order to wring a profit out of their rusty shells.
HeyRV has encountered many RVs, from well-preserved older models to those so ancient they seemed to have witnessed the Port Royal Experiment during the Civil War. But, HeyRV successfully found each of these vehicles a purpose and compensated their owners accordingly with cash in hand.
Don't be embarrassed to call us, even if your RV is a dilapidated heap of metal shaking on wobbly wheels. While it might have been prudent to replace it sooner, there is no point in looking back. We understand the sentimental value many owners attach to their motorhomes, but it's essential to think practically about your investments. Don't hold onto an RV until it becomes a barely functional rig. Reach out to HeyRV for a complimentary estimation of your RV's current value.
Make an Appointment
Send us an email with your data
and we will contact you as soon as possible.
Our Business
We'll pay you at the time of pickup for a fast and secure transaction.
We'll have an offer for you in a matter of minutes.
Call Now!
Call or write us to organize
the details of the sale of your RV.
Junk RV buyer anywhere in South Carolina
Get better prices and faster disposal than any other RV Junkyard in South Carolina
Should You Junk or Sell Your Old RV in South Carolina?
When deciding to part with a junk RV, South Carolina residents often face a dilemma: should they sell it to a private buyer or send it to a scrapyard in areas like Abbeville, Aiken, Hampton, Jasper, Darlington, Edgefield, or Marion? The decision largely hinges on the RV's condition. If it's still in working function, selling to an individual might be the route. 
However, some longstanding RV owners are reluctant to see their cherished home on wheels with another person. So, they'd prefer to sell it to HeyRV. That's because HeyRV presents itself as an optimal solution for those who want a fairy-tale-like end to their motorhome and some good money for it. With extensive industry experience, we've assisted countless RV owners in securing a fair price for their aged motorhomes. If you're contemplating this decision, reach out, and we'll provide the top-tier service we're known for.
Stop Waiting for Private Buyers & Sell Your Damaged RV in South Carolina Now!
While you might think finding a good junk RV deal is easy, surprisingly, many untrustworthy sources are going around on the internet. When you aren't a seasoned RV seller, everything may seem like it's conspiring against you. That's why HeyRV was made for! Its mission is to offer services that not only pay a fair price after a fair evaluation of the junk motorhome and guarantee top dollar and top-notch services to our clientele.
HeyRV is well-versed in the market of old RVs. It understands the ins and outs of junk RVs and their value. Regardless of your motorhome's condition, we provide a free estimation of its worth and ensure the payment via Venmo, cash, or through checks. Don't let your RV's value sink with time; reach out to us and capitalize on its current worth.
Your Junk Motorhome Has More Value Than What South Carolina RV Junkyards Usually Pay!
Cars and trucks are the bread and butter of the junkyards around the Palmetto State. These vehicles often drive the most profit, making them more popular than RVs. Consequently, scrapyards in areas like Columbia, Sumter, Conway, Greenville, and Walterboro might not offer satisfactory deals –at least not like HeyRV does.
We provide FREE RV value EVALUATION + free DISPOSAL + mindblowing CASH offers!
Many junkyards might haggle or even decline to purchase RVs –not to mention the hassle an RV owner has to go through if their old rig is damaged. It only adds to the overall cumbersome experience of trying to get rid of one's motorhome.
In contrast, HeyRV makes its business motto to make life easier for our clients. Having received praise from numerous clients for our qualitative services, including handling the paperwork for selling junk RVs, we know which steps to take in order to have the best results. 
Choose HeyRV and become part of our satisfied clients network.
Give us a call or fill out the form on this page to get our competitive offer right now! If we agree on the price, we'll arrange your old camper's FREE REMOVAL at your convenience, anywhere in South Carolina.
What are you waiting for? Contact us right now!
What Paperwork Do You Need to Sell Your Junk RV in South Carolina?
You'll need some basic knowledge to sell your junk RV in South Carolina. Understanding the appropriate paperwork and terminology is crucial if you choose to sell it by yourself. As such, according to the 2017 South Carolina Code of Laws (Title 56, Chapter 14), a "recreational vehicle" (RV) encompasses motorhomes, travel trailers, fifth-wheel trailers, and folding camping trailers. 
When selling your junk RV in South Carolina, you'll need to inform the South Carolina Department of Motor Vehicles (SC DMV) about the transaction, which includes sales, donations, or trades. 
If your RV is self-driven, the registration fee in South Carolina stands at $40. For towable units like campers or travel trailers, which include spaces designed for living (similar to horse trailers with living quarters), there's no specific weight requirement to take note of. However, their registration fee is set at $10 biennially.
You'll need to have on you the vehicle's license plate number, registration date, Vehicle Identification Number (VIN), your driver's license number or company EIN, buyer's name and address, transaction date, and selling price, if any. 
Though this flags the SC DMV record about the vehicle's status, the official ownership transfer only occurs once the new owner files for the title.
One more thing!
As you plan to sell, it's also worth noting that the term "dealer" refers to any entity licensed to sell new RVs to the public, and "manufacturer/dealer agreement" denotes a contract between the manufacturer and a dealer outlining their rights and obligations. Before selling, ensure you are well-versed with these terminologies and the associated costs to ensure a smooth transaction.
However, if you are not one to have the patience and willingness to invest so much energy into ceaseless paperwork, know that HeyRV does it all for their sellers. If you opt to sell your junk RV to HeyRV, we'll take all the hassle out of your hands, and we'll handle the paperwork ourselves!
We Offer FREE Junk RV Removal Anywhere in South Carolina!
From the heart of Charleston to the reaches of Columbia and beyond, HeyRV is your go-to solution in the Palmetto State. 
Free yourself from the burden of that old, rusting RV with our FREE REMOVAL service, stretching across every county of South Carolina (Kershaw, Augusta-Richmond, Beaufort, Florence, Anderson, Greenville, and the rest). If you are looking for a fair price for that old camper, you know that we are your people! 
We've got you covered, offering a generous payout that makes holding onto that fading relic a thing of the past. With the unpredictability of life and weather, let us handle your RV woes. After all, maintaining an RV shouldn't feel like navigating down the shoreline of the Atlantic in a walnut-sized boat. 
Reach out to HeyRV – where RV troubles vanish and seamless solutions await!
Sell Your Junk Trailer in ANY Condition in South Carolina!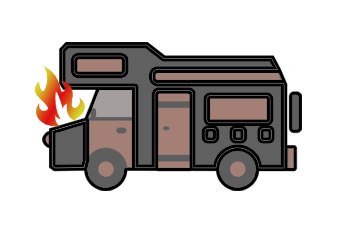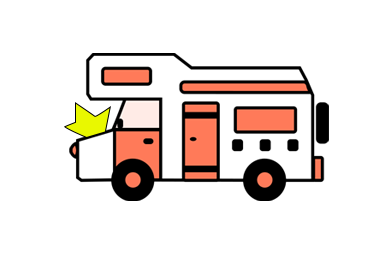 Driving your RV from Oconee State Park, Sadlers Creek State Park to Myrtle Beach State Park shouldn't feel like a reenactment of the Civil War. The doors of an RV should not be clanging as their hang by dear life from their rusty hinges while their wheels are barely rolling down downhill.  
If your RV's best days are behind it, why cling to that old relic when HeyRV is here to offer you a way out? Don't let South Carolina's unpredictable weather wear down your adventures or your vehicle's value. At HeyRV, we see beyond the rust and the hurricane-rich history of your RV's adventure. 
We are ready to convert your RV into hard cash. Upgrade, profit, and rediscover the open road's magic. Reach out to HeyRV – where your old camper's end is the beginning of your next journey!
Is My Old Motorhome Worth Anything in South Carolina?
Absolutely! Your old motorhome is valuable for HeyRV! 
Your doubt might stem from South Carolina's scrapyards' treatment of old RVs. But if they might overlook its worth, be sure that we recognize and appreciate its true potential. Whether your RV seems like a battered relic from the Civil War's time or looks like it's been through several coastal hurricanes, HeyRV will make you an offer. 
We accept any camper, regardless of its condition. With us, you won't need to persuade private buyers; we ensure a seamless sale with fair compensation. Plus, benefit from our FREE towing services to a FREE evaluation!
If the state motto is "While I breathe, I hope," be sure that you won't have to hold your breath for too long as a South Carolinian if you're dealing with HeyRV.
First Step
Find out how much money you can make for your crashed/unusable motorhome by filling out the form on this page.
Second Step
Once we shake on the deal, you receive your quick cash by bank transfer.
Third Step
We send our people to your place to remove the old camper for free.
We come with our own towing equipment and technicians and handle all the paperwork!
How Do You Sell a Salvage or Rebuilt Title RV in South Carolina?
First and foremost, a salvage vehicle in the state is recognized as one that an insurance company has designated a total loss. This can be because the necessary repairs after damage surpass 75% of the vehicle's value before the damage. Once a vehicle falls under this category, it earns a salvage title, which signifies its status. This salvage title has what's referred to as a "salvage brand," which is essentially a marker added by the Department of Motor Vehicles (DMV) indicating that the vehicle has undergone significant damage or incidents.
If your vehicle hasn't already received a salvage certificate or title, you'll need to apply for one. The process of transitioning from a salvage title to a rebuilt title entails several steps. 
Firstly, you'd have to request a salvage title and pay a fee of $15. Following that, the necessary repairs should be made to restore the vehicle to a roadworthy condition. The next step involves getting the vehicle inspected. Only after successfully passing the inspection can one apply for the rebuilt title. 
This title certifies that a vehicle, which was previously regarded as totaled by an insurance firm, has been refurbished and is now fit for the roads.
When the title transitions from salvage to rebuilt, the vehicle's insurance prospects change as well. While insurers usually refuse coverage, including full coverage, on vehicles with a salvage title, they are more receptive to providing coverage for a salvage vehicle that has been sufficiently rebuilt to be operable on South Carolina roads.
For those attempting to register their vehicle in South Carolina for the first time, the process is threefold. Initially, inform your auto insurance company of your new address in South Carolina. Next, provide your vehicle's VIN to the local auditor's office. Finally, head to your nearest South Carolina DMV branch armed with specific documentation. 
The essential documents required include the original paid vehicle property tax receipt from the county treasurer's office, a completed title application, the most recent out-of-state vehicle lien and/or registration, and the name and address of the lien holder. Moreover, you'd need a valid form of identification, like a South Carolina or out-of-state driver's license, your car insurance details, a $250 infrastructure maintenance fee (IMF), and your title and registration payment.
BUT, if you are not ready to go through all of this just to get rid of an old RV, be sure to call us, and we'll take care of everything for you and PAY YOU accordingly!
We Buy All Junk RVs for the Maximum Price
Don't waste time listing your junk RV with dealers, brokers, ad sites, or auctions. Selling a used RV through traditional methods can take months, while your vehicle rusts and loses value. As a reputable RV buyer, we guarantee the best price for:
Junk/wrecked/damaged RVs you want to get rid of fast
Old and unwanted RVs (running or not) you want to sell for cas
Total loss RVs, crashed camper, totaled fifth wheel, etc.
Any other used travel trailer, used pop up camper or used toy hauler you have for sale
Give us all the details regarding your unwanted or damaged vehicle so we can return to you with a valid offer.
Why Choose Us to Buy
Your Junk RV?
When it comes to RVs for sale, we are a market leader with a solid reputation in offering the highest prices for scrap, unwanted, old, unusable, wrecked, or totaled RVs. Here is why you should work with us if you want to get rid of your vehicle fast!
Real-Market Appraisals
Even if your RV is totaled, unusable, old, or simply unwanted, you can still get good money for it. Fill out the form or contact us for details, and we will give you an unmatchable price for your vehicle.
Fast Transactions
Don't worry about paperwork, clean or salvage titles, and other issues. We will take care of everything at no extra fee.
Free Collection
We will schedule a convenient time for you to have our staff to pick up your junk RV anywhere in California and neighboring states.
Good, Quick Cash
We know how important it is to sell your junk RV fast, easy, safe, and with no hidden taxes. With us, you will have your money as fast as possible.
Frequently Asked Questions from People Looking to Sell Their Junk RVs in South Carolina
Upgrade from your old RV to cash today! If you have any questions about the process, don't hesitate to reach out to us! Get your answers instantly with just a click. Let's transform your junk RV into cash today!
Do Trailers Need Insurance in South Carolina?
In South Carolina, old RVs are not mandated to have insurance. Nevertheless, it's worth evaluating the financial implications. Think about the old RV's initial cost and its contents' worth. Opting for old RV insurance in South Carolina can safeguard you from economic setbacks arising from accidents, weather-related damages, or theft. 
This coverage encompasses most unforeseen events that could lead to expenses for repairing or replacing your old RV or its cargo. Furthermore, the insurance can shield you from potential legal and medical expenses if an accident happens due to your fault, causing damage or injury to your old RV.
What Fees Are Associated With Title Transfer in South Carolina?
When transferring a vehicle title in South Carolina, several fees come into play. If your vehicle has been categorized as salvage, there's a requisite fee of $15 that you'd need to pay when requesting a salvage title. 
For those relocating to South Carolina, there's a 45-day window to execute a vehicle title transfer with the SCDMV. In order to process this transfer, the following items must be presented at your local SCDMV office: 
a completed Application for a Certificate of Title and Registration for a Motor Vehicle or Manufactured Home/Mobile Home (Form 400), 

the current out-of-state vehicle title and registration certificates, 

proof of your identity like a driver's license or valid passport, 

evidence of settled vehicle property tax, 

and verification of a legitimate SC vehicle insurance policy. 
Along with these documents, be prepared to pay the South Carolina vehicle title transfer fee and an additional $250 infrastructure maintenance fee! There's quite a list of requirements you need to abide by in order to have your paperwork meet the standard!
Sell My RV Fast, Easy, and Safe!
We buy all types of RVs at the best prices, regardless of their quality and condition. Everything can happen very quickly and without wasted time on your part.