We Buy Your Junk RVs in Nevada
Sell your junk, totaled, or crashed RV, trailer, camper, or motorhome, no matter how damaged it is. Instead of taking your wrecked RV to a "near me" junkyard in Las Vegas, Reno, Spring Valley, or Henderson, why don't you contact us?
Get instant cash for any RV you have for sale in Nevada: flooded, totaled in an accident, or so old you can't even move it. We offer top dollar instantly, so you don't have to wait weeks or months to get some petty cash from an RV buyer.
Whether your unwanted, old, or damaged trailer is in North Las Vegas, Sparks, Carson City, or Elko, we COME TO YOU to remove your junk RV FOR FREE! 
If you want to get fast, big cash for your junk RV with free disposal anywhere in Nevada, contact us today! We guarantee the best price on the market, instant payment, and no paperwork hassles!
Make an Appointment
Send us an email with your data
and we will contact you as soon as possible.
Our Business
We'll pay you at the time of pickup for a fast and secure transaction.
We'll have an offer for you in a matter of minutes.
Call Now!
Call or write us to organize
the details of the sale of your RV.
Welcome to the ultimate guide for Burning Man enthusiasts (or complete newcomers) planning an unforgettable adventure in the Nevada desert this month! Burning Man is more than just a festival; it is...
RV Camping at Burning Man in 2023
While you're at it, why not check out our newest survival guide for anyone attempting to RV at this year's Burning Man!
RVing at Burning Man is not for the unprepared, so here are some tips to get your through, one way or another…
Get better prices than any other RV junkyard in Henderson, or Las Vegas can offer!
FREE RV REMOVAL From Anywhere In The State!
Don't Junk Your RV Just Yet!
An old RV wastes space and money, but don't just dispose of it in the nearest junkyard! Selling your damaged travel trailer to a salvage yard in Reno, an auto dismantler in Northern Nevada, or an independent Vegas buyer is a poor financial choice. A few dollars are not worth the trouble of waiting, doing paperwork, or hiring a towing service.
Sell your wrecked motorhome for good money, hassle-free! Our expert appraisers will value your RV and offer a better price and a secure, fast, and easier transaction!  
Selling and disposing of a total-loss, flood-damaged, or non-repairable RV in Nevada is tricky, but it doesn't have to be. 
Fill in the form, get an estimate (better than any junkyard or consignment firm could offer), get your money fast, and wait for us to COME OVER and remove the wreck from your property FOR FREE. 
It's THAT easy!
What Is The Fastest Way to Sell an Old RV in Nevada!
You could sell your junk motorhome on a website or negotiate a price with a junkyard, but you'll wait months for a (poor) offer. Why don't you take the easy way? We buy junk RVs in Nevada very fast. No intermediaries, no extra costs, and no endless waiting times. 
If you want to sell your old Class B to buy a new one and head over to Paradise Valley RV Park or Silver City RV Resort the first chance you've got, you need money fast. 
We offer instant cash for your used RV and guarantee quick and safe bank transfers. We also take care of the paperwork and provide free towing wherever you reside in Nevada.
Don't wait weeks or months for some Junkyard King or random bidder to make you a ridiculous offer! Even in Sin City, you can get a good deal for your burned, flooded, or wrecked motorhome.
Leave the paperwork, pickup, and payment to us! You just sit back, count your money, and plan your next adventure in the Fernley Desert Rose or the Las Vegas Duck Creek RV Parks!
We Help You Get Rid of Your Junk RV in Nevada for FREE!
It doesn't matter if you live in Sparks, Mesquite, or Winnemucca, NV, and want us to remove your junk RV from your yard after we close the deal. We'll take I-80 E and be there in no time! Coming to Nevada to tow your old motorhome is no issue for us.
AND WE'LL DO IT FOR FREE! 
Whether we drive on the El Dorado Fwy or the I-15, we'll be there to remove your junk RV from your property at no cost to you. 
Most junkyards and independent RV buyers will likely ask you to pay for transport out of your own pocket, which leaves your overall gains in the wind. 
If you sell your wrecked motorhome to us, we'll give you fast, good money for it and take it off your hands for free. 
Forget about salvage yards or RV marketplaces, auctions, and classifieds. At the end of the day, you'll still have to pay towing, labor, or disposal fees. Not with us!
100% free RV removal in Nevada, no questions asked, no fine print, no trouble!
Sell Your RV in Any Condition
When you have a flooded RV, or one with a rebuilt title, selling it to the highest bidder is rarely an option. Independent RV buyers or traditional auctions/marketplaces don't offer good money for non-running, salvage, or totaled motorhomes.
If your Class B, Class C, or toy hauler was wrecked in an accident or is used beyond repairs, your best chance to make some money is to sell it to us. We buy any type of junk motorhome in Nevada, no matter how damaged it is. We don't care about its blown engine, rust, hail-beaten body, burst pipes, missing wheels, etc. 
Contact us today to get an estimate for your old RV, and we guarantee bigger prices than you'd get from Reno junkyards, Henderson chop shops, or Las Vegas scrap dealers.
We put our money where our mouth is: you get a fast appraisal, quick cash, and free removal anywhere in Nevada! 
See How Much We Paid for Other RV Wrecks in Nevada
Do you want to know how much your junk RV is worth in Nevada? Contact us now for a fair and free estimate!
You and we know motorhomes depreciate exponentially depending on their type, make, model, year, current state (running or non-running), damage level, age, usage, legal issues, and more. RV prices are seasonal, and used RVs yield nearly nothing in local Nevada junkyards. 
If you want a fair deal, first learn how much money you can get!
First Step
Fill out the form and let our appraisers offer you the best deal on the Nevada junk market.
Second Step
Get your fast cash
via bank transfer
Third Step
Wait for us to come to your place to remove the old RV for free.
Sell Your Junk Travel Trailer in Any Condition in Nevada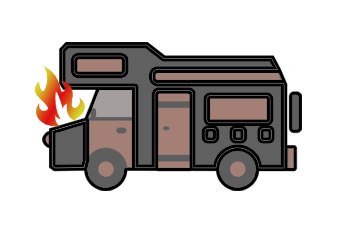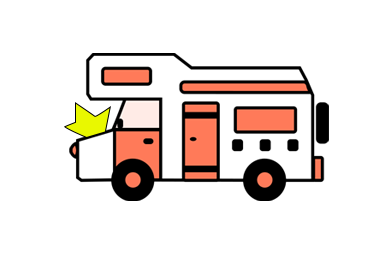 Got a Salvage Title or Rebuilt Title RV in Nevada?
When you have a salvage title RV, selling it for a good price is next to impossible. The Nevada DMV warns private vehicle buyers against purchasing orange-colored salvage titles. Nevada law also requires sellers to disclose past accidents, flooding, and other trailer damages. Failing to do so is a felony and opens the door to costly lawsuits with a buyer. 
In Nevada, owners of rebuilt or salvage-titled RVs can sell their junk motorhomes to the DMV-licensed salvage pool, a vehicle wrecker, or a used motor vehicle dealer. As you can imagine, your earnings in such transactions are unreasonably small. 
So what do you do if you have a salvage title trailer or a rebuilt motorhome that no one wants to buy? Do you wait months in a row for the secondhand RV market to make you an offer? Do you junk your RV in the nearest yard and count your losses?
Forget about private parties and DMV-sanctioned salvage pools!
It doesn't matter if you're from downtown Las Vegas or the outskirts of Spring Valley.  Call now to get the best value for your salvage or rebuilt RV, fast cash, and free removal services anywhere in Nevada! 
We Buy All Junk RVs for the Maximum Price
Don't waste time listing your junk RV with dealers, brokers, ad sites, or auctions. Selling a used RV through traditional methods can take months, while your vehicle rusts and loses value. As a reputable RV buyer, we guarantee the best price for:
Junk/wrecked/damaged RVs you want to get rid of fast
Old and unwanted RVs (running or not) you want to sell for cas
Total loss RVs, crashed camper, totaled fifth wheel, etc.
Any other used travel trailer, used pop up camper or used toy hauler you have for sale
Give us all the details regarding your unwanted or damaged vehicle so we can return to you with a valid offer.
Why Choose Us to Buy
Your Junk RV?
When it comes to RVs for sale, we are a market leader with a solid reputation in offering the highest prices for scrap, unwanted, old, unusable, wrecked, or totaled RVs. Here is why you should work with us if you want to get rid of your vehicle fast!
Real-Market Appraisals
Even if your RV is totaled, unusable, old, or simply unwanted, you can still get good money for it. Fill out the form or contact us for details, and we will give you an unmatchable price for your vehicle.
Fast Transactions
Don't worry about paperwork, clean or salvage titles, and other issues. We will take care of everything at no extra fee.
Free Collection
We will schedule a convenient time for you to have our staff to pick up your junk RV anywhere in California and neighboring states.
Good, Quick Cash
We know how important it is to sell your junk RV fast, easy, safe, and with no hidden taxes. With us, you will have your money as fast as possible.
 Frequently Asked Questions from People Looking to Sell their RV   in Nevada
Do you still have questions regarding selling your junk RV to us for good, fast cash? Check out the answers below! If you still don't find the information you're looking for, don't hesitate to contact us!
How do I sell my junk RV in Nevada?
Most Nevada RV dealerships will only deal with used motorhomes with clean titles. If you have a broken RV or a trailer that went through fire, flooding, a crash, or another type of accident, you can junk it somewhere in Vegas, Reno, Paradise, etc., for almost no gain. 
Alternatively, you can sell it directly to us without using websites, intermediaries, auctions, classifieds, or Sin City chop shop hotshots ready to take it off your hands with no promise of cash. 
We are a reputable RV buyer in Nevada that will make you a better offer than any junkyard. You can also get cash fast and free removal on the Strip or Silver Peak. 
What type of payment should I opt for when selling my old RV?
Cash payments and bank transfers are the preferred options when selling a non-running, salvage title or damaged motorhome. While most Nevada junkyards will offer safe transactions, the problem is that the money is small, and the waiting time is long.
Avoid selling your RV based on personal or business checks to private parties, as the account holder can stop them, and you risk losing both the vehicle and your money. 
By comparison, we offer bank transfers and cash-in-hand to all our clients. 
How much can I negotiate for the price of my junk RV in Nevada?
If you negotiate with a private buyer, be prepared to lower your initial ask by 25% to 50%, as they know you want to get rid of it fast. Depending on the RV's type, make, model, age, and damage level, you will most likely get less than half you hope from a junkyard.
If you're lucky and the buyer is in a good mood, you might get what you want after fierce negotiations. If this Las Vegas casino style of doing business is not what you want, find a buyer who will give you a fair offer, pay you fast, and help you with free towing.
Where is the best place in Nevada to sell your junk RV?
Most trailer owners look for junkyards in Vegas – you will find most of them there, anyway. However, not all of them will buy any type of RV, in any condition, with whatever title. You can try your luck in Reno – another good place for used vehicle trading – in Henderson, North Las Vegas, Sparks, or Enterprise. As you travel further from Nevada's big cities, you won't likely find any junkyards or salvage yards at all. 
Dealerships, online marketplaces, or private buyer auctions are easy to find, but the money is insignificant, and the effort is not worth it. Most will ask you for money (taxes and commissions, labor and transportation fees, etc.), which might leave you with nothing.
Sell My RV Fast, Easy, and Safe!
We buy all types of RVs at the best prices, regardless of their quality and condition. Everything can happen very quickly and without wasted time on your part.