We Buy Your Junk RVs in Oklahoma
Score instant cash for your junk trailer or damaged motorhome, whether stationed in Tulsa, Oklahoma City, Norman, or Stillwater! Our streamlined, hassle-free 3-step procedure will make selling your broken camper or fifth wheel an absolute breeze.
Selling an RV in Oklahoma can prove daunting, especially if it's crashed, ancient, or non-functional. Most salvage yards, used vehicle dealers, and auto dismantlers in the Sooner State primarily deal with junk cars, trucks, or SUVs. If you find yourself with a broken-down RV taking up space in your yard or storage facility, getting money for it becomes challenging.
But fear not, for we've got you covered!
We pay more cash for your junk RV in Oklahoma than any junkyard in Muskogee or Lawton. Enjoy a swift and secure process! Before you know it, you'll have your cash, check, or Venmo payment ready to be spent!
Contact us now to sell your junk motorhome and receive fast cash and FREE REMOVAL services anywhere in Oklahoma. We guarantee the highest payout in the used vehicle market, prompt and secure payment, and minimal paperwork hassle!
Make an Appointment
Send us an email with your data
and we will contact you as soon as possible.
Our Business
We'll pay you at the time of pickup for a fast and secure transaction.
We'll have an offer for you in a matter of minutes.
Call Now!
Call or write us to organize
the details of the sale of your RV.
Junk RV buyer anywhere in Oklahoma
Get better prices and faster disposal than any other RV Junkyard in Oklahoma
Should You Junk or Sell Your Old RV in Oklahoma?
Finding an auto junkyard in Oklahoma may seem like a walk in the Chickasaw National Recreation Area, right?
Just quickly search for a nearby scrapyard, and you're all set. Well, not so fast, cowboy! Salvage yards and private dealers in Oklahoma offer meager payments or sometimes no cash for your delaminated motorhome, completely flooded trailer, or aged, worn-out, and non-functional camper. To make matters worse, they might even expect you to pay for towing your junk RV to them!
Next time an Okie twister hits your RV park, don't rely on old Chuck Norris to save you! Gives us a call!
Stop Waiting for Private Buyers & Sell Your Clunker Now!
What options do you have when faced with an unusable and dilapidated motorhome in Oklahoma? Should you risk auctioning it off, hoping for lackluster offers from private buyers? Should you shell out money for advertisements or the never-ending storage fees while you wait for someone to take it off your hands?
Get fast cash and enjoy free removal of your junk RV anywhere in the Sooner State without hassle!
We've got you covered, from the vibrant streets of Oklahoma City to the charming neighborhoods of Tulsa and even the scenic landscapes of Broken Bow or Lake Texoma. Contact us today, and let's turn your rig into a valuable asset in the heartland of Oklahoma!
We offer top dollar for your old motorhome in Stillwater, your storm-beaten trailer in Broken Arrow, or your non-roadworthy fifth wheel in Edmond.
Your Junk Trailer Has More Value Than What Oklahoma RV Junkyards Usually Pay!
Why did the junk RV decide to take Route 66 through Oklahoma? Because it knew we were ready to "cash" in on the spot for its rusty old self!
Don't search for salvage yards, auto wreckers, consignment stores, or secondhand dealers in Oklahoma City, Midwest City, Norman, Ada, or Wagoner to sell your damaged rig. They won't offer much, especially if your RV was flooded, twister-damaged, or totaled in an accident. Do you want to be paid to get a chicken-fried steak or put some money down for a new motorhome? Avoid the hassle of composing ads, waiting for private buyers, or paying for towing to the scrap yard!
We pay cash for your damaged, delaminated or too-old-to-run trailer on the spot! We'll complete the transaction quickly, ensuring you receive the money you want to attend this year's El Reno Fried Onion Burger Day Festival or the Red Earth Native American Cultural Festival safely and in style!
Give us a call or fill out the form on this page to get our competitive offer right now! If we agree on the price, we'll arrange your old camper's FREE REMOVAL at your convenience, anywhere in Oklahoma. 
What are you waiting for? Contact us right now!
What Paperwork Do You Need to Sell Your Junk RV in Oklahoma?
Selling a junk RV in Oklahoma requires more paperwork than Brad Pitt's divorce settlement. So, picture this: you have a jalopy that's as useless as a basketball hoop without the Oklahoma City Thunder team trying to score in Paycom Center. We're talking about a vehicle that authorities deem useless and not road-worthy, with a fair market value drop of 80%.
To cancel the certificate of title for your junk motorhome (as you must), grab your cowboy hat, saddle up, and head over to the Oklahoma Tax Commission. Bring the title and an Affidavit for Cancellation of Oklahoma Title (OTC Form 701-8), too.
Now, for those junk trailers that have seen more tornadoes than you can count (10 years or older), or for those RVs deemed to become scrap metal, you need a special transfer of ownership. It involves OTC Form 766, which must be submitted to the Oklahoma Tax Commission or a motor license agent by the scrap metal dealer. But hold your horses! They won't hand over the cash until they've ensured some outlaw didn't swipe your wheels.
And there's more! If your rig is under ten years old, you'll need to cancel the title before using the certificate of ownership unless it's off to the scrap metal dealer's rodeo. You and the buyer will each get a copy of this special certificate. However, ensure the seller sends one to the Oklahoma Tax Commission within 30 days, accompanied by the applicable fee.
The Oklahoma Tax Commission will review your ownership transfer request, making sure everything's on the up and up. They'll dig into the vehicle's record like a settler searching for a property during the Land Run 1889. If all is well and the transaction is approved, your certificate of ownership will be processed smoother than Mickey Mantle's swing.
Are you tired yet? Why bother with the inconvenience of dealing with individual buyers or junk auto dealers when we buy your junk motorhome for top dollar? Call us now!
We Offer FREE Junk RV Removal Anywhere in OKLAHOMA!
You'll find numerous options when searching for "free junk RV removal near me." Many junkyards are ready to dismantle and tow your non-functional or damaged trailer, offering services like demolition and free camper removal and disposal.
However, getting money this way is harder than producing iodine in your shed. While removing your crashed fifth wheel is one thing, getting a generous payment for it and enjoying free removal is another story.
Whether in Tulsa, Oklahoma City, Bixby, or Enid, HeyRV is here to offer you a fair price for your old RV and arrange for free trailer disposal!
Call us today for a free evaluation of your damaged RV and prompt, cost-free junk trailer removal from your property or storage facility. Rest assured; we have no issues providing free towing in Oklahoma, whether we're coming from Colorado, Kansas, Missouri, or Texas! You can trust that there are no catches or fine print to worry about. Our free junk motorhome hauling services are genuinely free across the Sooner State!
Sell Your Junk Travel Trailer in Any Condition in OKLAHOMA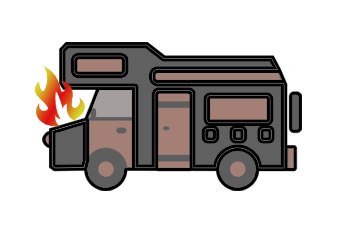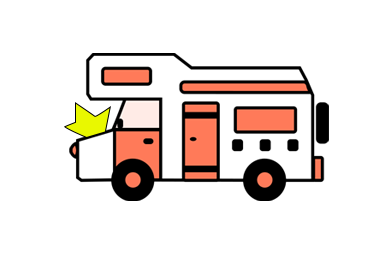 When you live, travel, or road trip in an RV in Oklahoma, you usually fear a few things: thunder, twisters, and thieves, among others. Sometimes, it's two out of three simultaneously – remember the ten families who had their RV's catalytic converters, tires, and TVs stolen from an Oklahoma City RV repair shop in 2023? In the Sooner State, it's not enough to deal with severe storms; you also have robbers who turn your already beaten-down trailer into useless, unusable junk.
In other words, if you kept that rig torn by the tornado in 2015 in the Roadrunner RV Park, it's time to get rid of it. We will take it with its delaminated walls, crashed body, broken engine, missing tires or converter, hail-damaged windshield, etc.
Whether your Oklahoma trailer has seen better days, whether it's a relic of the past, weathered, totaled in an accident, flooded, or even rebuilt – we will buy it!
We offer lightning-fast transactions through Venmo, Cash, or Check! On top of that, we'll handle the removal, too – free of charge. So, don't waste another moment. Get in touch with us now, and let's transform that clunker into some good ol' Oklahoma cash!
Is My Old Motorhome Worth Anything in Oklahoma?
If you can't still SAFELY take your RV to hike, bike, or fish in the Wichita Mountains or the Ouachita National Forest, you need to get rid of that pile of rusted, clunking metal you call a motorhome. If your fifth wheel cannot take 50 miles from Stroud to the Tulsa Renaissance Fair without breaking into pieces on the road, you need to sell your junk RV for cash right now and consider getting a new one.
But would you be happy to sell your clunker for a measly $300 bucks on the vintage RV market, or would you call us instead? Maybe we evaluate it at $3000? The choice is clear.
Oklahoma has the most diverse terrain in the nation, and the last time an EF-5 tornado hit the state was in 2013. In other words, if you're an RV owner with a pile of crushed metal, stop paying for storage or hoping to restore it to its former glory. RV depreciation and major RV repairs are not for the faint of heart!
Oklahoma offers over two dozen state parks that eagerly welcome RV travelers. It boasts the longest remaining stretch of the iconic Route 66, making it the ultimate RV vacation destination for travelers searching for the roadside charm and a never-ending nostalgia along the Mother Road.
So stop waiting until you'll have enough money to fix your dilapidated trailer and hit the road again. Sell it to us and make enough cash to book a new adventure at the Junction West Ponca campground or Eagle's View RV Park. We pay TOP DOLLAR for your junk RV in any condition and offer free removal services!
First Step
Find out how much money you can make for your crashed/unusable motorhome by filling out the form on this page.
Second Step
Once we shake on the deal, you receive your quick cash by bank transfer.
Third Step
We send our people to your place to remove the old camper for free.
We come with our own towing equipment and technicians and handle all the paperwork!
How Do You Sell a Salvage or Rebuilt Title RV in Oklahoma?
First things first, let's understand the definitions better.
In Oklahoma, a salvage vehicle refers to a vehicle that is within ten (10) model years old and has experienced damage from a collision or other incident to the extent that the cost of repairs for it to be deemed roadworthy exceeds sixty percent (60%) of its fair market value at the time of the incident.
If an insurance company covers a loss for a vehicle that requires repairs exceeding 60% of its market value to ensure safe operation on the highway, or if they process a flood-damaged vehicle claim as defined in 47 OS § 1105, they must inform you to surrender the title to the Oklahoma Tax Commission. This action is necessary to replace the existing title with a salvage title. Furthermore, the insurance company will notify the Motor Vehicle Division about this situation.
If an insurance company declares a total loss for a 7 model years old or newer vehicle due to theft, it must be transferred to the insurer with a salvage title. However, according to the statutes, the salvage notation can be removed if the vehicle is recovered and its sustained damage is less than 60% of its value.
As rebuilt titles go, this pertains to vehicles that previously held a salvage title but have since been repaired to a condition suitable for road use. Obtaining a rebuilt title requires the vehicle to undergo a thorough inspection by authorized personnel.
Suppose a salvage or rebuilt vehicle has been damaged by flooding or submerged at a level reaching or exceeding the dashboard, and an insurance claim has been paid for the loss. In that case, the Oklahoma title will have the notation "Flood Damaged" listed on its face.
Dealing with all the paperwork on your own can be quite overwhelming!
If you want a smoother and hassle-free selling experience, sell your salvage or rebuilt title RV to us. We offer a fair price and handle the selling process without complications. Get a free quote on your salvage title RV today and discover the convenience of selling to experts in the field!
We Buy All Junk RVs for the Maximum Price
Don't waste time listing your junk RV with dealers, brokers, ad sites, or auctions. Selling a used RV through traditional methods can take months, while your vehicle rusts and loses value. As a reputable RV buyer, we guarantee the best price for:
Junk/wrecked/damaged RVs you want to get rid of fast
Old and unwanted RVs (running or not) you want to sell for cas
Total loss RVs, crashed camper, totaled fifth wheel, etc.
Any other used travel trailer, used pop up camper or used toy hauler you have for sale
Give us all the details regarding your unwanted or damaged vehicle so we can return to you with a valid offer.
Why Choose Us to Buy
Your Junk RV?
When it comes to RVs for sale, we are a market leader with a solid reputation in offering the highest prices for scrap, unwanted, old, unusable, wrecked, or totaled RVs. Here is why you should work with us if you want to get rid of your vehicle fast!
Real-Market Appraisals
Even if your RV is totaled, unusable, old, or simply unwanted, you can still get good money for it. Fill out the form or contact us for details, and we will give you an unmatchable price for your vehicle.
Fast Transactions
Don't worry about paperwork, clean or salvage titles, and other issues. We will take care of everything at no extra fee.
Free Collection
We will schedule a convenient time for you to have our staff to pick up your junk RV anywhere in California and neighboring states.
Good, Quick Cash
We know how important it is to sell your junk RV fast, easy, safe, and with no hidden taxes. With us, you will have your money as fast as possible.
Frequently Asked Questions from People Looking to Sell Their Junk RVs in OKLAHOMA
Do you still have questions regarding selling your Oklahoma junk RV to us for good, fast cash? Check out the answers below! If you still don't find the information you want, don't hesitate to contact us!
Where is the best place to sell your junk RV in Oklahoma?
Suppose you're seeking ways to remove your fifth wheel, camper, or pop-up from your yard or storage space. In that case, you have several choices: pay for removal, locate an RV salvage or junkyard, dismantle it into parts, or consider donating it to a charitable organization.
However, none of these options will put good money in your pocket, so take the best and most profitable route: sell your junk RV to us! We pay cash for junk trailers anywhere in Oklahoma, no matter their condition! Call us now and see for yourself: fast, good cash, and free removal!
What is a red title in Oklahoma?
Various vehicle title certificates exist in Oklahoma. You have the common green title, an orange title indicating a "rebuilt" vehicle, a red title for salvage vehicles, and a blue title for non-roadworthy, "junk" vehicles. The latter two signify vehicles unfit for road use. Oklahoma does not allow you to insure a vehicle with a salvage or junk title (red or blue).
If you want to get rid of your non-roadworthy, uninsurable RV and turn it into a profit instead of a money pit, call us now for a free estimate!
What type of title does an abandoned vehicle in Oklahoma get?
Under the laws of Oklahoma, it may be deemed abandoned if a vehicle is left unattended on public or private property for 48 hours without signs of the owner's intention to retrieve it. This falls under Title 42. The vehicle must remain untouched for 30 days to confirm abandonment, accompanied by a DMV printout from the registration state. The printout should include comprehensive details about the vehicle, owner, tags, and existing liens.
If dealing with paperwork for that junk motorhome you left somewhere because it literally broke under you is tough, call us now and get fast cash and free removal anywhere in the Sooner State!
Sell My RV Fast, Easy, and Safe!
We buy all types of RVs at the best prices, regardless of their quality and condition. Everything can happen very quickly and without wasted time on your part.