We Buy Your Junk RVs in Mississippi
Sell your junk RV for cash quickly in Jackson, Biloxi, Hattiesburg, Gulfport, or Tupelo! Don't let your neglected RV gather dust when you can effortlessly convert it into instant money in the Magnolia State!
It can be difficult to sell a damaged RV in Mississippi, especially if it has been subjected to the state's humid climate, difficult topography, or extended exposure to severe hailstorms, winds, and tornadoes. For your outdated camper or motorhome, many of Mississippi's salvage yards and scrapyards may make meager offers. But wait before you dismiss the potential worth of your outdated vehicle!
We buy your junk RV in Mississippi, offering better compensation than nearby scrapyards or auto salvage locations in Starkville, Columbus, or Meridian. Our streamlined transaction process guarantees quick cash, a convenient check, or even hassle-free Venmo payment for your valuable motorhome or travel trailer! So, why wait? Give us a call and sell your junk RV for instant cash today!
Make an Appointment
Send us an email with your data
and we will contact you as soon as possible.
Our Business
We'll pay you at the time of pickup for a fast and secure transaction.
We'll have an offer for you in a matter of minutes.
Call Now!
Call or write us to organize
the details of the sale of your RV.
Junk RV buyer anywhere in Mississippi
Get better prices and faster disposal than any other RV Junkyard in Mississippi
Should You Junk or Sell Your Junk RV in Mississippi?
While finding a salvage yard prepared to pay good money for your broken trailer may seem as uncommon as spotting a Mississippi sandhill crane, the possibilities for respectable vehicle wreckers willing to pay good money for your junk RV are restricted, much like spotting a Red-cockaded Woodpecker in its natural habitat.
Don't accept lowball offers from Mississippi salvage yards or private dealerships for your weathered motorhome, sand-affected trailer, or non-functional RV. Worse, they may want you to pay for the towing of your trash vehicle!
Stop Waiting for Private Buyers & Get Cash for Your Junk RV in Mississippi Now!
Stop waiting for untrustworthy private buyers and start getting cash for your unwanted RV in Mississippi today! Selling an old RV to a private buyer can be as dangerous as navigating the Mississippi River in a storm. Experienced campers would not want to go across state lines in an old camper. Plus, you're saddled with storage fees while you wait endlessly for a buyer!
Put an end to the waiting game with untrustworthy scrapyards or unknown buyers. We pay cash for junk RVs in Mississippi right now! Whether you're planning a trip to the De Soto National Forest, a trip to the Gulf Islands National Seashore, a historic tour in Natchez, or a trip to the Mississippi Petrified Forest, it's time to turn your unused, destroyed, or salvaged RV into cash!
Your Junk Trailer Has More Value Than What Mississippi RV Junkyards Usually Pay!
In the Magnolia State, your old, broken-down vehicle may not be worth much to salvage yards, auto wreckers, or secondhand dealers in Jackson, Tupelo, or Gulfport. Especially if it has been damaged by water, fire, major accidents, or presents electrical issues. Save yourself the effort, time, and money of creating advertising, waiting for purchasers, or paying for towing to a scrapyard.
Sell your old, severely damaged, delaminated, flooded, or irreparable RV to us for quick and considerable cash! We buy all types of junk RVs in Mississippi right now. Once we agree on the parameters, our staff provides a fair estimate and top dollar, assuring a smooth and secure transaction. It's never been easier to sell a totaled, salvaged, rusted-out, or non-operational RV for a tidy profit!
Give us a call or fill out the form on this page to get our competitive offer right now! If we agree on the price, we'll arrange your old camper's FREE REMOVAL at your convenience, anywhere in MISSISSIPPI. 
What are you waiting for? Contact us right now!
What Paperwork Do You Need to Sell Your Junk RV in Mississippi?
The original Certificate of Title (Form 78-002) is required because it serves as the primary document establishing your ownership of the RV. You have the option of requesting a replacement if this title is lost or misplaced. This can be accomplished by submitting a "Application for Replacement Certificate of Title" (Form 78-006) to your local Mississippi Department of Revenue (MS DOR) office. It is crucial to know that obtaining a duplicate title comes with a price.
When there is a lien on the RV, the need for Lien Sale Documents emerges. These documents are especially important since they provide as proof of any current liens on the car. This may involve the demand for a lien release form, which will further validate your ownership and make the selling process easier.
A Salvage Certificate (Form 78-032) may be required if the RV is labeled as salvage owing to considerable damage or has been classed as such by your insurance provider. This certificate acts as official certification of the RV's status and may be requested during the sale by the required parties.
In the event that the RV's registration card is no longer available, a Bill of Sale might serve as an alternate proof of ownership. This document establishes the transfer of ownership from you to the buyer, so establishing the transaction's legitimacy.
If you are scrapping the RV due to its lack of roadworthiness, you must surrender the license plates to the Mississippi Department of Revenue (MS DOR). This step is critical in officially terminating the vehicle's registration status and assisting with the proper disposal process.
We Offer FREE Junk RV Removal Anywhere in Mississippi!
A search for "Mississippi free junk RV removal near me" produces a plethora of results. You'll come across a variety of options, ranging from junkyards that will haul away your broken or inoperable trailer to companies that offer demolition services, free camper removal, and scrapping.
However, there is a catch: these services are not paid for. Removing your waterlogged motorhome from your property is one thing; receiving a top-dollar offer and free removal is quite another.
Whether you're in Tupelo, Hattiesburg, Biloxi, or anywhere in Mississippi, HeyRV ensures a fair price for your worn-out RV and arranges free disposal! Reach out to us now for a FREE ESTIMATE on your damaged RV and enjoy swift, free junk RV removal from your premises or storage facility. Towing is not an issue for us in Mississippi, and we guarantee no surprises or hidden fees related to commissions, labor costs, or other expenses. Our free junk motorhome removal service is genuinely free, regardless of your location in the Magnolia State!
Sell Your Junk Trailer in ANY Condition in Mississippi!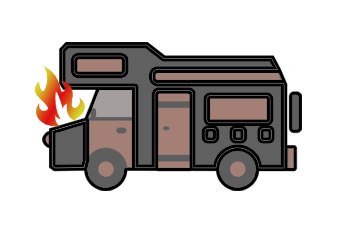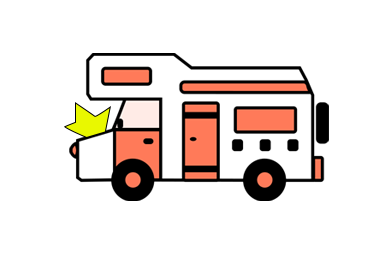 If your RV has significant damage from an accident (and Mississippi is known for its fair share of collisions), is over two decades old, or is non-functional, conventional buyers are unlikely to pay the desired price. RV enthusiasts, auto auctions, and used RV marketplaces rarely pay top dollar for motorhomes with blown engines, totaled exteriors, salvaged titles, or insurmountable electrical or mechanical issues.
If you have an irreparable trailer, your best option is to sell your junk RV to us. We pay cash for junk RVs in Mississippi, including old, rusted motorhomes, charred campers, waterlogged toy haulers, salvaged and reconstructed RVs, and yes, even the battle-worn RV that has been a fixture at the annual Mississippi Mudfest for the past decade. We accept all of them! Furthermore, we accept Venmo, cash, or check payments.
Most RV recycling or salvage yards in Jackson, Gulfport, or Hattiesburg will not offer you a fair price for your junk RV. But don't be concerned! We'll put money in your pocket faster than you can say "Mississippi River" if you contact us right away for a fair offer on your old trailer!
And here's the icing on the cake – you also get to enjoy free removal services!
Is My Old Motorhome Worth Anything in Mississippi?
Over the years, Mississippi residents have faced risks associated with tornadoes, hailstorms, and other severe weather events. The state isn't immune to nature's forces.
Mississippi's diverse landscapes, such as the iconic Gulf Coast and the historic Natchez Trace Parkway, are not immune to the effects of these disasters. Unfortunately, those most affected are often visitors to the state's natural beauty in their RVs and campers, looking to explore the scenic beauty of Tishomingo State Park or the wonders of the Mississippi Sandhill Crane National Wildlife Refuge.
Junking your damaged motorhome, whether due to water damage, fire, collisions, or other incidents, may not be the best option. Donating it to the state or selling it to scrap yards usually results in low payouts. The age, mileage, make, model, and extent of weather-related damage can all significantly reduce the value, leaving you with a disappointing offer.
Your deteriorating trailer is still worth more than what a typical junk or salvage yard would offer. Rather than waiting for private buyers who may undervalue your RV's condition due to costly repairs, sell your junk RV for cash now and focus on exploring Mississippi's scenic landscapes. Spend the money on a new RV and go on adventures at Hugh White State Park or the peaceful Tishabee Campground, or travel down the Mississippi River!
Don't let your RV's condition hold you back. Sell your old, totaled, or broken trailer for cash today and embrace the possibilities of a new and exciting RV journey across Mississippi!
First Step
Find out how much money you can make for your crashed/unusable motorhome by filling out the form on this page.
Second Step
Once we shake on the deal, you receive your quick cash by bank transfer.
Third Step
We send our people to your place to remove the old camper for free.
We come with our own towing equipment and technicians and handle all the paperwork!
How Do You Sell a Salvage or Rebuilt Title RV in Mississippi?
Selling a salvage or rebuilt title RV in Mississippi follows specific steps:
Collect all necessary paperwork, such as the original salvage or rebuilt title, part invoices, a work order, and color photos taken before the repair.

Fill out

Form 78-021

, "Application for Inspection of a Salvage/Rebuilt" completely and correctly.

Make sure your title reflects the RV's classification (salvage or rebuilt), and arrange your papers properly.

Prepare a certified check or money order for the $75 inspection fee.

Contact a licensed inspection location, make an appointment, and deliver the documents you've prepared.

Attend the inspection where a police officer checks the paperwork, looks at the RV, and makes sure everything is in order.

As soon as the repairs are accepted, the title is revised to reflect the RV's status (salvage or rebuilt).

You can now advertise, bargain for, and sell the RV using the updated title.
However, if you sell your unwanted RV to us, you can avoid all of these steps. We pay instant cash for your junk RV in Mississippi and assistance with the necessary paperwork. Bring your rebuilt or salvage title RV to us for top dollar, and we'll take care of the paperwork!
We Buy All Junk RVs for the Maximum Price
Don't waste time listing your junk RV with dealers, brokers, ad sites, or auctions. Selling a used RV through traditional methods can take months, while your vehicle rusts and loses value. As a reputable RV buyer, we guarantee the best price for:
Junk/wrecked/damaged RVs you want to get rid of fast
Old and unwanted RVs (running or not) you want to sell for cas
Total loss RVs, crashed camper, totaled fifth wheel, etc.
Any other used travel trailer, used pop up camper or used toy hauler you have for sale
Give us all the details regarding your unwanted or damaged vehicle so we can return to you with a valid offer.
Why Choose Us to Buy
Your Junk RV?
When it comes to RVs for sale, we are a market leader with a solid reputation in offering the highest prices for scrap, unwanted, old, unusable, wrecked, or totaled RVs. Here is why you should work with us if you want to get rid of your vehicle fast!
Real-Market Appraisals
Even if your RV is totaled, unusable, old, or simply unwanted, you can still get good money for it. Fill out the form or contact us for details, and we will give you an unmatchable price for your vehicle.
Fast Transactions
Don't worry about paperwork, clean or salvage titles, and other issues. We will take care of everything at no extra fee.
Free Collection
We will schedule a convenient time for you to have our staff to pick up your junk RV anywhere in California and neighboring states.
Good, Quick Cash
We know how important it is to sell your junk RV fast, easy, safe, and with no hidden taxes. With us, you will have your money as fast as possible.
Frequently Asked Questions from People Looking to Sell Their Junk RVs in Mississippi
Do you have more questions about selling your junk RV in Mississippi? Check out the answers below. If you need further information, feel free to contact us!
Who buys junk RVs in Mississippi?
In Mississippi, salvage yards, scrap metal merchants, junkyards, and specialized junk car-buying businesses are potential buyers for your junk RV.
HeyRV is a great place to sell your junk RV because it has many benefits. Our free towing services make the process hassle-free while our aggressive cash offers are based on the value of your RV. By choosing us, you'll not only receive a fair price for your RV but also enjoy a seamless transaction supported by first-rate customer care and a considerate approach to disposal!
Can I live in my RV in Mississippi?
As long as you have permission from the property owner and adhere to any regulations set by your local government, Mississippi permits RV living.
What happens to abandoned vehicles in Mississippi?
If your RV is left with a dealer, repairman, or wrecker service for more than 40 days after an agreed-upon retrieval date (or 40 days after being turned over if no date is set), if it's left unattended on a public road for at least five days, or if it's lawfully towed to someone else's property at a law enforcement officer's request and isn't claimed within 40 days, it's considered to have been abandoned in Mississippi. The best way to avoid abandoning a vehicle and facing legal repercussions is to dispose of it properly.
Sell My RV Fast, Easy, and Safe!
We buy all types of RVs at the best prices, regardless of their quality and condition. Everything can happen very quickly and without wasted time on your part.