We Buy Your Junk RVs in South Dakota
Wondering what's the easiest and most profitable way to sell your junk RV in South Dakota? Look no further! At Hey RV, we'll buy your salvaged motorhome or travel trailer regardless of its condition and promise to make you an offer that exceeds any amount you'd get from junkyards or private buyers.
Whether you're in Sioux Falls, Rapid City, Aberdeen, or Brookings, sell your junk RV to us and enjoy free pick-up services anywhere in Mount Rushmore State!
Selling an RV in South Dakota can feel like searching for hidden gold in the Black Hills. It's no secret that many local salvage yards and vehicle dealers focus on cars and trucks, leaving RV owners with limited options for selling their beloved, albeit worn-out, homes on wheels.
But fear not, for HeyRV shines brighter than the Mount Rushmore National Memorial on a sunny day! We offer more cash than any salvage yard or junkyard in Pierre or Rapid City for your trusty old RV. Our process is lightning-fast and secure, ensuring you'll have your cash, check, or Venmo payment in hand before you can say "Buffalo Roundup"! We'll pay top dollar for your rusty, flood-damaged, broken, or non-roadworthy trailer anywhere in South Dakota.
Make an Appointment
Send us an email with your data
and we will contact you as soon as possible.
Our Business
We'll pay you at the time of pickup for a fast and secure transaction.
We'll have an offer for you in a matter of minutes.
Call Now!
Call or write us to organize
the details of the sale of your RV.
Junk RV buyer anywhere in South Dakota
Get better prices and faster disposal than any other RV Junkyard in South Dakota
Should You Junk or Sell Your Junk RV in South Dakota?
Selling an RV in South Dakota can be a daunting task, with limited options available for RV owners compared to cars and trucks. Local salvage yards and vehicle dealers often prioritize other types of vehicles, leaving RV owners searching for the right buyer. However, there's good news for those looking to sell their RVs in the state. HeyRV is the solution you've been looking for! We specialize in buying RVs and offer the best cash deals in Pierre, Rapid City, and all across South Dakota. Whether your RV is worn-out, rusty, flood-damaged, broken, or non-roadworthy, we're interested in purchasing it!
Stop Waiting for Private Buyers & Sell Your Clunker Now!
Forget about the meager offers from salvage yards, auto wreckers, recyclers, consignment stores, or secondhand dealers in Sioux Falls, Rapid City, or Aberdeen. Especially if your junk RV has suffered from flooding, fire, or a serious accident, they won't give you the value you deserve. So, is it worth spending all your time and resources on finding a private buyer who will be willing to suffer the extra costs of repairs?
No! Your best bet is to sell your RV clunker for good cash right now!
Sell your outdated, severely damaged, flooded, or irreparable RV to us for fast and profitable cash!
Your Junk Motorhome Has More Value Than What South Dakota RV Junkyards Usually Pay!
Don't waste your time in Lincoln or Omaha hoping for a good deal for your beat-down camper. Those salvage yards and secondhand marketplaces won't give you what you deserve. It's time to channel your inner Warren Buffet and sell your old, damaged, or flooded RV for some serious cash! Our appraisers will offer a deal to make your heart race faster than a Husker football game.
Give us a call or fill out the form on this page to get our competitive offer right now! If we agree on the price, we'll arrange your old camper's FREE REMOVAL at your convenience, anywhere in South Dakota. 
What are you waiting for? Contact us right now!
What Paperwork Do You Need to Sell Your Junk RV in South Dakota?
If you're planning to sell your junk RV in South Dakota, it's important to understand the necessary paperwork required for a transaction.
First and foremost, ensure you have the original title of the RV in your name. If you can't locate it, you can obtain a duplicate title from the South Dakota Department of Revenue. Having the title in order is crucial for proving your ownership. Next, consider preparing a Bill of Sale. This document includes essential details such as your information, the buyer's information, specific RV details, the agreed-upon purchase price, and the date of sale. Remember to keep a copy for yourself and provide one to the buyer. A Bill of Sale serves as a legal record of the transaction.
For RVs that are less than ten years old, an Odometer Disclosure is required. This document ensures an accurate mileage reading of the vehicle. By providing an Odometer Disclosure Statement, you can fulfill this requirement and provide transparency to the buyer.
To protect yourself from any liabilities associated with the RV after the sale, consider filling out a Release of Liability form. This form notifies the South Dakota Department of Revenue that you are no longer responsible for the RV. It's a crucial step to safeguard your interests.
Additionally, if you have any maintenance and repair records for the RV, it's a good idea to gather them. These records can showcase the history of the RV, including any care and attention it has received. 
Keep in mind that depending on your specific situation, additional documents such as lien releases or power of attorney might be necessary.
But why waste time with all that? You can get good cash for your junk RV today, without the extra hassle!
We Offer FREE Junk RV Removal Anywhere in South Dakota!
Are you tired of searching high and low for "South Dakota free junk RV removal near me" only to be left disappointed with empty promises and no cash in hand? Well, fret no more! At HeyRV, we're here to offer you the ultimate solution. While other junkyards might offer to haul away your worn-out, non-roadworthy trailer, they won't give you a single penny for it.
But guess what? We're different! We understand the value of your time and the importance of putting some extra cash in your pocket. That's why we not only provide free towing services for your junk RV but also offer a fair price for your clunker. Whether you're in Sioux Falls, Rapid City, Aberdeen, or Pierre, we've got you covered with our top-notch service.
Just give us a call, and our friendly team will provide you with a free estimate for your damaged RV. Once we've agreed on a price, we'll swiftly remove it from your property or storage facility without charging you a dime for towing. Yes, you heard that right—no towing fees, no hidden costs!
Sell Your Junk Trailer in ANY Condition in South Dakota!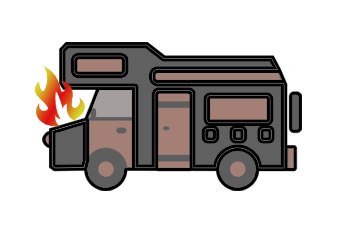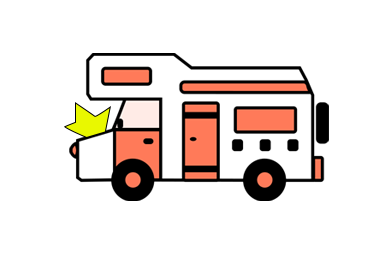 Living in an area prone to tornadoes can be challenging, especially when it comes to your RV. South Dakota experiences an average of about seven tornadoes each year, and the aftermath of severe weather can take a toll on your vehicle. Whether it's wind damage, hailstorms, or other weather-related issues, we understand the difficulties you may face when selling a junk RV in South Dakota.
At HeyRV we specialize in buying RVs in any condition, including those impacted by tornadoes. We're here to offer you a fair price for your damaged RV and provide a hassle-free selling experience. Whether your RV has cosmetic damage, or structural issues, or requires extensive repairs, we're interested in buying it!
Instead of dealing with the challenges of finding buyers or salvage yards that undervalue your tornado-damaged RV, let us handle the process for you. Our goal is to make the selling experience as smooth as possible, offering you cash for your junk RV based on its condition and market value.
Don't let the aftermath of severe weather keep you from moving forward. Contact us today, and we'll provide you with a free estimate for your junk RV!
Is My Old Motorhome Worth Anything in South Dakota?
Got an old motorhome sitting around in South Dakota? Wondering if it's worth anything? Well, let me tell you, it's not just a forgotten relic! While others may offer you peanuts for your beloved motorhome, we see its true value. We'll make sure you get a fair deal that puts a smile on your face and some extra cash in your pocket! 
Imagine the adventures you can have with that money! Hit the open roads and explore the stunning Badlands National Park or discover the picturesque beauty of Custer State Park. Your old motorhome can fund new memories and incredible experiences across South Dakota.
Don't let your motorhome collect dust. Let's give it a new lease on life and turn it into something exciting. Reach out to us today for a quick and hassle-free evaluation. Your old motorhome still has plenty of worth, and we're here to make sure you get the best deal possible. Whether it's totaled, too old to drive, has suffered water damage, or presents electrical issues, we will make you a fair offer on the spot.
It's time to unlock the potential of your motorhome and make your dreams a reality. Call us today and get fast cash for your junk RV anywhere you are in South Dakota!
First Step
Find out how much money you can make for your crashed/unusable motorhome by filling out the form on this page.
Second Step
Once we shake on the deal, you receive your quick cash by bank transfer.
Third Step
We send our people to your place to remove the old camper for free.
We come with our own towing equipment and technicians and handle all the paperwork!
How Do You Sell a Salvage or Rebuilt Title RV in South Dakota State?
Selling a salvage or rebuilt title RV in South Dakota can be a challenging process if you decide to go at it alone. There are several important steps to consider, such as gathering the necessary documentation, advertising the RV effectively, determining a fair price, disclosing the title status, showcasing the RV attractively, negotiating with potential buyers, and properly transferring ownership.
With numerous legal and administrative aspects to navigate, ensuring compliance with South Dakota Motor Vehicles Division requirements is crucial. But if you wish to skip all the hassle of advertising your junk RV and searching for a willing private buyer, sell it to us for a much better price and a fast transaction!
Anywhere you are in South Dakota, we'll come to tow your outdated motorhome or travel trailer for free and give you cash for your junk RV on the spot!
We Buy All Junk RVs for the Maximum Price
Don't waste time listing your junk RV with dealers, brokers, ad sites, or auctions. Selling a used RV through traditional methods can take months, while your vehicle rusts and loses value. As a reputable RV buyer, we guarantee the best price for:
Junk/wrecked/damaged RVs you want to get rid of fast
Old and unwanted RVs (running or not) you want to sell for cas
Total loss RVs, crashed camper, totaled fifth wheel, etc.
Any other used travel trailer, used pop up camper or used toy hauler you have for sale
Give us all the details regarding your unwanted or damaged vehicle so we can return to you with a valid offer.
Why Choose Us to Buy
Your Junk RV?
When it comes to RVs for sale, we are a market leader with a solid reputation in offering the highest prices for scrap, unwanted, old, unusable, wrecked, or totaled RVs. Here is why you should work with us if you want to get rid of your vehicle fast!
Real-Market Appraisals
Even if your RV is totaled, unusable, old, or simply unwanted, you can still get good money for it. Fill out the form or contact us for details, and we will give you an unmatchable price for your vehicle.
Fast Transactions
Don't worry about paperwork, clean or salvage titles, and other issues. We will take care of everything at no extra fee.
Free Collection
We will schedule a convenient time for you to have our staff to pick up your junk RV anywhere in California and neighboring states.
Good, Quick Cash
We know how important it is to sell your junk RV fast, easy, safe, and with no hidden taxes. With us, you will have your money as fast as possible.
Frequently Asked Questions from People Looking to Sell Their Junk RVs in South Dakota
Have questions about selling your junk RV in South Dakota and getting a fair deal without any headaches? Take a look at the answers below to find the information you need. And if you still have more questions, feel free to reach out to us for assistance!
Who buys junk RVs in South Dakota?
While some salvage yards in Sioux Falls or Rapid City might consider buying junk RVs, their primary focus is often on cars. They may be interested in salvaging usable parts from your RV. However, it's important to note that their offers might be limited, and additional expenses like towing and labor fees could be deducted.
If you want a straightforward and worthwhile selling experience, consider selling your worn-out RV to us! In South Dakota, local salvage yards or consignment stores may not offer you the best value, but we're here to provide you with instant and substantial cash for your weathered, flooded, totaled, delaminated, or wrecked RV!
How do you junk an RV in South Dakota, with or without a title?
To junk an RV in South Dakota, you need to follow the regulations outlined in Chapters 32-36 of the South Dakota Codified Laws. First, contact a removal agency authorized to handle abandoned and junk vehicles. They have the authority to remove, salvage, and transport the RV. The removal agency will send written notices to the registered owner and any lien holders, informing them of the intent to remove the vehicle. If the owner or lien holders fail to reclaim the RV within a specified timeframe, the removal agency will take possession of it. 
Finally, the removal agency will apply for a salvage title or certificate of title from the Department of Revenue. It's important to ensure compliance with the specific requirements and procedures outlined in the laws to properly junk an RV in South Dakota.
Skip the hassle of junking your RV or losing money while selling it for scraps. Call us today and get cash for your junk RV anywhere you are in South Dakota!
Sell My RV Fast, Easy, and Safe!
We buy all types of RVs at the best prices, regardless of their quality and condition. Everything can happen very quickly and without wasted time on your part.