We Buy Your Junk RVs in West Virginia
Sell your junk RV for cash with HeyRV in West Virginia! Whether you're in Charleston, Morgantown, Huntington, Parkersburg, or any other corner of the Mountain State, we offer hassle-free services across West Virginia, and we'll even tow your RV for FREE!
Embrace West Virginia's spirit, where the people are known for their untamed tenacity and harsh mountains. Just as the state's motto, "Mountaineers Are Always Free," represents the people's independence, HeyRV is prepared to offer you a fantastic deal: CASH + FREE TOWING in exchange for selling your old RV to us.
Although you might have nostalgic attachments to your RV, the time has come to start a new chapter in your life. Do you feel up to the task? Reach out, and we'll help you figure out how to sell your junk RV for cash right away!
Make an Appointment
Send us an email with your data
and we will contact you as soon as possible.
Our Business
We'll pay you at the time of pickup for a fast and secure transaction.
We'll have an offer for you in a matter of minutes.
Call Now!
Call or write us to organize
the details of the sale of your RV.
Junk RV buyer anywhere in West Virginia
Get better prices and faster disposal than any other RV Junkyard in West Virginia
Should You Junk or Sell Your Old RV in West Virginia?
Are you unsure whether to sell or junk your RV? Don't worry; we recognize your concerns, especially if you've never sold a used car before. While junking an RV is simple, selling one may require some explanation.
When we talk about junking an RV, we mean RVs that are no longer functional or are too costly to repair. These vehicles frequently have low resale value, but their individual parts may be valuable. Junk RVs are usually sold as scrap or for spare parts.
However, if you opt to sell your junk RV to us, the choice is simple. Avoid ambiguity and time-consuming deliberation. Sell your junk RV for cash quickly and let us handle your old camper. HeyRV makes the transition from RV owner to cash holder as easy as the West Virginia hills!
Stop Waiting for Private Buyers & Sell Your Damaged RV in West Virginia Now!
Don't waste time waiting for a customer to emerge out of thin air and acquire your used RV. HeyRV is dedicated to paying a fair price for your junk RV and specializes in buying and towing (at no cost to you). We can precisely determine the value of your RV thanks to our experience, and we'll pay you the appropriate amount.
We're prepared to make a purchase, regardless of the degree of damage your RV has sustained. We don't operate like individual buyers who might leave at the first sign of a few dings or a broken window. Instead, picture yourself exchanging your outdated RV for a more modern one and strolling through West Virginia, from the Monongahela National Forest to the New River Gorge! There's really nothing standing in your way. Call us today and get cash for your junk RV in 3 easy steps!
Your Junk Motorhome Has More Value Than What West Virginia RV Junkyards Usually Pay!
Let's rewrite the history of vintage RVs in Charleston, Huntington, Morgantown, and Beckley. HeyRV is reinventing the story, recognizing opportunities where others see scraps. Our local staff specializes in free valuations of motorhomes, revealing a cash infusion that surprises expectations. Accept a financial upswing that works for you, whether it's cash, checks, or Venmo!
Why put off the inevitable? Let's get started on turning your junk RV into fast cash. Our professionals are here to answer your questions and advise you every step of the process. West Virginia's stunning landscapes are ready to be your playground, fueled by your newfound cash. Your next adventure is beckoning; answer it by selling your junk RV in West Virginia or the neighboring areas for cash!
Give us a call or fill out the form on this page to get our competitive offer right now! If we agree on the price, we'll arrange your old camper's FREE REMOVAL at your convenience, anywhere in West Virginia.
What are you waiting for? Contact us right now!
What Paperwork Do You Need to Sell Your Junk RV in West Virginia?
When selling a junk RV in West Virginia, you'll need to complete a few key pieces of paperwork:
Transferring the Car Title: The fundamental paperwork entails transferring the car title itself. This step is crucial to legally shift ownership to the buyer.
Seller's Signature: Your signature as the seller is essential on the title, and it should adhere to the state's guidelines for proper placement.
Odometer Reading: For RVs produced after 2011, ensure to provide the precise odometer reading in the designated section for Odometer Disclosure on the title.
Replacing the Title: If your title is lost, securing a replacement is necessary. This involves completing an Affidavit of Duplicate Title for a Vehicle or Watercraft.
You may ensure a smooth and legal sale of your junk RV in West Virginia by having this documentation in order. However, handling the procedure on your own might be difficult at times, especially if your old RV is full of specifics. When we buy junk RVs for cash in West Virginia, we give our clients all the information they need to make the transaction go as smoothly as possible. So, instead of going through the hassle of selling your used RV privately, use HeyRV to make quick cash!
We Offer FREE Junk RV Removal Anywhere in West Virginia!
HeyRV offers FREE TOWING for your junk RV anywhere in West Virginia, from the scenic landscapes of Wheeling to the attractive villages of Martinsburg and Beckley. We understand the difficulties that RV owners confront, especially in a state known for its harsh terrain and volatile weather. HeyRV is ready to haul your RV away for FREE, regardless of whether it is barely holding together or has seen better days. 
Contact us for a free estimation of the value your old junk may be worth, and we'll provide it for you for FREE!
Sell Your Junk Trailer in ANY Condition in West Virginia!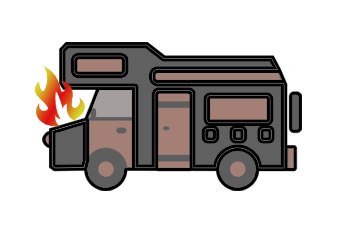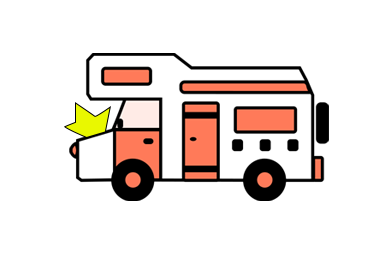 You're well aware of West Virginia's varied weather patterns as an experienced RV owner. Weather events can wreak havoc on your RV in this state. There are several different types of extreme weather that can occur in West Virginia, including tornadoes, thunderstorms, snowstorms, hurricane remnants, and flooding. The average number of tornadoes each year ranges from 2 to 5.
HeyRV understands that many damages are out of your control. We're ready to accept your damaged RV whether it's due to wind, hail, or other unforeseen circumstances. By selling your trash RV to HeyRV, you can turn West Virginia's unpredictable weather into an opportunity.
HeyRV recognizes that many used RVs in West Virginia may have encountered wear and tear due to the region's diverse terrain and weather conditions. Don't let the effects of West Virginia's environment go to waste – turn your weather-worn RV into a valuable opportunity by selling it to us!
Is My Old Motorhome Worth Anything in West Virginia?
Hesitant about whether HeyRV would be interested in your weather-beaten RV? Well, buckle up for this: We're as eager as a West Virginia camper on the way to a bluegrass festival! Your RV's condition? No worries! We're all in for giving you cash and giving your old rig a new adventure, regardless of your junk RV's condition – delaminated, too old to drive, water damaged, or with electrical issues. Selling stress? Gone with the wind, just like the leaves on a fall day in the Appalachian Mountains. With a FREE evaluation and FREE towing, saying goodbye to your RV is like waving from the New River Gorge Bridge – exciting and freeing!
First Step
Find out how much money you can make for your crashed/unusable motorhome by filling out the form on this page.
Second Step
Once we shake on the deal, you receive your quick cash by bank transfer.
Third Step
We send our people to your place to remove the old camper for free.
We come with our own towing equipment and technicians and handle all the paperwork!
How Do You Sell a Salvage or Rebuilt Title RV in West Virginia?
In order to sell an RV with a salvage or rebuilt title in West Virginia, you must first evaluate the vehicle's condition, collect proof of repairs, and set a fair asking price that takes into account the vehicle's past. Transparently state whether the property is salvaged or rebuilt, market through a variety of media, and permit interested purchasers to inspect the property. Create a clear sale agreement, negotiate the amount, and transfer ownership while securing the payment.
If you have a salvage or rebuilt title RV, the chances of finding the right buyer and navigating the selling process smoothly aren't great. That's why West Virginia residents choose HeyRV instead! You are one call away from getting cash for your junk RV in 3 easy steps, with little to no effort on your part! Our team will guide you every step of the way and ensure a seamless transaction. Give us a call and sell your junk RV for instant cash today!
We Buy All Junk RVs for the Maximum Price
Don't waste time listing your junk RV with dealers, brokers, ad sites, or auctions. Selling a used RV through traditional methods can take months, while your vehicle rusts and loses value. As a reputable RV buyer, we guarantee the best price for:
Junk/wrecked/damaged RVs you want to get rid of fast
Old and unwanted RVs (running or not) you want to sell for cas
Total loss RVs, crashed camper, totaled fifth wheel, etc.
Any other used travel trailer, used pop up camper or used toy hauler you have for sale
Give us all the details regarding your unwanted or damaged vehicle so we can return to you with a valid offer.
Why Choose Us to Buy
Your Junk RV?
When it comes to RVs for sale, we are a market leader with a solid reputation in offering the highest prices for scrap, unwanted, old, unusable, wrecked, or totaled RVs. Here is why you should work with us if you want to get rid of your vehicle fast!
Real-Market Appraisals
Even if your RV is totaled, unusable, old, or simply unwanted, you can still get good money for it. Fill out the form or contact us for details, and we will give you an unmatchable price for your vehicle.
Fast Transactions
Don't worry about paperwork, clean or salvage titles, and other issues. We will take care of everything at no extra fee.
Free Collection
We will schedule a convenient time for you to have our staff to pick up your junk RV anywhere in California and neighboring states.
Good, Quick Cash
We know how important it is to sell your junk RV fast, easy, safe, and with no hidden taxes. With us, you will have your money as fast as possible.
Frequently Asked Questions from People Looking to Sell Their Junk RVs in West Virginia
Curious about turning your beat-up RV into cash in the hills of West Virginia? Look no further for answers! If you don't strike gold with the info you need, feel free to reach out!
How do I junk my old RV in West Virginia?
There are various choices available to you if you want to get rid of an old RV in West Virginia. You may look through websites like Craigslist or eBay to see if anyone is interested in buying used parts, or you could contact salvage yards or junk RV buyers. Among these options, HeyRV shines due to its convenience, quick payment, and expertise in proper RV disposal, making it a solid choice for effectively junking your RV in West Virginia!
What are the abandoned vehicle laws in West Virginia?
The West Virginia Code's Chapter 17, Article 24A provides a definition of dealing with abandoned RVs in West Virginia. If authorities seize such a car, they have 15 days to notify the registered owner and lienholders. These parties have ten days to pay the associated fees and retrieve the RV. If not, it may be offered for auction or sold to an authorized salvage yard.
When it is challenging to locate the owner, a public notice is printed. Additionally, hired parties must provide the owner with 30 days' notice. Towing companies may file for a title and sell a vehicle with a loan value of less than $7,500 if it is left unclaimed. For automobiles under $9,500 in value, authorized dealers, auctions, repair centers, and towing businesses may also act in this manner.
Can you live in an RV in West Virginia?
 In West Virginia, embracing the wild and wonderful life of full-time RV residency is within reach – simply ensure your vehicle is registered with the county and abide by the tapestry of local ordinances!
If your old RV isn't what it used to be, say no more! Give us a call to schedule a free pick-up anywhere in WV and get cash for your junk RV in no time!
Sell My RV Fast, Easy, and Safe!
We buy all types of RVs at the best prices, regardless of their quality and condition. Everything can happen very quickly and without wasted time on your part.