We Buy Your Junk RVs in Indiana
Your old motorhome can be turned into a pile of cash – and not by magic. It may sound unbelievable, but it depends on the road you choose to take in the State of "the Crossroads of America." The dream of turning scrap metal into money can become a reality. HeyRV's policy of paying good money on old RVs is packaged in a deal that promises to take care of the needed paperwork and the towing logistics.
Distance does not pose a problem. You can be from Indianapolis, Fort Wayne, or even Evansville, South Bend, and Carmel. It does not matter! Anywhere you are in the state of Santa Claus, we've got you covered! We can reach you anywhere and provide the qualitative service for which we are best known.
HeyRV is fully prepared to buy your salvaged motorhome or travel trailer, regardless of its condition. Moreover, it will provide you with an offer that surpasses what conventional junkyards or individual buyers can provide. 
Just contact us right this second and bid farewell to your old RV. We'll swiftly take it off your hands, managing everything from finding a buyer and assisting with paperwork to overseeing the towing process. Our free pick-up services are available statewide!
It's common knowledge that many local salvage yards and vehicle dealers primarily focus on cars and trucks. Consequently, numerous RV owners find themselves with limited options for selling their cherished yet worn-out and old motorhomes. However, you don't have to face this predicament. Unlike Stranger Things' Indiana, selling your RV doesn't have to be as daunting as confronting Vecna.
With HeyRV, the process becomes effortless. We not only offer more cash than any salvage yard in Marion or Allen does, but we also handle all the paperwork and the towing logistics involved. Our lightning-fast and secure process ensures you'll have your payment in no time—whether it's cash, check, or Venmo—before you can even utter "Bedford limestone"! We're willing to pay top dollar for your clunker and reach you anywhere in Indiana.
Make an Appointment
Send us an email with your data
and we will contact you as soon as possible.
Our Business
We'll pay you at the time of pickup for a fast and secure transaction.
We'll have an offer for you in a matter of minutes.
Call Now!
Call or write us to organize
the details of the sale of your RV.
Junk RV buyer anywhere in Indiana
Get better prices and faster disposal than any other RV Junkyard in Indiana
Should You Junk or Sell Your Junk RV in INDIANA?
If you've ever tried selling an RV in Indiana, you'd know how tricky it can get, especially compared to the relatively straightforward process of selling cars and trucks. Local salvage yards and vehicle dealers tend to prioritize other vehicle types, leaving RV owners with limited options to find the right buyer. However, not all hope is lost. It can also mean great news for those seeking to sell their RVs in the birthplace of baseball – if you seek specialized buyers of old motorhomes, like HeyRV, they'll know to value your old RV at a fair price and give you the right cash for it!
HeyRV specializes in purchasing RVs and offers the most attractive cash deals in various locations across Indiana, including Fishers, Noblesville, and Terre Haute. No matter how long your motorhome has been on the road, we're more than willing to make the purchase worth it. We embrace challenges and are prepared to fight for a deal that works for both parties.
Stop Waiting for Private Buyers & Sell Your Damaged RV in Indiana Now!
Save yourself the trouble of wasted time and sheer disappointment. Searching for a good deal for your old camper might feel like looking for the needle in the haystack – especially when you are from parts like Lake or Tippecanoe. Salvage yards and secondhand marketplaces in those areas may not offer you the full value your motorhome deserves. It's why you have to lean into the guts instincts of your tenacious Hoosier spirit and sell your RV to those who would give you some serious cash on it! 
So why wait? Sell your RV clunker for good cash right now!
Sell your outdated, severely damaged, flooded, or irreparable RV to us for fast and profitable cash!
Your Junk Motorhome Has More Value Than What Indiana RV Junkyards Usually Pay!
Avoid unnecessary complications. Not everything in your life has to be a hassle. You can find a great deal for your worn-out camper in Columbus or Carmel without going through exhausting research. Instead, rely on HeyRV to assist you in transforming your old, damaged RV into substantial cash! Our skilled appraisers will present an offer to make your heart race faster than the Indy 500. Get the best value for your RV right here in Indiana! Don't accept less at salvage yards or secondhand marketplaces around Bartholomew or Monroe.
Give us a call or fill out the form on this page to get our competitive offer right now! If we agree on the price, we'll arrange your old camper's FREE REMOVAL at your convenience, anywhere in Indiana! 
What are you waiting for? Contact us right now!
What Paperwork Do You Need to Sell Your Junk RV in Indiana?
Are you considering selling your junk RV in Indiana? If you plan to handle everything independently, brace yourself for a potentially cumbersome process. There's a handful of essential documents you must keep track of. However, if you work with HeyRV, we'll handle everything. But first, let's walk you through some of the main paperwork you should have when selling your old motorhome to a private buyer.
Start by ensuring you have the original RV title in your name (If it's misplaced, you can obtain a duplicate title from Indiana's BMV).
Next, you'll need a comprehensive Bill of Sale, including vital details such as your information, the buyer's information, specific RV details, the agreed-upon purchase price, and the date of sale. Keep a copy for yourself and provide one to the buyer, as the Bill of Sale is a legally important transaction record, and it must be in at least two copies.
You must fill out a Liability Waiver contract to safeguard yourself from post-sale liabilities. This form will notify the Indiana BMV that you're no longer responsible for the junk RV and will release you from all former obligations towards it. 
And this is just the beginning! If you're selling to a private buyer, you'll also have to gather the repair and maintenance records for the RV. 
However, why go through all this hassle? Get good cash for your junk motorhome today without all that trouble. With HeyRV, you won't waste time filling out boring forms and contracts. We'll make purchasing your old RV as easy as a walk in the Dunes National Park!
We Offer FREE Junk RV Removal Anywhere in Indiana!
Avoid endless and fruitless scrolling through undesirable options for " free junk RV in Indiana." You already know it will likely lead to disappointment, which will get you to feel like you have wasted your time and energy. Instead, make a smart move and reach out to us at HeyRV. We offer the ultimate solution for your needs.
With us, you'll receive free towing services for your junk RV and a fair price for your clunker. Our exceptional team can locate you whether you're in South Bend, Anderson, or Jeffersonville. There are no towing fees or hidden costs involved. Call us, and we'll provide a free estimate for your damaged RV. Once we agree on a price, we'll swiftly remove it from your property or storage facility without charging you a single dime.
Sell Your Junk Motorhome in ANY Condition in Indiana!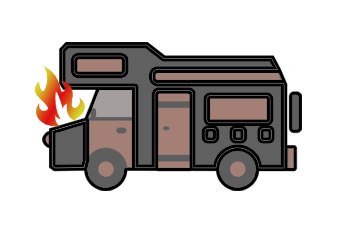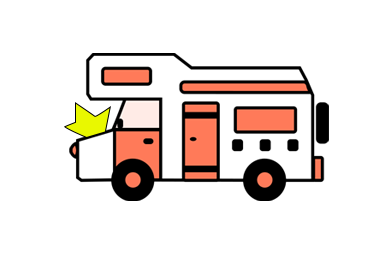 Living in Indiana, an area prone to severe winds can also present challenges for your RV. The weather conditions can take a toll on your vehicle, ranging from hailstorms to short tornados. Unfortunately, you have no control over the weather, and its impact on your camper is beyond your control as well. At HeyRV, we understand this predicament, so we specialize in purchasing RVs in any condition, including those affected by extreme weather.
Whether your RV has structural issues, has suffered exterior damage, or requires extensive repairs, we're here to offer you a fair price and a hassle-free selling experience. Instead of dealing with undervalued offers, reach out to HeyRV immediately. We aim to make the selling process as smooth as possible, offering you cash based on your RV's condition and market value. There's no need to let bad weather or the resulting damage cause distress or shame. 
You cannot prevent the weather from unleashing or foresee its devastating effects. So, do your due diligence and contact us so we can gladly provide you with a free estimate for your junk RV!
Is My Old Motorhome Worth Anything in Indiana?
If you're still undecided and wondering whether your junk RV has any value, rest assured that it's valuable to HeyRV! And we'll make sure it is worth it for you as well. Our aim is to provide a deal that puts extra cash in your pocket and demonstrate that we deserve our high ranking by surpassing what any other scrapyard, junkyard, or random buyer can offer!
Don't let your old motorhome sit and depreciate with each passing day. Make a wise financial choice and capitalize on the remaining value of your old investment. Free yourself from the burden of an old wreck by giving it a new purpose. Whether it's totaled, too old to drive, suffered water damage, or has electrical issues, we're prepared to make you a fair offer.
First Step
Find out how much money you can make for your crashed/unusable motorhome by filling out the form on this page.
Second Step
Once we shake on the deal, you receive your quick cash by bank transfer.
Third Step
We send our people to your place to remove the old camper for free.
We come with our own towing equipment and technicians and handle all the paperwork!
How Do You Sell a Salvage or Rebuilt Title RV in Indiana?
Selling a salvage or rebuilt title RV in Indiana can be challenging, especially if you tackle it alone. In such cases, there are several crucial steps to consider, including gathering the necessary documentation, presenting the RV attractively, effectively advertising it, negotiating with potential buyers, determining a fair price, and properly transferring ownership.
However, if you seek a hassle-free solution for selling your junk RV and getting a great price, your search ends with HeyRV! No matter where you are in Indiana, we'll come to tow your outdated motorhome or travel trailer for free and offer you cash on the spot for your junk RV!
We Buy All Junk RVs for the Maximum Price
Don't waste time listing your junk RV with dealers, brokers, ad sites, or auctions. Selling a used RV through traditional methods can take months, while your vehicle rusts and loses value. As a reputable RV buyer, we guarantee the best price for:
Junk/wrecked/damaged RVs you want to get rid of fast
Old and unwanted RVs (running or not) you want to sell for cas
Total loss RVs, crashed camper, totaled fifth wheel, etc.
Any other used travel trailer, used pop up camper or used toy hauler you have for sale
Give us all the details regarding your unwanted or damaged vehicle so we can return to you with a valid offer.
Why Choose Us to Buy
Your Junk RV?
When it comes to RVs for sale, we are a market leader with a solid reputation in offering the highest prices for scrap, unwanted, old, unusable, wrecked, or totaled RVs. Here is why you should work with us if you want to get rid of your vehicle fast!
Real-Market Appraisals
Even if your RV is totaled, unusable, old, or simply unwanted, you can still get good money for it. Fill out the form or contact us for details, and we will give you an unmatchable price for your vehicle.
Fast Transactions
Don't worry about paperwork, clean or salvage titles, and other issues. We will take care of everything at no extra fee.
Free Collection
We will schedule a convenient time for you to have our staff to pick up your junk RV anywhere in California and neighboring states.
Good, Quick Cash
We know how important it is to sell your junk RV fast, easy, safe, and with no hidden taxes. With us, you will have your money as fast as possible.
Frequently Asked Questions from People Looking to Sell Their Junk RVs in Indiana
Do you have questions about selling your junk RV in Indiana? Look at the answers below to find the information you need, and feel free to contact us if something sparks your interest!
Is it worth selling junk RVs in Indiana or just throwing them away?
While some salvage yards in Indianapolis or Fort Wayne may entertain buying junk RVs, their primary focus is cars. Although they might express interest in salvaging usable parts from your camper, their offers may be limited, and you might incur additional expenses like towing and labor fees.
Consider selling your worn-out RV to us for a smoother and more rewarding selling experience! Local salvage yards or consignment stores might not offer you the best value in Indiana. Still, HeyRV is committed to providing instant and substantial cash for your motorhome, no matter how old, weathered, flooded, totaled, delaminated, or wrecked it may be!
How do you junk an RV in Indiana without a title?
It's essential to follow the regulations outlined in Indiana, which mention that you need to have a title for your camper. If you don't have it, you'll need to pay a fee and fill out an Application for a Certificate of Title. Otherwise, you risk serious legal repercussions if you don't comply with Indiana's legal requirements.
But why go through all of that just for a junk RV? A heap of rusty scraps should not play you like that. Call us today, and we'll offer you cash for your junk RV anywhere in Indiana! Our hassle-free process will save you time and put cash in your pocket!
Sell My RV Fast, Easy, and Safe!
We buy all types of RVs at the best prices, regardless of their quality and condition. Everything can happen very quickly and without wasted time on your part.