We Buy Your Junk RVs in Kansas
Get top dollar for your old or junk motorhome in Topeka, Wichita, Kansas City, Overland Park, or Lawrence! Don't waste more time holding onto your dilapidated RV when you can turn it into instant cash in Kansas!
Selling a beat-up RV in the Sunflower State may present challenges, especially if it has endured the harsh conditions of Kansas weather. Many salvage yards, scrap yards, and vehicle disposal facilities in Kansas may offer meager amounts for your worn-out motorhome. 
Don't let your too-old-to-drive RV gather dust or rust in your backyard any longer!
We buy junk RVs in Kansas, offering you more money than any nearby scrap yards or auto salvage in Kansas City, New Cambria, Elwood, Salina, or Hays ever could. With us, you can count on a seamless and reliable transaction, ensuring you receive payment on the spot. Whether you prefer cash in hand, a convenient check, or even a hassle-free Venmo, we've got you covered!
Make an Appointment
Send us an email with your data
and we will contact you as soon as possible.
Our Business
We'll pay you at the time of pickup for a fast and secure transaction.
We'll have an offer for you in a matter of minutes.
Call Now!
Call or write us to organize
the details of the sale of your RV.
Junk RV buyer anywhere in Kansas
Get better prices and faster disposal than any other RV Junkyard in Kansas
Should you Junk or Sell
Your old RV in Kansas?
You might think that finding an auto junkyard in Kansas is as easy as spotting a sunflower in a field. Salvage yards and private dealers in Kansas tend to offer worthless sums for your broken motorhome, wind-worn trailer, or beat-down and non-functional camper. They might even expect you to pay for towing!
But fear not, fellow Jayhawkers, because we're here to change the game! We know that behind that peeling paint, creaking floors, blown-up engines, and crashed bodies lies treasure! That's why we go the extra mile to ensure you receive the best deal for your junk RV without the hassle or headaches.
Stop Waiting for Private Buyers & Sell Your Damaged RV in Kansas Now!
Selling a worn-out RV to a private buyer in Kansas can feel like trying to ride the Flint Hills Nature Trail on a unicycle: a wild adventure with slim chances of success. While Kansas offers endless possibilities for RV adventures, from exploring the Monument Rocks to venturing into the Old West in Dodge City, finding a seasoned RVer willing to buy your junk travel trailer is like talking about Kansas without mentioning Toto – close to impossible.
Put an end to the waiting game with random buyers or unreliable junkyards! We're here to offer instant cash for your junk RV in Kansas!
Whether you're dreaming of a generous sum to fuel your next RV adventure to the Tallgrass Prairie National Preserve, the vibrant landscapes of Wilson Lake, or the magnificent RV parks in Merriam or Leavenworth, it's time to transform your flooded, aged, crashed, totaled, or salvaged RV into a profitable endeavor.
Say goodbye to the hassle and hello to quick cash and free removal of your junk trailer in Kansas! We understand the value of your RV, even in its decrepit state. So, why wait? Contact us today, and let us turn your RV troubles into cash-filled smiles, bringing you closer to your Oz Museum adventures and beyond!
Your Junk Motorhome Has More Value Than What Kansas RV Junkyards Usually Pay!
Wichita is known for its used RV auctions and junkyards, but when paying for high-mileage, delaminated, ancient, flooded, burnt, or accident-totaled RVs, they scatter like prairie chickens.
In the Sunflower State, your old, beaten-up rig has little value to salvage yards, auto wreckers, recyclers, consignment stores, or secondhand dealers in Wichita, Topeka, or Kansas City, especially if it has experienced prairie fires or encountered one of Kansas's wild tornadoes. Don't waste your time, money, and energy creating ads, waiting for potential buyers, or dealing with the hassle of towing to a scrap yard!
For quick and generous cash, sell your outdated, severely damaged, waterlogged, or beyond-repair RV to us! We offer TOP DOLLAR for any junk RV in Kansas, right on the spot!
Give us a call or fill out the form on this page to get our competitive offer right now! If we agree on the price, we'll arrange your old camper's FREE REMOVAL at your convenience, anywhere in KANSAS.
What are you waiting for? Contact us right now!
What Paperwork Do You Need to Sell Your Junk RV in KANSAS?
When selling a junk RV in Kansas, you need certain information and paperwork to complete the transaction. Here's what you need to know.
The authorities assign a Kansas junk vehicle title to vehicles that are no longer operational, hold no value, and cannot be legally sold for use. Junk vehicles often suffer extensive damage beyond repair, leaving selling them to a junkyard as the only viable option.
As for old – but still usable RVs –, you need to mind some specific paperwork.
     

Bill of Sale

: In most cases, it is necessary when selling an old-age RV in Kansas. The state provides a standard form (TR-312), which you can use for convenience.

     

Transfer of Title

: Ownership should be transferred via the title for vehicles other than antique vehicles (at least 35 years old). Still, a bill of sale is required if the title does not list a price for a private party sale. If you sell an antique vehicle, a bill of sale alone may be sufficient for transferring ownership.

     

Release of Lien Form

(if applicable): If there is a lien on the RV, you will need a release of lien form (TR-42) from the lienholder. The lienholder's section on the form must be notarized. This step is necessary when titling a vehicle with a lien.
Remember to consult the Kansas Department of Revenue Division of Vehicles (KDRDV) for specific guidelines or updates on selling junk vehicles.
If you need assistance completing the essential paperwork for selling your junk RV to us in Kansas, rest assured that we're here to lend a helping hand once we finalize the transaction!
We Offer FREE Junk RV Removal Anywhere in KANSAS!
When you search for "Kansas free junk RV removal near me," you'll come across various options. There are junkyards ready to dismantle and tow away your worn-out or non-functional trailer, as well as companies offering demolition services, paid camper removal, and metal scrapping.
But here's the twist – these services won't bring you much cash. Sure, they'll remove your flooded motorhome from your backyard, but receiving a generous offer and enjoying free removal is a different ballgame.
Whether in Lawrence, Olathe, Emporia, or El Dorado, HeyRV is here to offer top prices for your crashed trailer and arrange free disposal! Contact us today for a free estimate on your damaged RV and experience swift, no-cost junk RV removal from your property or storage facility!
Like Dorothy, we will click our heels three times and be there, whether in Colby, Garden City, Little Sweden, or Chetopa. And don't worry; we won't surprise you with hidden fees or unexpected charges for commissions, labor, or other expenses. Our free junk motorhome hauling services are free, no matter where you are in Jayhawk State!
Sell Your Junk Trailer in Any Condition in KANSAS!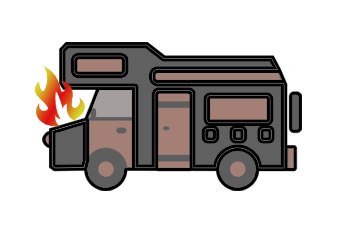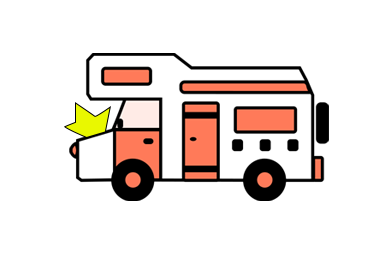 Suppose your RV has suffered more damage than a tumbleweed caught in a Kansas cyclone (and we all remember the 2012 fatal RV crash on Interstate 35 near Williamsburg). In that case, if it's 20 years or older or taking a permanent siesta, you won't be rolling in dough when selling it to regular buyers.
RV enthusiasts, auto auctions, and secondhand RV marketplaces rarely see the value in motorhomes with blown engines, bodies that have seen better days, titles salvaged like damsels in distress rescued by cowboys, or issues that make you feel like the Scarecrow – wishing for extra brains to fix them.
When you find yourself with a trailer that's seen more damage than the 1955 Udall Tornado caused, your best bet is to sell it to us. We pay cash for your junk RV in Kansas, whether it's an old-timer with stories to tell, a motorhome that's taken an unexpected dive into a river, a phoenix-like trailer that has risen from the ashes, or even your trusty steed that has conquered Interstate 70 for all these years. We'll take it all! And to sweeten the deal, we'll zip the payment to you via Venmo, Cash, or Check – take your pick!
You can have cash faster than you can say "Little House on the Prairie" by requesting a fair offer on your old, damaged clunker! So, don't waste another minute pondering the fate of your worn-out RV. Contact us now, and let's turn your Kansas RV misadventures into money!
Is My Old Motorhome Worth Anything in KANSAS?
Kansas is known for its unpredictable weather, causing billions in property damage yearly. The state falls within America's Tornado Alley and is prone to severe temperatures, hail, high winds, and tornadoes. The most dangerous time of the year is during spring and summer, particularly from late March to May. If you have a car or an RV damaged by the EF-1 tornado that struck Sharon Springs, KS, in April 2022, you know what we mean.
Simply junking your totaled RV is not ideal for your weather-damaged, broken, or old motorhome. Donating it or selling it to traditional junkyards may result in disappointing payouts. Factors like age, mileage, make, model, and extent of weather-related damage can significantly decrease its value, leaving you with an underwhelming offer.
But worry not! Your worn-out trailer still holds more value than what a typical junk or salvage yard might offer. Instead of waiting for potential private buyers like the world still waits for Amelia Earhart, why not consider selling it for cash now?
Don't let the current condition of your RV hold you back. Sell your old, totaled, or broken trailer for cash today!
First Step
Find out how much money you can make for your crashed/unusable motorhome by filling out the form on this page.
Second Step
Once we shake on the deal, you receive your quick cash by bank transfer.
Third Step
We send our people to your place to remove the old camper for free.
We come with our own towing equipment and technicians and handle all the paperwork!
How Do You Sell a Salvage or Rebuilt Title RV in Kansas?
As you can guess, the issue is complex. When dealing with a salvaged motorhome in Kansas, your options depend on whether the insurance company or yourself retains vehicle ownership.
Suppose the insurance company owns the trailer after filing a total loss claim and accepting a full total loss settlement. You can sign the salvaged RV to the insurance company in that case. They will pay you the damages and take control of the vehicle, making it their responsibility.
If you retain ownership of the salvaged vehicle as part of a partial settlement, you have a few options:
     

If the vehicle is beyond repair, you can apply for a non-repairable certificate and sell it for parts. However, you cannot sell your junk RV as a whole unit; it must be dismantled.

     

If you can repair the vehicle, you can apply for a salvage title. You can get a rebuilt title after obtaining the salvage title, repairing the vehicle, and meeting the necessary requirements. You then have the choice to keep the RV for yourself or sell it.
After successfully repairing your damaged RV and completing a vehicle inspection, you will receive an MVE-1 Motor Vehicle Inspection Form and a rebuilt salvage decal. This form is crucial for the next step in the process. You can now apply to your county treasurer's motor vehicle office for your rebuilt salvage title.
In Kansas, a non-repairable vehicle means it is damaged beyond repair and only has value for parts and scrap. You can apply for a non-repairable vehicle certificate, meaning the vehicle will no longer be eligible for a car title or registration in any state and cannot be sold as a whole unit. This is a permanent designation.
It's important to follow the procedures and requirements outlined by the Kansas Department of Revenue when dealing with salvaged/rebuilt vehicles.
Should you choose is to buy your junk RV for cash in Kansas, we will handle the paperwork and ensure an easy transaction!
We Buy All Junk RVs for the Maximum Price
Don't waste time listing your junk RV with dealers, brokers, ad sites, or auctions. Selling a used RV through traditional methods can take months, while your vehicle rusts and loses value. As a reputable RV buyer, we guarantee the best price for:
Junk/wrecked/damaged RVs you want to get rid of fast
Old and unwanted RVs (running or not) you want to sell for cas
Total loss RVs, crashed camper, totaled fifth wheel, etc.
Any other used travel trailer, used pop up camper or used toy hauler you have for sale
Give us all the details regarding your unwanted or damaged vehicle so we can return to you with a valid offer.
Why Choose Us to Buy
Your Junk RV?
When it comes to RVs for sale, we are a market leader with a solid reputation in offering the highest prices for scrap, unwanted, old, unusable, wrecked, or totaled RVs. Here is why you should work with us if you want to get rid of your vehicle fast!
Real-Market Appraisals
Even if your RV is totaled, unusable, old, or simply unwanted, you can still get good money for it. Fill out the form or contact us for details, and we will give you an unmatchable price for your vehicle.
Fast Transactions
Don't worry about paperwork, clean or salvage titles, and other issues. We will take care of everything at no extra fee.
Free Collection
We will schedule a convenient time for you to have our staff to pick up your junk RV anywhere in California and neighboring states.
Good, Quick Cash
We know how important it is to sell your junk RV fast, easy, safe, and with no hidden taxes. With us, you will have your money as fast as possible.
Frequently Asked Questions from People Looking to Sell Their Junk RVs in KANSAS
Do you still have questions regarding selling your junk RV to us for good, fast cash? Check out the answers below! If you still don't find the information you're looking for, don't hesitate to contact us!
How much can you get for scrapping a camper in Kansas?
Considering that steel, tin, nickel, and copper yield reasonable prices per pound in most Kansas scrapyards, you could make some money. However, you need to go through some bureaucracy. Kansas scrapyards require you to prove ownership and documents, a copy of your driver's license, and your fingerprints – which they can keep for a few years.
So if you don't need this hassle and don't want to get a few bucks for scrap metal, why don't you sell your junk RV to us? We pay cash for your broken motorhome on the spot and help you with the paperwork too!
Where is the best place to sell a junk motorhome in Kansas?
You have two options for removing a junk travel trailer in the Sunflower State. Firstly, you can bring your vehicle to a local junkyard in Kansas – the best ones are in Kansas City, Wichita, and Topeka. Alternatively, you can arrange for your junk camper to be towed to a junkyard in the state. Whichever method you select, ensure you have all the required paperwork and be prepared to pay for any applicable fees associated with the junking process.
On the other hand, we buy junk RVs anywhere in Kansas, and you don't have to pay for anything. Sit back, enjoy your Pizza Hut and Moose Bowl, and let us take care of everything, from BUYING your junk motorhome for TOP DOLLAR to TOWING it away FOR FREE!
Sell My RV Fast, Easy, and Safe!
We buy all types of RVs at the best prices, regardless of their quality and condition. Everything can happen very quickly and without wasted time on your part.