We Buy Your Junk RVs in Utah
Get quick cash for your old or junk motorhome in Salt Lake City, Provo, Ogden, St. George, or Moab! Don't wait any longer to turn your rust-ridden, unusable RV into instant money in Utah!
Selling a trash RV in Utah can pose challenges, especially if it has been subjected to extreme temperatures, rugged terrains, or frequent exposure to the elements in Parowan, Hanksville, or Park City. Many of Utah's salvage yards, scrap yards, and vehicle disposal facilities might offer mere pocket change for your worn-out motorhome. 
Don't underestimate the value of your old trailer just yet!
We buy your junk RV in Utah for more money than any nearby scrap yards or auto salvage locations in Aurora, Cedar City, or Sigurd, UT, could ever offer. We guarantee a seamless and reliable transaction process, ensuring you promptly receive on-the-spot cash, a convenient check, or even a hassle-free Venmo payment for your valuable motorhome or travel trailer!
Make an Appointment
Send us an email with your data
and we will contact you as soon as possible.
Our Business
We'll pay you at the time of pickup for a fast and secure transaction.
We'll have an offer for you in a matter of minutes.
Call Now!
Call or write us to organize
the details of the sale of your RV.
Junk RV buyer anywhere in Utah
Get better prices and faster disposal than any other RV Junkyard in Utah
Should you Junk or Sell
Your Junk RV in Utah?
You could assume that finding an auto junkyard in Utah is as easy as seeing a daredevil on the Moab, but auto wreckers and recyclers to pay good cash for your junk trailer are as few as the Rocky Mountain elk. 
Salvage yards and private dealers in Utah offer meager sums for your delaminated motorhome, sand-damaged trailer, or worn-out, used, or inoperable RV. To make matters worse, they might even expect you to cover the costs of towing your junk vehicle!
Stop Waiting for Private Buyers & Get Cash for Your Junk RV in Utah Now!
Selling an ancient RV to a private buyer in Utah can feel like riding the Portal Trail or Hell's Revenge on a skateboard: no chance you'll get out of the experience in one piece.
RVers go annualy to the Bryce Canyon National Park or Monument Valley, but seasoned campers wont't buy your junk camper just for the fun of it. After all, who wants to make the Mighty 5 road trip in a death box? Adding insult to injury, you're stuck footing the bill for storage while you wait indefinitely for someone to take your heap of rubbish off your property.
Put an end to waiting on random buyers or unreliable junkyards to offer you the right price for your broken-down motorhome! We pay instant cash for junk RVs in Utah!
Whether you're yearning for a substantial sum to fund your next adventure to the Dinosaur National Monument, Arches National Park, the Bonneville Salt Flats, or even a pilgrimage to the Zion National Park, it's time to turn your flooded, old, crashed, totaled, or salvaged RV into a profit.
Instant cash and free junk trailer removal in Utah with no hassle!
Your Junk Trailer Has More Value Than What Utah RV Junkyards Usually Pay!
In the Beehive State, your old, broken rig holds little value for salvage yards, auto wreckers, recyclers, consignment stores, or secondhand dealers you can find in Salt Lake City, Hurricane, or St. George, especially if it endured flooding, fire damage, or a catastrophic accident. Save yourself the time, expenses, and hassle of crafting ads, waiting for potential buyers, or paying for towing to a scrap yard!
For fast and big cash, sell your outdated, severely damaged, flooded, or irreparable RV to us! We pay for any kind of junk RV in Utah on the spot!
Our team will offer a fair estimate and TOP DOLLAR once we agree on the terms, ensuring a fast and secure transaction. Selling a totaled, salvaged, rusted-out, non-operational RV in Utah for a handsome profit has never been more convenient!
Give us a call or fill out the form on this page to get our competitive offer right now! If we agree on the price, we'll arrange your old camper's FREE REMOVAL at your convenience, anywhere in Utah. 
What are you waiting for? Contact us right now!
What Paperwork Do You Need to Sell Your Junk RV in Utah?
The vehicle title is a crucial document proving your RV ownership. You must transfer the title to the buyer's name upon sale. Ensure you have the original title in your name or the required legal authorization to sell the vehicle.
Moreover, a bill of sale is recommended, as it serves as a legal transaction record. It includes important details such as the buyer and seller's information, the RV's description, the purchase price, and the date of the sale. A bill of sale helps protect both parties and can be beneficial in case of any future disputes.
Another thing to consider is the odometer disclosure. Federal law mandates accurate vehicle mileage disclosure if your RV is under ten years old. Check UT Code § 41-1a-902 (2020) to understand Utah's requirements.
Lastly, completing a release of liability form is advisable, notifying the Utah Division of Motor Vehicles that you are no longer responsible for the RV once it's sold. This document helps protect you from any liabilities or issues associated with the vehicle after the sale.
If you need help completing the paperwork for selling your junk RV to us in Utah, we'll gladly assist you once we shake hands on the transaction!
We Offer FREE Junk RV Removal Anywhere in UTAH!
Searching for "Utah free junk motorhome removal near me" will yield numerous results. You'll find plenty of options, from junkyards willing to dismantle and haul away your broken or inoperable trailer to companies offering demolition services, free camper removal, and scrapping.
But here's the catch – these services won't bring you any cash. Removing your flooded motorhome from your backyard is one thing, but getting a top-dollar offer and then enjoying free removal is a different story altogether.
Whether in Escalante, Saratoga Springs, Trout Creek, or Helper, Utah, HeyRV offers a great price for your clunker and arrange free disposal! 
Call us now for a free estimate on your damaged RV and enjoy a swift, free junk RV removal from your property or storage facility! Towing won't be a problem for us in Utah, either! And rest assured, we won't spring any surprises or hidden fees on you regarding commissions, labor charges, or other costs. Our free junk motorhome hauling services are free, no matter where you are in the Beehive State!
Sell Your Junk Trailer in ANY Condition in UTAH!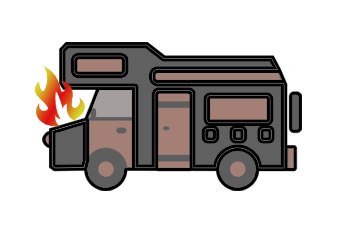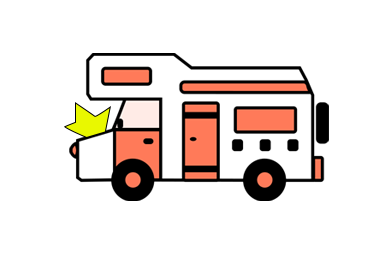 If your RV has suffered severe damage in an accident (and Utah is known for its collisions due to speed), is over 20 years old, or is simply inoperable, it's unlikely that you'll fetch the expected price from regular buyers. RV enthusiasts, auto auctions, and secondhand RV marketplaces seldom offer premium rates for motorhomes with blown engines, totaled bodies, salvaged titles, or irreparable electrical or mechanical issues.
When you find yourself with a trailer beyond repair, your optimal choice is to sell it to us. We pay cash for junk RVs in Utah, including old, dilapidated motorhomes, burnt campers, flooded toy haulers, salvaged and rebuilt RVs, and yes, even that hard-ridden RV of yours that never missed the annual Rally on the Rocks contest in the past decade. It's all good for us! Moreover, we offer swift payments via Venmo, Cash, or Check.
Most RV recycling or salvage yards won't provide substantial compensation for your junk RV in West Valley City, Draper, or Providence. But fear not! WE put cash in your pocket quicker than you can say "Roseanne Barr" by immediately reaching out to us for a fair offer on your old trailer!
And here's the cherry on top – you'll also enjoy free removal services!
Is My Old Motorhome Worth Anything in UTAH?
Natural disasters pose significant challenges to Utah, with earthquakes, flooding, storms, and wildfires being the most prevalent. Over the past years, Utah residents have also faced risks associated with landslides, windstorms, etc. The state is not immune to the forces of nature.
Utah's diverse landscapes, including the iconic Moab and the National Parks, are not spared from the impact of these catastrophes – and usually, the most vulnerable victims are the ones traveling the wilderness in their RVs and campers to take in the dramatic scenery and reach the exhilarating Fiery Furnace or the legendary Moab Utah Camping & Glamping Resort.
When it comes to your damaged motorhome, whether from water, fire, collisions, or earthquakes, junking it might not be the most desirable option. Donating it to the state or selling it to junkyards often results in disappointing payouts. Factors such as age, mileage, make, model, and the extent of weather-related damage can significantly decrease the value, leaving you with a less-than-ideal offer.
Your deteriorated trailer still holds more value than what a typical junk or salvage yard may offer you. Instead of waiting for potential private buyers who may undervalue your RV's condition, consider selling it for cash now and focus on exploring Utah's magnificent landscapes. Get our money to buy a new RV and journey to the Bowery Haven Resort and the enchanting Lagoon RV Park & Campground, or embark on the adventure of a lifetime in Grand Junction.
So, don't let your RV's condition hold you back. Sell your old, totaled, or broken trailer for cash today and embrace the possibilities of a new and exciting RV journey in Utah!
First Step
Find out how much money you can make for your crashed/unusable motorhome by filling out the form on this page.
Second Step
Once we shake on the deal, you receive your quick cash by bank transfer.
Third Step
We send our people to your place to remove the old camper for free.
We come with our own towing equipment and technicians and handle all the paperwork!
How Do You Sell a Salvage or Rebuilt Title RV in UTAH?
You must follow a specific process to sell a salvage or rebuilt title RV in Utah. Here are a few pointers:
Gather all the necessary paperwork, including your RV's salvage or rebuilt title, vehicle history report, and repair records, and ensure you have a valid proof of ownership. You should also schedule a thorough RV inspection by a certified mechanic. Ask the Utah Division of Motor Vehicles (DMV) for help.
Remember that your RV must undergo a rebuilt inspection if it has a rebuilt title. Contact the Utah DMV to schedule an appointment. During the inspection, they will verify that all necessary repairs have been made and the vehicle is safe for operation.
If you get someone to buy a junk RV in Utah from you, the Utah DMV Notification is next in line. You must tell the DMV about selling the salvage or rebuilt title RV. Submit the necessary documents and update the vehicle's status. Then, you must transfer the title to the new owner and provide them with all relevant documents.
Last but not least, you usually must complete a release of liability form, notifying the Utah DMV that you are no longer responsible for the vehicle.
Forget all that! HeyRV buys your junk RV in Utah for instant cash and offers support with the paperwork! In other words, come to us for top dollar for your rebuilt/salvage title RV, and the paperwork will go smoothly.
We Buy All Junk RVs for the Maximum Price
Don't waste time listing your junk RV with dealers, brokers, ad sites, or auctions. Selling a used RV through traditional methods can take months, while your vehicle rusts and loses value. As a reputable RV buyer, we guarantee the best price for:
Junk/wrecked/damaged RVs you want to get rid of fast
Old and unwanted RVs (running or not) you want to sell for cas
Total loss RVs, crashed camper, totaled fifth wheel, etc.
Any other used travel trailer, used pop up camper or used toy hauler you have for sale
Give us all the details regarding your unwanted or damaged vehicle so we can return to you with a valid offer.
Why Choose Us to Buy
Your Junk RV?
When it comes to RVs for sale, we are a market leader with a solid reputation in offering the highest prices for scrap, unwanted, old, unusable, wrecked, or totaled RVs. Here is why you should work with us if you want to get rid of your vehicle fast!
Real-Market Appraisals
Even if your RV is totaled, unusable, old, or simply unwanted, you can still get good money for it. Fill out the form or contact us for details, and we will give you an unmatchable price for your vehicle.
Fast Transactions
Don't worry about paperwork, clean or salvage titles, and other issues. We will take care of everything at no extra fee.
Free Collection
We will schedule a convenient time for you to have our staff to pick up your junk RV anywhere in California and neighboring states.
Good, Quick Cash
We know how important it is to sell your junk RV fast, easy, safe, and with no hidden taxes. With us, you will have your money as fast as possible.
Frequently Asked Questions from People Looking to Sell Their Junk RVs in UTAH
Do you still have questions regarding selling your junk RV in Utah to us for good, fast cash? Check out the answers below! If you still don't find the information you want, don't hesitate to contact us!
Who buys junk RVs in Utah?
Selling a used RV in Utah is straightforward, especially when it's still usable. You can rely on reputable Salt Lake City or Provo dealers who offer fair prices for your second-hand RV or its usable parts.
However, finding a buyer becomes more challenging regarding severely damaged trailers, including those involved in accidents, floods, or fires. Like many non-operational vehicles, these RVs often end up in junkyards or landfills – while you make no money!
We're here to offer you a better solution. We buy junk RVs in Utah and provide instant cash for your broken motorhome. Our prices surpass what private buyers or auction websites typically offer. With us, you can sell your damaged/high-mileage motorhome quickly and hassle-free.
Call us today to discover more about our services and how we can assist you in turning your unusable RV into cash!
How do I junk my old RV in Utah?
Contact local junkyards, scrap yards, or RV salvage companies to junk your old RV in Utah. They will assess the vehicle's value, arrange for pick-up or towing, and provide compensation based on its condition and market value.
There are two issues here: one, junkyards will most likely pay a fraction of your trailer's real value, and two, you will most likely have to pay a towing service if your motorhome is too broken to drive to the nearest junkyard in Salt Lake City or Bluffdale.
For this reason, the best way to junk your old or damaged RV in Utah is with us. We buy your broken motorhome for good cash on the spot and spare you the trouble of finding private buyers, getting old dealing with the DMV, paying extra for your pile of rust's storage, or footing the bill for towing.
Sell your junk RV in Utah with us and be on your way with top dollar in your pocket in the search for your next travel trailer!
Sell My RV Fast, Easy, and Safe!
We buy all types of RVs at the best prices, regardless of their quality and condition. Everything can happen very quickly and without wasted time on your part.