We Buy Your Junk RVs in Wyoming
Make instant cash for your junk or salvage RV in cities across Wyoming like Cheyenne, Casper, Laramie, and Jackson. We buy junk RVs in any condition and handle all the paperwork and free junk removal for you.
Selling a used RV in Wyoming can be difficult, particularly if it is broken, old, or deteriorated. Most of Wyoming's salvage yards, scrap yards, and vehicle disposal facilities will offer petty cash for your beaten-down motorhome. However, your junk trailer may be more valuable than you think!
Let us help you with that.
With decades of experience, we make selling your junk RV in Wyoming quick and easy. Here's how it works:
Tell us about your RV

Get a cash offer

Schedule your free junk removal
We handle all the paperwork for you and there are never any hidden fees. Get your cash fast without the hassle.
We serve all of Wyoming. Contact us today to get a cash offer on your damaged, old, unusable or torn-apart RV!
Make an Appointment
Send us an email with your data
and we will contact you as soon as possible.
Our Business
We'll pay you at the time of pickup for a fast and secure transaction.
We'll have an offer for you in a matter of minutes.
Call Now!
Call or write us to organize
the details of the sale of your RV.
Junk RV buyer anywhere in
Wyoming
Get better prices and faster disposal than any other RV Junkyard in
Wyoming
Should You Junk or Sell Your Old RV in Wyoming?
If you have an aging RV taking up space in Wyoming, you may be wondering if you should junk it or try to sell it. With a junk RV, your options are limited. Scrap yards and salvage companies will take it off your hands for cheap, but they won't pay much since they just want it for parts. Trying to sell an old RV yourself in Wyoming can also be tough. 
There isn't as big of a market for used RVs here compared to other states. You'll have to rely on classified ads or RV trader sites and hope someone makes an offer. Even then, RVs don't sell quickly and you may be waiting months with no serious buyers.
Whether your RV is sitting in Cody, Gillette, Rawlins, or anywhere in WY, we make it easy to get cash for your old recreational vehicle. Our Wyoming RV buying experts will make sure you maximize your payout. Contact us today to get a no-obligation cash offer on your old RV!
Stop Waiting for Private Buyers & Sell Your Damaged RV in Wyoming Now!
Do you have an old, unusable, or damaged RV taking up space in Wyoming? Don't waste time trying to sell it yourself. We buy all types of junk and salvage RVs including:
Non-running RVs

Wrecked RVs

RVs with water damage

RVs with salvage or rebuilt titles

Old RVs

RVs with blown engines
Get a cash offer from us in minutes and we'll take care of the free junk removal. We can pick up your RV anywhere in Wyoming, from Cheyenne to Jackson.
Bid farewell to the underwhelming proposals from private buyers in Casper, Gillette, Laramie or Bar Nunn. They won't recognize the genuine worth of your dilapidated trailer, especially if it's faced the challenges of Wyoming's unpredictable weather or a notable accident. 
Why squander your time searching for a private buyer who might overlook the real value hidden beneath the wear and tear? HeyRV is your solution! We recognize the true worth of every motorhome, and we're eager to present you with a just offer, free from complications.
Moreover, there are plenty of RV scammers and hustlers out there. Do you want to deal with them or engage in a FAST and SECURE transaction with a reputable junk RV buyer in Wyoming? 
Contact us today!
Your Junk Trailer Has More Value Than What Wyoming RV Junkyards Usually Pay!
Your damaged rig isn't worth much for salvage yards, auto wreckers, recyclers, consignment stores, or secondhand dealers anywhere in Wyoming, especially if it was flooded, burned, or totaled in an accident. So skip the time, costs, and effort of composing ads, waiting for private buyers, or paying for towing to the scrap yard!
For fast, profitable cash, sell your outdated, severely damaged, flooded, or irreparable RV to us!
Our appraisers will provide you with a fair, cost-free estimate after we agree on the terms, and we'll complete the transaction quickly and securely.
Selling a totaled, salvaged, rusted-out, non-operational RV in Wyoming for a profit has never been easier!
Give us a call or fill out the form on this page to get our competitive offer right now! If we agree on the price, we'll arrange your old camper's FREE REMOVAL at your convenience, anywhere in Iowa. 
What are you waiting for? Contact us right now!
What Paperwork Do You Need to Sell Your Junk RV in Wyoming?
Here is an overview of the paperwork needed to sell a junk RV in Wyoming:
Title

– You need a clear title in your name to sell the RV. Any liens must be paid off first.

Bill of Sale

– Complete a bill of sale listing the sale price, condition of the RV, and mileage. Both buyer and seller should sign it.

Release of Interest

– The owner needs to complete a Release of Interest form to transfer ownership. This gets submitted along with the title.

Salvage Title

– If the RV is deemed salvage, you'll need to apply for a Salvage Title from the WYDOT before selling it.

Junk Certificate

– For a true junk RV, you may need to apply for a Junk Certificate or Certificate of Destruction from the

WYDOT

.

ID

– Have a valid government-issued photo ID handy when signing over the title.

Insurance

– Cancel your insurance policy on the RV as soon as it's sold.

Taxes

– You may need to pay any applicable sales taxes on the RV sale.

Odometer Disclosure

– Required on the title for RVs under 10 years old.
The good news is if you sell your junk RV to us, we handle all the transfer paperwork for you! Just have your title ready and we'll take care of the rest to get your RV sold fast and legally. Contact us today to get started!
We Offer FREE Junk RV Removal Anywhere in WYOMING!
Search results for "Wyoming free junk motorhome removal near me" are many. Plenty of junkyards will be happy to dismantle and haul away your broken or undrivable trailer for you, offering everything from demolition services to free camper removal and disposal.
However, using these services won't bring in any cash. Having your flooded motorhome removed is one thing; having it purchased for top dollar and then removed for free is quite another.
Whether you reside in Riverton, Laramie, or Rock Springs, Wyoming, HeyRV will give you a good price for your clunker and then arrange for free disposal!
Call us now for a free estimate on your damaged RV and a speedy, free junk RV removal from your property or storage facility! Free towing in Wyoming is no problem for us! 
And when it comes to commissions, labor fees, and other costs, we promise there will be no catches or fine print to worry about! Our free junk motorhome hauling services are truly free anywhere in the Cowboy State!
If you've got an unrepairable RV, your best option is to sell your damaged motorhome to us if it is broken beyond repair. In Wyoming, we buy any type of junk RV, including old, beaten-down trailers, burned motorhomes, storm- and water-damaged travel trailers, salvaged and rebuilt RVs, etc. We will accept it as is! We pay quickly by Check, Cash, or Venmo.
Sell Your Junk Trailer in ANY Condition in Wyoming!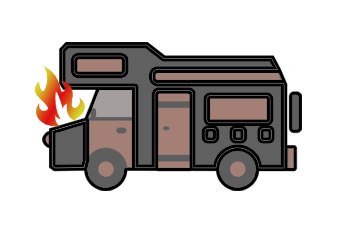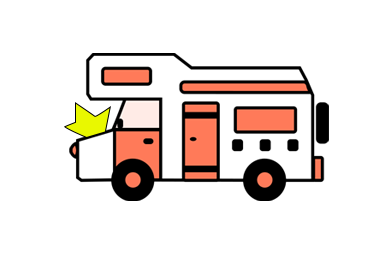 When we say we will give you cash for your junk RV in ANY condition, we really mean it! No matter what it looks like, whether it runs or not, and no matter what the reason is you want to get it off your hands, we will take it, pay you, and haul it away for free. 
Here are some reasons you may want to get rid of your junk RV in Wyoming: 
Your RV was damaged by fire during 2002's wildfires in Jackson Hole, Alta, or Pinedale.

Your camper is old, it needs major repairs, and it's not worth the money to fix it. 

The average cost of RV storage in Wyoming is $165.00 per month, which you are throwing away because you aren't using it.

You are racking up fines. According to the

City of Laramie Municipal Code 10.36.330

, you can only park your RV adjacent to your own property, and you can only have one RV parked in the street.

Your spouse is threatening to take the dog and leave forever if you don't get rid of the junk RVs that are littering your property.

You are risking being cited for living in your recreational vehicle illegally. According to the

City of Casper Municipal Code 17.104.170

, you can only live in your RV for five days – even if it's on private property! 

Your recreational vehicle was damaged in one of the many floods that hit Wyoming in 2023.

You have finally come to terms with the fact that you are never going to restore that junk RV you brought as a project. 
If any of these scenarios sounds familiar, it's time to reach out to HeyRV. When it comes to junk motor homes, your problems don't have to be problems for you anymore, because we are the junk RV problem-solvers!
Is My Old Motorhome Worth Anything in Wyoming?
Unfortunately, wildfires like the recent fire in Bar Nunn are the bane of Wyoming's RV owners, often causing major damage. A severe winter can also be your RV's worst enemy in Wyoming.
The least desirable option is to junk a hail-damaged motorhome or one damaged by Wyoming winters. Junkyards or salvage facilities will buy it from you, but they won't pay much – if anything. The scrap RV market subtracts value fast based on age, make, model and extent of damage.
Even though your busted RV isn't worth what you paid, it's likely worth more than Wyoming scrap yards will pay.
And waiting for a private buyer to inspect warped siding or damaged systems is pointless. After legal disclosures, their offer probably won't justify your time and ad costs.
If you're planning a stay at a WY RV park, sell your weather-beaten rig to us for cash. Enjoy your trip in a new RV!
First Step
Find out how much money you can make for your crashed/unusable motorhome by filling out the form on this page.
Second Step
Once we shake on the deal, you receive your quick cash by bank transfer.
Third Step
We send our people to your place to remove the old camper for free.
We come with our own towing equipment and technicians and handle all the paperwork!
How Do You Sell a Salvage or Rebuilt Title RV in Wyoming?
Wyoming has strict rules on salvage vehicle ownership and sales. Here's what RV owners need to know:
In Wyoming, an RV is considered salvage if insurance paid out for theft/damage or repairs would cost 80% of value.

With uninsured salvage RVs, owners must submit the title to the WYDOT for a Salvage Certificate within 72 hours of the incident.

The insurer takes custody and auctions wrecked RVs for parts or repair. Uninsured owners can apply for a Salvage Title online.

Repairable RVs must pass WY DOT inspection before being reregistered as "rebuilt."

For true junk RVs, a

Junk Certificate

or Destruction Title may be required.
Selling a salvaged RV in Wyoming involves paperwork hurdles. Let us buy your junk or salvage RV instead – we handle all the title transfer hassle-free!
We Buy All Junk RVs for the Maximum Price
Don't waste time listing your junk RV with dealers, brokers, ad sites, or auctions. Selling a used RV through traditional methods can take months, while your vehicle rusts and loses value. As a reputable RV buyer, we guarantee the best price for:
Junk/wrecked/damaged RVs you want to get rid of fast
Old and unwanted RVs (running or not) you want to sell for cas
Total loss RVs, crashed camper, totaled fifth wheel, etc.
Any other used travel trailer, used pop up camper or used toy hauler you have for sale
Give us all the details regarding your unwanted or damaged vehicle so we can return to you with a valid offer.
Why Choose Us to Buy
Your Junk RV?
When it comes to RVs for sale, we are a market leader with a solid reputation in offering the highest prices for scrap, unwanted, old, unusable, wrecked, or totaled RVs. Here is why you should work with us if you want to get rid of your vehicle fast!
Real-Market Appraisals
Even if your RV is totaled, unusable, old, or simply unwanted, you can still get good money for it. Fill out the form or contact us for details, and we will give you an unmatchable price for your vehicle.
Fast Transactions
Don't worry about paperwork, clean or salvage titles, and other issues. We will take care of everything at no extra fee.
Free Collection
We will schedule a convenient time for you to have our staff to pick up your junk RV anywhere in California and neighboring states.
Good, Quick Cash
We know how important it is to sell your junk RV fast, easy, safe, and with no hidden taxes. With us, you will have your money as fast as possible.
Frequently Asked Questions from People Looking to Sell Their Junk Trailers and Motorhomes in Wyoming
Do you still have questions regarding selling your junk camper in Wyoming to us for good, fast cash? Check out the answers below! And feel free to reach out if you need any clarification!
Who buys Junk RVs in Wyoming?
There are a few options for selling a junk RV in Wyoming:
Salvage Yards

– Wyoming salvage yards will buy junk RVs but they typically offer very lowball offers, often just a few hundred dollars. They see the RVs as scrap metal and parts.

RV Dealers

– Some RV dealers in Wyoming may be interested in buying your junk RV if it has good parts they can salvage and resell. But you'd need to find one willing to make an offer.

Online Listings

– You can try selling a junk RV yourself through Craigslist, Facebook Marketplace, etc. But this takes time and you'll need to handle advertising and negotiations.

Junk RV Buyers

– Specialty junk RV buyers like us are your best option in Wyoming. We buy all types of junk, used and salvage RVs across the state. We make fair cash offers based on real market value, not just scrap value. And we handle the hassle of junk removal.
We've bought all types of RVs across Wyoming. Get in touch today to get our cash offer for your junk RV!
Why Choose Us to Buy Your Junk RV in Wyoming?
Here are some reasons why you should sell your junk travel trailer to us in Wyoming instead of waiting for private buyers or getting a ridiculous price from junkyards:
Top-dollar pricing

: We research current market rates to make competitive offers, even for damaged or scrap RVs. Get more than Wyoming junkyards pay.

No-hassle process

: Avoid DMV headaches. We handle all junk RV title transfers, paperwork, fees so you don't have to.

Quick pick-up

: We dispatch our crew for prompt junk RV removal across Wyoming at no charge to you.
Fast payment: Get your payout via cash, check, or wire usually within a day of pickup. We move quickly and give fair offers.
What is the difference between salvage and rebuilt titles for RVs in Wyoming?
A salvage title shows an RV sustained major damage but can be repaired, while a rebuilt title indicates repairs have been made and the RV is roadworthy again. Both titles must go through WY DOT inspection processes. Here are some more details that explain the differences:
Salvage Title:
Issued when an RV is damaged and declared a total loss by an insurance company, or repair costs exceed the RV's value

Indicates the RV has sustained significant damage but can be repaired and put back on the road

RV must pass a specially appointed inspection to ensure road worthiness before being retitled
Rebuilt Title:
Issued after a salvaged RV has been restored to roadworthy condition and passes inspection

Indicates the RV has been rebuilt after being severely damaged or declared a total loss

Rebuilt RVs can be legally driven but tend to have lower resale value due to their history

Rebuilt title replaces the salvage title after repairs to show the RV is now deemed road legal
Is wildfire damage covered by Wyoming's RV insurance policies?
Wildfire damage is typically covered by standard RV insurance policies in Wyoming, but there are some important details to be aware of:
Most Wyoming RV insurance policies cover both partial and total losses from wildfire damage. This includes the RV itself and any personal belongings inside.

Coverage amounts vary by policy but many provide replacement cost coverage for both the RV and personal items. Actual cash value coverage is less desirable.

Standard deductibles apply just like other covered peril claims. Expect to pay your policy's defined deductible amount.

Smoke damage specifically may or may not be covered, depending on your insurer's policies. Read your policy details closely.

Filing claims quickly and providing detailed damage documentation is important for getting claims approved.

Policies may not cover RVs being stored on public lands during wildfires. Check with your agent.

After a major wildfire, insurers may change underwriting practices for renewals in affected high-risk areas.
So in summary, wildfire damage is covered much like any other hazard, but nuances apply. Check your specific policy wording or speak to an agent to fully understand your coverage.
Sell My RV Fast, Easy, and Safe!
We buy all types of RVs at the best prices, regardless of their quality and condition. Everything can happen very quickly and without wasted time on your part.