We Buy Your Junk RVs in Washington
Get top dollar instantly for your old motorhome or junk RV, regardless of your location in Seattle, Olympia, Spokane, Bickleton, or Aberdeen!

Selling a used RV in Washington State can prove daunting, especially if it's old, inoperable, damaged in an accident, or delaminated. Salvage yards and junkyards usually offer petty cash for a used or deteriorated trailer. However, your wreck of a motorhome is worth more than you think.
That's where we come in!
We pay cash for junk RVs and offer more than any other auto wrecker in Graham, Poulsbo, or Des Moines, WA. We guarantee FAST, SECURE, and PROFITABLE transactions so you receive instant cash, check, or Venmo payment for your junk motorhome or travel trailer!
Make an Appointment
Send us an email with your data
and we will contact you as soon as possible.
Our Business
We'll pay you at the time of pickup for a fast and secure transaction.
We'll have an offer for you in a matter of minutes.
Call Now!
Call or write us to organize
the details of the sale of your RV.
Junk Trailer Buyer Anywhere in Washington
Get better prices and faster disposal than any other RV Junkyard in Washington
Should you Junk or Sell
Your old RV in Washington?
With over 100 parks and 70 campgrounds, all RVers can explore Evergreen State without boredom. So it would make sense to find plenty of junkyards willing to pay you good money for your dilapidated motorhome, right?
Well, Washington is the home of many scrap yards and auto dismantlers. Still, a quick online search on "who buys junk RVs in Washington State" will soon reveal that salvage yards and private dealers don't pay much, if anything, for your rust-ridden trailer, flooded motorhome, or undrivable toy hauler. Moreover, they may request you cover the cost of towing the junk RV!
Stop Waiting for Private Buyers & Sell Your Clunker Now!
Selling a junk RV to a private buyer in Washington can feel like trying to sell a tree from the Ginkgo Petrified Forest – it might have been impressive at one point, but now it's just a big, heavy, useless thing that people admire and move along. Add this to the fact that you must keep paying for your wreck's storage while waiting indefinitely for someone to take your pile of trash off your property.
Stop waiting for random buyers or junkyards to give you the right price for your broken motorhome! We pay cash for junk RVs in Washington on the spot! 
Whether you need a big amount to purchase a new RV for your next trip to the Olympic National Park, Hoh Rain Forest, the Lavender Capital of North America, or Seattle's Space Needle, you must make a profit out of your water-damaged, old, crashed, totaled, or salvaged RV. And we've got you covered!
We Pay Fast Cash and Provide Free Junk RV removal anywhere in Washington State!
Your Beat-Down Trailer Has More Value Than What Washington RV Junkyards Usually Pay!
Suppose your damaged RV has been affected by water, fire, age, mileage, or an accident. In that case, you won't fetch a high value from salvage yards, auto wreckers, recyclers, or secondhand part dealers in Spanaway, Chehalis, Lakewood, or Enumclaw – even if you tow your junk motorhome there.
Rather than wasting time and money waiting for private buyers, or paying for transportation to a junkyard across the state, sell your lifeless, severely damaged, or irreparable RV to us for a quick and profitable cash transaction!
We'll offer a free estimate and instantly pay for your junk motorhome in Washington. With us, selling a totaled, salvaged, rusted-out, or non-operational RV in the Evergreen State has never been easier!
What Paperwork Do You Need to Sell Your Junk RV in Washington?
In Washington, for a vehicle to be considered "junk," it must satisfy three of the following criteria:
It should be at least three years old.

It should be non-functional.

It should have considerable damage.

Its fair market value should be equivalent to the estimated scrap value of the vehicle.
Moreover, if a junk or salvaged motorhome has been repaired, a certified inspection will be required before it can be re-registered with Washington State. All other regulations related to vehicle sales and titles will remain in effect.
For example, if you live in King County (except Seattle) and want to remove your junk motorhome from your property, you must submit the junk vehicle request online. The King County's inspectors will evaluate your junk motorhome and issue a junk vehicle affidavit if your trashed trailer satisfies the junk vehicle requirements. Then, the deteriorated or inoperable motorhome can be legally taken out of your property and disposed of with the help of the affidavit. You must contact the Seattle Junk Vehicle program for junk vehicles on your private property in Seattle or within Seattle city limits. 
The Natural Resources and Parks – Solid Waste Division in King County focuses on waste prevention and disposal, community cleanups, and resource recovery. While they cannot remove a junk RV from your backyard, they strongly encourage you to do so. Similar junk vehicle programs run in Seattle, Pierce County, Snohomish County, etc. 
While they will dispose of your vehicle, you won't make any money out of it, so selling an old, damaged, or broken travel trailer may be a safer option if you want to get cash for your junk RV in Washington State. 
To sell an old vehicle to a private buyer, you need a clean title and no liens attached to it. Next, you must add your signature, the date, and the odometer reading to the title. Include the buyer's signature and the date as well.
You will also require to fill out a bill of sale in addition to the title. Lastly, you must submit a sale report to the state of Washington. It informs the state that the vehicle is no longer yours.
A report of sale can be submitted online or on paper, and there is an administrative charge for doing so. You'll need the VIN, the buyer's name and address, the transaction price, and the date of sale to complete the form.
As you can see, selling a junked, damaged, useless, flooded, or otherwise degraded motorhome in Washington is challenging, time-consuming, and expensive.
So instead of going through the stress of dealing with private buyers or junk auto dealers, let us help you!
We Offer FREE Junk RV Removal Anywhere in Washington!
The phrase "Washington free junk RV removal near me" returns a ton of results. Your broken or undrivable travel trailer can be disassembled and hauled away by several junkyards providing demolition services and free camper removal and disposal.
But using such services won't earn you any money. It's one thing to pay an auto dismantler to remove your crashed motorhome; it's quite another to have it purchased for top dollar and then removed FOR FREE.
Regardless of where you live in Washington – Omak, Tacoma, Walla Walla, or Yakima – we pay cash for your junk RV and provide free disposal!
Call us immediately for free RV removal from your property or storage facility and a free quote on your damaged camper!
Washington State free towing is no issue for us! Whether from Oregon, Idaho, or Montana, we schedule pick-up and payment at your most convenient time. We also guarantee there won't be any traps or fine print regarding commissions, labor costs, and other expenses! Anywhere in the Evergreen State, from Forks, through Seattle, to Spokane Valley, our free junk motorhome towing services are actually free!
Sell Your Junk Trailer in ANY Condition in WASHINGTON STATE!
If your RV has been damaged in an accident, is over 20 years old, or is inoperable, you won't be able to sell it for the price you expect from usual buyers. RV fans, auto auctions, and secondhand RV marketplaces rarely pay premium rates for motorhomes with blown engines, totaled, salvaged, or broken.
When you have a trailer beyond repair, your best choice is to sell it to us. We pay cash for junk RVs in Washington State, including old, dilapidated trailers, burned motorhomes, flooded campers, salvaged and rebuilt RVs, etc. It is OK for us as it is! We also provide fast payments via Venmo, Cash, or Check.
In Centralia or Marysville, most RV recycling or salvage yards won't offer much money for your inoperable RV. But you can get cash in your pocket quicker than you can say "Evergreen State" if you ask us for a fair offer on your old trailer right now!
You also get free removal!
Is My Old Motorhome Worth Anything in Washington?
Natural disasters, including earthquakes, floods, and storms, greatly impact Washington State. For example, damage from flooding outweighs damage from all other natural disasters, although more than 1,000 earthquakes happen here each year, according to the Washington State Emergency Management Division. In addition, the entire state of Washington is susceptible to extreme weather, such as high winds, big hail, thunderstorms, tornadoes, freezing rain, snow, etc.
Unfortunately, Washington State's citizens and property are plagued by extreme weather events. So it is reasonable to say that, besides vehicular accidents, Washington's weather can be your RV's greatest enemy.
Junking a damaged motorhome – by water, fire, collision, or earthquake – whether new or old, is the least preferred option for any RV owner. You can give it to the state or sell it to junkyards, but they won't pay much. However, when calculating damages, the trailer's age, mileage, manufacture, model, weather impact, etc., will plummet the price faster than Gerald "Gerry" Paul Lindgren has ever run in his life.
However, your deteriorated trailer is still worth more than what a junk or salvage yard will give you for it!
It's not worth waiting for a potential private buyer to examine your RV's blown engine, electrical system damage, or delaminated walls. If it materializes, a buyer's final offer will be worthless of your time, effort, and investment in online or print ads, given all the required paperwork you need to deal with before a transaction.
Sell your old, totaled, or broken trailer for cash now! Then, if you plan a journey to the Smokey Point RV Park, the Cascades RV Resort, or visit a couple of glaciers, consider getting a brand-new RV with the cash we pay for your junk one!
First Step
Find out how much money you can make for your crashed/unusable motorhome by filling out the form on this page.
Second Step
Once we shake on the deal, you receive your quick cash by bank transfer.
Third Step
We send our people to your place to remove the old camper for free.
We come with our own towing equipment and technicians and take care of all the paperwork!
Sell Your Junk Travel Trailer in Any Condition in Washington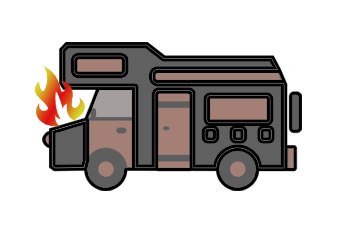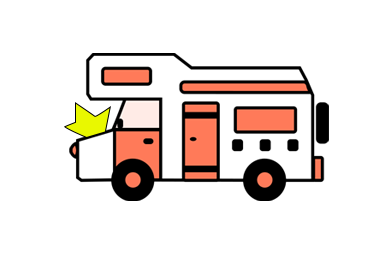 How Do You Sell a Salvage or Rebuilt Title RV in Washington State?
You or your insurance provider must notify the Washington State Department of Licensing that your motorhome has been declared salvage after it has been totaled or destroyed and turn over the title.
Here is how this works:
For example, suppose the motorhome involved in the collision in Everett, just north of the State Route 526/Boeing Freeway interchange in February 2023, was yours. Since it overturned and blocked several lanes of northbound Interstate 5 with debris, you would most likely declare it a total loss. These are the steps a crashed RV owner needs to know:

Within 15 days of the RV's destruction, the registered or legitimate owner must turn the title in.

After the claim has been resolved, the insurance company has 15 days to give over the title.
You must write "Destroyed" and the date the trailer was salvaged across the face of the title to report a salvage vehicle and turn in the title to the Washington DOL.
If your motorhome is deemed a total loss, you may:
Sell the junk RV to a new owner, along with a notarized Bill of Sale and the Notice of Cancellation.

Repair the damaged motorhome and keep it, hoping to re-sell it as a rebuilt vehicle to whoever wants to buy it.

Keep the destroyed trailer without fixing it to

sell it to a professional junk RV buyer in your state for good cash

. 

Dismantle your junk trailer and try selling its usable parts.
But your problems don't stop here!
The Washington State Patrol must check the vehicle before a rebuilt title can be issued for a salvaged automobile in Washington State. Your RV has to be at least five years old, or between 6 and 20 years old, with a pre-accident value of about $7,000. The Washington State Patrol must also check the rebuilt RV if you intend to sell it.
When a vehicle is totaled, it typically means it is beyond repair. After the insurance company declares it a total loss, it will be stripped of all salvageable components and smashed into a cube.
However, you might want to fix the vehicle so you can either use it yourself or sell it. Before legally driving the vehicle in Washington, you must obtain a rebuilt title if you intend to perform either. In Washinton State, driving or parking any vehicle on public highways or roads is illegal if it has a salvage title.
As you can see, it's not simple to salvage or rebuild a travel trailer in Washington, especially when you must meet restrictive criteria, spend hours on paperwork, and pay taxes. If you also have to deal with the Washington Department of Licensing or the State Patrol, you know the chances are not in your favor.Get in touch today for a free quote on your salvage title RV, quick cash transactions, and free junk RV removal if you want to avoid all these challenges and still get rid of your pile of RV junk for a fair price!
We Buy All Junk RVs for the Maximum Price
Don't waste time listing your junk RV with dealers, brokers, ad sites, or auctions. Selling a used RV through traditional methods can take months, while your vehicle rusts and loses value. As a reputable RV buyer, we guarantee the best price for:
Junk/wrecked/damaged RVs you want to get rid of fast
Old and unwanted RVs (running or not) you want to sell for cas
Total loss RVs, crashed camper, totaled fifth wheel, etc.
Any other used travel trailer, used pop up camper or used toy hauler you have for sale
Give us all the details regarding your unwanted or damaged vehicle so we can return to you with a valid offer.
Why Choose Us to Buy
Your Junk RV?
When it comes to RVs for sale, we are a market leader with a solid reputation in offering the highest prices for scrap, unwanted, old, unusable, wrecked, or totaled RVs. Here is why you should work with us if you want to get rid of your vehicle fast!
Real-Market Appraisals
Even if your RV is totaled, unusable, old, or simply unwanted, you can still get good money for it. Fill out the form or contact us for details, and we will give you an unmatchable price for your vehicle.
Fast Transactions
Don't worry about paperwork, clean or salvage titles, and other issues. We will take care of everything at no extra fee.
Free Collection
We will schedule a convenient time for you to have our staff to pick up your junk RV anywhere in California and neighboring states.
Good, Quick Cash
We know how important it is to sell your junk RV fast, easy, safe, and with no hidden taxes. With us, you will have your money as fast as possible.
Frequently Asked Questions from People Looking to Sell Their Junk RVs in Washington State
Do you still have questions regarding selling your junk RV to us for good, fast cash? Check out the answers below! If you still don't find the information you're looking for, don't hesitate to contact us!
Who buys junk RVs in Washington State?
It is easier to find Bigfoot, apples, wine, glaciers, volcanoes, sasquatch, and the world's largest egg in Washington State than to find junkyards ready to buy your junk RV for good cash.  You can try A1 RV Recycling & Sales in Centralia or Blade RV Sales Center in Mount Vernon but don't hold your breath, as they sell more than they buy. 
So your answer is… we buy junk RVs in Washington State, whether you live in Emerald City or a remote town in a rural area. Most junkyards might ask you to bring your pile of rust, but they won't likely offer you any money for your old, ancient rig. So you are in a pickle no matter how you see such arrangements.
So call us right away to simplify your life! We'll remove your pile of junk for free in exchange for a big payment in a safe and quick transaction!
Where is the best place to sell my RV in Seattle?
In Seattle, Washington, the largest city in the Pacific Northwest, and the home of Boeing and Starbucks, you can sell your junk motorhome to HeyRV. We pay cash right now for your deteriorated trailer or broken motorhome. 
In the metropolis known as "The Emerald City," we accept any RV in any condition, whether you drive it on the coast or through the forests, lived in it, had an accident, or squeezed the life out of it. 
While you can sell your totaled camper to a certified dealer or recycler in the Seattle region to help clean up the environment, we pay more cash than they do!
We can also help with the paperwork and title issues when you sell your Seattle junk RV to us. Of course, towing away your old motorhome is also always free!
Sell My RV Fast, Easy, and Safe!
We buy all types of RVs at the best prices, regardless of their quality and condition. Everything can happen very quickly and without wasted time on your part.