We Buy Your Junk RVs in Maine
Calling all Mainers with clunker campers! If you've been wondering how to get cash for your junk RV in Maine, we've got the answer. We handle everything – from the RV paperwork to towing – and we pay in cold, hard cash, check, or even Venmo!
Whether your camper has weathered Maine's winters or has been tucked away in your garage, we're here to give it a new lease on life and put some extra cash in your pocket. We'll come remove your junk RV for free, whether you're in Portland, Bangor, Augusta, or any other cozy corner of the Pine Tree State.
If your old RV in Maine is clinging to life like a character in a Stephen King novel, fear not. We offer a deal that'll make you smile wider than a clown in a sewer. Whether your trusty RV has survived a Maine hurricane or two, or it's just too ancient to hit the road, give us a shout for a no-obligation estimate, and we'll hit you back with an offer quicker than you can say "It." We're in the business of buying junk RVs in any state—burnt, battered, or waterlogged!
We're not pennywise; we're dollar-smart. We offer top dollar for your junk RV, throw in free junk motorhome removal, and handle all the paperwork horrors for you. So, give us a shout, spill the beans on your vehicle, and consider your RV nightmare vanquished!
Make an Appointment
Send us an email with your data
and we will contact you as soon as possible.
Our Business
We'll pay you at the time of pickup for a fast and secure transaction.
We'll have an offer for you in a matter of minutes.
Call Now!
Call or write us to organize
the details of the sale of your RV.
Junk RV buyer anywhere in
Maine
Get better prices and faster disposal than any other RV Junkyard in
Maine
Should you Junk or Sell Your Old Motorhome in Maine?
Don't let your old camper end up on the scrap heap! At HeyRV, we're on a mission to save Maine's campers from scrap yards and give them a second chance. Your old motorhome deserves more than a one-way ticket to the junkyard.
Selling your camper for scrap in Maine won't even buy you a lobster roll. But with us, you'll be savoring lobster with melted butter because our cash offers will leave you smiling like a kid in a candy store. Whether your camper has seen better days, endured the Maine elements, or is simply feeling tired, sell your junk motorhome to us and fill your wallet with Maine-style generosity!
Stop Waiting for Private Buyers & Sell Your Clunker Now!
Selling your junk RV privately in Maine can be like navigating a dense forest without a map. You'll be lost in a sea of ads and lowball offers, and your pockets will feel emptier than a bird's nest in winter. Plus, dealing with paperwork and transportation? That's like trying to hike up Mount Katahdin in flip-flops!
We're your trusty guides at HeyRV, and we'll make your selling experience as smooth as a canoe ride on a calm Maine lake. We'll handle everything – from towing your camper to navigating Maine's RV regulations. Just give us a call, tell us about your clunker, and sell your junk RV for cash anywhere you're parked in Maine. We'll trek through the wilderness to reach you, whether nestled in the quiet woods of Acadia National Park or relaxing by the shores of Sebago Lake!
Your Junk Trailer Has More Value Than What Maine Junkyards Usually Pay!
Ever questioned whether your junk RV is just scrap material? Think again! When you choose HeyRV, you're not just selling; you're making the smartest move. Our cash offers go beyond what traditional junkyards in Maine would even dream of offering.
Give HeyRV a call for a free estimate, and we'll unveil the treasure. Disposal? Yep, we've got that covered too, and we're primed for a lightning-quick cash, check, or Venmo transaction. No matter where your camper is parked – Portland, Bangor, Augusta, Bar Harbor, Camden, Rockland, or Waterville – we'll be there pronto! No additional fees, no hidden costs.
So, whether you're looking to stack some cash for adventures or debating a future upgrade, get top dollar for your junk RV the easy and profitable way – no junkyards needed!
Give us a call or fill out the form on this page to get our competitive offer right now! If we agree on the price, we'll arrange your old camper's FREE REMOVAL at your convenience, anywhere in Maine. 
What are you waiting for? Contact us right now!
What Paperwork Do You Need to Sell Your Junk Trailer in Maine?
To sell a junk RV in Maine, you'll need to gather the necessary paperwork, including a Certificate of Title and Certificate of Salvage, if applicable. If you have a Certificate of Title, ensure it's completed, signed by the owner, and include the previous title or certificate of origin. 
If your RV was declared a total loss by an owner or insurer and you need a Certificate of Salvage, submit an application with the appropriate fee. Make sure to surrender the certificate of title if it's a salvage vehicle unless it's transferred to a recycler.
Additionally, if you're selling your junk RV at an auction, you must have the certificate of title with you. Don't forget to provide the required odometer information to the transferee at the time of transfer.
When you choose HeyRV to sell your junk motorhome for cash, we'll assist you every step of the way: from dealing with the paperwork to free towing and fast transactions!
We Offer FREE Junk RV Removal Anywhere in MAINE!
Here's the deal: You give us a holler for a free RV estimate, and we'll unleash a top-dollar offer that's as gripping as the plot from The Stand. Then, like a well-crafted tale, we'll descend on your location for free junk RV removal, no matter where your clunker is lurking in the captivating, enigmatic landscape of Maine.
We're all about making this experience as seamless as a twist in a suspenseful narrative, offering lightning-fast transfers and expert guidance through the legal labyrinth. Choose us, and not only will you pocket cash for your junk RV, but you'll also escape those spine-tingling extra costs and hidden fees!
Your wallet will thank you, and you can enjoy a lobster dinner fit for a king while pondering the mysteries that Maine holds within its borders.
Sell Your Junk Travel Trailer in Any Condition in Maine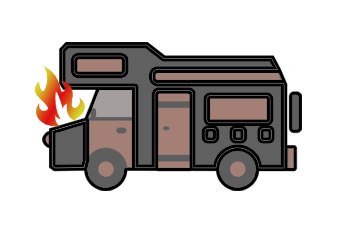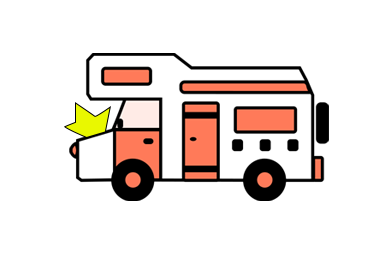 Now, when it comes to weather extremes, Maine has witnessed its fair share of records. In the serene state of Maine, hurricanes are a rarity, but when they do strike, their impact can be nothing short of devastating. Since the year 2000, Maine has seen 33 disaster declarations, with a substantial 22 of them classified as major disasters. Occasionally, the state has been struck by natural calamities that resulted in more than a billion dollars in damage. 
Historical storms that left their mark on Maine's history include Carol and Edna in 1954, Donna in 1960, Gloria in 1985, and Bob in 1991. These infrequent but powerful occurrences have certainly made their presence felt. 
Challenges like severe winter storms have taken a toll on many RVs in Maine, leaving them in need of costly repairs. Whether they've faced water damage, delamination, scorching, or simply aging, these campers may not attract eager buyers. However, at HeyRV, we see value in every vehicle we purchase! We pay cash for junk RVs regardless of their condition and ensure a smooth transaction for all our clients in Maine and the surrounding areas!
Is My Old Motorhome Worth Anything in Maine?
Can your trusty RV handle the captivating journeys through Maine's diverse landscapes, from the charming coastal towns to the lush forests of the Pine Tree State? If it's struggling to keep pace with the beauty and adventures that Maine offers, it might be time to consider getting some cash for your junk RV. The allure of Maine's local treasures, such as the timeless charm of its coastal villages or the hidden gems along scenic byways, beckons those seeking authentic experiences and relaxation.
So, why keep a damaged RV that can't fully embrace Maine's essence? Even if repairs appear to be a daunting task, you can embark on your next adventure with confidence thanks to our generous cash offer tailored to Maine's unique character.
Contact us, tell us about your RV, and we'll make you a cash offer the same day that not only values your camper but also fuels your journey through the heart of Maine!
First Step
Find out how much money you can make for your crashed/unusable motorhome by filling out the form on this page.
Second Step
Once we shake on the deal, you receive your quick cash by bank transfer.
Third Step
We send our people to your place to remove the old camper for free.
We come with our own towing equipment and technicians and handle all the paperwork!
How Do You Sell a Salvage or Rebuilt Title RV in Maine?
If you want to sell your salvaged RV in Maine, begin by preparing the vehicle for sale and gathering all relevant documentation, such as the salvage title, repair records, and receipts. Determine a reasonable selling price, write a detailed listing with clear photos, and promote it on online platforms and social media. Prepare for showings and inspections, and openly negotiate with potential buyers, remembering that salvage title RVs typically sell for less. Once you've reached an agreement, draft a bill of sale, accept payment, and transfer ownership in accordance with Maine law.
Don't forget to notify the Maine Bureau of Motor Vehicles to release yourself from liability associated with the RV, and ensure the RV is clean and devoid of personal belongings before handing it over to the buyer.
If you wish to sell a rebuilt title RV in Maine, be prepared to replace any component part that was previously declared as salvage. Maine issues a rebuilt salvage title when two or more vehicles with different frames are combined, or when a salvage vehicle undergoes substantial repairs with five or more component parts replaced.
For antique autos, horseless carriages, or classic vehicles, Maine offers the option of obtaining a warranty title. This title signifies that there are no known liens or encumbrances against the vehicle. To acquire a warranty title, you'll need documented and notarized evidence of ownership and must pay a $40 fee.
We Buy All Junk RVs for the Maximum Price
Don't waste time listing your junk RV with dealers, brokers, ad sites, or auctions. Selling a used RV through traditional methods can take months, while your vehicle rusts and loses value. As a reputable RV buyer, we guarantee the best price for:
Junk/wrecked/damaged RVs you want to get rid of fast
Old and unwanted RVs (running or not) you want to sell for cas
Total loss RVs, crashed camper, totaled fifth wheel, etc.
Any other used travel trailer, used pop up camper or used toy hauler you have for sale
Give us all the details regarding your unwanted or damaged vehicle so we can return to you with a valid offer.
Why Choose Us to Buy
Your Junk RV?
When it comes to RVs for sale, we are a market leader with a solid reputation in offering the highest prices for scrap, unwanted, old, unusable, wrecked, or totaled RVs. Here is why you should work with us if you want to get rid of your vehicle fast!
Real-Market Appraisals
Even if your RV is totaled, unusable, old, or simply unwanted, you can still get good money for it. Fill out the form or contact us for details, and we will give you an unmatchable price for your vehicle.
Fast Transactions
Don't worry about paperwork, clean or salvage titles, and other issues. We will take care of everything at no extra fee.
Free Collection
We will schedule a convenient time for you to have our staff to pick up your junk RV anywhere in California and neighboring states.
Good, Quick Cash
We know how important it is to sell your junk RV fast, easy, safe, and with no hidden taxes. With us, you will have your money as fast as possible.
Frequently Asked Questions from People Looking to Sell Their Junk RVs in Maine
Need more information about how to get cash for your junk RV in Maine? Check out some more answers below! For additional queries, don't hesitate to give us a call.
Do you need a title to junk a vehicle in Maine?
In Maine, the need for a title when junking a vehicle depends on various factors outlined in the Maine Revised Statutes. These regulations provide exemptions from the title requirement for certain types of vehicles. For instance, vehicles owned by the Federal Government may not require a title unless registered in the state, and manufacturer or dealer-owned vehicles held for sale, even if occasionally used on the highway, might be exempt.
Vehicles owned by nonresidents who are not required to register in Maine, vehicles regularly used in interstate or intrastate transportation with existing out-of-state titles, specialized vehicles, self-propelled wheelchairs, trailers weighing 3,000 pounds or less, motorcycles or mopeds with engines under 300 cubic centimeters, and others are also exempt.
Does a bill of sale need to be notarized in Maine?
While crafting a bill of sale in Maine is a straightforward process, it does come with a particular requirement: the need for a notary to witness the signatures. Essentially, a bill of sale is not an intricate legal document. You have the option to generate a functional bill of sale through online platforms or even create one independently.
Does Maine require vehicle inspection?
In Maine, it's essential to note that state law mandates an annual safety inspection for all motor vehicles. Additionally, vehicles registered in Cumberland County are subject to an emissions test. These inspections are typically carried out at authorized locations, including automobile dealerships, service stations, and garages.
Sell My RV Fast, Easy, and Safe!
We buy all types of RVs at the best prices, regardless of their quality and condition. Everything can happen very quickly and without wasted time on your part.